Save Isa and Viola From a Lifetime of Fear at This Traveling Circus. It's a shocking video that Garden Bros Circus never wanted you to see.
The heartbreaking footage, taken by Animal Defenders International at a recent Garden Bros performance in Pennsylvania, shows two captive elephants named Isa and Viola huddled in fear behind a metal gate — swaying back and forth to soothe themselves from the stress of the shouting crowd and the deafening noise of the motorcycles in the center ring.
Please sign this petition demanding that Garden Bros Circus send poor Isa and Viola to an elephant sanctuary and immediately stop exploiting elephants for profit!
Stolen as babies from the wild, Isa and Viola have been forced to perform unnatural and painful tricks for over 40 years. Off duty, the pair are confined to cramped spaces and exposed to extreme temperatures while travelling — causing the extreme mental and physical distress shown in the video.
Garden Bros also has a long and documented history of physical abuse on elephants like Isa and Viola. Trainers can use cruel and painful methods like bullhooks, ropes, and electric tasers to beat elephants into submission and get them to perform daily.
It's clear that Garden Bros doesn't want people to see the shocking and abusive truth behind the scenes — but now that's it's out, we can't ignore the truth while Isa and Viola live out the rest of their lives in pain and fear.
Sign and share now to demand that Garden Bros Circus release both elephants to a sanctuary and stop ALL future captive elephant performances!
Urge Carson & Barnes Circus to End All Cruel Animal Acts!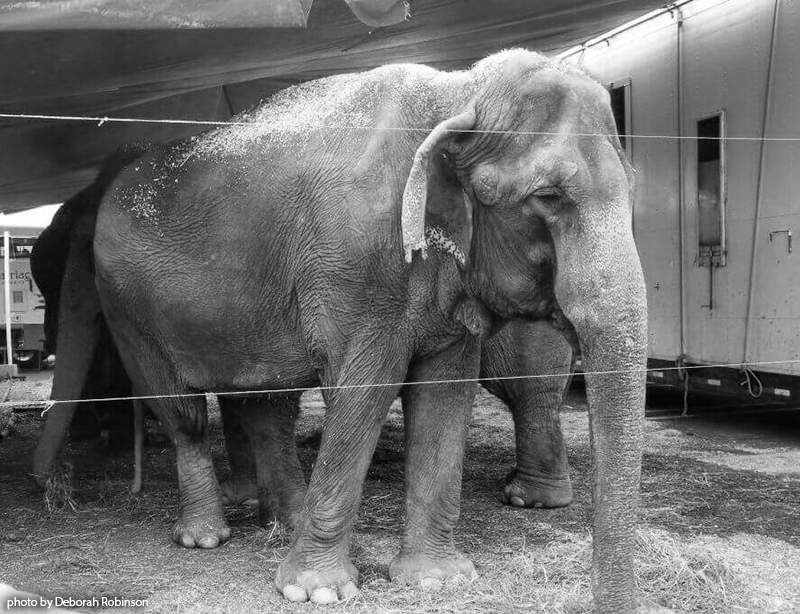 Ringling Bros. and Barnum & Bailey Circus is shutting down, and Cole Bros. Circus—which used animals from Carson & Barnes Circus for a long time—is no longer touring, but Carson & Barnes is still forcing animals to perform confusing, often painful tricks. Please join PETA in urging the circus to join the 21st century by eliminating all animal acts and sending the long-suffering animals to reputable sanctuaries.
Carson & Barnes has been cited for more than 100 violations of the federal Animal Welfare Act—including for failing to provide animals with basic necessities, such as adequate veterinary care, minimum space, shelter from the elements, and clean water. Video footage of a veteran Carson & Barnes trainer shows him violently striking elephants with a bullhook—a sharp steel-tipped weapon resembling a fireplace poker—and shocking them with an electric prod. This circus also has an abysmal record of endangering the public. In 2016, it agreed to pay $16,000 to settle an administrative enforcement action brought by the U.S. Department of Agriculture after three elephants became frightened, escaped from a circus performance, and ran amok for nearly an hour—causing damage to the venue and cars in the parking lot.
Please tell Carson & Barnes Circus to end its cruel animal acts and send the animals to reputable sanctuaries, highlighting the circus's human talent instead.
Ensure Laxmi the elephant finally receives justice after 30 years of abuse.
Lamxi never got a chance at a happy life. At a young age she was taken away illegally from her family and the wild in Bihar, India. Lamxi is believed to have been malnourished and neglected until the day she died. She endured 30 years of inhumane treatment which reportedly included grueling hours of work, being whipped, and left alone in a tiny cold room with zero interaction with other elephants.
After Lamxi's abusers were done with her, they apparently left her to die. Sadly, it wasn't enough to kill her or leave her extremely malnourished. They also decided to torture her without reason days before the elephant took her last breath. The Forest Department found her chained in a small brick shed. Her abusers fled leaving her dead lifeless body in her own filth. Lamxi deserved better than this, she didn't deserve a life full of pain and suffering. Sign to demand that justice is served and Lamxi's killers are found and prosecuted for their actions.
Boon Lott's Elephant Sanctuary (BLES) in Sukhothai, Thailand recently welcomed an elephant whose arrival had been eagerly awaited for some time now. Pang Fai is an elderly elephant who urgently needed to retire and settle down in a new, comfortable home. Now she has found that special place at BLES and her first moments at the new home were a sight to remember.
The BLES team has known Pang Fai for over 10 years and is now incredibly happy to be able to welcome her into the family. At the sanctuary, the beautiful elephant will spend the rest of her life in safety, surrounded by loving and dedicated carers. Look at the beautiful moment her chains were finally removed!
For years, Pang Fai lived very near the sanctuary. "Her owner, who loves her very much and has cared for her for the past 32 years, is also old and wanting to retire," said Katherine Connor, founder of BLES.
To be able to take the elephant in and provide her with the best care possible, BLES launched a fundraiser and succeeded in raising over $15,000!
Thanks to that precious support, the team was eventually able to share the heart-warming pictures of their "newest and (possibly the sweetest!) elephant" walking into her new home for the first time.
Once she was walked in from the village, Pang Fai had a welcome buffet already waiting for her – and she was clearly very happy with the warm welcome.
"She stood in the sunshine for hours, slowly eating her way through it all," the team wrote." Every now and then she would pause, glance over at Hope, Noah and her owner, who sat in the shade, smiling proudly at our sweet lady…."
Pan Fai has many more feasts like this one ahead of her – and hopefully very many years of happiness at the sanctuary among her new friends.
"Thank you to every single one of you who made this happen," BLES said. "Pang Fai is one, very, happy elephant right now and she is a testament to what we can all achieve, when we come together and put compassion first."
To learn more about Boon Lott's Elephant Sanctuary, click here. All image source: Boon Lott's Elephant Sanctuary/Facebook
AWF lauds U.K. Government's action to ban ivory sales



Earlier this month, the U.K. Government announced a ban on ivory sales — another victory for the future of elephants. Environment Secretary Michael Groves stated the ban will be one of the strictest in the world, although a firm date has not yet been set for implementation. The U.K. had the unfortunate status of being the largest global exporter of legal ivory between 2010 and 2015. "We laud the decisive action by the U.K. government to ban the ivory trade," said AWF President Kaddu Sebunya. "The robust measures send a strong message that ivory's rightful place is on an elephant and not as a decorative item or a product for financial gain." African Wildlife Foundation continues to strengthen its presence in the U.K. and stands ready to work with governments around the world to further this momentum, tackling the wildlife trade and protecting Africa's most iconic species from the threat of extinction.




> Read AWF's response to the U.K. ivory ban