Sullivan Stapleton & Philip Winchester Return to 'Strike Back' in full force this week.
Winchester, who currently stars on Law & Order: SVU, and Stapleton, who is from
Blindspot,
reprise their roles as as Sgt. Damien Scott and Sgt. Michael Stonebridge to help save the day to end last night's episode.
That was exciting for me and I will bet the house that
Left Bank Pictures
is sizing things up for a major motion film release of Strike Back.
Katy Tur explains to Ari Melber that there is a song that Phish does called 'When The Circus Comes To Town' and that is written by the members of Los Lobo. She says to him that she thinks the way the Phish does it is much better. Ari pauses because I am not sure if he know what Phish is in the broad scheme of life. At the same time, he seems interested.
I agree but at the same time, I am totally spoiled in that regard. Most songs Phish does of other bands and that are in the general rotation are much better than that original version.
Remember though too, they have done like 6 or 7 full length albums of covers whenever they have done Halloween shows. My point is though that anything that clicked or 'worked', they made part of their live repertoire.
Like 'Rock n Roll.
That is where that set picked up by far in Vegas that year.
There are a bunch more like 'Drowned' and I forget quite frankly what songs they knew were at a high level at the time they were playing it for the first time and then in turn that they still do to this day.
Oh duh, 'Crosseyed and Painless' is nuts compared to the Talking Heads live version and their live version is amazing.
The (Grateful) Dead were wizards at that and not only that, they also had me believing many songs were theirs until I got older realizing that some were covers.
Plus, Jerry (Garcia) did some obscure stuff over the years that were not only covers, but they were also songs from decades ago. I guess Bob did too.
The Dead were the best at making songs seem like their own.
I actually marvel at how Phish and the Dead make so many songs their own in the sense that you would think they wrote it or manifested it originally. That was always something that struck me while growing up in the Dead scene.
Anyway, it has been a relatively easy news week in Trump news and you know why? It is because he will not say one word about Stormy Daniels and speaking of which, I got nada out of that Daniels interview with '60 Minutes.' She said that she was threatened to not to go public with her story of a relationship with Donald Trump. We already knew that.
What else? Oh, the Veterans Affairs Secretary David Shulkin was canned this week. He told Chris Hayes that he talked with the POTUS on the day that he was fired, however, Trump did not fire him from that job. He went onto say to a rather baffled Chris Hayes that his firing would come later on in the day via a call from White House chief of staff, John Kelly.
He was also on the stump all week stating that while at VA, "political appointees" in and outside the agency were trying to "undermine" his efforts for the nation's veterans.
The funniest story that has gone down this week is following the antics of that Michael Cohen character. His lawyer mind you, was out on the TV shows screwing up their entire claim. That is the problem with the Stormy Daniels claims all around, they (Trump and his people) are damned if they do and damned if they don't so to speak.
He says that the $130,000 preelection payment to Stormy Daniels does not violate campaign finance laws because he paid it himself, however, it could be a so called campaign finance violation considering it is well over $20,000 which is the cap.
Cohen was hired to be the "fixer," and I am trying so hard to never use the LOL acronym during any blog post I ever write but yeah, a "fixer,"Ray Donovan style I suppose, The problem is that this Michael Cohen dude could not fight his way through a paper bag, but most of all, he is evidently not that great of an expert with regard to the litigation and claim with the POTUS.
He is just not considered to be an effective lawyer.
Even Trump's lawyer's lawyer, David Schwartz, literally referred to Cohen as the 'fixer' for Trump while also inferring there were many of these types of deals like this in place ("took care" of dozens of women during the campaign), "Michael was the fixer. It could be anything. There were a ton of matters that took place that Michael fixed and Donald Trump wasn't involved in every single matter,"
He then walked that back, saying he meant business problems in general, and suggesting that business leaders commonly have a fixer authorized to pay people off without their knowledge.
Which I am not even sure what he is talking about here and I have never heard of that happening and I had worked at some of the largest entertainment companies on the planet since 1990 and before starting Sunset and I worked alongside some of the the top executives in the world at those times.
What is worse though is him saying that the "the president was not aware of the agreement. At least, Michael Cohen never told him about the agreement," and that "Michael Cohen left the option open. That's why he left that signature line, the option open to go to him. He chose not to. He chose to bind the LLC, EC LLC and Stormy Daniels into the contract."
'Hello? McFly! McFly!'
Then, that would make that entire contract invalid considering that the person signing it never had any knowledge of it according to Schwartz statement.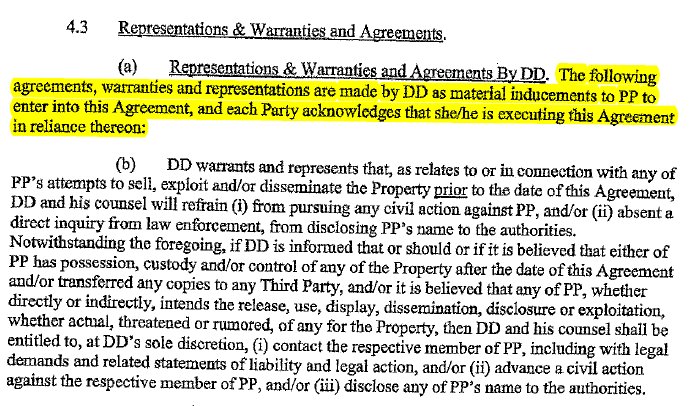 DD BTW is Doug Dennison, aka Donald Trump.
Speaking of wild and wacky stuff, what the hell is wrong with Laura Ingraham?
She has picked a fight while poking fun at the fact that a 16 year old kid did not get into a college.
What the hell is wrong with her?
A high school kid?
That is who she is making fun of on national TV?
Someone in high school?
What a tool and how much weaker can an adult human with a brain get in life?
The Trump News / Fox News host Laura Ingraham also announced that she is 'taking a break' even though it was also said that she was taking that vacation anyway this week.
Many Advertisers however, have indeed boycotted paying for ad space during her show after the odd comments that she made about David Hogg not getting into some school (now mind you that he had already been accepted to three other schools which in typical GOP fashion, they speak very linear and right up until that point where it affects them).
He also has a 4.2 GPA.
Hogg, in response to the attack, called for advertisers to boycott the show, tweeting out a list of companies that run ads on her nightly program "The Ingraham Angle."
Ingraham then apologized Thursday for her comments. "On reflection, in the spirit of Holy Week, I apologize for any upset or hurt my tweet caused him or any of the brace victims of Parkland," she wrote.
I just finished a month long project this week. I now have over 1,000 sound recordings on 60 albums in 240 territories and in all key retail outlets.
We are doing like 5K sales every day just on the 15 front line albums and we started to get sales in the Special Markets Division which will kick start tens of thousands of sales from now on.
Physically and for the first time in months, I feel so great right now. My arm is fully healed. I went back to kickboxing yesterday.
Plus, I have had some great signings this week and you know what is wild?
It was a full moon week.
Come to think of it though, this week started out weirdly. I hated Sunday and Monday but the end of the week has been amazing.
I don't wanna trip that up so I better shut up before jinxing it.
Last, I had Passover dinner out with the folks and their friends out at Ponzios. I have dinner #2 tonight at friends house which will be fun. We will watch the games and my niece and nephew are coming with me. And, tomorrow I have Easter dinner with my parents friends.
That's about all folks!