Tickets are going fast and this may be your last chance to secure seats for an amazing evening with Wildlife SOS cofounders Kartick Satyanarayan and Geeta Seshamani.
Join us at the historic Sowden House in Los Angeles on October 6, 2018, for Tusk After Dusk!
Featuring celebrity host Fia Perera, a stunningly intense musical performance by ANML, and entertaining live painting by the talented Amy Burkman.
We plan on spoiling you with complimentary valet parking, delicious Indian vegan cuisine, specialty cocktails provided by Tito's Handmade Vodka, and a stellar auction to benefit wildlife!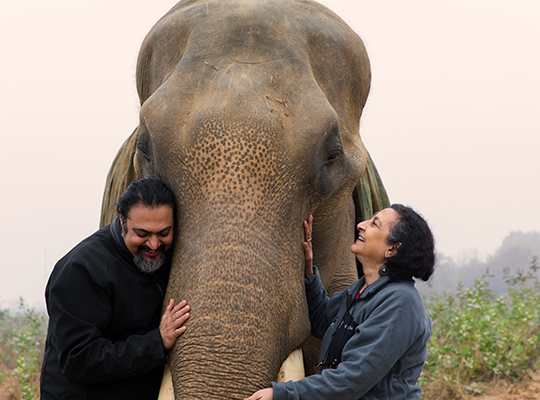 With its rich and colorful history, the Sowden House is a distinctive showplace that evokes a sense of mystery and exoticism and has been an iconic Los Angeles destination for films, photoshoots, and events.
Take a virtual tour of this amazing venue HERE.
Sowden House
5121 Franklin Avenue
Los Angeles, CA 90027
Doors open at 6:00 p.m. -
Cocktail attire
Space is limited and tickets are going fast! Secure your all-inclusive pass to one of LA's premier venues.
Go to tuskafterdusk.com today!
They are trying to "steal" an elephant from the sanctuary she was placed in this year/last year!
I'm emailing because Nosey's fate is decided in 90 days! I need your help right now to save Nosey and other elephants like her.
When the trailer broke down for their traveling circus — among the cruelest in the country with over 200 USDA violations — the Liebels just abandoned Nosey.
They left her by the side of Alabama Highway 157.
Alone. In chains. No water, no food, no shelter. Standing in her own urine and feces.
Now they are appealing the court verdict that finally brought poor Nosey to paradise and safety at The Elephant Sanctuary.
The Liebels want to put Nosey back in the circus!
What motorists on Highway 157 that day didn't know was, they were witnessing the sad reality of Nosey's life for the last three decades.
A life that included being stolen from her home in the wild. Exploited and abused for profit. Bullhooks. Solitary confinement. High-voltage prods.
In the mugshots taken after their arrest, the Liebels show not a hint of remorse.
Media outlets reported Hugo Liebel said he may take the exhausted, middle-aged elephant back on the road if he wins the appeal. So he can "earn a living."
Will you help Nosey and other elephants however generously you can right now so we can cover expenses for their fight?
I realize the ongoing research, investigations, and documentation for which you have helped IDA become known and respected is behind-the-scenes work.
I realize it's costly. But IDA Friend, animals are not pawns for profit.
Without your support of this tireless advocacy and defense, criminals like the Liebels will win.
Elephants like Nosey will lose. We can't ever let that happen!
We only have a short time to make sure the Liebels never get their hard hands on Nosey or any other animals, again.
In Swaziland just three years ago 18 elephants were kidnapped from the wild to eventually "restock" three U.S. zoos. This is no joke! Elephants are STILL being taken from the wild and tragic situations like Nosey's will continue to unfold if we do not publicize, persist, and prevail. Click or tap here right now to keep IDA fighting for elephants like Nosey and against elephant captivity!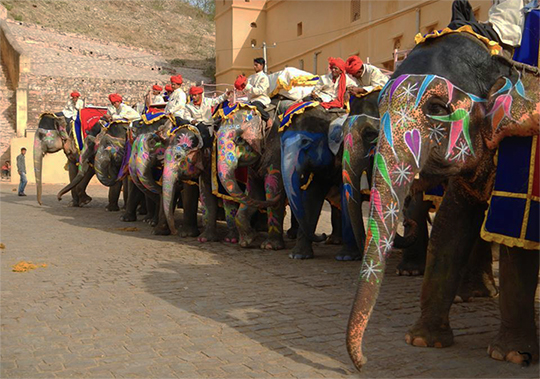 Many tourists see the colorful paint and ornate garments associated with elephant riding and assume that the elephants are pampered and doted over. And of course, the elephant-riding industry itself has a vested interest in getting people to believe that the elephants are more than simply disposable work units.
But nothing could be further from the truth. Underneath the facade of festive colors and silky garments, these elephants live shockingly miserable lives. They are poached in the wild as babies, brutally broken in, then overworked and neglected for decades. The graphic below details some of the health problems that afflict these elephants as a result.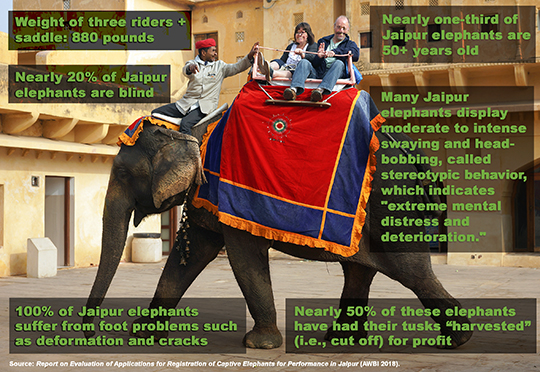 For all these reasons and more, today we are formally launching a campaign called Refuse to Ride. It's aimed at educating tourists and travelers on the real issues surrounding elephant rides, specifically in the city of Jaipur. We also hope to raise awareness among authorities within India who have the power to help the abused elephants there.
So far we've published a petition and an FAQ, launched an informational website called RefusetoRide.org, and are in the process of finalizing billboards for tourists visiting Jaipur. That's only the beginning.
Thank you for all your help and support in getting us to this point! Please help spread the word to everyone you know, especially those planning travel to places like Thailand and India.
Solitary Elephant Asha Still Waiting for "Responsible" Agencies to Act on Her Behalf.
The sordid situation for Asha, the solitary elephant suffering at Natural Bridge Zoo in Rockbridge County, Virginia, has persisted despite our best attempts to shut down this horrific roadside atrocity and get Asha released to a sanctuary. We recently filed a civil and criminal complaint on Asha's behalf by partnering with the legal team at the Animal Defense Partnership and a group of other nonprofit organizations. Now we ask for you to speak up for Asha again — before her whole life is wasted in misery!
TAKE ACTION
Stop the Elephant Bloodbath in Botswana.
Since July, approximately 87 elephants have been found dead with their faces hacked apart and their tusks removed by poachers for ivory in Botswana. This is a country where elephants have known protection and safety for years because of strict conservation enforcement. Urge Botswana's new president to uphold the country's protection of elephants before this once safe haven becomes a killing field for elephants!
TAKE ACTION
An unprecedented slaughter of elephants is happening in Botswana after the government disbanded anti-poaching units and disarmed rangers. At least 87 elephants have been killed since the actions were taken. Elephant advocates are sounding the alarm, demanding the Botswana government restore the units and armed rangers. Nicole started a petition calling on Botswana to do just that.
Join the worldwide outcry by signing today.
Restore Anti-Poaching Units to Prevent Future Elephant Poaching
On September 3rd, 87 elephant carcasses were found near the Okavango Delta wildlife sanctuary in Botswana. This is an unprecedented massacre considering Botswana has been recognized as one of the formidable defenders and conservationists of wildlife in Africa.
Botswana is home to approximately 130,000 elephants. Due to its steadfast conservation, elephants from other countries were crossing the borders into Botswana for safety.
However, after the election of President Mokgweetsi Masisi in May of this year, anti-poaching units (APU) were removed from the country's borders and the anti-poaching teams' weapons were confiscated. If these APUs were present, this recent killing spree of elephants could have been thwarted successfully.
According to the World Travel and Tourism Council in 2017, 74% of travel to Botswana was by tourists compared to business travel. Monies generated by tourists was 686.6 million USD or 7,119.6 million BWP (Botswana Pula) and this contributed to 26,000 jobs for 2017. The obvious reason tourists travel to Botswana is to see wildlife. If anti-poaching units are not restored, the number of wildlife will continue to dwindle and in effect lead to a loss of revenue and jobs, affecting the economy as a whole.
Each year approximately 35,000 elephants are killed in Africa. If their population continues to decline due to poaching, ecosystems will be affected. The presence of elephants in the delicate ecosystem is undeniably paramount in not only supporting other wildlife but for the people who live in Africa as well. Elephants in the wild aide in generating tourism dollars which fuels the economy that then helps to feed the hungry, finance education programs and enable health-care programs that save lives.
The wildlife presence in Botswana has an obvious overwhelming positive effect on human life. If we stand idly by, the loss of wildlife will have a negative effect in the quality of life for the people of Botswana.
President Mokgweetsi Masisi and the government of Botswana, your gravitas and solemnity are being beckoned by the world for you to restore the Anti-Poaching Units and arm game rangers. Your conservation efforts to protect the wildlife will in effect help your people and maintain the economy of Botswana. Click to help!