Rescued animals around Carroll County, Mississippi are going to have a brand new, state-of-the-art sanctuary to call home. The organization In Defense of Animals (IDA) is unveiling its redesigned Hope Animal Sanctuary, a shelter dedicated to housing animals that have fallen victim to abuse and need help to get back on their paws. The innovative complex will have its grand opening on May 12, 2018.
As IDA shares, animals in the Deep South are regularly subjected to animal cruelty, which tragically includes anything from abandonment and neglect to poisoning and injuring to beating and shooting.
"It is hard to exaggerate the impact of opening this cutting-edge sanctuary in the Deep South — it makes a huge statement about the worth of animals," said Fleur Dawes of IDA. "It shows that all animals deserve our devoted care and respect. It provides hope."
To create a place that would be much more than a sterile animal facility, the organization has reimagined the traditional concept of a shelter. Hope Animal Sanctuary is made up of the main operations center and a community of 20 "tiny houses," each of them complete with its own garden and ready to accommodate groups of rescued dogs. In the houses, the animals will be able to enjoy life in a comfortable home-like environment – so different from the usual shelter enclosures.
Over 100 guests are expected to join the opening ceremony of the newly-finished complex. During the event, IDA's President Dr. Kroplick will cut the ribbon and reveal the new operations center that houses a "calming cattery" and veterinary rooms. The center will also serve as a welcome and education site for visitors.
The opening will also feature a vegan buffet, a tour of the facility, and a chance for the visitors to meet the residents.
Over 25 years, Hope Animal Sanctuary has rescued and rehabilitated thousands of animals – now, the team will be able to continue this priceless work in conditions that are comfortable and friendly for the animals who deserve them so much.
To learn more about Hope Animal Sanctuary, click here. Lead image source: Hope Animal Sanctuary/Facebook
An appeal has been launched by GreaterGood.org and Animal Defenders International (ADI) to rescue caged lions in Guatemala.
These caged lions have been used as circus performers, suffering for decades traveling in cramped, rusted cages across the country. Circuses in Guatemala were given 12 months to relocate their animals following a ban on the use of animals in circuses that came into force in April. And while this is good and many animals are now free, there are five lions that are still being held in appalling conditions waiting to be rescued.
GreaterGood.org, a non-profit leader promoting the health and well-being of people, pets, and the planet, and ADI, who lobby to protect animals on issues such as animals in entertainment, are hoping to rescue these lions. They want to provide the animals with safe, suitable holding units once they have been removed from their current cruel cages, and once they have been given food and care, will airlift the lions to ADI's wildlife sanctuary in Africa.
ADI Colombia's Yani Mateus has relocated to Guatemala to coordinate ADI's food relief efforts, construction of those suitable holding units, and will assist with all ongoing efforts to secure the rest of the animals. The Guatemalan government is also taking part in these rescue efforts by providing initial emergency relief.
ADI President Jan Creamer said, "These animals urgently need our help and we hope, with the support of GreaterGood.org and the public, we can save them. As soon as they are safely in our care, we can prepare to give them a wonderful new life. With every donation, we are one step closer to giving these animals, who have spent their lives being forced to perform and confined to their circus cages, a life in Africa where they belong."
Circuses are known the world over for thrilling entertainment that has unfortunately become synonymous with animal cruelty and lack of safety. Even in staged stunts where animals are trained to perform, things can go horribly wrong. And animals the size of lions are not meant to be kept in cramped conditions without freedom of movement.
Lions are not like our house cats. They can't be satisfied with small enclosures and need the freedom to hunt and explore as they are designed to do. Efforts by organizations such as ADI and the Born Free Foundation hope to return as many circus animals back to their natural environments as possible. It is heartbreaking to watch these beautiful animals return to what they should already know and not know how to behave, or for them to have to experience their natural habitats for the first time.
This appeal by GreaterGood.org in conjunction with ADI could help bring caged lions back into the environments where they belong and assist those animals as they adjust to their freedom.
Please donate to this

campaign

to rescue these five circus lions if you can.

Image Source: ADI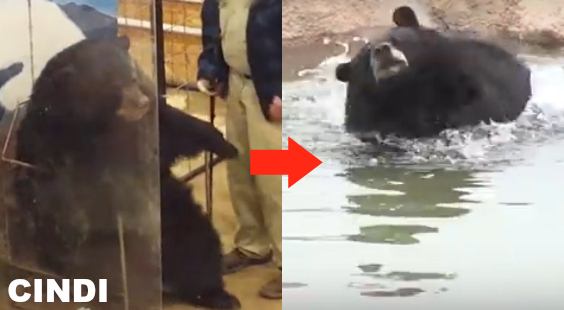 5 Bears Freed From Cruel Traveling Act—See Them in Their New Sanctuary!
After nearly 200,000 people took action, The Great Bear Show has been shut down, and with the help of PETA's funding, the bears formerly exploited by the show—Andy, Cindi, Brock, Bucky, and Barney—have been moved to a spacious, lush new habitat.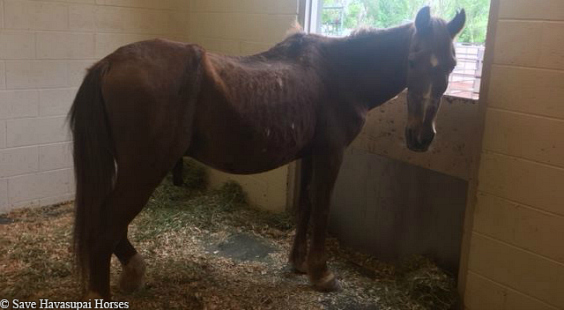 Thank you to the more than 146,000 people who took action to have Teardrop the horse removed from his abusers so that he could receive the veterinary care that he desperately needed.



Melania is a street dog who lives in the port of Bar in Montenegro. Street dogs get no help from local authorities in Bar, there's no animal shelter or veterinary care. So, when Melania fell pregnant she was on her own, surviving by scavenging in rubbish dumps and living on scraps.
She gave birth to 11 puppies in a storm drain under a main road. Then tragedy struck. While she was crossing the road, she was struck by a hit and run driver.
With her spine badly injured she crawled back to the drain and fed her puppies.