People routinely get away with committing unconscionable acts of cruelty to innocent animals without any consequences. It happens every single day: through systematic, industrial scale abuse on factory farms, puppy mills, and laboratories; in zoos, theme parks and circuses; on our streets, in our neighborhoods, or in wildlife.

The only thing more outrageous than animal abuse itself is when the crime goes unpunished. What do you do when authorities look the other way for animal abuse? Where do you turn when law enforcement fails to bring animal abusers to justice?

That's why we started our Animal Protection Membership Program — a program that empowers you to sound the alarm on animal abusers. Let's take a look at how the Change.org community is demanding justice for animals.
Strengthening Penalties for Animal Cruelty
With the support of 60,000 animal advocates, Debbie from Florida is petitioning the Florida legislature to change the state's animal cruelty laws to make it a 2nd degree felony to abuse or torture an animal. This would increase the penalty to up to 15 years in prison. She was inspired to take action after the death of Ponce, a nine month old Labrador puppy who was beaten to death.
Never Celebrating Those Convicted of Cruelty
When Rachel and Jessica from Virginia learned that their alma mater would be inducting Michael Vick into Virginia Tech Sports Hall of Fame, they were horrified. They both started a petition calling on the university to stop it.

Together, more than 230,000 animal lovers sent Virginia Tech the message that a man convicted of running a dogfighting operation must not be glorified in sports history.
These are just a few of the many ways thousands of animal lovers have turned to Change.org's free online petitions to wake up the authorities and force them to take action to hold animal abusers accountable for their crimes. Will you take a stand, too? Join Change.org's Animal Protection Membership Program today.​
Hundreds of Overworked Horses in the Philippines Have Never Seen a Veterinarian—Until Now
Help stop animal abuse on farms! The ability to investigate, document, and expose abuse of animals by the animal agriculture industry is crucial to the legal protection of animals and public health and safety. The evidence we collect allows us to build cases against corporations that are profiting from abusing animals.
That's why we need your help fighting the animal agriculture industry's efforts to push "Ag-Gag" laws.
Ag-Gag laws make gathering evidence of animal abuse illegal and punish those who reveal what really happens in animal agriculture. These laws violate our constitutional rights and they have already passed in nine states.
With your support, we have taken the states of Utah and Idaho to court challenging those state's Ag-Gag laws—and won. We were the first in the nation to file a lawsuit challenging Ag-Gag laws, and continue to lead the charge to overturn these unconstitutional laws—but we need your help to challenge Ag-Gag in the remaining states.
Without the freedom to investigate factory farms and slaughterhouses, we'd never know about abuses like those exposed by our investigations of the Tyson Foods chicken slaughterhouse and Hormel Foods supplier—exposing that many pigs are still alive as they bleed out after their throat has been cut or are boiled alive in a scalding tank. We'd never know about employees who resort to beating, kicking, and shocking pigs.
As our Utah and Idaho victories show, we can win this fight for animals together!
Trump Poised to Green-light Drilling in Polar Bear Habitat. The first oil development in federal Arctic waters may soon be a go: Hilcorp's Liberty project, involving drilling for oil from an artificial island in the Beaufort Sea, just got an initial green light from the Trump administration in a draft "environmental impact statement." Federal documents show that offshore drilling in the Arctic carries a 75 percent chance of a major oil spill.
"Polar bears, bowhead whales and other imperiled Arctic species will be in terrible danger if the Trump administration approves this project," said the Center's Kristen Monsell.
Read a three-part series on Hilcorp's dismal environmental record in The Revelator.
Captive Bears Languishing in Decrepit Concrete Pits Need Your Help!
Cherokee Bear Zoo (CBZ), a deplorable roadside attraction in North Carolina, has been confining bears to tiny concrete pits for years.
Bears should spend their days foraging for food, exploring a vast natural habitat, digging in the soft earth, and hibernating in dens in the winter. Instead, those at CBZ are forced to live in inhumane conditions, with nothing to do but beg tourists for food in the virtually barren pits or pace in small circles on the hard, hot concrete.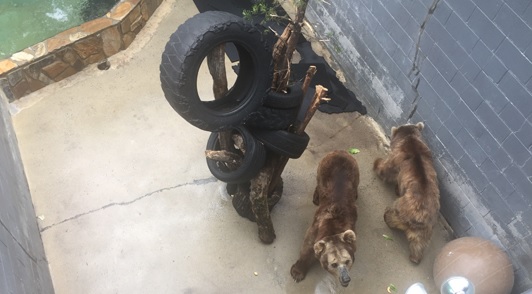 Bear cubs, who would be with their mothers for two years in the wild, are forced to live alone at CBZ so that they can be used as photo props, beginning when they're just weeks old. When they grow too large to be used for these encounters, they're typically shipped off to other roadside zoos and forgotten.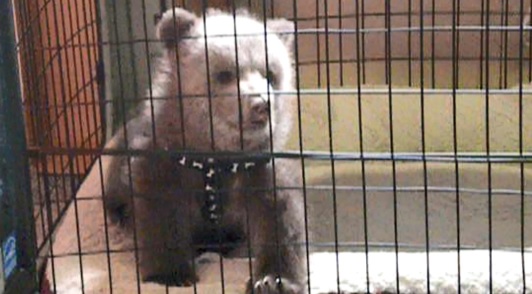 Two compassionate tribal elders of the Eastern Band of Cherokee Indians decided to help these bears. In 2013, they filed a lawsuit against CBZ alleging that the facility is violating the Endangered Species Act (ESA) by confining grizzly bears to the pits. The case went through the courts for years, but on August 14, 2017, the U.S. Court of Appeals for the Fourth Circuit ruled in favor of the elders and ordered the lower court to give them another chance to prove that confining protected grizzly bears to tiny concrete pits violates the ESA.
You can help the bears at CBZ, too! It's time that these archaic pits were closed. Join PETA in urging CBZ owners Barry and Collette Coggins to end the bears' exploitation by sending them to a reputable sanctuary, where they'll get the space and quality care that they deserve.
| | |
| --- | --- |
| | Two hounds from a Devon and Somerset stag hunt were caught chasing a stag on to the League Against Cruel Sports' wildlife sanctuary in Somerset. |
| | |
| --- | --- |
| | Tougher sentences for dog fighting could provide a real deterrent for this brutal form of abuse. |
| | |
| --- | --- |
| | Despite announcing it was dropping trophy hunting, MyOutdoorTV is still showing an abundance of sickening trophy and 'sport' hunting footage |
| | |
| --- | --- |
| | In the future we'll look back disdainfully at the practice, and justifications, of shooting animals and birds for 'sport'. |
WATCH: Brave activists disrupt bullfight, one is tackled and kicked in ring.