200 Research Animals Were Left Without Food or Water After Lab Went Bankrupt – Hold the Person Responsible Accountable!
PETA's eyewitness investigation found that workers at Bio Corporation, a Minnesota-based company that sells animals slated for classroom dissection, killed animals in horrific ways. They drowned pigeons, who were packed into crates, in tubs of water and injected live crayfish with liquid latex. Workers also reported that conscious turtles were frozen to death.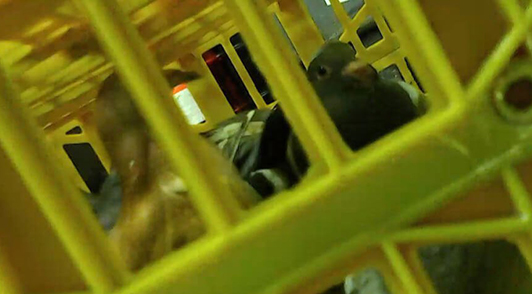 Companies such as Bio Corporation continue these hideous practices because schools continue to purchase animals for dissection, even though modern and humane alternatives exist and are increasingly being adopted.
Plans have been submitted to Canterbury City Council for a new animal testing facility, where cruel experiments would be carried out on cows, pigs, and sheep.
The animals would be used to test vaccines and drugs that could have dangerous and potentially lethal effects on their health.
If the facility is built, cows, pigs, and sheep will be confined to metal pens with hard limestone-chipping flooring for months on end.
They'll undergo regular blood draws while drugs are being tested on them.
It's unclear what their fate would be once the experiments have ended – the application simply states that they'll be "taken away".




Gandalf lived, suffered, and was killed in a laboratory—we must spare other monkeys a similar fate.
Gandalf—a monkey confined to a laboratory at the University of Pittsburgh (Pitt)—was so desperate for affection that he presented his back to passersby and gestured desperately to try to get them to groom it.
But he received no affection or warmth—only torment. After a severely stressed monkey caged nearby bit Gandalf's hand down to the tendons, the veterinarian on call refused to examine his injury. Instead, she just prescribed ibuprofen—a woefully inadequate treatment for such a serious wound. He was then forced to undergo an experimental surgery. Three weeks later, he was euthanized and sealed in a biohazard bag after experimenters took tissue samples from his corpse.
Today, there are hundreds more monkeys trapped in cages at Pitt, while tens of thousands more languish in other laboratories, experiencing pain and fear as Gandalf did.
Please help support PETA's vital work to end cruel, deadly experiments on animals.
PETA's eyewitness observed other monkeys in the laboratory slowly losing their minds: pacing, rocking, and displaying other repetitive behavior often seen in stressed animals held in captivity. Since our investigation, news reports broke that a monkey who may have been infected with a dangerous pathogen escaped from a cage at the same university and that staff allegedly attempted to cover it up—potentially putting animals and humans alike at risk.
Powered by committed PETA supporters like you, our work to end experimentation on animals has helped reduce the number of monkeys, rabbits, and other animals suffering each year:
We recently persuaded food giant General Mills to ban experiments on animals for the purpose of making health claims about its products. It now joins Coca-Cola, Lipton, and many of the world's largest food companies that have stopped cruel tests after hearing from PETA.

Not long afterward, the U.S. Coast Guard confirmed that it had ended the use of animals in cruel trauma training drills. It took years of aggressive campaigning by PETA to stop the service branch from shooting, stabbing, and dismembering goats, pigs, and other animals.
But as long as even a single animal is suffering in a laboratory, we must push forward to end the neglect and abuse—and we can't do it without your support.
Our goal is for 1,000 generous supporters to make a donation by midnight on April 30. We're making good progress, but we need you with us, too. Give your gift of $5 or more now and help prevent more animals from suffering in laboratories and cruel experiments!
As always, thank you so much for all that you do for animals—every step we take toward a kinder world is only possible with your dedication and compassion.