Daisy Arrives at the Elephant Rehabilitation Center, Haryana. Delhi seems to be bursting at the seams with an estimated population of nearly 20 million people. Every nook and corner of the city seems to be occupied with people, who flock from all over the country in search of better and more opportunities. It goes without saying that Delhi is crunched for space and certainly the city does not have enough space for a species such AS elephants! Yet Delhi has had a special love affair with elephants for many years.
Larger-than-life Delhites have never shied away from renting out privately-owned elephants that resided in the city. These captive elephants, whose numbers were pegged at 22 in 2003, were used for every commercial activity imaginable. It was a common sight to see elephants roaming around on the jam-packed roads of Delhi, as devotees of Lord Ganesha would stop their cars to quickly grab a blessing. Weddings, too, would be graced by elephants, who would be decorated heavily to add to the pomp. In fact, to add a royal touch to big parties, promotions, and ceremonies, captive elephants of Delhi were an important check-list "item." The elephants of Delhi were reduced to just commercial entities, whose owners thrived as people paid big bucks to rent them out.
With apathy from the public and their owners, captive elephants of Delhi suffered endlessly. A report in 2016, 'Welfare Assessment and Legal Compliance of Captive Asian Elephants' highlighted the plight of the Delhi elephants, whose numbers had reduced to just 7 by then. It was noted that the elephants were suffering from malnutrition, they were over-worked, their delicate footpads cracked, and their ears were torn from the use of sharp bull-hooks. Adding to the woes of the elephants was their horrific living conditions on the banks of the polluted river Yamuna where they were, like all citizens of Delhi, breathing hazardous air. A legal fight to rehabilitate Delhi's last remaining elephants lasted nearly 4 years, as the owners fought tooth and nail to keep the elephants under their reign. Amongst this tug-of-war with the Forest Department and the greedy owners, the elephants awaited a new peaceful home.
Daisy before embarking on her journey to Ban Santour.
Perhaps the Lady of Fortune spun her wheel generously on 15th of April, 2019 as life for Daisy, a 50-year old elephant, changed overnight! In a rescue operation that was led by the Haryana Forest Department and the Delhi Forest Department, Daisy was translocated to Wildlife SOS' Ch. Surinder Singh Elephant Rehabilitation Centre in Yamunanagar, Haryana for lifetime care and retirement.
Before setting out on the 200km-long journey, Daisy was given a fresh shower with cold water as the temperature in Delhi is soaring. She was also fed bananas and sugarcane, and we soon found that this special girl has a soft spot for ripe bananas! Daisy was extremely calm and cooperative throughout the journey, as if she knew that a kinder future was waiting for her. She arrived at the Ch. Surinder Singh Elephant Rehabilitation Centre at the dead of night to start a new chapter in her life. She immediately took to her surroundings and started plucking leaves from the bamboo trees nearby, filling our hearts with warm happiness.
Overgrown cuticles of Daisy's feet that are in need of urgent medical attention.
Daisy's body is riddled with wounds from her past. She is chronically blind in her right eye and has partial blindness in the other. Her feet are in a terrible state- the cuticles of her feet are overgrowing and her toenails are cracked. The footpads of her hind legs are thinning due to years of walking on concrete. Daisy also has several scars on her body that are indicative of the cruel beatings that she received from her owner.
Daisy will receive dedicated medical care at ERC and will be subjected to blood tests and other assessments.
We hope that in the lush, green forests of Ban Santour and with the dedicated care from our team, Daisy will recover from her traumatic past gradually, and learn to be an elephant again.
Wildlife SOS is extremely grateful to the Delhi Forest Department and Haryana Forest Department for rescuing this distressed pachyderm and giving her a new chance at life.
A Note from Candice Bergen:
They gun down elephants with AK-47s. They poison rhinos to hack off their horns. They kill lions for their bones and rip the scales off every pangolin they catch.

These guys think they can get away with anything. But that's just because they haven't met their match... yet.

I'm about to make the introductions. Want to join me?

With you on our team, African Wildlife Foundation can deter poaching, catch traffickers, and train law enforcement to put these guys away.

Here are a few ways your gift (doubled by me) can help AWF shut down the cruel wildlife trafficking industry:
| | |
| --- | --- |
| • | Sniffer dogs will track poachers to their hiding places |
| • | Coordination among wildlife authorities will deter poachers |
| • | Canine detection teams will bust smugglers with 90% accuracy |
| • | Law enforcement and prosecutors will use AWF training to build cases against wildlife criminals and impose just sentences |
| • | New technologies, including drones, will increase surveillance and a new cybersecurity initiative will help identify international traffickers and disrupt online sales. |

Poachers aren't going to like this one bit.
AWF is ready to close the net on wildlife criminals. Let's help them do it.
Thank you,
Candice Bergen
Actor and Animal Advocate
As many as 20,000 African elephants are killed each year to fuel the black market ivory trade. WWF is working to save habitats of species across the globe and to stop illegal wildlife trade. Please visit
http://myWWF.org
to become a monthly donor today. Monthly donors provide resources we need to supports WWF's global conservation work.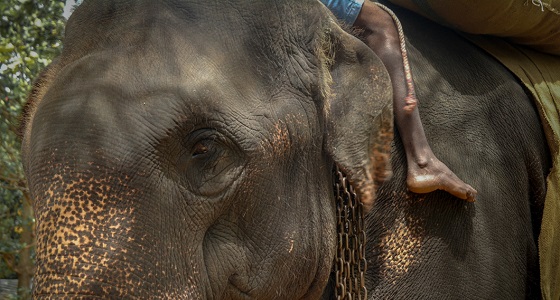 Never Ride Donkeys, Camels, or Elephants
.
Most animals forced to give tourist rides endure lives of exhaustion, violence, and neglect. Ahead of the summer holidays, we've put together four e-mails you can send to key decision-makers right now to help camels in Egypt, donkeys in Santorini, horses in Mallorca, and elephants in Nepal. Click to read more or to be part of the effort to stop this.
The Bid To Be Wild auction is in full swing, and now is the perfect time to get in on the action! Remember, all funds raised will be used to support our programs in India.
Here are a few of the unique items that you should check out:
1. Phoolkali - an original painting of our beloved elephant who resides at our sanctuary by artist Ann Radley
3. Maya #3 - an original painting of our precious elephant Maya by artist Alpana Ahuja
Whatever you decide to bid on, you can feel good about your decision, since the money we raise will help wildlife.
If you would like to support the auction, but don't want to place a bid, another option is to buy a virtual gift for the animals in our care.
The online auction is live, but bidding on items isn't the only way to get involved and help! Purchase one of our virtual gifts today, and you'll support the work we do to help both animals and people.

1. Fund a child's education. When we rescued the dancing bears, we also committed to setting up former bear dancers with new vocations, and to educating their children. The plan is to end the cycle of abuse and eradicate the cruel industry forever. Just $125 could cover an entire year of education for a child like Sameer.




2. Treat Kalpana to a healing pedicure. Years of walking on burning hot pavement causes terrible pain and often debilitation for our rescued elephants. For $50, you can cover the cost of a foot treatment that is both comforting and essential to an elephant's recovery.


3. Feed a rescued sloth bear for a day. Sloth bears in the wild spend their time foraging for fruits and food. The rescued bears at our centers are provided with ample, nutrient-rich food and seasonal fruits and treats. For $20, you can feed a bear and fill their day with joy.
The Sustainable Action Network (SAN), A Don Lichterman non-profit organization
dedicated to building a global community raising awareness of corruption, injustice and the need for action across a full range of issues impacting people and animal/wildlife welfare around the world, such as conservation, climate change, campaign law, lobbying, government action and rescue work. SAN's vision is to create safer world, free from political, environmental, and social oppression, where all the inhabitants of Earth can live in harmony within their own natural environments.
Our companies are known for creating products that enhance people's lives. Through Sunset Corporation of America and its companies, we're equally dedicated to improving lives.
Our commitment extends to helping local communities, fostering better educational systems, supporting the arts and culture, helping disadvantaged youth, protecting and improving the environment, animal welfare, wildlife issues and encouraging employee volunteerism.
Activism and Sustainability:
Sustainable Action Network
Fairness and Equality:
Voters Issues & Gerrymandering

Private Prisons & the War on Drugs

Finance, Housing & the Economy
Corporate Responsibility:
Bills, Laws & Protections

Comprehensive Captivity & Hunting Results Databases
Sustainable Action Network (SAN)