I do get that 'meat's, meat and man's gotta eat' so to speak, but I am sorry when it comes to reality game shows like Survivor, it is not the true sense of needing to Survive.
And, therefore them handing out three chickens to be killed every season needs to be stopped.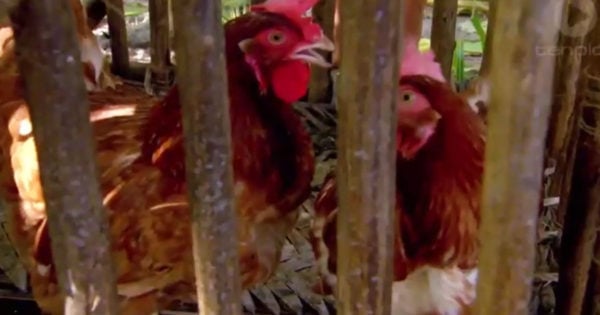 It hit me a few years ago when certain contestants had cuts on their bodies and the Survivor production crew and medical crew swooped into not only take one person out of the game, another one was also given antibiotic cream to keep on the cuts.
My point is that if whomever is so malnutritioned on that show, medical will swoop into save the day with some food.
That is NOT surviving as in the true sense of needing to survive if you were out in the wilderness without food.
As a matter of fact, I created a petition that was delivered to the show but nothing came of it.
Stop killing chickens on the CBS show "Survivor"
Handing out chickens for people to kill right away for the sake of a game show is just ridiculous. It is a game show for gods sakes. Like I said above here, you are not surviving per se when you know a medical crew can step in at anytime to help.
There are animals now being used for a game show in Malaysia.
Astro is a direct-broadcast satellite pay TV service which is currently airing a local show called Pettikulle Enna. The show – which is in its third season – uses animals to shock and amuse participants for the sake of entertainment. Participants touch and inappropriately handle snakes, lizards, iguanas, frogs, mice, scorpions, and many other animals in a "fear-testing" game that Astro describes as "an interesting take on fear and comedy as the participants are made to feel and identify the most bizarre things – from snakes to cakes – in an undisclosed box". Episodes can be found here.
Rather than being allowed to explore lush jungles, swamps, and other natural habitats, these animals are placed in a scary, loud, and dangerous environment. Snakes, for example, naturally shun contact with humans, and being held, touched, petted, or passed around is stressful and leaves them prone to illness and injury. Animal handlers are more interested in making a profit than the animals' welfare, so snakes' specialized care needs – including precise diets – are often not met. Captive snakes are often relegated to aquariums in which they can't even stretch out to full length, much less move around much or climb.
Animals aren't actors or spectacles to imprison and gawk at. Yet for this show, they're forced to take part in silly, confusing games; kept caged in barren, unstimulating, and filthy enclosures; and separated from their families and friends – all for the sake of human entertainment.
The physical and mental frustrations of captivity often lead animals to exhibit abnormal, neurotic, and even self-destructive behaviour patterns. Many even die prematurely.
As a giant media company in Malaysia, Astro should speak out against animal abuse and instead air programmes geared towards informing the public about animal cruelty.
Please take a moment to write to the following individuals in behalf of these animals and ask that they cease the broadcast of Pettikulle Enna immediately:
Mr Henry Tan Poh Hock, Astro CEO at henry_tan@astro.com.my

Mr Marc Lourdes, VP of Digital Content at marc_lourdes@astro.com.my

The Malaysian ambassador to your country (Please find contact details here. As you may be aware from our previous mission, the embassy's e-mail address may not always be up to date on the website provided. If you get a message indicating that the e-mail failed to send, please check the embassy's website directly or let me know and I'll help you find the current e-mail address.)
This TV show needlessly kills wild animals for ratings. Tell Nat Geo to cancel "Running Wild" and end the cruelty.
Survivalist and TV personality Bear Grylls has earned the nickname the "Butcher of Bulgaria" for needlessly killing wildlife after an episode of his survival skills/reality show "Running Wild."
In the episode, Grylls and his guest, "Dancing with the Stars" dancer Derek Hough, embark on an outdoors adventure in Rila National Park, which is one of the most protected ecosystems in Europe. It was here — surrounded by this pristine nature — that Grylls and Hough caught several protected frogs and slaughtered them on TV.
Animals aren't props. Sign the petition and tell Nat Geo to cancel "Running Wild."
"Running Wild" is currently on the Nat Geo TV channel, which seems strange and counterintuitive. National Geographic is an organization that for years has taught people about the beauty and diversity of the natural world and why we should respect it. So why do they allow Grylls to murder innocent animals for ratings?
Killing animals as a stunt for a TV show is wrong and unethical. Tell Nat Geo to cancel this cruel show now.
Millions of imperiled animals are plucked from their wild homes each year for hunting trophies and for sale as trinkets, unproven medicines and décor. It's sickening, and it has to stop.
That's why, in May, 183 nations will gather in Sri Lanka for the next Convention on International Trade in Endangered Species (CITES) meeting to decide which animals and plants need protection.
Tell the U.S. representatives at CITES to push for the strongest safeguards possible to rein in the endangered species trade.
Your comments will help inform decisions on a wide range of imperiled wildlife — including giraffes poached for meat and the bone trade, blue tarantulas and adorable otters collected for the pet trade, and sea cucumbers eaten as a luxury food.
Nations will also debate new measures to save Mexico's vaquitas and a few terrible proposals to open more trade in elephant ivory and rhino horn.
Mercy For Animals has launched its new three-year strategic plan, vision statement, and core values to help guide our lifesaving work in the years to come. We know you care about animals, so we are surveying our top supporters to find out which one of our new core values speaks to you most!
While it may be hard to choose just one value, our promise to you is to stand by them all. We look forward to updating you on our progress in the months ahead.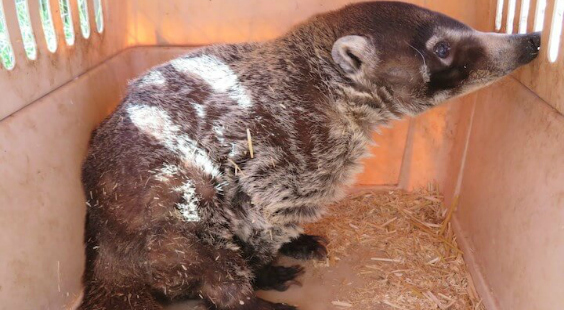 Badgers Slaughtered for Paint Brushes—Call Now. Blick Art Materials continues to sell paint brushes made with badger hair, despite knowing that hunters often illegally capture and kill badgers in the wild and that these social animals endure physical and psychological torment inside cramped cages on farms, sometimes for years, before workers cut their throats. Call the Blick Art Materials' customer service line at 1-800-828-4548 and let the representative know that you'll refuse to buy its products until it bans badger hair, and then

let us know how your call went

.

Act Now: Plans for Shropshire Egg Farm Have Been Resubmitted. After over 20,000 PETA supporters took action last year, the original proposal for this farm was withdrawn, but the developers have now resubmitted their application. If it's approved, 32,000 chickens at a time will be condemned to a life of misery and eventual slaughter. Call on Shropshire Council to reject these plans.
Urge ITV to Stop Broadcasting the Grand National.

ITV is still broadcasting this unethical spectacle, even though horses have died at the Grand National Festival in 16 out of the last 18 years. It's common for horses used for racing to suffer heart attacks on the course or develop debilitating medical conditions like bleeding lungs. This is a national disgrace. Let's put pressure on ITV to stop treating cruelty to animals as entertainment.