Did you know that the Wildlife SOS Elephant Hospital has a hydrotherapy pool? Hydrotherapy offers many benefits like relieving muscular pain and helping with arthritis. This type of therapy is incredibly helpful to our elephants, who've endured so much trauma and backbreaking work prior to starting their new lives with us.
We have achieved the impossible and managed to get the 47 animals out of Rafah zoo.
The two adult lions were flown to our LIONSROCK Big cat Sanctuary In South Africa and the pelicans were released into the wild after receiving treatment. The other animals are starting their new lives at the Al Ma'wa for Nature and Wildlife sanctuary, a cooperation project between the Princess Alia Foundation and FOUR PAWS.
We are just a few subscribers away from 4 MILLION Subscribers!!! If you didn't subscribe yet, please join us and if you didn't click on the notification bell, please do so as well so you will always know when a new video is posted. On Friday we will post a special video - you don't want to miss this one. Also, if you didn't download our Hope For Paws App yet, you can do it on the App Store or Google Play FOR FREE!!! Acacia was so scared of humans, and even when JoAnn Wiltz from Hope For Paws and Jacqueline Artecona from Pitties and Pals approached her, she wasn't willing to surrender easily. After the rescue was accomplished and the benign tumors were removed, Acacia completely changed and she is super happy, loving, and she now needs your help with finding a loving forever home. Acacia is now in her foster home in San Diego with our friends at It's The Pits and if you would like to meet her and adopt her, please contact them directly:
http://www.ItsThePits.org
On the first day when I saw this dog by the freeway, I had no chance against her... she just bolted and disappeared! It took her two days to come back to the same location and then I brought reinforcements - I brought Loreta with me. This video is cool because the main part of it was filmed with TWO cameras - it created a neat effect. Loreta named her Hanako in memory of her own dog, Coco Hanako who recently passed away. If you will watch until the end you will see the cute little poodle she rescued from the shelter. Rescues like this are dangerous because of their proximity to the freeway, they are dangerous to us because we could have gotten seriously hurt, and I am so happy it all worked out so well. After receiving medical care, our friends at L.A. Animal Rescue invited Hanako to be in their foster home and they helped her so much and then found her an amazing forever home!
https://www.LAAnimalRescue.org
You can now follow Hanako (now renamed Luna) on Instagram here:
https://www.instagram.com/withlove.luna/
An Animals Asia rescue team successfully freed two female moon bear cubs from Central Circus in downtown Hanoi, Vietnam after the authorities confirmed they were being held illegally.
The cubs were transferred to Animals Asia's award-winning Vietnam Bear Rescue Centre in nearby Vinh Phuc province on Wednesday 24 April, where they immediately entered a quarantine area.
The cubs, named Sugar and Spice weigh just 36 and 50 kilogrammes respectively and are believed to be under a year old. A preliminary health check found no serious health problems but Spice was found to have a scar on her wrist – likely from being trapped in the wild – while Sugar had suffered some dental damage.
Now they are safe and their new lives begin.
But our work doesn't end when a bear is rescued. That's when it really begins…
As cubs, Sugar and Spice can expect to live up to 30 years. And with no survival skills or safe forests for release, they will likely spend the rest of their lives in our care.
That's a huge commitment we can only make with your help.
A gift from you today could help support the long-term care and rehabilitation facing these two innocent bears.
A long rehabilitation process is expected for moon bear Amy as starvation and dehydration means vets dare not yet risk surgery. Animals Asia Bear and Vet Team Director Heidi Quine explains how Amy is faring and what lies ahead on her long process of rehabilitation from extreme cruelty on a bear bile farm.
Double the trouble, double the fun. How adorable are these little ones? As it's clear to see, Mi and Tam are doing great – especially since they discovered their jungle gym and plant enrichment. Just enjoy watching them. For their whole story click here:
https://www.four-paws.org/our-stories...
Please become a part of giving these brave little bears the happy new livest they deserve.
It's that time of the year, where we will be called out to rescue many female mallards and their ducklings. Females tend to nest in the same spot each year and when this kind lady discovered the same female and her latest brood of ducklings in trouble, on top of a 7 story car park, she chose to intervene. However, not all members of the public were there to help - one caught a duckling and quick footed it in to their car! As they tried to catch mum, she flew out of sight and failed to return. Fearing for the ducklings safety, this very helpful lady brought them to the centre so that we could care for them as they should be cared for.
Animals trapped in netting are a common call for us at this time of year, but herons are not the usual culprit. This particular bird had become tangled in pond netting after trying to get to some fish and was unable to escape. Simon and two of our work-experience volunteers, Lars and Rachel (who were big fans of Wildlife SOS when it aired on television) set off to help and soon had the heron cut free. Unfortunately though, the netting had done a little too much damage and the bird had to come back to the centre for treatment. Luckily, though, it was only a few days before it could take to the air again once more!
We're often called out to rescue birds, that find themselves mysteriously trapped inside chimneys! Whilst a common rescue for us here at WAF, they aren't always plain sailing. However, this next rescue proves to be one of Simon's quickest rescue releases, so far this year! Anyone would think he'd been doing it for 40 years!
We rescue and rehabilitate animals from all kinds of situations, but a hedgehog on an electric fence is certainly a new one for us! A member of the public found him caught on the electrified wire, receiving shock after shock as he couldn't get away. The poor hedgehog could have suffered a number of issues from his ordeal, so he was rushed into the centre for care and rehabilitation.
For over a year, Maggie the husky mix was chained out in the frozen snow alongside dozens of other dogs at Team Baker Kennel, a dog-mushing operation whose teams have competed in the Iditarod. She had almost no protection from wind chills that reached minus 19 degrees Fahrenheit, and her only source of water was frequently a foul "stew" of meat that was often rotten or moldy. But all that changed when the PETA eyewitness who worked there persuaded the facility's owners to give her to him.
On a cold, rainy day just after Christmas, NYPD Officer Michael Pascale was on the job in Brooklyn when he spotted an abandoned dog chained up to a fence, soaking wet and huddled against the bracing wind. He immediately jumped out of his car and ran over to the shivering animal—one look in the dog's eyes and Officer Pascale knew he was looking at family. He officially adopted the pup, named him Joey, and now the two are inseparable.
After being rescued from Rafah Zoo in Gaza, the two lions safely arrived in South Africa 🇿🇦 last week. At their beautiful and species-appropriate new home they finally get the chance to heal from their difficult past. Our team at LIONSROCK Big Cat Sanctuary & Lodge will make sure Motan and Pisa receive the special care they urgently need.
Help us to urge the Albanian authorities to issue the transfer papers for Lenci, Bobby and Zhaku rescued from "Europe's Worst Zoo". We want to finally bring them to our FELIDA Big Cat Centre, but bureaucratic arbitrariness in Albania is standing in our way. Join our protest and sign here,
http://bit.ly/FightForFierLions
When Gerhana arrived at the Forest School, he was critically malnourished, dehydrated and constipated. He had been kept in a small cage built for a cat, within an empty room. He had a strong fever and showed flu symptoms. He was close to death. It took intensive medical care and 24h/day supervision to bring him back to good health. Now, he is an active little boy who loves to swing from branch to branch, tree to tree—something he does with ease. When the keepers find a tree with food, he moves like lightning to reap the rewards. He loves to eat! As he was so underfed when he arrived, this is a blessing, and we love to see his little belly grow and his hair return to his body. Gerhana still has a bullet from an air rifle embedded in his lower left shoulder—possibly the remnants of the conflict that killed his mother. Luckily, it is not disturbing his health, but we may need to remove it as he grows older.
A tiny, injured kitten was rushed to our Hope Animal Sanctuary by two young men who found her on the side of the road. It was clear the kitten needed urgent care, and our team knew just what to do!
Dr. Daniel Hill, our veterinarian, immediately examined the adorable black and white kitten and discovered that her leg was severely damaged. A car motor most likely caused her gruesome injury after she attempted to seek refuge under the hood of a vehicle to stay warm.
Sadly, her injuries were too severe, and her leg required amputation. Dr. Hill performed the surgery the same day. Within just a few days, the resilient kitten, now named Samantha, was on the mend and ready to leave the hospital!
While visiting the Sanctuary, our rescue partner, Chris McLaughlin, fell in love with little Samantha and knew the perfect home for her! The very next day, Samantha was in the loving arms of her new guardian and now shares her home with another 3-legged kitty! Samantha is now a happy, healthy kitten who loves to play with toys!
Samantha is living the good life thanks to your support!
Daisy Joins the Herd!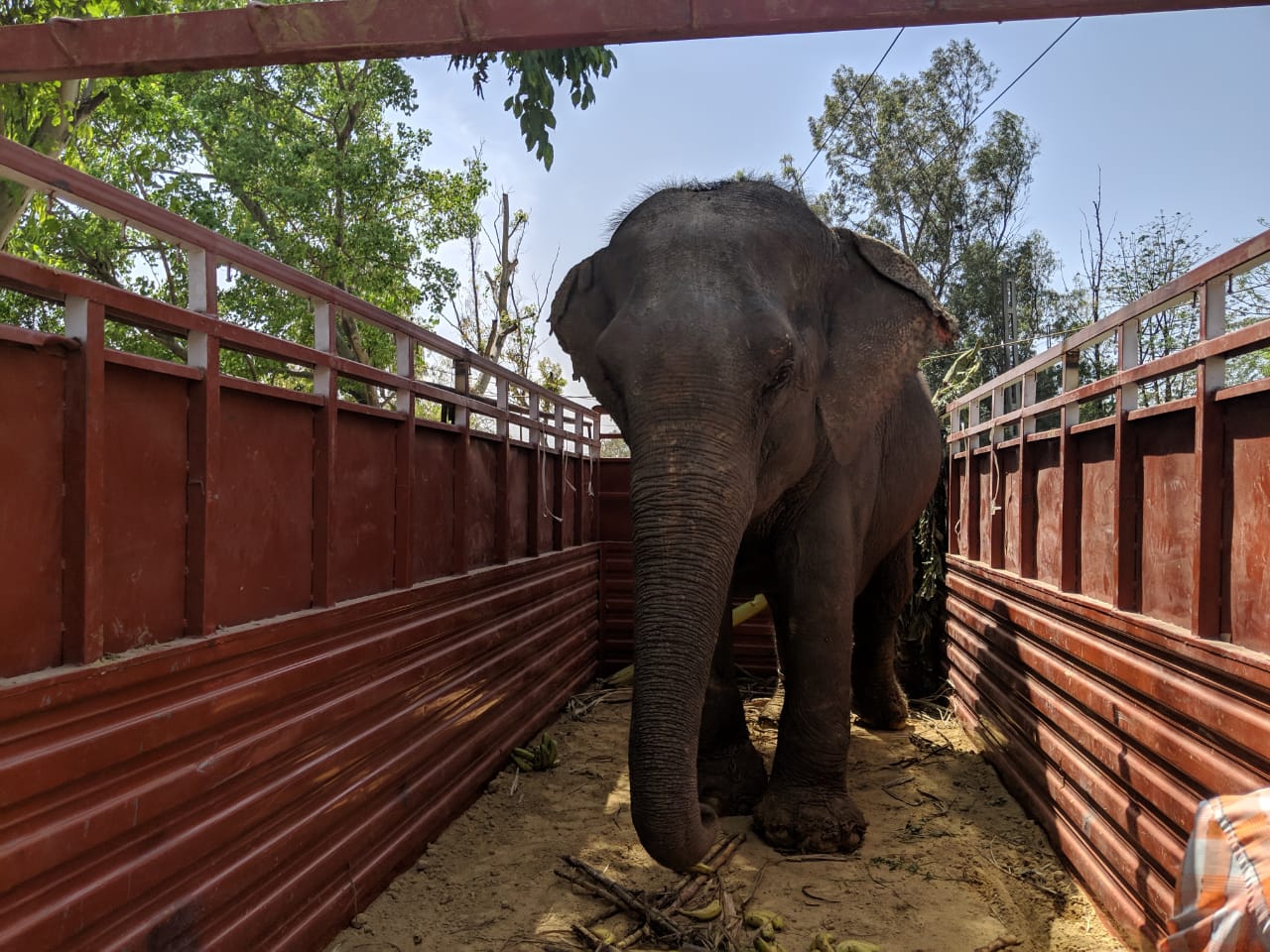 We are delighted to report that Daisy, a 51 year old begging elephant who has been living on the streets of Delhi for decades, has just been rescued. Just a short while ago, she arrived at the Elephant Rehabilitation Center (ERC) located in the picturesque Ban Santour Forest of Yamuna Nagar in Haryana. There she joins elephants Lilly, Erika and Ella, in a lush forest with endless acres to explore. The elephant center is run by the Forest Department in collaboration with Wildlife SOS.
Daisy was used for begging and wedding processions in the busy streets of Delhi. Her poor health condition shows how hard she was worked and how poorly she was cared for. Daisy has overgrown footpads and cracked toenails. She is blind in her right eye and can see partially with her left eye. Her ears are torn from the use of a bullhook.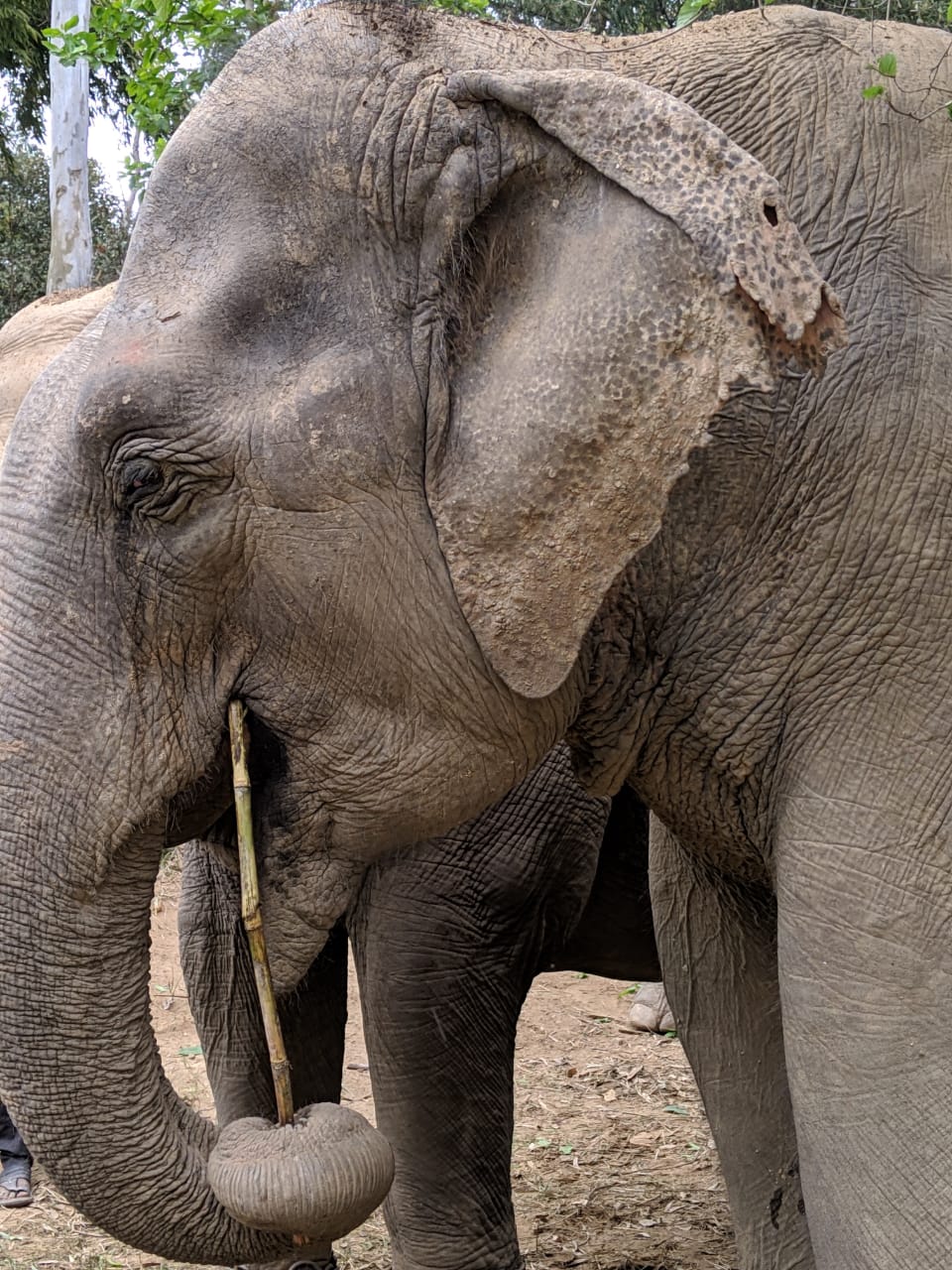 Delhi has a population of almost 20 million. It is a dangerous and dismal place to be an elephant, and we have been working with the Government to get all of the elephants out of the city.
In fact, Daisy's entire rescue operation was completed with the active support of the Delhi Forest Department and the Haryana Forest Department. A team from the Forest Department and Wildlife SOS escorted Daisy from Delhi to the Elephant Center in Haryana.
We will keep you updated as we learn more about Daisy's history, her personality, and her condition. Until then, we hope you will join us in welcoming Daisy to the Wildlife SOS family.
BE A PART OF HELPING OUT ALL KEY CONTRIBUTORS & FEEL FREE TO HELP THEM RESCUE OUR WILDLIFE AND ANIMALS WHILE BEING A PART OF THEIR REHABILITATION, RELEASE AND FINDING THEM HOMES:
The Sustainable Action Network Rescue Network
:

Wildlife Aid TV:
Ever wanted to see the goings on behind the scenes at a Wildlife Rescue Centre? Well now you can! We have super cute hedgehogs eating their dinner, dramatic rescues of wild deer and everything in between. So click subscribe to keep up to date with our new videos uploaded weekly!
Please join the crew at Wildlife TV and be part of every rescue.

Text us using WILD3 to 70300 help and this text can be used with UK residents only.

Animals Asia: Please become a part of the entire rescue from them being in the field, to the transporting of all in need and then to the integrations (usually for the first time) into a normal way of living (not in a tiny cage and most Rescues touch grass for the first time which get documented in all of our videos and episodes).

PETA (People for the Ethical Treatment of Animals): Check out the rescues by the team at PETA. They rescue animals worldwide.
FOUR Paws: We have achieved the impossible and managed to get the 47 animals out of Rafah zoo. The two adult lions were flown to our LIONSROCK Big cat Sanctuary In South Africa and the pelicans were released into the wild after receiving treatment. The other animals are starting their new lives at the Al Ma'wa for Nature and Wildlife sanctuary, a cooperation project between the Princess Alia Foundation and FOUR PAWS. Please be a part of this history being made in front ours eyes every day / week!
Hope For PAWS: Follow the full rehab to new home and be a part watching the Veterinary care needed after they complete the rescue of the animals on the streets in Los Angeles areas (they have gone to Costa Rica and South America along with other countries to rescue too, but the Hope For PAWS gang primarily works out of LA).
In Defense of Animals: Fighting for animals, people and the environment…since 1983. Together we are making the world a better place for animals, humans, and the environment.

Flying Fur Animal Rescue: A 501(c)(3) non-profit dedicated to saving animals from kill shelters and euthanization. We have no administrative overhead or salaries; every dollar goes back into the organization to further our rescue efforts. Additionally, with an owned aircraft, we upkeep all maintenance costs to keep our aircraft airworthy.