Dumbass tourist Caught a Shark and Proudly Dragged the Animal Along Beach as Onlookers. In today's current age caught up in excessive selfies and the documentation of every move we make, people often go too far and do outrageous things all for the sake of a social media post. There have been countless incidents of bumbling idiots who think it is humorous, entertaining, and worthy of bragging rights to drag out animals from their natural habitats and bombard the terrified (and more often than not, dying) animals with photos.
And another incident of this kind has just been documented in Kismet, Fire Island, New York, where a man caught a shark and was photographed dragging it by the tail as onlookers snapped photos in amusement.
The comments posted on Facebook in regards to the incident are varied. Some ignorantly defend the individual who is seen dragging the shark in the image, making claims along the lines that he was just fishing on vacation and eventually dragged the shark back out to the ocean, where it swam away.
However, other more scientifically-minded commenters point out that even though the shark was taken back to the water, it does not mean it survived the ordeal, as dragging the animal in such a brutish manner by the tail can dislocate its backbone, sand tracked in to the gills and eyes can lead to wounds and infections, and being out of the water can cause serious disruption of buoyancy.
One comment notes that catching these sharks is illegal, and if one is accidentally caught, it must IMMEDIATELY be SAFELY returned to the water … and by the looks of things, this was not done in this case before putting on a show and a bevy of photos were taken by a dumbfounded mob.
It is never okay to remove wildlife from their natural habitats, and if it happens by accident, it should not be seen as an opportunity for reckless behavior and a photoshoot. If you ever happen to come across an incident like this, be sure to be the one in the crowd who speaks out for the animals who cannot speak for themselves!
Image Source: Fire Island, New York/Facebook
This Woman Abandoned Her Dog and Left It to Die. The video is short, just 46 seconds long, but what you see in the less-than-a-minute clip is enough to break your heart.
An SUV appears from the right side of the frame, it backs onto the side of the road and a woman opens the door. Seconds later she hops back inside and drives away. If it had just ended there would be nothing sinister about it. But as the SUV pulls away you notice a dog nosing around in the grass. When it looks up, it sees its owner driving away, and — in a panic — gives chase.
We don't know why this person decided to abandon their dog on the side of a Springfield, Missouri road. What we do know is that dog abandonment is illegal in the state of Missouri and most other states within the U.S. In fact, in Missouri, the first offense is considered a class C misdemeanor and can land you in jail. Subsequent offenses are even more severe.
Animal abandonment is not only cruel, it's heartless, and those who do it should be prosecuted to the fullest extent of the law. The woman in this video should be found and charged for her crime, and with your help, we can convince officials to continue to look for the culprit.
Please sign the petition and ask Springfield MO police to find the woman responsible for this terrible act and bring her to justice. Photo credit: Cater News Agency
This Tiny Rhino Has to Wear Earplugs and Blindfold After the Trauma of Losing His Mom. The Rhino Orphanage in South Africa has a new little resident, Davi, a baby rhino between eight and 10 months old who lost his mother to poachers. During the journey to the orphanage, the baby was kept between infrareds and many blankets to protect him from the icy cold night that made the team shiver. The freezing weather was hard on everyone, but Davi was finally on his way to a safe place and his new home – which was the only thing that mattered.
Davi was admitted by the rescue team early in the morning after a difficult and emotional rescue. Initially, the calf had his eyes covered with a blindfold and ears plugged – all in order to minimize stress and outside stimuli.
Rhinos, like human toddlers, depend on their mothers at a young age, and orphans like Davi have been known to experience serious trauma after losing their mothers. Many rhino mothers are killed for their horns and their little babies sadly often witness the horrible carnage.
The rhino was placed in his own overnight room and his carers removed the earplugs so he could slowly start getting used to the new surroundings.
After 24 hours, it was decided that the rhino was ready to have the blindfold removed. Davi was still charging everyone out of fear and confusion, having found himself in a very new situation.
The young rhino was clearly missing his mother who could no longer comfort him. "His calls for mom echoed deeply and urgently throughout the night but two carers have been with him every step of the way," the team shared.
Davi remains fearful and tired, but he is fortunately free from physical injuries and in good overall physical condition. The orphanage team is excited to do everything to help the new calf acclimatize and see that the people who surround him can be trusted and will help him any way they can.
Throughout the last decade, rhino poaching has rapidly escalated. It is estimated that 1,000 rhinos fall prey to poachers every year – this number is especially alarming since only around 29,000 individuals are now left in the wild. Poaching is not only responsible for ruthless killings of adult animals, but also the so many orphaned calves who are left all alone and need our help in order to survive at all. Fortunately, organizations like The Rhino Orphanage are there to save and rehabilitate as many little victims of poaching as possible – with Davi now being one of them.
To learn more about The Rhino Orphanage and support their work, click here. All image source: The Rhino Orphanage/Facebook

Michael Sandlin, the owner of the Tiger Truck Stop, has made keeping captive tigers a part of his business model. For decades, he has confined these magnificent animals in tiny cages just steps from Louisiana's busy Interstate 10 — subjecting them to the overwhelming sounds and smells of a 24-hour truck stop. Conditions were so bad that Sandlin was cited repeatedly for violating the Animal Welfare Act.
Sandlin's last tiger, Tony, died last year. And we had hoped he would be the last tiger to suffer at the Tiger Truck Stop. But Sandlin wants to obtain another tiger — despite a Louisiana law that explicitly bans private ownership of big cats. Sandlin has filed a lawsuit to overturn the big cat ban, but we've intervened to defend the law. And we need your help to win.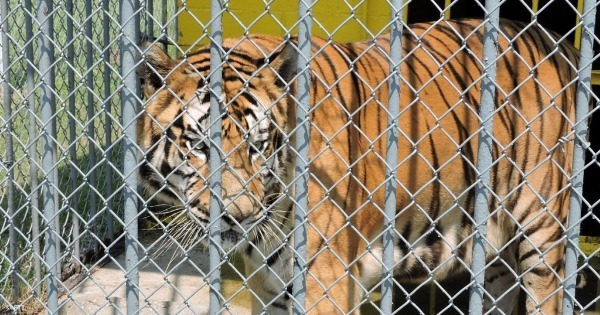 A win in Louisiana will do more than stop another tiger from being imprisoned at the Tiger Truck Stop. It will also add to the precedent that supports laws like Louisiana's big cat ban across the country. In the fight to give captive wild animals the lives they deserve, every favorable ruling is another brick in the legal foundation we stand on to ultimately end animal abuse.
Sadly, the Tiger Truck Stop is far from unique. Across the country, countless individuals and companies exploit wild animals at roadside zoos and other attractions. Big cats, bears, monkeys, and a wide variety of other animals are kept in tiny cages, exposed to the elements, and deprived of important enrichment and access to their natural homes. Only with your help can we fight for…and win their freedom.
The owner of Infamous Truck Stop That Housed Tony the Tiger Is Now Displaying a Camel for gods sakes
Last year, a gas station truck stop in Grosse Tete, Louisiana became infamous for a very unfortunate reason: Tony, the Siberian-Bengal tiger who had been caged at the truck stop since he was six months old, was euthanized after suffering from kidney failure. Tony's tragic story showed us exactly why it needs to be illegal for wild animals to be confined for human entertainment.
But unfortunately, Michael Sandlin, the man who put Tony on display in a cramped metal enclosure at the loud, fume-filled truck stop for nearly two decades and failed to provide for the medical needs of the aging tiger, still hasn't gotten the message.
While state laws have prohibited him from obtaining another exotic cat, for some reason Sandlin has been allowed to add two more wild animals to his disturbing truck stop "exhibit": Caspar, a five-month-old camel, and Cody, a two-month-old coati (a member of the raccoon family native to Central and South America). Not to mention, Sandlin reportedly plans to keep expanding his "petting zoo" and has even expressed a desire to obtain another tiger to take Tony's place.
Animal rights activists everywhere are infuriated and in awe that Sandlin is getting away with this, and they are speaking up to demand that these exotic animals be relocated from the busy, polluted truck stop parking lot to a more suitable home immediately. The Animal Legal Defense Fund (ALDF), the organization which successfully defended Louisiana's big cat ban when Sandlin challenged its constitutionality, is at the forefront of the fight to stop Sandlin from being allowed to put live animals on exhibit at the gas station.
Stephen Wells, executive director of the ALDF, reportedly said, "No wild animal deserves to follow in [Tony's] steps. Wild animals do not belong in captivity. An environment like a truck stop with loud noises and gas fumes completely fails to meet any wild animal's mental and physical needs."
If you agree that it's far past time that someone put an end to Sandlin's cruel practice of holding wild creatures hostage at his truck stop, please consider donating to the ALDF. By making a contribution, you will help this amazing organization give these innocent animals a voice and secure a future for them that doesn't include being subjected to deafening noises, breathing in toxic fumes, and being endlessly harassed and gawked at. Image Source: Pixabay
Cracking down on poachers and traffickers. WCS's Wildlife Crimes Unit works with local police to track down criminals and bring them to justice, deterring others in the process. In one former hotspot in Indonesia, 10% of the former traffickers quit on their own after 60% of the traffickers in the area were locked up. Help put poachers behind bars


Pioneering state-of-the-art science. Our sophisticated network of camera "traps," radio tracking, and other equipment give us the most accurate picture possible of how tigers are doing in the wild and where help is needed. Invest in life-saving conservation science


Protecting the most critical habitats. Our work to save tigers focuses on "source sites" – areas that have the most potential to support a wild tiger comeback. Protect the places with the best hope for wildlife
We have a plan to bring wild tigers back, Don, but whether we can achieve it depends on what people like you and me do in moments like this.



Tell JBS to Ban Gestation Crates and Painful Mutilations
Mercy For Animals started this petition to JBS USA CEO Andre Nogueira and 6 others
I will never forget their screams.
The horrific animal abuse I witnessed while working undercover at a pig factory farm that supplies to JBS—the world's largest meat company—will haunt me for the rest of my life.
Workers at this facility punched and kicked pigs in the face and violently smashed piglets' heads into hard concrete. Piglets were ripped from their mothers and mutilated right in front of their eyes. All of this was done without any pain relief.
Unable to turn around or even lie down comfortably, mother pigs spend nearly their entire lives crammed inside tiny cages. It was heartbreaking to see these incredibly intelligent and social animals become so stressed and frustrated that they repeatedly bit the bars of their cages—a sign of serious mental collapse.
"Gestation crates" are so cruel they have been banned in 10 U.S. states, Canada, and the entire European Union. Nearly all major food companies, including McDonald's and Burger King, have demanded their suppliers ban these cruel cages. Even major pork producers, like Smithfield, have committed to banning gestation crates at their company-owned and contract farms.
But JBS continues to allow this blatant animal abuse by its suppliers.
Because of caring people like you who sign petitions like this and use their voices to speak up for the voiceless, we have already seen some of the biggest companies make important changes that significantly help millions of animals.
Please, take a moment to sign my petition calling on JBS to prohibit its pork suppliers worldwide from cramming pigs into tiny cages and to put an end to mutilations without pain relief.
Then, share the hidden-camera video with friends and encourage them to take action too.
If you signed our action alert asking authorities in Jordan to protect horses, donkeys, mules, and camels used for rides at the Petra historic site, we owe you a big thank you! You've helped put pressure on the government of Jordan to end these animals' suffering.
We have good news to share with you: In an agreement between the Jordanian government and Saudi Arabian Prince Khaled bin Alwaleed, major improvements will be made at Petra that should end the beatings and other abusive treatment of animals shown in PETA's recent video exposé of the city's tourist industry.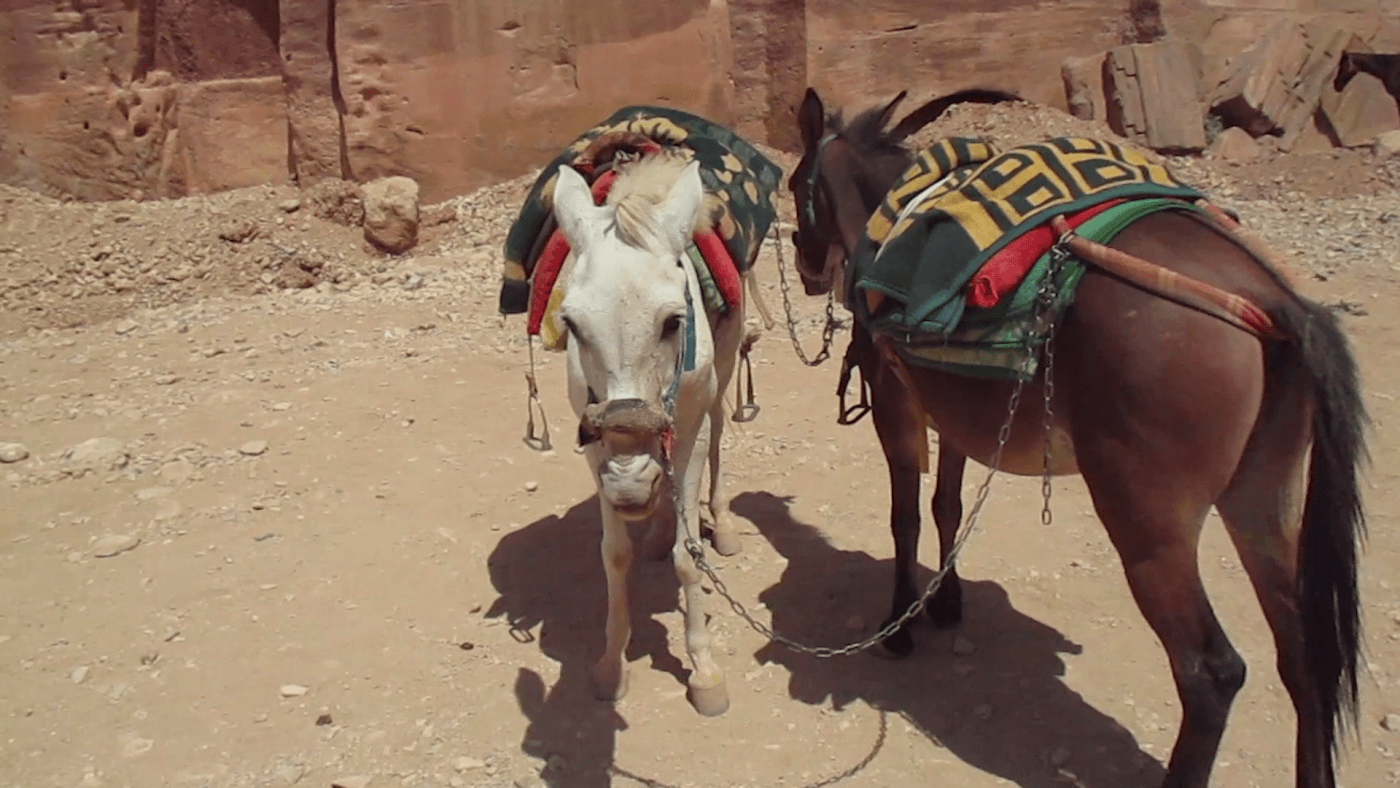 The memorandum of understanding,
signed recently
, includes plans for the introduction of eco-friendly electric vehicles to carry tourists and the installation of modern animal clinics, where the animals would receive regular veterinary care. Other plans include providing new water stations to ensure that animals have access to fresh drinking water and introducing a prohibition on forcing animals to walk dangerous paths or carry heavy loads.
Thank you once again for speaking up for these animals.
Yellowstone Grizzlies Need You Right Now
Our campaign to save Yellowstone's grizzly bears from trophy hunters is kicking into high gear. Starting Sept. 1, more than 20 grizzlies that wander out of Yellowstone National Park and into Wyoming and Idaho could be shot and killed. We're mobilizing across the country to stop the hunt and get federal protection restored to these beloved bears.
We need your help. If you want to attend or host an event in your area, sign up at Ignite Change and we'll give you the details of next week's webinars on how to get involved. You can also help raise funds — whether for activists traveling to Yellowstone or billboards in the region. Gifts supporting this fight will be matched dollar for dollar by a generous Center member.
And don't forget to sign the petition calling on the Trump administration to restore protection to Yellowstone's grizzlies immediately.
If you love wildlife and if you love Yellowstone's grizzlies, this is the moment to stand up and take action.

Ignite Change, the Center's nationwide network of volunteers, is mobilizing right now to stop Wyoming and Idaho from hunting grizzly bears that wander out of Yellowstone National Park.

You can help — no matter where you live — because we're planning rallies and events around the country.

We need everyone's help to stop this travesty before it starts. Will you join the campaign to save the grizzlies?

These trophy hunts will start Sept. 1, so the next month or so will be crucial for this campaign.

We need to send an unmistakable message that these hunts are barbaric and unnecessary. We can do that with a visible show of resistance.

This is what Ignite Change does. Our volunteers are amazing wildlife-lovers who are ready and willing to take action.

And right now Yellowstone grizzly bears need your help. We're organizing protests, leading demonstrations at the courthouse and will be holding a national "Stop the Hunt" day of action on Tuesday, Aug. 7.

Join with thousands of activists who are going all in to save Yellowstone's grizzlies this summer.
GOP Launches Slew of Attacks on Endangered Species Act
Congressional Republicans have just launched more than a dozen new attacks on the Endangered Species Act and the 1,800 imperiled animals and plants protected by this landmark law.
The Senate held a hearing Tuesday on legislation that would virtually obliterate the Act and push hundreds of species toward extinction, including grizzly bears, wolves and Pacific salmon. Meanwhile the House is poised to vote on 13 policy riders attempting to gut the Act. These attacks follow a nine-bill package introduced last week seeking to eviscerate the law.
"This legislation is deeply out of touch with the values of most Americans," said the Center's Brett Hartl. "Since the Act was passed, it has prevented hundreds of extinctions."
Read more in our press release.
Enviros to Feds: Release More Mexican Gray Wolf Packs
The Center and two dozen other groups have asked the U.S. Fish and Wildlife Service to release three captive-bred Mexican gray wolf packs — families with pups — to New Mexico's Gila Wilderness this summer. More wolves are urgently needed by the Southwest's small wild-wolf population, whose survival is threatened by low genetic diversity.
A decade ago, the Service — kowtowing to the cattle industry — halted most releases of captive-born wolves into the wild. Instead, in 2016 it began "cross-fostering": releasing captive pups into existing wild packs, without their parents.
The approach seems to be failing: Only two of 10 cross-fostered pups from 2016–2017 are known to still be alive.
Read more in our press release.
Please make an emergency donation to help Alaska Wilderness League stop Interior Secretary Zinke's brutal plans to allow the gunning down of denning wolf pups and bear cubs on national preserves in Alaska.
We know recent battles have been hard. Nevertheless, our small, agile organization continues to set the stage for future victories down the road. If the Trump administration can discard hard-earned protections against the will of the American people, we can win back these protections AND THEN SOME in the same amount of time.
But this depends on support from folks who care about our wild places – folks like you.
Please help us fight for our public lands and waters in Alaska and all the amazing creature that call these places home.
Revelator: The Science and Philosophy of Wolf Recovery
Wolf lovers get a twofer this week from The Revelator.
First up is an interview with biologist Carter Niemeyer. Carter is one of the people who helped return wolves to Yellowstone National Park. In this interview he shares his insight on what wolves need to thrive in the wild. (Hint: It isn't hatred or fear.)
Then environmental philosopher Michael Paul Nelson — the official historian of the Isle Royale wolf-moose project — talks with us about the ethics of wolf conservation. It's a fascinating discussion that digs deep into our relationship with animals and nature.

Many of those who spotted Mumu wandering the streets in China never noticed her friendly personality or warm brown eyes. Instead they saw the raw, painful skin on the sweet brown dog's ears—the result of a long-untreated skin condition—and turned away in disgust.
That is, until PETA Asia found her and brought her in for desperately-needed veterinary care. Once she was healed and nourished, we quickly found her a wonderful adoptive guardian who will keep her safe from abuse and neglect for the rest of her days.
If PETA hadn't been there for Mumu, her story may have had a very different ending. Life on the streets can be a death sentence for an abandoned animal. Those who manage to scrounge enough food and water to survive are still at the mercy of parasites, traffic, disease, and even cruel humans who abuse them.
We're doing all we can to end animal homelessness and neglect—from spaying and neutering hundreds of dogs and cats each year, and rescuing animals at risk, to changing archaic attitudes about animals.
Our vital programs are having an impact throughout Asia. We've now sterilized and vaccinated nearly 1,000 animals in impoverished neighborhoods of Metro Manila, all at no cost to their grateful guardians—and we're working to reach many more. Through headline-grabbing demonstrations and eye-opening exposés of puppy mills in China, we're showing people the horrors of the dog-breeding trade, and inspiring them not to support it. Dozens of animals we've rescued are now flourishing in loving homes, and our far-reaching campaigns are encouraging countless caring people to treat dogs, cats, and other animals with respect.
We've been able to save thousands of animals from lives of misery—and together, we'll create a kinder future for millions more.