Oregon County Just Banned Wild Animals in Traveling Circuses. It seemed the entire world celebrated when Ringling Bros and Barnum and Bailey Circus finally brought down their tents and closed up last year. As awareness has spread of how poorly circus animals are treated, many countries (including India, Italy, Ireland, Iran, the Netherlands, Scotland, and Romania, just to name a few), five U.S. states and 135 localities (including Los Angeles, New York City, Santa Fe, and Portland, Maine) have banned the use of wild animals in traveling circuses and similar acts. And now Multnomah County, Oregon's most populous region home to Portland, has joined this ever-growing group with a ban on the use of wild and exotic animals in traveling circuses and similar attractions!
Circus animals are exploited in disturbing manners in every way, from the way they are acquired through the illicit wildlife trade, brutally trained with weapons and abuse, kept in extremely inadequate, unnatural, cramped living spaces, forced to perform show after show in dusty, noisy, crowded tents, only to be shoved onto a truck like cargo to travel on to the next town. Animals held in captivity in circuses are typically neglected and regularly exhibit signs of zoochosis, a serious psychological disorder common within captive wild animals often exhibited by compulsive, neurotic, often self-destructive behavior like pacing, swaying, chewing, and even suicide attempts. Additionally, keeping wild animals in captivity under such duress often leads to animals lashing out or escaping, which almost certainly leads to the animals being killed.
Multnomah County's outlines for the ban cite the aforementioned facts as reasons to end the use of wild and exotic animals in traveling acts. The ordinance states, "Multnomah County is the Local Public Animal Services Entity and deems it advisable for the welfare of the County and the prevention of animal cruelty to prohibit traveling animal displays that include wild or exotic animals for public entertainment or amusement within the County." It must be noted that while wild and exotic animals are protected under this new ordinance, animals considered "livestock" like cows, goats, pigs, horses, etc., as well as domestic animals like cats, are not protected under the ban.
To read the county ordinance in its entirety, go
here
.
Thank you, Multnomah County for taking a huge step in the right direction toward a more humane, cruelty-free future!
And remember to share this awesome news with your network as a reminder that positive change is happening!
The Yok Don National Park in Vietnam is ending elephant rides for tourists! The groundbreaking development was made possible thanks to a new agreement between the park and the organization Animals Asia, with funding from UK's Olsen Animal Trust, and it marks the beginning of a new tourism model that is free of animal exploitation.
The state-run national park is now freeing the elephants who used to give rides and allowing them to roam the nearby forest instead. This way tourists will be able to see the animals in their natural habitat, instead of kept captive and used to entertain.
"Instead of constraining the elephants with chains so they can be ridden by visitors, tourists will instead follow, watch and learn about how these amazing animals really live and behave in their forest home," said Dave Neale, Animals Asia's Animal Welfare Director.
Neale emphasized that, if successful, the new cruelty-free elephant tourism model could become a trend followed by other facilities and mahouts in the country, or even the region. "It's a model where the elephants, the mahouts and the tourists all win," he said.
Olsen Animal Trust will provide funding to ensure the present legal owners of the elephants will not lose their livelihoods. Meanwhile, the new model is expected to generate as much or more profit as the old one in the long term. The agreement between Animals Asia and the park was signed on July 13, 2018 and will run until April 2023.
"As awareness of welfare needs and cruelty grow, the old style of tourism where elephants are ridden is dying out," said Jill Robinson, Animals Asia's Founder and CEO. "People no longer want to fund cruelty. They are in awe of this spectacular species, and seeing elephants roam freely in their natural habitat is the greatest tourism experience anyone could ever ask for."
In addition to the three elephants who will no longer have to give rides, a fourth animal, Hnol, has been hired from her mahout at Yok Don. This elephant will leave the ride program and go to Animals Asia's Elephant Conservation Centre where she will help raise two young rescued elephants, Jun and Gold.
Elephants used in the tourism industry typically live in poor conditions, undergo a "breaking" process in which they are confined and beaten with bullhooks, and they are often kept in isolation while not working, rendering them unable to engage in their natural behaviors. The change in the Yok Don National Park is a huge step in the direction of ending elephant exploitation and needless suffering at the hands of people, and it could completely change the way rides are seen by tourists.
To learn more about Animals Asia, click here.
Image source: Animals Asia
Carden International Circus Plans to Showcase Animal Abuse at These Venues—Take Action Now!
Despite learning about Carden International Circus' long history of animal abuse, some venues are still planning to host it. We need your help to show them that the public doesn't support circuses that use animals.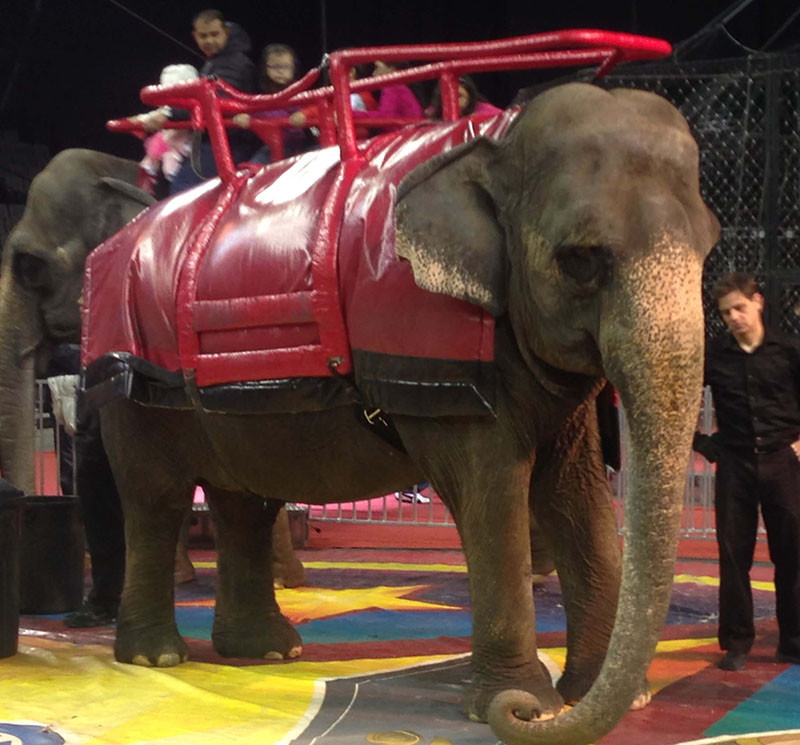 Carden International Circus is one of several similarly named companies—all run by Brett Carden; his father, George; and other members of their notorious family—that exploit elephants, camels, and other animals and currently hire outside exhibitors to supply tigers for its cruel acts. The family has a lengthy history of violations of the federal Animal Welfare Act, including failing to provide an elephant who had open wounds with proper veterinary care and intensively confining tigers—records show that they were confined to a transport cage for 23 hours a day.
Opposition to the use of animals for entertainment is stronger than ever before, as was shown by the closure of Ringling Bros. and Barnum & Bailey Circus, which shut down after 146 years of cruelty and exploitation, citing the public's changing attitude toward animal circuses.
Please ask Carden International Circus' venues to consider these facts carefully and at least require that any scheduled performances go forward without animals.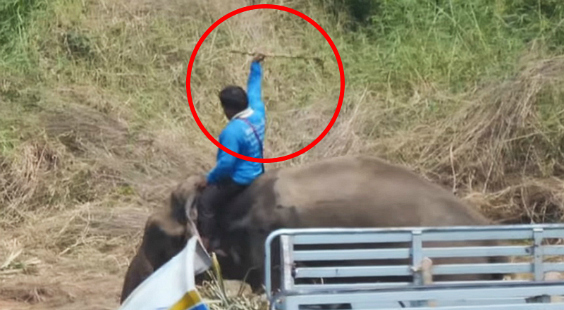 IBM Will No Longer Support Cruel Elephant Polo Following PETA Asia Exposé.

Video footage from PETA Asia showed that handlers repeatedly beat elephants at the 2018 King's Cup Elephant Polo Tournament in Thailand. IBM has agreed to end its sponsorship—will Ripley's Believe It or Not! and other companies follow suit?
Biodiversity Briefing: The Fight Against Trophy Hunting
In our latest quarterly "Biodiversity Briefing" phone call, Executive Director Kierán Suckling talks about trophy hunting's harm to conservation, its relation to various laws, and what the Center's doing to save imperiled species from this threat.

You may already know trophy hunting is detrimental to U.S. species like Yellowstone grizzly bears, which we're fighting hard to defend from being shot in Wyoming and Idaho. Kierán also explains how we're helping animals overseas being poached for the black market — like in Africa, where one elephant is illegally killed every 15 minutes for its ivory.

These personal phone briefings, including Q&A sessions, are open to all members of the Center's Leadership Circle and Owls Club. For information on how to join and be invited to participate live on the calls, email Senior Development Associate Celia Bavier or call her at (520) 623-5252 x 312.

Listen to the briefing.