Rams Sign Brandin Cooks to 5-Year Extension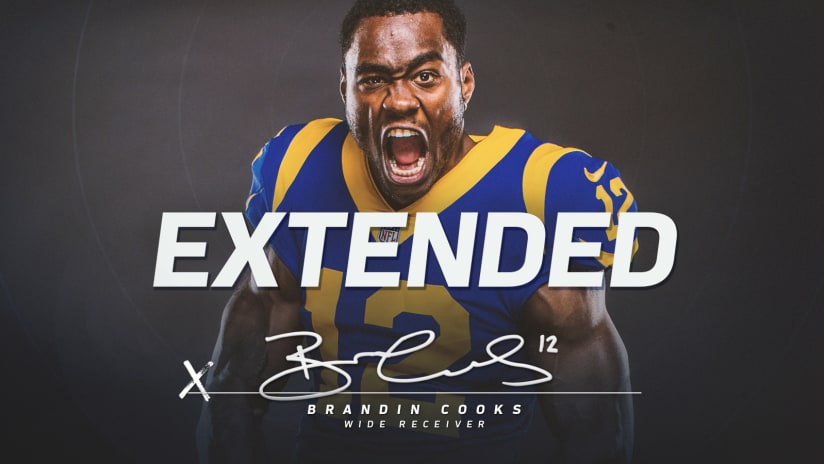 The Los Angeles Rams have agreed to terms on a 5-year contract extension with WR BRANDIN COOKS, the team announced today. He is now under contract through the 2023 season. Terms of the deal were not disclosed.
"Brandin Cooks has shown himself to be a class act on and off the field since the first day he joined our team," Rams Head Coach SEAN MCVAY said. "He's a proven professional in this league and signing him to a long-term contract was always our goal. We're excited to keep Brandin in a Rams uniform through 2023."
Los Angeles traded their 2018 first-round selection (No. 23 overall) and sixth-round selection (No. 198 overall) this offseason to the New England Patriots in exchange for Cooks and a fourth-round pick (No. 136 overall).
Prior to joining the Rams, Cooks has played in 58 regular season games with 46 starts, posting at least 1,000 yards receiving in each of the last three seasons. The fifth-year NFL pro also recorded 280 career receptions for 3,943 yards and 27 touchdowns, and averages 14.1 yards per reception with a 98-yard touchdown as his longest. He boasts nine 100-plus yard receiving games with a career-best 186 yards coming against the Arizona Cardinals in 2016 as a member of the New Orleans Saints.
Join Sean McVay & the Entire 2018 Rams Team at the Annual Kickoff for Charity Luncheon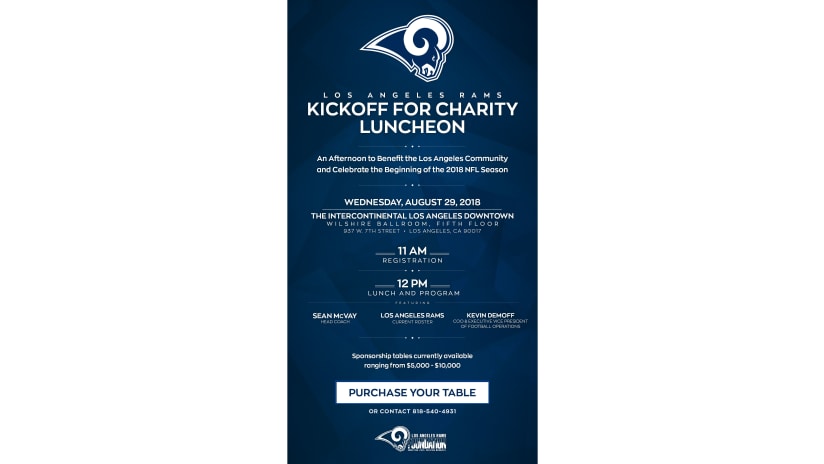 Fans Can Purchase Tables at therams.com/kickoff4charity
On Wednesday, August 29th, fans can join Head Coach Sean McVay and the entire 2018 Rams team at the ninth annual Kickoff for Charity Luncheon to celebrate the beginning of the football season and benefit the Los Angeles community.
Seated alongside Rams players, attendees will receive a preview of the season directly from Coach McVay, have the chance to bid on unique auction items including Super Bowl tickets and a road trip on the team plane, and also will receive autographed merchandise with all proceeds supporting the Rams' community outreach initiatives and the United Way of Greater Los Angeles.
"I think it's so important to remind people before we start playing just how important the off-the-field work is to us as well," said Executive Vice President of Football Operations & Chief Operating Officer KEVIN DEMOFF. "It gives our fans in attendance a chance to meet our players with their helmets off, learn about our efforts in the community and about our organization away from the field before we kick off the season. It builds a deeper connection with fans and it's a reminder that we're going to use the power of football to continue making Los Angeles a better community."
Rams Rookies Participate in Habitat for Humanity's 2018 Hollywood Build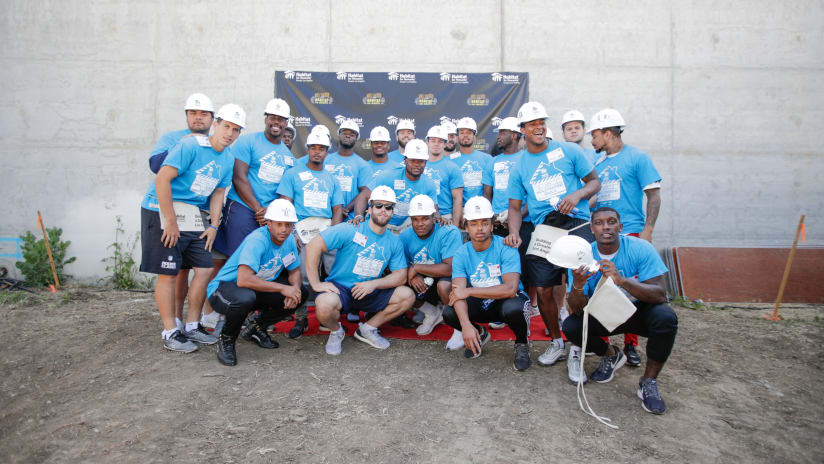 As the Rams build a winning team on the field, 28 of the team's rookies are laying a solid foundation in the LA community. On Friday, June 8th, Los Angeles Rams rookies were among 230 volunteers who participated in Habitat for Humanity of Greater Los Angeles' 2018 Hollywood Build. Players worked side by side with entertainment industry executives, celebrities, corporate leaders, government officials, faith groups and community stakeholders to frame walls for a new 10-home development in Culver City as part of Habitat LA's mission to raise hammers, funds and awareness surrounding the pressing need for affordable housing in the greater LA region.
"It's incredible to have a team partner in Jacques (McClendon, the Rams Director of Player Engagement), who understands the importance of getting our players active in the community," said Molly Higgins, Los Angeles Rams Vice President of Community Affairs and Engagement. "He does a phenomenal job building out programming and activities that help our rookies with their transition from college student-athletes to professional athletes and really pushes them to grow as people. As part of the orientation, we wanted to include community engagement opportunities to make sure they understand that being a Los Angeles Ram is more than just winning on the field – it's contributing to our community off the field as well."
Habitat for Humanity of Greater Los Angeles' Vice President of Entertainment Industry Partnerships, Jo-An Turman, believes the Rams' commitment to the LA community continues to endear them to the people of the city. While many of the Rams rookies are still acclimating themselves to their new homes, the Hollywood Build provided them an opportunity to connect with Angelenos while also expanding on the community efforts the team's current players, coaches and staff have already made in the LA community.
"I believe having the LA Rams Rookies and other notable community members and corporations out building at our Hollywood Build alongside our Partner Families meant so much to them," said Turman. "Many were in disbelief that the LA Rams cared enough to volunteer building on their homes with Habitat LA. It gave them a new respect and admiration for their home team to be so involved with Habitat LA and their futures. It made our Hollywood Build feel very LA and unique. Initiatives like these not only provide a sense of community, but a sense of commitment to the community which is so important to the residents. Knowing the Rams care about their fan community gives anyone a sense of pride. Our staff and other volunteers were very pleased and proud to see the rookies out supporting Habitat LA and their community."
For Rams defensive tackle SEBASTIAN JOSEPH-DAY, 6th round pick out of Rutgers, the home-build provided some perspective as it relates to the hard work construction workers put in to build homes and other structures. With his Rams hard hat on, Joseph-Day couldn't help but tip his cap to the local construction workers who spend their time and effort providing homes for people in need.
"It makes me appreciate all the people that are in the construction industry male and female," said Joseph-Day. "Because this stuff is hard work… I'm sweating, muscles bulging…it's a full-on work out!"
As new as the home-building experience may have felt to some, running back JOHN KELLY, 6th round pick out of Tennessee, found that the building-dynamics between the veterans and the less experienced workers was similar to that of veterans and rookies on an NFL team.
"They woke us up a little early today but it's not like we don't get up early for practice and it's really nice to be out here giving back to somebody," said Kelly. "We're getting instructions from a lot of veteran builders just like at practice when we're receiving instructions from the veteran guys."
The Hollywood Build was in partnership with the Hollywood Habitat for Humanity program, which was founded to engage the entertainment community and invites them to be agents of change in their own backyard. Participating in the event this year were notable attendees including comedians, musicians, athletes, DIYers, designers and cast members from: Better Call Saul; The Bold and the Beautiful; Chicago P.D.; The Blacklist; Forrest Gump; Game Shakers; Glee; Grey's Anatomy; Home Made Simple; House of Lies; How to Get Away with Murder; I, Tonya; I'm Dying Up Here; Justified; Once Upon a View; Showtime at the Apollo; The Young and the Restless; Westworld; Wisdom of the Crowd and more.
To stay current on the Hollywood Build or to follow the project's progress, visit Twitter, Instagram and Facebook @HabitatLA, and through the hashtag #HollywoodBuild. For more information about the Rams community outreach efforts, please visit therams.com/community.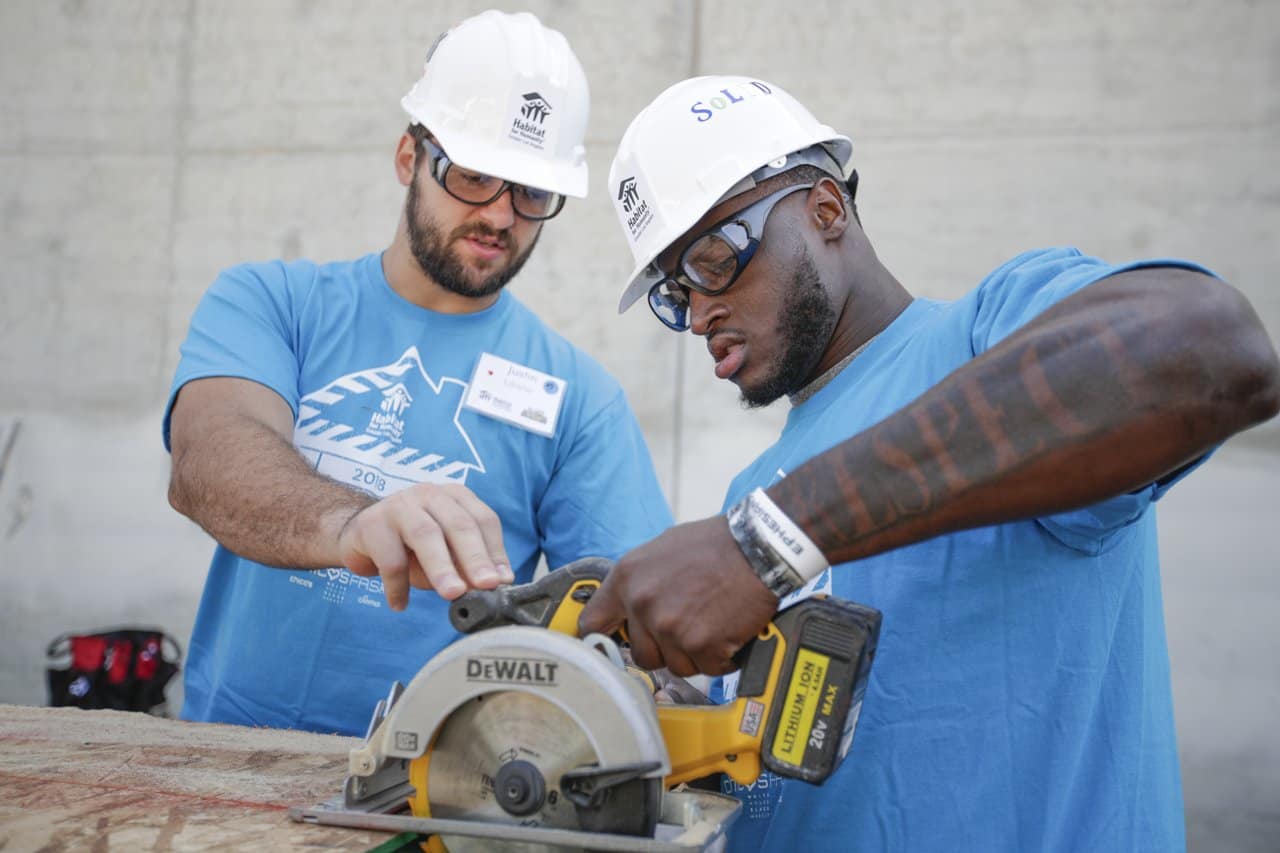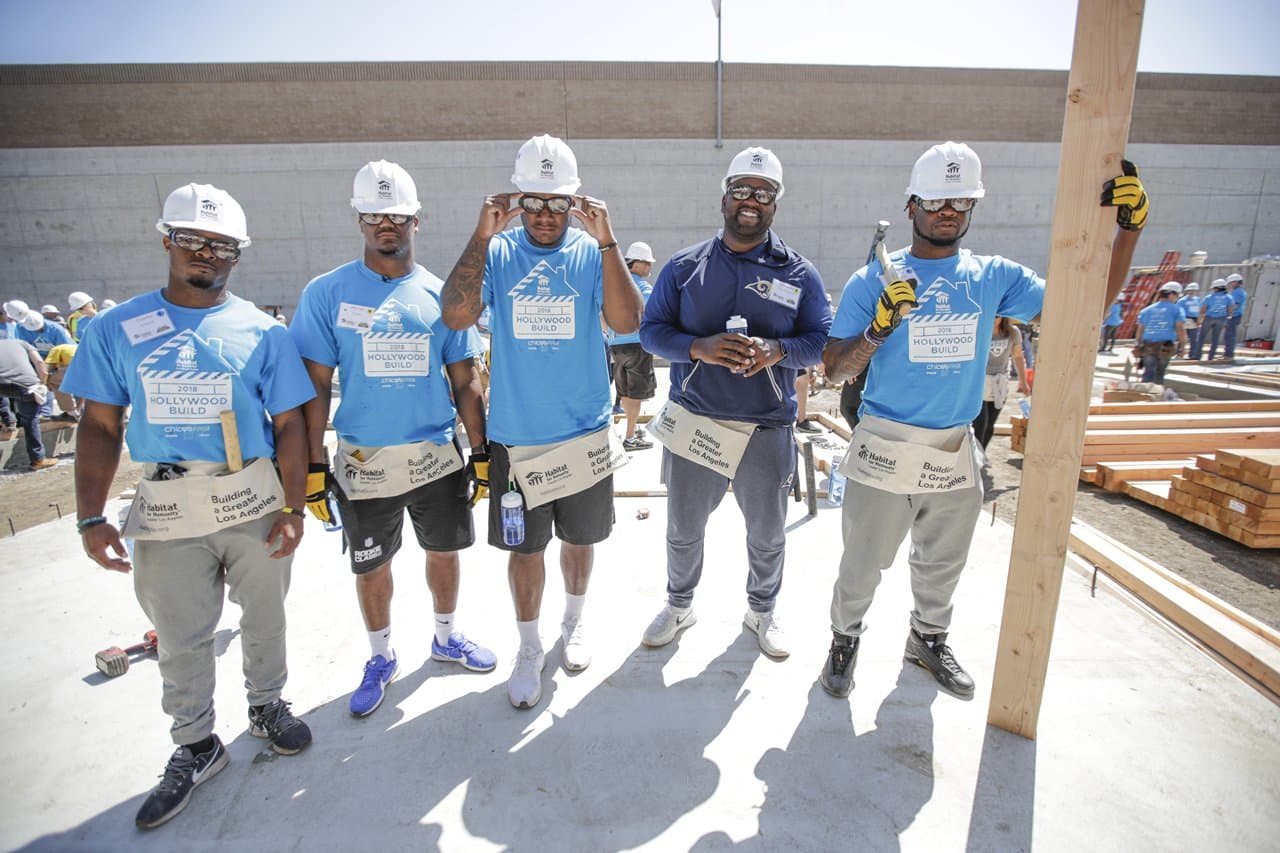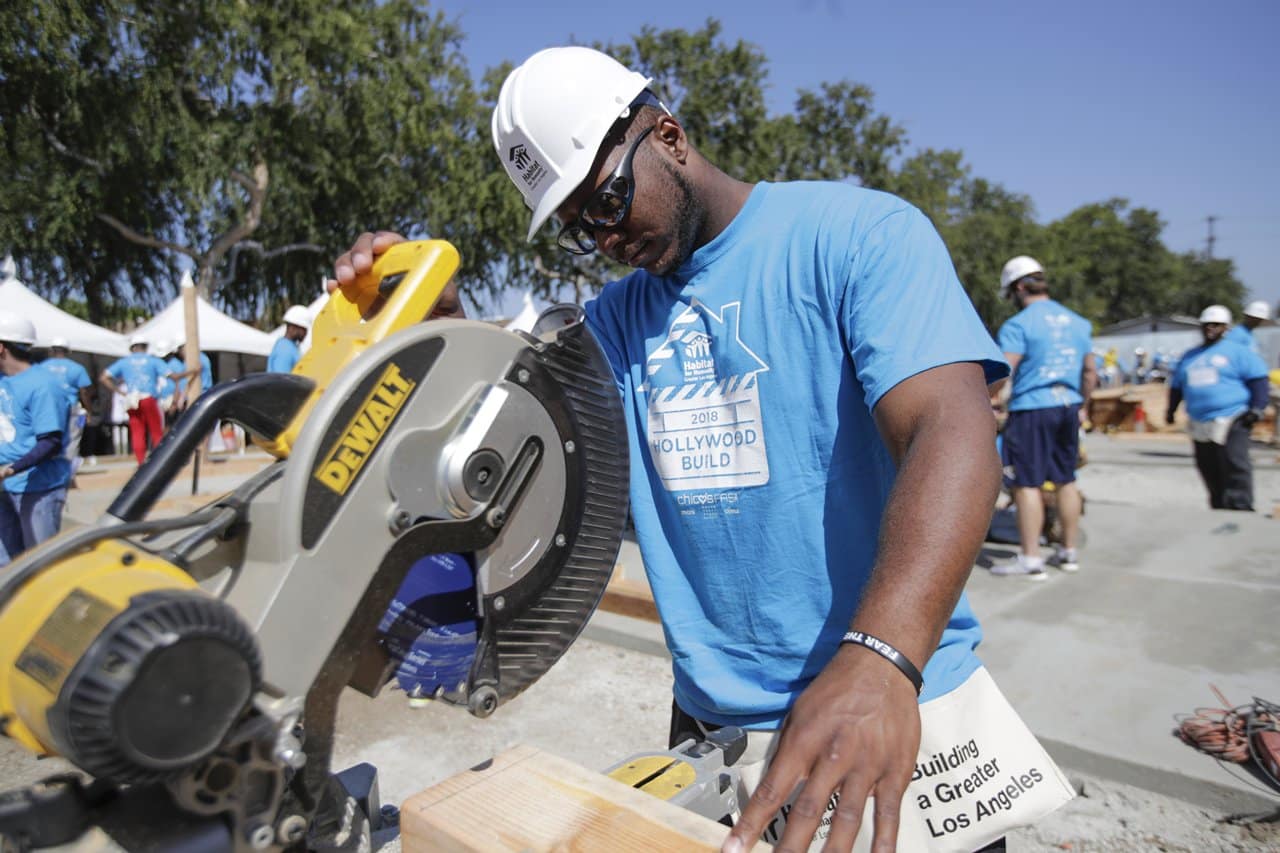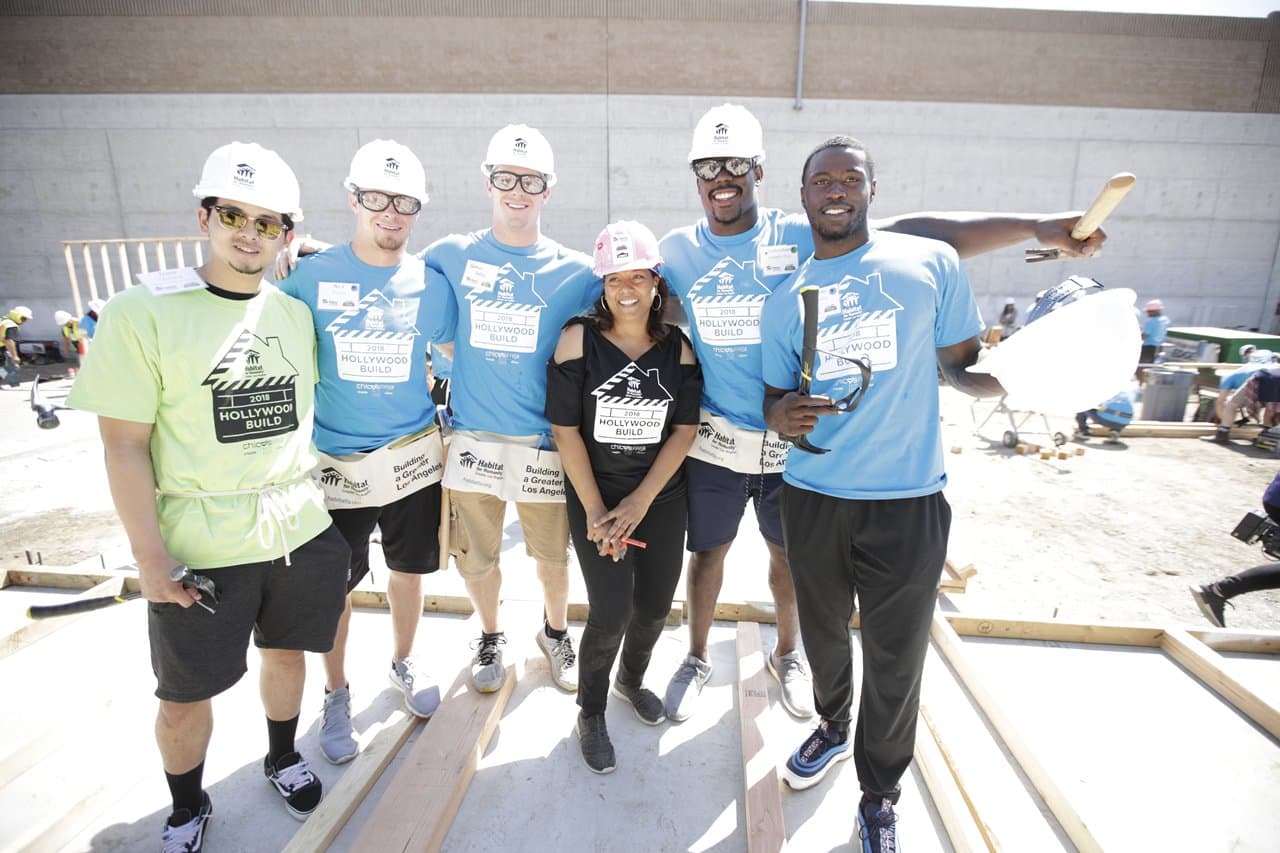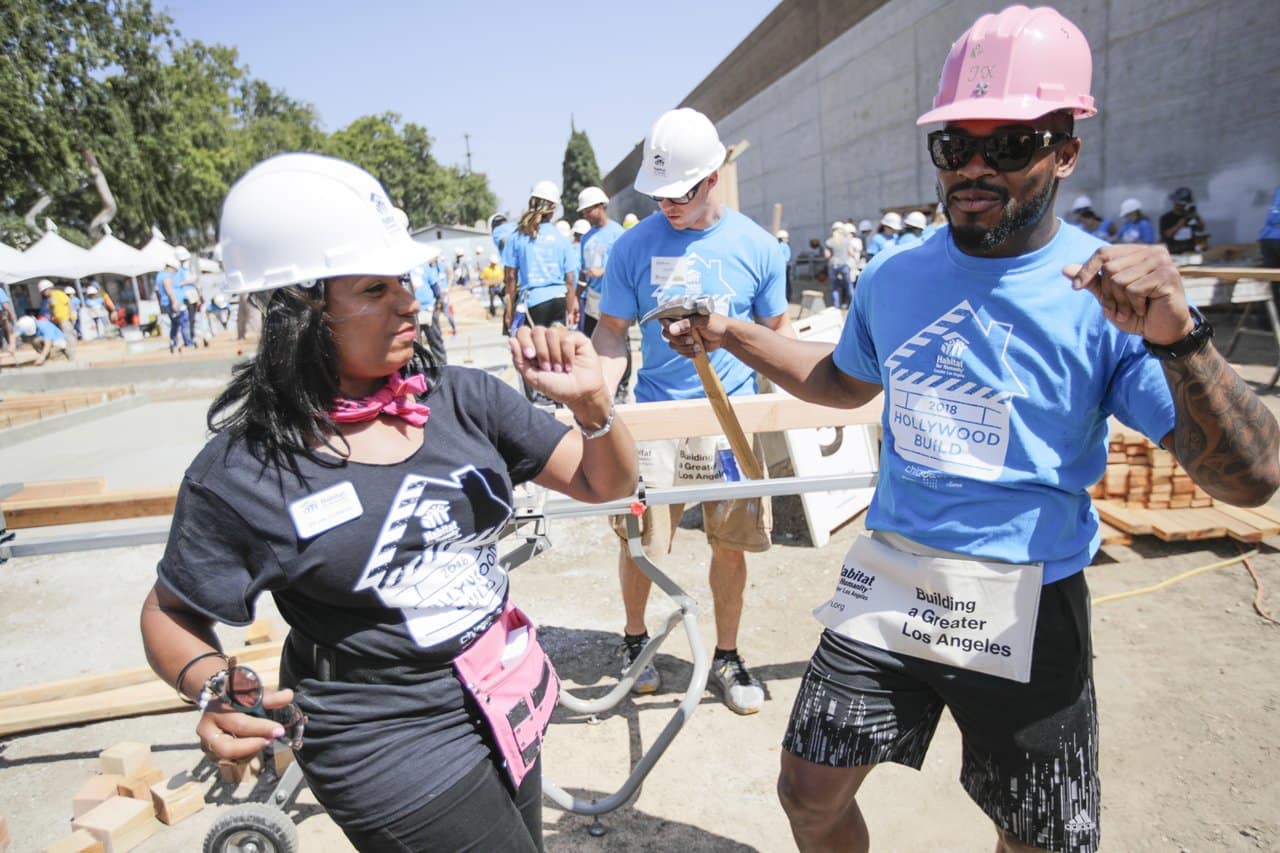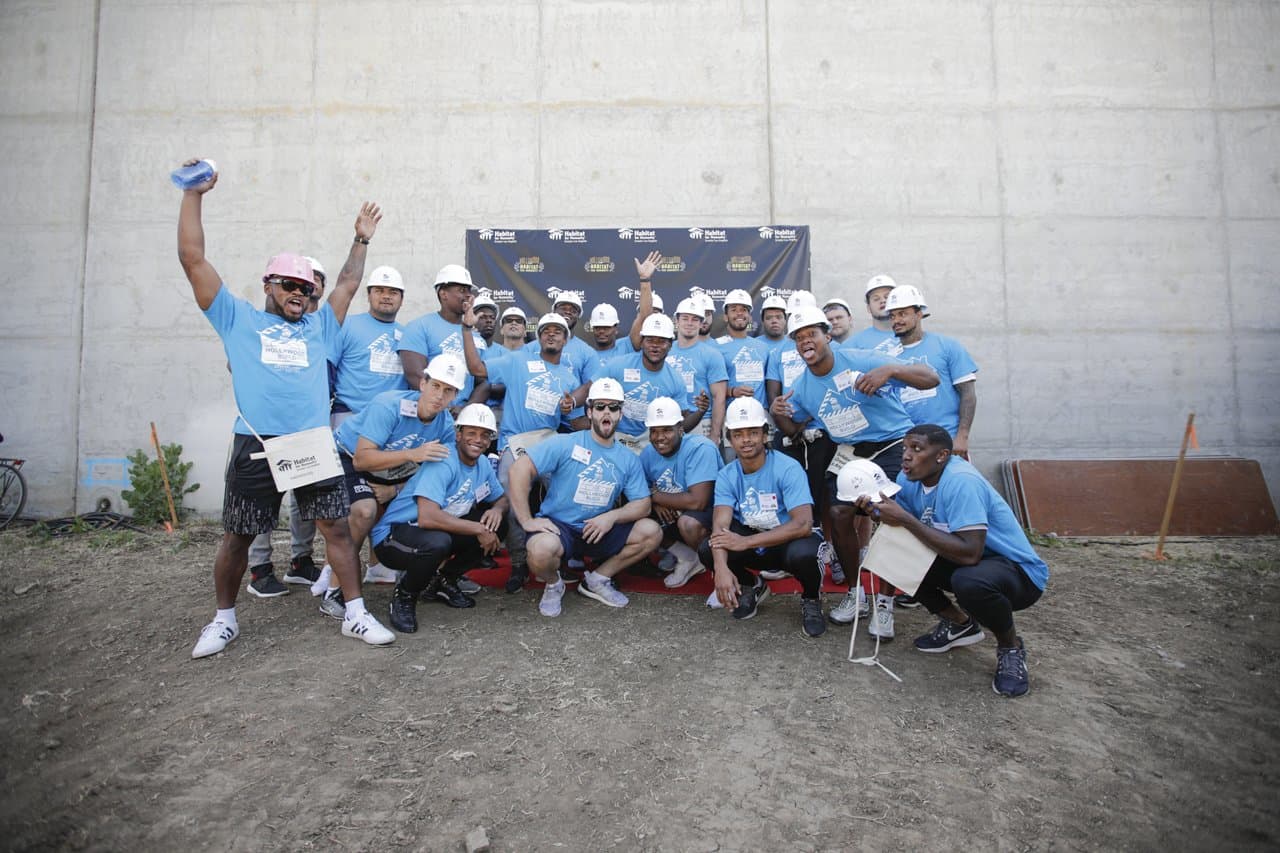 Rams Celebrate Topping Out Ceremony at LASED, Click Here to see all of Photos!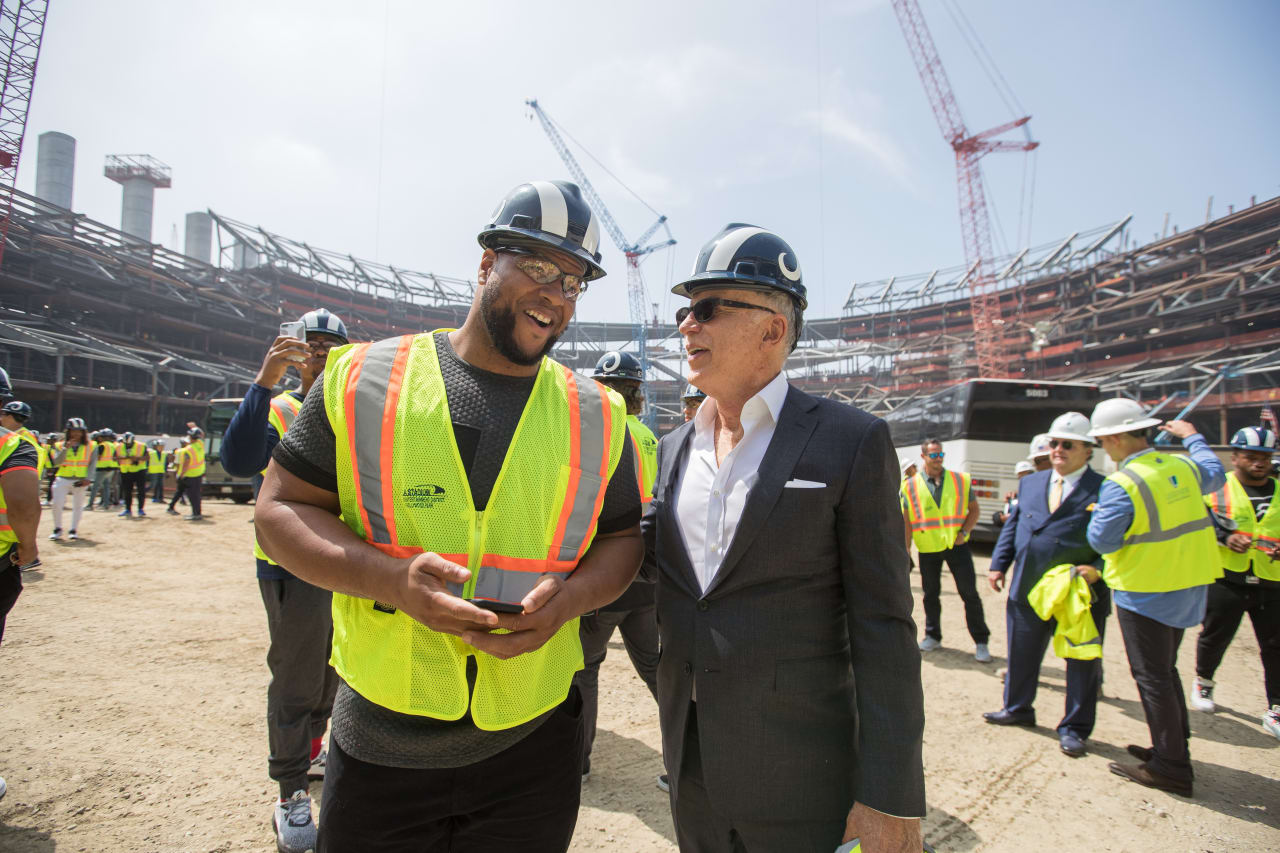 Click Here to View the Best Shots From Rams Media Day!
Rams Host Play 60 Field Day at L.A. Air Force Base at Fort MacArthur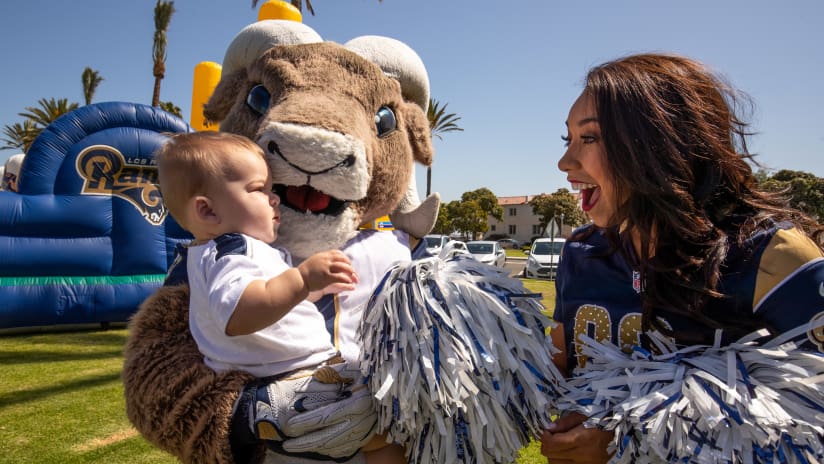 On Saturday, June 2, the Los Angeles Rams hosted a PLAY 60 Field Day for youth (Kindergarten-8th grade) at Los Angeles Air Force Base's parade grounds, located at Fort MacArthur in San Pedro.
Participants kicked field goals, threw passes to a Todd Gurley cutout, ran 40-yard dashes, competed in inflatable relay races, and even started a flag football game with team mascot Rampage taking snaps at quarterback. The PLAY 60 Field Day was part the NFL's PLAY 60 initiative promoting physical activity for a recommended 60-minutes per day.
According to Los Angeles Air Force Base' Recreation Specialist Erin Banks, a sense of community is of extreme importance when creating a positive atmosphere where lifelong connections and comradery is formed. The ability to communicate with fellow base residents is essential to effective problem solving and establishing relationships with other military members and personnel.
"It means more then we could ever understand to today's military youth to see professional sports organizations come to their area and hold an event just for them," said Banks. "It not only helps the kids connect with their favorite teams, mascots, and cheerleaders, but it fosters a sense of community with the team and helps the kids feel more connected to the Rams and their base neighbors. Military members both past and present give so much and this was a great opportunity for the families to have their kids participate in some physical activities outdoors just in time for summer and at no cost to them."
Banks believes the Rams' visit to Fort MacArthur provided an opportunity for base residents to connect with the Rams and even more importantly, build relationships and have some PLAY 60 fun with their own neighbors.
"I see the kids on base running around wearing their PLAY 60 T-Shirts they received at the event and when they come across another person wearing the same shirt, they get excited," said Banks. "They feel like they're on the same team. That sense of community and connection is what we need more of everywhere."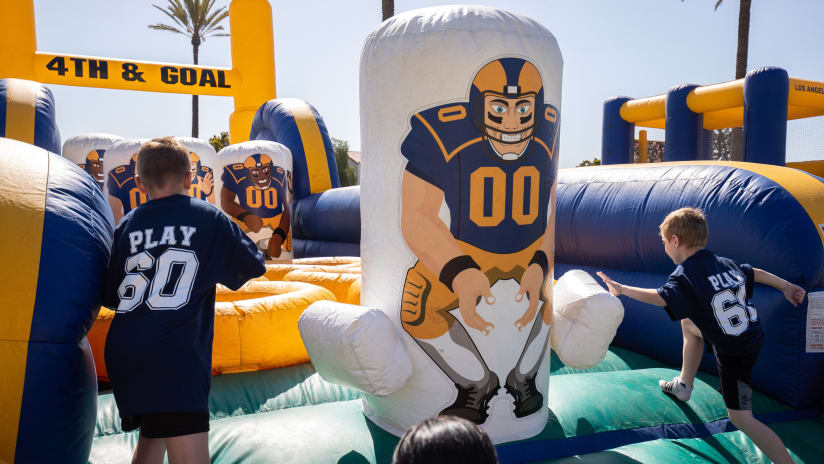 Amongst the participants were variances in age, gender, athletic abilities and interests. Given the multitude of ways one can be physically active for the recommended 60 minutes per day, Community Affairs and Player Involvement Manager Zach Kinkeade prioritizes inclusivity for all skill levels and interests. With a variety of different stations, ranging from a selfie-photo booth with cheerleaders to football-related drills & competitions, the Rams' PLAY 60 Field Days feature an activity station for everyone.
"We always want to make these events all-inclusive," said Kinkeade. "We organize it so anyone can get out there and run around. We even saw a dance party out there today along with a game of tag. We really want all participants to have fun and not worry about being the best athlete, therefore it's really important that we include a variety of different stations so everyone can have some fun."
Los Angeles Air Force Base is the only active duty military installation in the greater Los Angeles metropolitan area and offers services to eligible base personnel, retirees, service members from all branches and their families. The base also serves as the headquarters for The Space and Missile Systems Center, which is the center of technical excellence for developing, acquiring, fielding and sustaining military space systems.
Through various community outreach and PLAY 60 initiatives, the Rams aim to create an active and healthy generation by engaging youth in activities that promote physical fitness, health and character education through in-school, after-school and team-based programs.
For more information about the Rams community outreach initiatives, please visit therams.com/community.
Watch Episode 8 of Rams Original Series "Behind the Grind"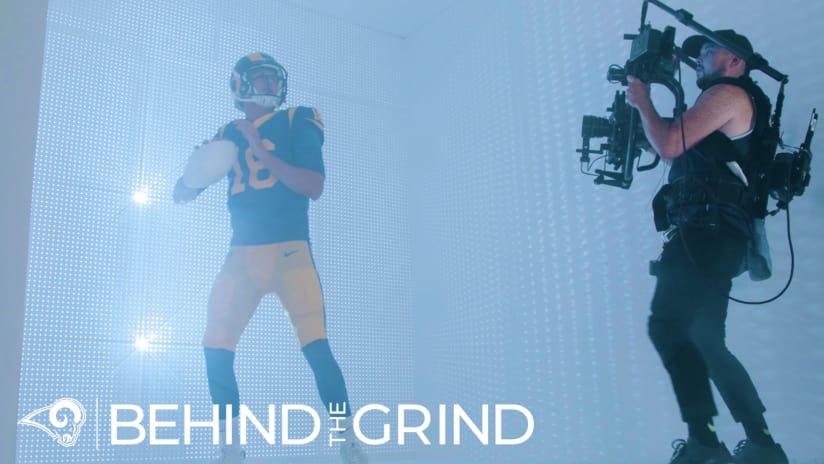 Watch Episode 9 of Rams Original Series "Behind the Grind"