There are 2 actions to take ASAP, regarding Nosey's Law (a bill to ban travelling wild and exotic animal circus acts across the state of New Jersey)
First, please call and/or email the Senate Economic Growth Committee members ASAP, politely ask them to vote yes to 'S1093 Nosey's Law' and briefly explain why the bill is important.
EMAIL ADDRESSES (COPY & PASTE)
SenCruzPerez@njleg.org SenOroho@njleg.org SenGopal@njleg.org SenPennacchio@njleg.org SenSingleton@njleg.org
EMAIL SUBJECT LINE ~ "Please Vote YES on S1093 'Nosey's Law'
PHONE NUMBERS
Senator Nilsa Cruz-Perez (856) 541-1251/ (856) 547-4800/ (856) 853-2960

Senator Steven V. Oroho - (973) 300-0200 / (908) 441-6343

Senator Vin Gopal - (732) 695-3371 / (732) 333-0166

Senator Joseph Pennacchio - (973) 227-4012

Senator Troy Singleton - (856) 234-2790
And also, please call (and/or email) your New Jersey assembly members ASAP:
Briefly explain why Nosey's Law is important and urge them to vote YES to the amended A1923 'Nosey's Law' (a bill to ban travelling wild and exotic animal circus acts across the state of New Jersey)
Find your assembly members contact details here http://bit.ly/2KEAD2w OR here http://bit.ly/2zjm6Gx
Visit the Action for Nosey Now Facebook Page! Twitter:

#

NoseysLaw
Her name is Chanda. But you might not know that when you visit Jaipur, where she's tagged "elephant #112."
Chanda was once a mother and a matriarch. Now she's simply a work unit; a garishly painted amusement ride hauling tourists up and down the mountain.
Jaipur is a region of India known for its historic forts and temples, its soaring summer temperatures, and, increasingly, for its cruelty toward elephants. Here, elephants like #112 are abused to the breaking point to make them "safe" around tourists. They might work 20 hours a day — much of which would be spent standing around on hard asphalt in the heat, waiting for the next fare. Elephants like #112 don't have much access to shade or water, and they suffer dehydration, cracked skin, and severe foot problems as a result. When they're not working, they're chained up with little room to move and nowhere to bathe. They spend this time isolated and alone, without other elephants around for comfort and affection.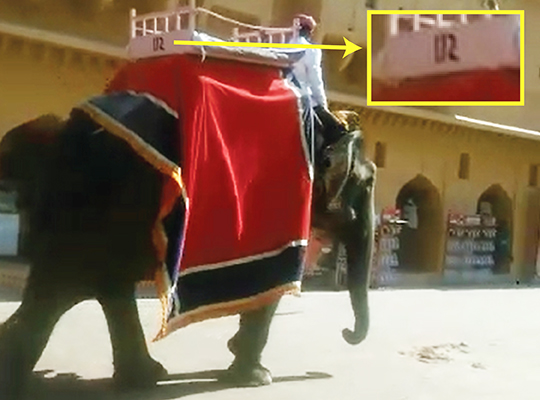 The tourists who ride #112 up and down the mountain likely know nothing of this. They have no idea that #112 was trying to raise two daughters—baby elephants Peanut and Suman—before they were ripped away from her. We rescued Peanut and she is now at our sanctuary.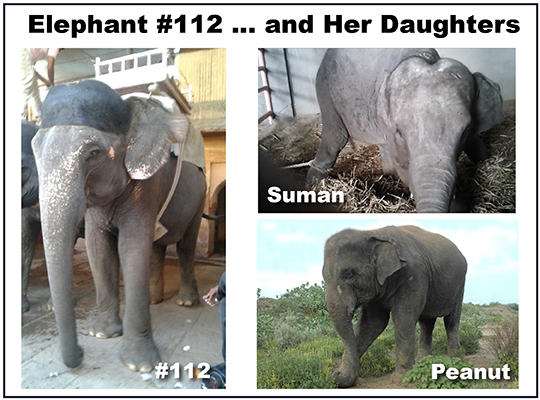 The tourists who ride #112 don't know that she's still young (at about 30 years old) but faces decades of labor and neglect ahead — assuming she doesn't simply die before her time, as is happening with so many elephants in Jaipur these days.
It does not have to be this way. We can restore her and reunite her family. We can remove the chains, the paint, the saddle, and make #112 Chanda again — roaming a green space with ample water and others just like her, far away from the noise, heat, and cruelty of a place like Jaipur.
Urge Michael Gove to Ban Wild-Animal Circuses NOW, Not in 2020
We have said in the past that Suman is being held in one of the cruelest cities in India for elephants, and by one of its most notorious owners.
Below is a photograph from Brigitte Kornetzky's documentary Where the Elephant Sleeps showing one of Suman's owners proudly brandishing a hatchet he had just beaten the elephant in the background with.
We know this man to be Ballu Khan.
We have spared you the graphic images from this scene (and others in Kornetzky's film), but some are posted on our website HERE.
Ballu Khan shows off a hatchet that he uses to "manage" elephants.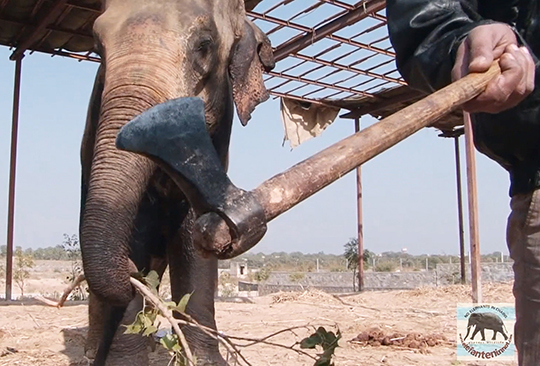 It's imperative that we get Suman the elephant away from Ballu as soon as possible. We've been raising awareness to do just that, and thanks to you our petition is running strong; your signatures have resulted in nearly 500,000 emails being sent on her behalf. The next step in our efforts to get authorities to take action involves a campaign within Jaipur running billboards, newspaper ads, and taxi/bus signs publicizing the plight of Suman and her family.
The cost breakdown for this campaign includes the following:
automobile/rickshaw signage = $30 per day

large billboard = $75 per day

newspaper ad = $150 per day

bus sign = $1000 per month
Our promise is to do whatever it takes to bring freedom to Suman and her family.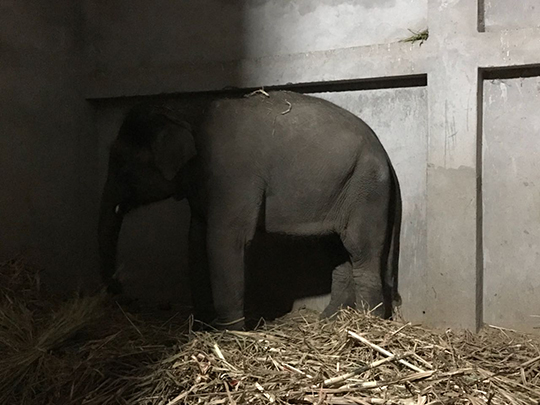 We encourage you to watch the documentary Where the Elephant Sleeps in its entirety HERE.
HBO: Stop Supporting the Violent Abuse of Elephants
HBO's series Westworld is paying a California based company called Have Trunk Will Travel (HTWT) to use real elephants in its shows. HTWT is notorious for viciously beating its elephants with bull hooks, electric prods, and stun guns during training in order to force them to perform. Tell HBO that this is unacceptable!
HBO has already received negative media about the elephants and we are deeply disappointed with the company's tepid response and lack of accountability. HBO did attempt to acknowledge the situation by saying, "We are reviewing the circumstances related to archival training footage which included one of the elephants that appeared in the series," but we want meaningful action, not just words. HBO is profiting off the exploitation and suffering of elephants while providing direct financial support to HTWT, a business that is built upon animal cruelty.
The archival footage HBO is referring to is an undercover video of HTWT training sessions of elephants taken by Animal Defenders International (ADI) from a few years ago. Kari Johnson, co-owner of HTWT, has acknowledged under oath that HTWT keeps its elephants in chains for more than 12 hours a day. In the video, you can see her, and other staff, beating elephants with bullhooks, other cruel devices, and manipulating a terrified and confused baby elephant by grabbing her trunk.
The production received the designation of "No Animals Were Harmed" but this designation is empty lip service. The entertainment industry bankrolls the American Humane Association (AHA) and is its only regulator. Injuries, abuses and deaths that occur on set are consistently downplayed and covered up by the AHA, which is accountable to no one but the industry itself.