It's no secret that the actions of the current Administration are putting elephants, tigers, and gorillas in danger.
Proposed cuts to programs at the U.S. State Department and USAID could undo decades of work fighting illegal wildlife trade and protecting endangered species and the last wild places on earth.
In these uncertain and volatile times, your support is needed more than ever. Please give right now and be part of the safety net that wild species desperately need.
Hope is not lost. We still have a chance to help all of these species recover and thrive.
Their survival depends on all of us. To help, you don't need to travel to Africa or Asia or even leave your desk: all you need to do to be a hero is make a generous gift right now.
WCS does more than any other conservation organization to fight wildlife crime — the biggest threat to elephants and many other species. But we simply can't put enough boots on the ground without your support.
Now is your chance to equip and train rangers, roll out state of the art tracking technology to protected areas, capture and lock up poachers and traffickers, and so much more to save endangered wildlife like elephants.
Yesterday, S1093 (the Senate version of Nosey's Law) was voted on and passed unanimously by the New Jersey Senate ‼️ 37 Yes ~ 0 No. The #NJ Assembly will now to vote.
Elephants need wilderness where they can live their lives safe from cruel men who would rip the tusks from their faces. With your help, we are going to relocate an entire elephant family to just such a place… a remote area of the Addo Elephant National Park in South Africa.
The last time elephants roamed this area was more than a 150 years ago. The Addo Elephant National Park in South Africa owns the land which is far from poaching areas and where the family will be able to safely breed in the wild. Darlington is the destination for a lucky family of elephants that we are affectionately calling the Davies herd. I promise you it's paradise for elephants, plenty of food, lush vegetation and water to drink and the elephants will be happy there, but it's a long and difficult journey from where they live now.
A full-grown elephant can weigh 12,000 pounds and it takes a lot of skill and a lot of money to safely move even one animal. We are moving 30 – mothers, babies, teenagers, matriarch and bulls. They have to be moved as a family for their psychological well-being and it is a massive organizational challenge.
The first step has been completed. We have managed to herd them into a thousand-acre area, we then temporarily fenced. Elephants are very headstrong, clever creatures and don't like fences, so they were not impressed by our efforts. Little do they know how happy they will be when they reach their new home.
Lots of people talk about what a shame it is that hundreds of elephants are dying every day, cruelly slaughtered so their tusks can be carved into trinkets by greedy men. This is your chance to help me DO something about it, to save elephants, so our grandchildren will be able to see them where they belong, in the wilderness.
I need people like you to stand at my side and take action, not just feel sorry about the slaughter taking place in Africa.
Ely is a sick and neglected former circus elephant forced to live in a concrete enclosure in a Mexican "zoo". After the recent deaths of three elephants at the zoo, an advocacy group is trying to save Ely before it is too late. Will you sign and share to help protect this abused elephant?
We are calling for the immediate and prompt surrender of Ely, a female African elephant that is being held at the San Juan de Aragon Zoo.
Due to confinement and the unnatural environment, Ely is forced to live in; she exhibits stereotyping a neurological condition conducive to animals held in captivity.
Ely suffers from a broad spectrum of health issues, among those issues is a skin condition known as ulcerative dermatitis. The lack of shade in Ely's enclosure has caused her to become severely sunburnt on top of her already damaged skin. The lack of care and treatment to these injuries has resulted in an infection that is most visible on her back.
We demand swift action be taken in regards to the treatment of Ely. We urge San Juan de Aragon Zoo to release Ely to a sanctuary that can provide her with the love and care; she so desperately needs and deserves.
The past few weeks our campaign to rescue the baby elephant Suman has seen some amazing progress.
Multiple petitions (here, here, and here) on her behalf have garnered nearly 500,000 signatures!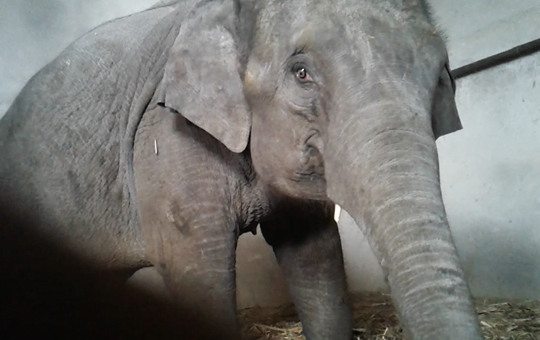 The Animal Welfare Board of India has begun looking into the cruelties being committed against elephants in Jaipur. And Suman's supposed "owner" Ballu Kahn is feeling the heat — he actually let the little elephant out of her cell-like quarters on at least one occasion for a photo shoot, so her life improved a bit at least for a little while.
But we believe that once the cameras are gone, Ballu Khan will go right back to his unnecessarily cruel methods of "managing" elephants. So we are not backing off our promise to get Suman out of there — in fact, we're stepping it up.
We've raised enough funding to start an awareness campaign (billboards, bus/taxi signage, and so on) throughout Jaipur where Suman is being held captive. Let's keep the pressure up for Suman! Click to learn more about Suman and her family.
As we continue our push to rescue Suman, Chanda, and Bijli and reunite them with Peanut, the international response to their situation has been intense. Just this week, the Daily Mail UK published a major story exposing the plight of these three elephants — and the person responsible for their captivity: Sameer "Ballu" Khan.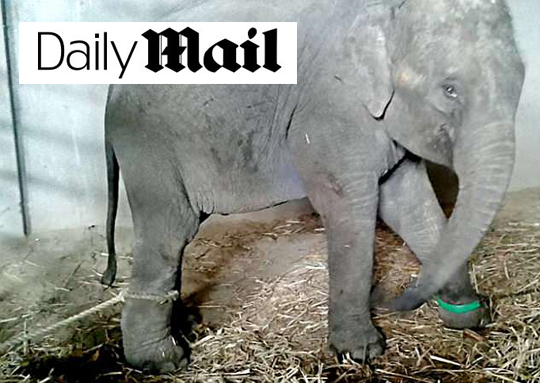 Why have the authorities taken no action? The situation is straightforward: Khan was involved with the illegal trafficking of these elephants, and his severely abusive and cruel "elephant management" tactics have been well documented with ample video evidence. In any case, it looks like the international reaction to Suman's story is having an effect on him: in an absurd turn, Khan is now actually trying to sue Wildlife SOS in the hope that we'll be intimidated into backing down.
Are we intimidated? Are we backing down? Not a chance. Khan's scare tactics have done nothing but strengthen our resolve. We know we're not alone in this. You've already helped Suman's petitions gather more than 600,000 signatures. We ask that you stand with us again for this little family of elephants as we respond to Khan's legal challenges. Please donate to our Elephant Legal Defense Fund.
Thank you for your incredible compassion and support — together we are going to reunite this family.


Elephant Soccer Isn't A Sport, It's Cruelty!
The FIFA World Cup, one of the largest sporting events on the planet is a time of national pride, comradery, and celebration. But is it an excuse for animal abuse?
For the past two World Cups, Thai fans have celebrated the beginning of the soccer tournament by holding "elephant soccer matches," where elephants are painted with the flags of the competing nations, set on the field, and ridden by elephant jockeys. As you might imagine the whole sight is ridiculous. The poor gentle giants are forced to chase a tiny soccer ball down the pitch and help their jockeys score goals.
While an elephant might not make the best offense, they make a hell of a goalie. Unfortunately, in order to block the ball, their riders make them stand still in front of the arc as their opponent takes a shot. No matter how big you are, a ball going full speed at your body has got to hurt. But the poor elephants must take the hits.
As we have said, again and again, using animals for human entertainment is NOT ok. These elephants suffer and are forced to do strange things that are not in their nature. These animals should be free to roam, and be wild, not forced to kick about balls to the cheers of spectators.
These games must end. Please ask the Thai government to ban elephant soccer matches and end this cruel spectacle for good.