Animal protection laws are under attack in Congress!
The notoriously anti-animal Congressmember Steve King recently introduced an extremely dangerous amendment to the U.S. farm bill that could overturn some of the strongest laws protecting animals at factory farms, puppy mills, and more. A Harvard Law School study estimates that thousands of important laws across the country could be threatened by King's amendment.
Fortunately, the House of Representatives rejected a recent farm bill draft last month that included King's amendment, but the danger is far from over. Please make sure the "King Amendment" is not included in the final farm bill by making a quick call today.
Click here to look up and call your representative and senators. You can say this: "Please vocally oppose the inclusion of the King Amendment, which is identical to HR 4879, in the U.S. farm bill. This measure is an unprecedented attack on consumers, animals, and states' rights." Once you've called, please send a polite follow-up message. Your lawmakers receive a lot of emails, so personalize your message to make it stand out.


0:59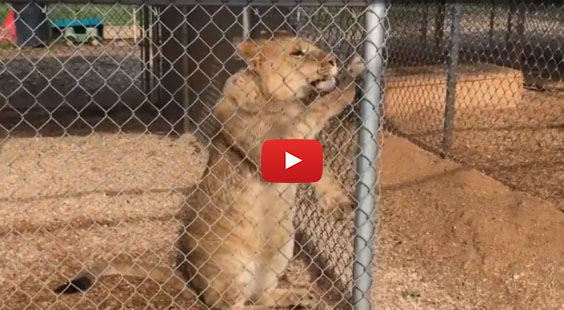 Animals Seen Pacing Frequently in Tiny Cages, Many in Poor Condition at Sham 'Sanctuary'. Roberta Kirshner, the operator of a California roadside zoo, regularly gets big-cat and bear cubs from notorious wildlife breeders just to exploit them for photo ops. These types of encounters are traumatic for baby animals—who should be with their mothers—and Kirshner has been seen hitting them, including a lion cub named Samson, who was hit with a broom while he had broken bones.



Dogs Stripped of Their Skin. Right now, you can DOUBLE your impact to help prevent dogs and other animals from being killed in the cruel fashion industry. Read More!
This RSPCA Tweet Shows Why the Egg Industry Can Never Be 'Humane'. The RSPCA recently stated that it permits "the use of gas and maceration [grinding] for the killing of day old chicks" in the egg industry as part of its "RSPCA Assured" scheme. Read More!