Amanda Holden Goes Underwater to Protest SeaWorld
Wearing a billowing gown and pressing her hands against a glass wall, Amanda Holden is entirely submerged underwater in a new PETA campaign that proclaims, "Boycott Seaworld or any marine park that keeps orcas, dolphins, and other animals captive" and "All animals want to be free."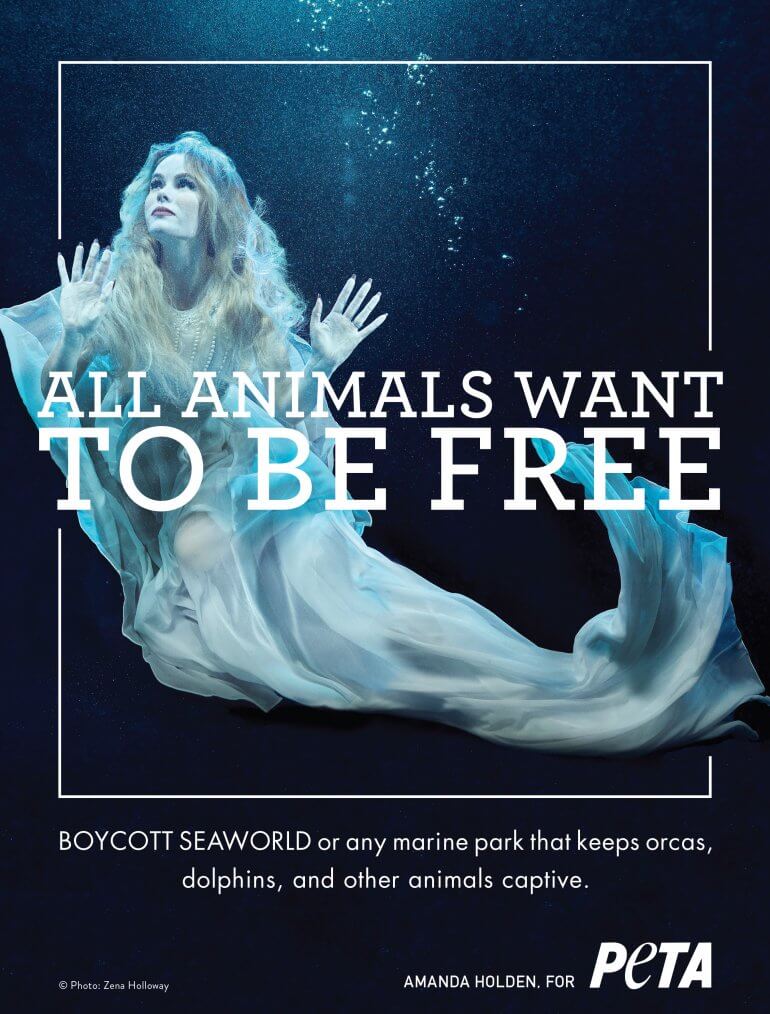 In an accompanying video, the Britain's Got Talent judge explains that orcas suffer in marine parks like SeaWorld, where they swim monotonously around tiny concrete tanks filled with chemically treated water, gnaw on the metal bars of their enclosures until their teeth break, and are given anti-anxiety drugs to manage stress-induced behaviour.
"These are animals with their own cultures and their own language," says Holden in the video. "The more we understand about the extraordinary capabilities of these wonderful whales, the more we can realise just how disgusting their captivity and confinement is."
She points out that while no whales or dolphins have been held captive in the UK since the 1990s, marine parks continue to operate abroad. PETA is calling on the public and businesses such as travel operator Thomas Cook to stop supporting the marine park, especially in light of its recently failed animal-welfare audit.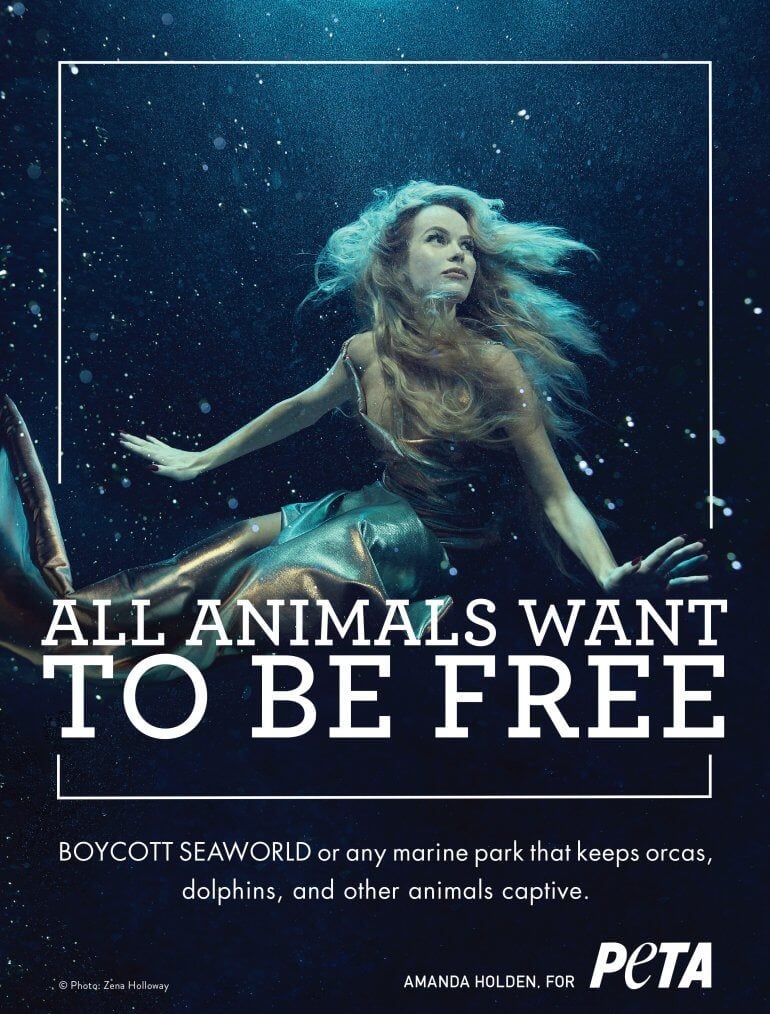 Holden joins a long list of celebrities – including Krysten Ritter, Sharon Osbourne, Noah Cyrus, Paul O'Grady, the late Sir Roger Moore, and many others – who have teamed up with PETA and its international affiliates to speak out against marine-mammal captivity.
The Trump administration is about to sign a permit that would allow an oil company to harm endangered whales, seals and other Arctic marine mammals an astonishing 600 times.
Hilcorp is a company with a dangerous track record. It has been responsible for numerous spills in the past two years and has a history of not complying with industry regulations. Now it's proposing to build and operate an artificial oil-drilling island and pipeline in the treacherous Beaufort Sea. If approved this would be the very first oil development in federal Arctic waters.
Demand that the Trump administration reject Hilcorp's reckless project. It threatens the Arctic's amazing wildlife and will only deepen our climate crisis.
Trump's new permit would allow Hilcorp to harm and harass marine mammals for five years starting in November 2019. That means it could injure and disturb marine mammals more than 600 times over the life of the authorization.
Noise from construction and operation would harm whales and seals by disrupting essential behaviors such as communicating, feeding and breeding. And onshore construction of ice roads could kill ringed seals.
The Marine Mammal Protection Act prohibits the killing, harming or harassing of these whales and seals — so the choice to be made is clear.
Tell the Trump administration to uphold our laws and deny the permit to hurt protected wildlife.
There's never been a better time to support Oceana's proven, science-based campaigns -- like our work to protect North Atlantic right whales. With only 450 of these critically endangered whales left, we need to do everything we can to ramp up our campaign to protect them from the dangers of seismic airgun blasting before it's too late.
"North Atlantic right whales 'will be extinct in 25 years' – unless we act now to save them" (Washington Post)
"No Sign of Newborn North Atlantic Whales This Breeding Season" (The New York Times)
"Can anyone save the North Atlantic right whale?" (Boston Globe)
Critically endangered

North Atlantic right whales are in serious trouble. Federal officials are poised to grant a record number of offshore oil and gas drilling leases in the next year and could green-light seismic airgun blasting in the Atlantic Ocean any day now. The Trump Administration's actions could seal these whales' fate once and for all.
Their existence is hanging by a thread. No calves are known to have been born during this year's calving season, and in the past year, 18 whales have been found dead – the most since scientists started reporting on mortality rates.
Not being able to communicate, navigate or find prey could risk the very existence of critically endangered North Atlantic right whales. Ships tow dozens of airguns behind them, sending dynamite-like blasts of sound every 10 to 12 seconds, up to 24 hours a day for weeks to months at-a-time. Marine life dependent on sound to communicate and hunt for food, like right whales, are especially vulnerable to seismic airgun blasting.
There is still time to prevent this tragedy, and we refuse to stand down. And right now, with a special matching gift active, you can have twice the impact in this fight.

Oceana's grassroots campaigners have already rallied the support of more than 1,700 bipartisan elected officials, tens of thousands of businesses, and hundreds of thousands of citizens who formally oppose seismic airgun blasting and new offshore drilling. We know that we can win this fight, but only with your support can we keep up the momentum needed.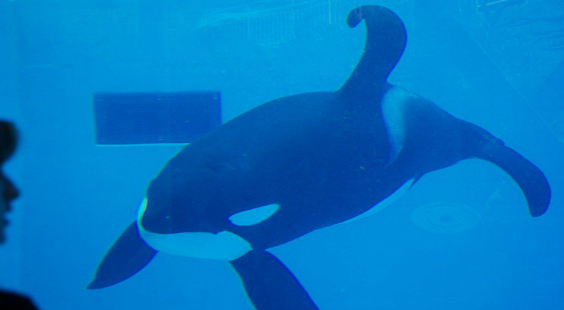 What You Can Do