Tulku and his adopted herd of orphaned elephants urgently need to be moved. Tulku is one of the elephants that have been recovering and receiving care at our partner organization, the Zimbabwe Elephant Nursery (ZEN). After months of care, five of them are ready for the next step of their journey back into the wild.
The rainy season has finished, and foraging conditions are becoming ideal for elephants. That's why we need your help moving them to a protected area of Panda Masuie Forest now.
In their new habitat, they'll quickly learn how to find food, they'll grow stronger every day, and they'll develop all the skills they need to survive in the wild … all under the watchful eye of ZEN.
Since Tulku came to ZEN, his handlers have provided round-the-clock care to help him recover – even sleeping next to him when he needed it. Thanks to ZEN and your support, 3-year-old Tulku is learning to trust his herd and he's now ready to take the next step towards a full recovery.
As I am sure you can imagine, moving elephants is no easy task! Thankfully, their handlers have agreed to move with them to reduce the stress of the new location. I am so inspired by the commitment that they make.
Now, it's up to us to make a commitment to help all five elephants continue their recovery in the peace and protection of Panda Masuie Forest until they're strong enough to return to the wild.
Thank you for any help you can provide to these elephant orphans who need us so much, and for your commitment to saving all animals.
We also need your help leasing the land in Panda Masuie Forest, training wildlife rangers and working with local communities with ZEN to continue protecting these orphaned elephants. Help move these elephants to their peaceful new home and protect animals in need.
In 2015 we were thrilled to rescue four elephants from the Moonlight Circus. Many of you remember the incredible night when Wally (Walnut), Coco (Coconut), Peanut, and Mac (Macadamia) boarded the trucks and made their journey to our sanctuary. We lovingly named this group "the Nut Herd."
Months later, we learned that three other elephants (Suman, Bijli, and Chanda) had also been part of this circus. We found out that they'd been illegally sold off to a notoriously cruel elephant owner in Jaipur just prior to our rescue. We also learned that Suman was only about two years old, and that she is Chanda and Bijli's daughter — meaning she's the biological sister of Peanut, the youngest elephant we rescued with the Nut Herd.
At that time we introduced her to you as "Hazel," the baby elephant who needed help. We changed her name from Suman to Hazel to protect her identity, and released little information about her. Our intention was to work behind the scenes to save her.
Peanut's family. Suman is the elephant we formerly called Hazel.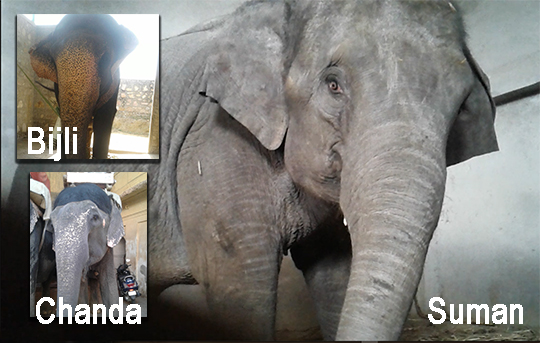 Because elephants, especially females, have incredibly strong family bonds and stay together in the wild, we were determined to find these three, and we eventually did; each is illegally owned by the same person but living and laboring separately in Jaipur. Chanda is now called "elephant #112" — basically a nameless worker carrying tourists up the hills to the Amer Fort in the scorching sun. Bijli is being rented out as well, hauling heavy loads and people through the heat on hardened tarmac. And little Suman is tied up in isolation while the illegal "owner" decides her fate. We've been told she may soon be "broken" and resold.
We have alerted the authorities about this, and as a result it will be harder for him to illegally sell her and move her out of state, where she could disappear. We've also been quietly working with authorities to rescue Suman as well as her mother and father for some time.
However, there has been no action by the Forest Department and other authorities to confiscate these elephants. We have undercover photographs and videos as well as details from people with first-hand knowledge of how distressed Suman is. We cannot wait any longer for the authorities to take action — we need international pressure to speak out on behalf of Suman and her family, now. It seems apparent that their freedom can only come through public outcry.
Peanut at our sanctuary.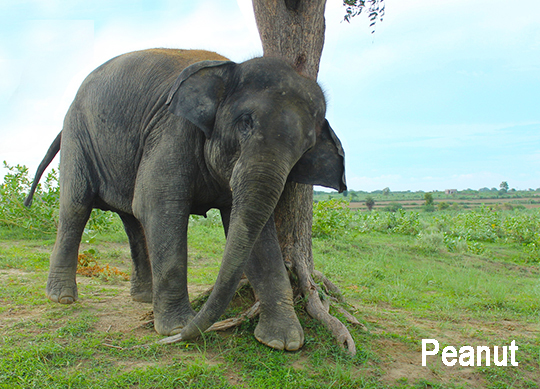 Please help us fight for this family! There are several things you can do right away.
Sign the petition to the Chief Wildlife Warden of Rajasthan asking for their freedom. He has the power to take action on behalf of all three elephants.
Share this link that explains the campaign

wit

h people who love elephants

.
Stay informed; we'll be doing regular updates at this link with the latest news and different ways you can help.
Boycott elephant attractions in Jaipur like the Amer Fort, and let your travel agent/website and guide know why — the cruelty inflicted upon elephants there.
If you or someone you know is visiting Jaipur, tell them to keep an eye out for Peanut's family: "elephant # 112" carrying tourists up to the fort, a baby elephant, and a male elephant with one tusk missing (though he is sometimes fixed with a prosthetic tusk). Very few male elephants live in Jaipur, so there's a high likelihood that any male is Bijli. Please send any and all information to us at info@wildlifesos.org.
We'll be doing everything we can to monitor these elephants in the meantime. We have attorneys working this case right now, and we'll be spending what we can on a public awareness/pressure campaign about the elephants.
This is going to be a challenging campaign, maybe our most ambitious. But Suman is so young, we cannot imagine her enduring 50 years of the cruelty and isolation that define her current situation.
Peanut is living a good life, with open space, the company of other elephants, and all the healthy food and care she needs. The only thing that could make her life better would be to reunite her biological family. Let's make this happen!