04/22

Flagstaff

AZ

Harkins Flagstaff 16

04/22

Phoenix

AZ

FilmBar

04/22

Mesa

AZ

Harkins Superstition Springs 25

04/22

Scottsdale

AZ

Harkins Shea 14

04/22

Sedona

AZ

Mary D. Fisher Theatre

04/22

Chino Hills

CA

Harkins Chino Hills 18

04/22

Long Beach

CA

The Art Theatre
Director in attendance

04/22

Monterey

CA

Osio Theater

04/22

Redlands

CA

Harkins Mountain Grove 16

04/22

Santa Ana

CA

Frida Cinema
Director in attendance

04/22

Durango

CO

Animas City Theatre

04/22

Fort Collins

CO

The Lyric

04/22

St. Louis

MO

Webster Film Series

04/22

Concord

NH

Red River Theatres

04/22

Woodstock

NY

Upstate Films

04/22

Athens

OH

The Athena Cinema

04/22

Burlington

VT

Palace 9

04/22

Port Orchard

WA

Dragonfly Cinema

04/22

Vancouver

WA

Kiggins Theatre

04/22

San Antonio

TX

Santikos Bijou

04/22

Camas

WA

Liberty Theatre

04/22

Tacoma

WA

Grand Cinema

04/22, 4/27-5/3

York

PA

Small Star Art House

04/22-04/26

Lake Worth

FL

Lake Worth Playhouse

04/24

Lewes

DE

Cinema Art Theater

04/27

Akron

OH

Nightlight Cinema

04/27

Harrisburg

PA

Midtown Cinemas

04/27 & 29, 05/01 & 02

Brunswick

ME

Frontier

04/27-05/03

New York

NY

The Landmark at 57 West
Director in attendance 4/27

04/27-05/03

Wilmette

IL

Wilmette Theater

04/28

Lowell

MA

Luna Theater

04/28

Vicksburg

MS

Strand Theatre

04/28

Pleasantville

NY

Jacob Burns Film Center
Director in attendance

04/28-29

Atlanta

GA

Plaza Theatre

04/29, 04/30, 05/02, 05/03, 05/06

Columbus

OH

Gateway Film Center
Director in attendance

05/04-05/10

Beverly Hills

CA

Laemmle Music Hall
Director in attendance 5/4, 5/5 & 5/6

05/04-05/10

Modesto

CA

State Theater

05/11

Ashburn

VA

Alamo Ashburn
Director in attendance

05/12

Charlottesville

VA

Alamo Charlottesville
Director in attendance

05/12-13

Winchester

VA

Alamo Winchester
Director in attendance 05/13

05/15-05/19

Boulder

CO

Boedecker Theater/Dairy

05/25-05/31

San Francisco

CA

Roxie Theater
Director in attendance 5/26

05/25-05/31

Berkeley

CA

Rialto Cinemas® Elmwood
Director in attendance 5/25

05/25-05/31

Sebastopol

CA

Rialto Cinemas® Sebastopol
Director in attendance 5/27

05/27

San Raphael

CA

Smith Rafael Film Center
Director in attendance 5/27

6/1, 6/3, 6/5, 6/6

Portsmouth

NH

Music Hall

6/8, 6/10, 6/12, 6/13

Edmonton

AB

Metro Cinema
Wisconsin Historical Society: Circuses Using Animals Belong in the History Books!
Circus World in Baraboo, Wisconsin, has a long history of hosting cruel and archaic live-animal acts. Since the government-run Wisconsin Historical Society recently took control of operations at the facility, it now has the perfect opportunity to relegate these animal acts to the history books.
Unfortunately, the society has refused even to acknowledge that animals endure suffering for the circus or discuss ending the use of animals in its shows. Join PETA in letting the Wisconsin Historical Society know that these cruel animal acts must go.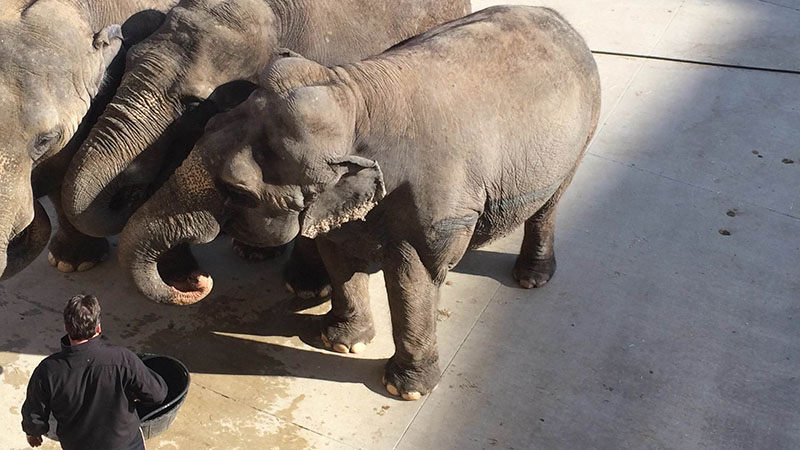 Carson & Barnes Circus, which supplies the elephants for these cruel acts, has an egregious record of mistreatment that includes more than 100 violations of the federal Animal Welfare Act, including while at Circus World, when it was cited for failing to show that it had provided a thin elephant who had visible hip bones and shoulder blades with veterinary care. Another elephant escaped from her confines last summer at Circus World and was found wandering through a residential neighborhood. Ryan Easley, who supplies the big cats for the act, was caught last year violently whipping tigers during training sessions—and one of them was whipped 31 times.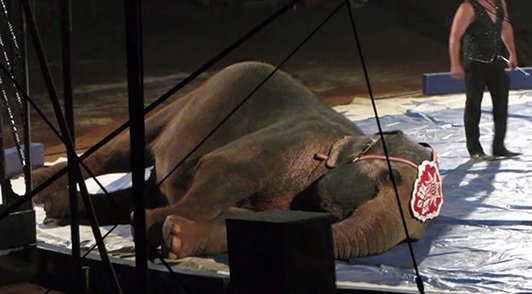 It's 2018—all decent people know by now that animals exist for their own reasons, not to be used as entertainment for humans. Speak up for animals now by urging the Wisconsin Historical Society to get with the times and end cruel, archaic animal acts!
The Florida Fish and Wildlife Conservation Commission (FWC) is taking public comment through April 20th regarding state rules on elephant rides.
FWC is reevaluating public safety issues, but has no current intent to ban elephant rides; ADI submitted scientific data and evidence of abuse, showing that regulation cannot "insure public safety" or protect the elephants. The elephants need you to CONTACT THE FWC TODAY – YOU HAVE UNTIL FRIDAY – this is not restricted to people from Florida, but let them know if you do live in the state. Will you share this to help spread the word?
Reach out to FWC by phone or email – Be polite and give them the facts there is no safe or humane elephant ride.
FL FWC Executive Director Eric Sutton (850) 487-3796

FL FWC Commissioners Rivard (Chair), Spottswood, Kellam, Lester, Nicklaus, Rood, and Sole at commissioners@myfwc.com
Elephants' undeniable air of dignity, wisdom and compassion, has led them to become one of the most revered animal species in the world. Few people who have watched members of an elephant herd interacting with one another in the wild or observed the loving bonds that they share could fail to be moved by them. In many ways, elephants' emotional lives closely resemble ours. They, too, are closely bonded to their family members, never hesitate to help each other out during times of trouble, and grieve profoundly when a loved one dies.
Sadly, we humans don't always treat them with the respect they deserve.
African elephants are a lucrative target for the illegal wildlife trade, where their ivory tusks can command huge prices. During the 1970s and 80s, African elephant numbers dropped by over half, from 1.3 million to 600,000. This led to an international ban on the commercial ivory trade in 1989, which helped the population to stabilize and recover. In 1997, however, a limited amount of stockpiled "antique" ivory was permitted to leave Botswana, Zimbabwe, and Namibia, which drove up demand for these products once again. Now, poachers kill one African elephant every fifteen minutes: the equivalent of 100 every day. Between 2012 and 2015 alone, over 103,000 elephants were killed for their ivory. Africa has now lost 60 percent of its elephant population, and experts fear that the species may soon be extinct unless serious action is taken to curb the ivory trade.
Asian elephants are also at risk of extinction thanks to extensive deforestation and habitat loss. The pygmy elephants of Indonesia, for example, are seriously threatened by the palm oil industry's practice of burning down their forest homes to make way for palm plantations … and poisoning the elephants and other animals who stand in their way. Elsewhere on the continent, wild elephants are often taken away from their families and forced to work in the illegal logging and elephant tourism industries. A brutal training method known as "phajaan" – which involves confining the young elephant to tiny box and beating them until they learn to fear their captors enough to obey every command – is used to prepare the animals for their work in these industries.
As if all this weren't bad enough, humans also have a bad habit of forcing elephants to perform in circuses or languish in zoos for the sake of our entertainment. Circus elephants are typically treated horrendously – beaten with whips or stabbed with bullhooks in an effort to make them perform inane tricks – while an estimated 40 percent of zoo elephants suffer from obesity, due to a lack of appropriate exercise and stimulation. In both cases, the elephants are deprived of the ability to exercise their natural instincts and experience the close family and herd bonds they would enjoy in the wild.
Clearly, we humans do not treat elephants with the respect they deserve. We could certainly do a lot better when it comes to our relationship with these majestic animals, as a new picture posted by elephant conservation group Elephantopia reveals.
The photograph, which was taken in Kafue Elephant Orphanage, Zambia, reveals what the relationship between our species and these majestic animals ought to look like.
The human race as a whole has a long way to go before our relationship with elephants is based on a foundation of genuine love and respect. Luckily, there is hope that the ivory trade could be on its way out. Last year, an important agreement was reached between China and the U.S. – the two biggest consumers of ivory products in the world – to take tougher action on the ivory trade and help save Africa's endangered elephants. The stories of resilient elephants who have survived poaching attempts, as well as those of the brave people who work around the clock to protect them, give us reason to believe that all is not lost after all. At the same time, raising awareness about the plight of elephants who are put to work for our entertainment is vital to ending their captivity once and for all.
For more information about the work of Elephantopia, check out their website or Facebook page.
Collaring elephants in one of Africa's last great wildernesses. A project in Tanzania's Selous Game Reserve aims to protect the majestic species from poaching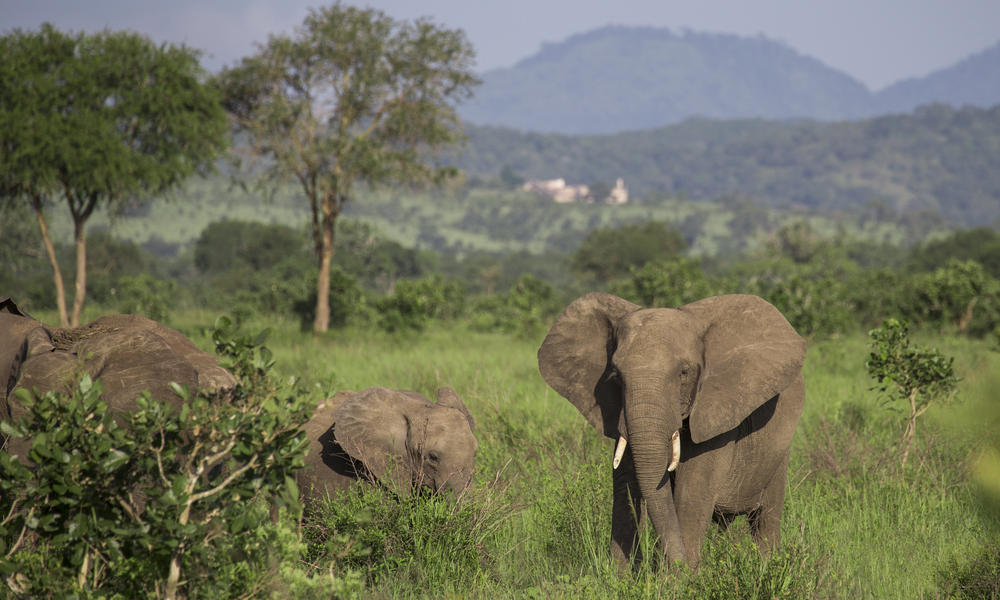 Thanks to satellite collars, 60 elephants will be monitored for better protection against poaching in one of the last great African wildernesses, Tanzania's Selous Game Reserve. It's an ambitious undertaking—the country's largest ever elephant collaring effort—carried out by the Tanzanian government in collaboration with WWF.
Once an elephant stronghold, rampant poaching of elephants for ivory has decimated the population in Selous. In less than 40 years, elephant numbers in Selous have plunged by 90 percent to only around 15,200 animals today. The severity of elephant poaching in Selous, a World Heritage Site, moved UNESCO to place it on its List of World Heritage in Danger in 2014.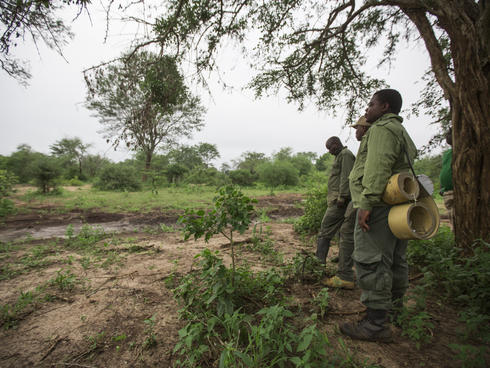 The elephant collaring team tracks an elephant in Selous Game Reserve. © Rob Beechey / WWF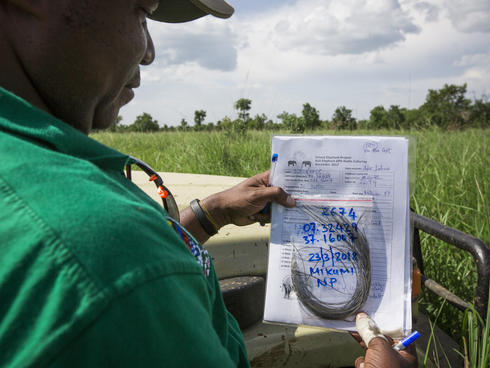 The team compiles a data sheet on the collared animal and collects elephant hair for DNA analysis. © Rob Beechey / WWF
Helping rangers guard the remaining elephants from poaching is an essential step in rebuilding the population. Satellite collars are a tried-and-tested tool for wildlife monitoring and will give rangers a leg up on poachers, allowing them to identify and respond to threats in real-time through mobile devices.
Data collected through these collars also helps predict where the animals are moving in order to anticipate any dangers they may encounter. This includes alerting neighboring communities when the animals are heading towards their settlement to reduce human-elephant conflict.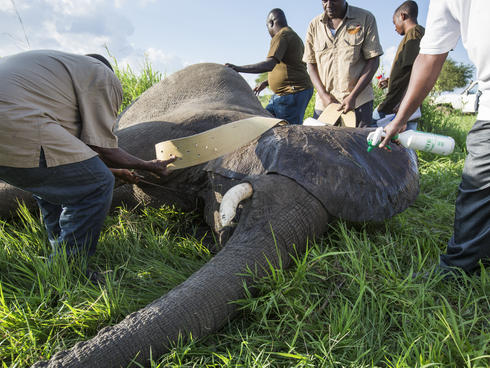 The elephant is sedated during the collaring and the team moves quickly. © Rob Beechey / WWF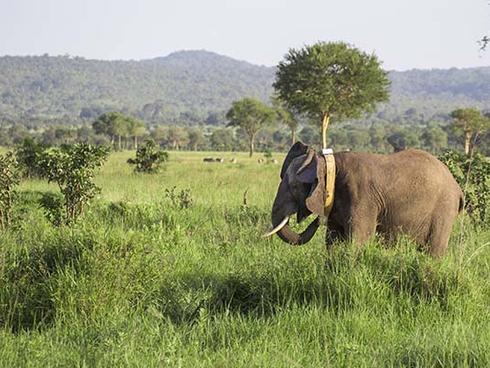 A collared elephant leaves to rejoin its herd. © Rob Beechey / WWF
"The collaring of elephants in Selous is critical to better protect them from poachers and retaliatory killings by communities because of human elephant conflict. In a landscape of this magnitude, we need this kind of technology to be better understand elephant movements," said Bas Huijbregts, African species manager, WWF.
The first two elephants were collared last week at Mikumi National Park, and an additional 58 will be collared by November 2018.
Poachers kill between 20,000 and 30,000 African elephants each year for their tusks, primarily to satisfy the demand for ivory products in Asia. Anti-poaching efforts, like this collaring, are critical to elephant conservation, but only when we stop consumer demand for ivory will we ensure a future for this majestic species.
The Sad Reality Behind Those Cute Baby Elephants at the Zoo.
The Louisville Zoo in Kentucky recently announced that Mikki, a 32-year-old African elephant, is pregnant. What the Zoo did not share, however, is that this pregnancy was forced upon Mikki through repetitive, clumsy, and very invasive Artificial Insemination (AI) attempts.
READ MORE
And last, we urgently need a portable, digital X-ray system for our elephants. The older machine we have lacks the imaging power to detect small fractures, especially hairline breaks. Such injuries can be deadly for our elephants, many of which are elderly and suffer from medical issues that can lead to falls. It is critical for them that our vets have the technology to make the most accurate diagnoses possible!
Here is a picture of Mohan receiving treatment: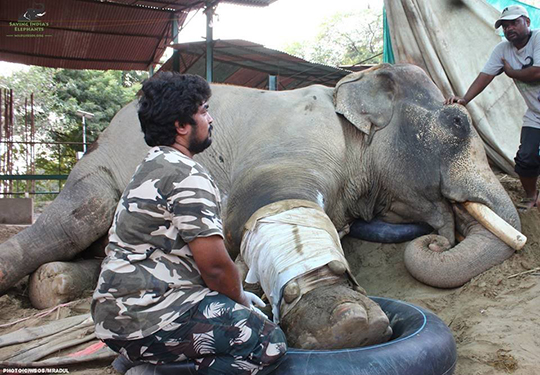 A very generous anonymous donor has pledged to match donations up to $30,000 for this equipment!
This is a wonderful opportunity that goes until the end of this Friday. Can you help us diagnose and potentially save the lives of our elephants?
You can learn more about the plight of elephants across the world, and how you can help, by reading the articles below.