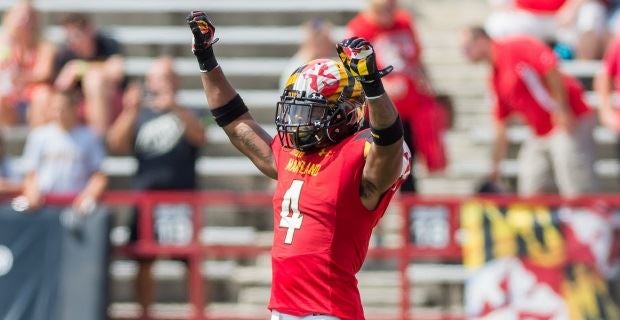 Will Penn State's crowd play a role?
The only time Maryland senior quarterback Perry Hills pays attention to fans, he says, is when he's laying on his back after he's thrown a pass. He recalled a play earlier this season, when the Terps traveled to Central Florida, in which he heaved the ball downfield before being knocked to the ground. He heard cheers and thought the worst. As it turned out, he completed a 51-yard pass to Teldrick Morgan to set up a field goal right before the half.
"I was like, 'Oh god, what happened?'," Hills remembered. "That's about the only time that you really listen to the crowd."
The Terps have two road wins under their belt this year, but they know playing in Happy Valley is a different animal. A lot of the players remember playing in Beaver Stadium two years ago when Maryland beat Penn State on the road for the first time in school history. Some of the younger players just recall the contingent of Nittany Lions fans that made the trip to Baltimore last year when the game was played at M&T Bank Stadium. But either way, they all agree that it's going to be a fun environment.
"Honestly, we like playing in environments like that instead of one where there's really no fans at all," Hills said. "It kind of gets you more energized to go out there and say, 'We're going to prove all these people wrong.' Make them shut up. Guys are going to be really excited for it."
Added defensive tackle Azubuike Ukandu: "At the end of the day, the crowd stuff doesn't really matter. It's playing football at the end of the day."
Recent history backs up Ukandu's statement. Maryland's only conference win last year came on the road against Rutgers. And two years ago, the Terps won both road games in which they played in front of more than 100,000 fans.
As for preparing for the crowd, DJ Durkin said they don't need to change much since all communication is signaled in from the sidelines.
"We're not a huddle-up and then verbal snap count (team)," Durkin said. "That's just not what we do whether we're home, away or whatever. It kind of plays in our favor. We don't have to make much adjustments that way (because) that's how we operate on a normal basis."
Could the Terps be overconfident after last week?
A few weeks ago, the Terps faced adversity for the first time when they went into double overtime against UCF. It wasn't a wake-up call by any means -- the team didn't exactly come out flat or overlook the Knights -- but it erased any chances of the players getting complacent heading into a bye week with Purdue, perhaps the worst team in the Big Ten, next on the schedule.
The Terps proceeded to beat the Boilermakers, 50-7, their largest in-conference victory margin since 2010. They're now 4-0 for the first time in three years and have a chance to be undefeated through five games for the first time since Ralph Friedgen's first year as head coach. Needless to say, Maryland's players aren't used to this type of success.
Could they be feeling overconfident or uneasy heading into Penn State favored by a field goal?
It's certainly unfamiliar territory, but don't expect the Terps to let their foot off the pedal today. With a win likely meaning cracking the top-25 polls, not to mention a lot of local bragging rights on the line, regardless of if you want to call it a rivalry or not, there should be plenty of motivation heading into the first conference road game (and East Division) game of the season.
Besides, the coaching staff has been sure to remind the players about certain areas that need improvement. Offensive coordinator Walt Bell ran through a number of mistakes from last week's game against Purdue -- including a fumble that might've been his most embarrassing moment as a coach ever -- and told reporters that a 52-17 victory over Louisiana Monroe while at Arkansas State last season was the "most disgusted he's ever been."
"You never really talk about the end results," Bell said. "Every day regardless of success or no success, or how well they feel like they played or how well they think practice went, it's not about the end result. It's about how close are we? Really at the end of the day, as cliche it sounds, we're chasing perfection."
Said sophomore running back Ty Johnson: "[The coaches] say we have scored a lot of points, and we have done this, but we haven't been at our best yet because we still make mistakes like every other team. They're saying how about we be the best us we can be this week or today, tomorrow and just keep going up the ladder. We're just going up each step every week."
"It feels good to be 4-0, but that doesn't mean anything yet. We're just concentrating on having an opportunity to go 5-0," Hills added. "Not get too high on ourselves or anything like that because games we've won, okay, that's in the past. Now what do we have to look forward to?"
Last year's 3-9 season should keep this team from getting too high on themselves.
How does Maryland gameplan for Penn State's offense?
Barkley is a major threat. (Photo: Frank Hyatt, 247Sports)
The stats might not show it, but the Terps could have their hands full with Penn State's offense.
For starters, sophomore quarterback Trace McSorley, a northern Virginia native, currently leads the Big Ten with 1,284 passing yards through five games and a more than respectable 135.8 QB rating.
Durkin said he scrambles "as good or better" than any other quarterback they've faced this season, which adds a different dimension to his game, but he keeps his eyes downfield and can really hurt teams with his arm.
And so far, teams have allowed McSorley chances to stretch the field vertically because they've been focused on stopping sophomore running back Saquon Barkley, who could be the best tailback the Terps face all year. In practice, in order to simulate his shiftiness and versatility, Maryland's used utility man Jacquille Veii, who is sitting out this season due to NCAA transfer rules, in the backfield.
"He'll be the best back we've seen thus far," said defensive coordinator Andy Buh, who had the Terps focus on plugging rushing lanes and keeping quarterbacks in the pocket last week against Purdue.
With that said, don't let the fact that the Nittany Lions rank last in the Big Ten in rushing offense fool you: they have the most talented quarterback-running back duo that the Terps have faced yet this year
That will probably make designing a gameplan to limit PSU much more difficult than it was to stop the Boilermakers, who had a mistake-prone quarterback and a limited rushing attack.
"When teams load the box (againt Penn State), or whatnot, they get some shots outside and they take them down the field," Durkin said. "It's a big challenge for our defense."
The Terps' plan?
We're guessing that they'll rely on their talented secondary to handle Penn State's receivers while stacking the box to slow down Barkley. Ukandu said the Terps' defensive backs make their defense versatile and allow them "to do a lot of things".
Can Penn State force Hills into action?
This question probably matters more than any others. The Nittany Lions' defensive gameplan isn't going to be hard to guess: they're going to want to make Hills throw.
Can they do it?
That's another question. On paper, the Terps offense matchup up really well against Penn State's defense. The Nittany Lions have an undersized, but active defensive line and a banged up group of linebackers, which has resulted in one of the conference's worst rushing defenses. Their secondary is their biggest strength, so expect them to have an extra player or two in the box and dare Hills to keep them honest with the deep ball.
Believe it or not, that's not the strategy Purdue had last week. The Boilermakers let the Terps run for 400 yards against them, and for whatever reason, often played with only five or six players near the line of scrimmage.
Given that, we don't really know what will happen if a legitimate Big Ten defense focuses on slowing down Maryland's rushing attack, which ranks fifth nationally in yards per carry. The numbers say the Terps should have no trouble moving the ball, but stats often don't tell the entire story.
More than likely, Hills -- who has thrown for 550 yards in four games this season -- is going to have to make more throws than he has in past games. And the coaching staff has seemingly attempted to keep his confidence high heading into this week knowing that they'll need him soon or later.
"He's a really good quarterback. He can beat you with his feet and his arm," Durkin said on Tuesday. "He's doing a great job of doing what we ask him to do. He's playing with confidence. If he makes a mistake, he can't wait to get back out there."
Maryland football looks to continue its unbeaten start in hostile territory today when the Terps take on Penn State in Happy Valley. Here's how to watch, stream and listen to Saturday's big game:
(What's the next big story at Maryland? Before you finish reading, take five seconds NOW to sign up for ourFREE Terps newsletter. We'll deliver the latest big news to you!)
Maryland at Penn State
Kickoff: Noon at Beaver Stadium
TV: Big Ten Network (find your local channel HERE)
TV Crew: Kevin Kugler, Matt Millen and Lisa Byington
Radio: Maryland Sports Radio Network - Johnny Holliday (Play-by-Play), Tim Strachan (Analyst), Scott McBrien (Analyst); Flagships - WJZ-FM (105.7) / ESPN 980 (D.C.); Sirius 81, XM 81
Live stat updates online: HERE