Joining today's show are John Heilemann, Nicholas Confessore, Howard Dean, Kristen Soltis Anderson, Kasie Hunt, Jonathan Capehart, Martin Smith, Robert Costa, Sen. Lindsey Graham, Garry Kasparov, Fmr. Gov. Martin O'Malley, Sara Eisen and more...
There have been no killings and no capturing of any Dolphins in Taji, Japan over the weekend and today. The Rams won yesterday pretty handily as Todd Gurley goes off again in
although they did their damnedest to give that game away too. Also, Donald Trump questions poll showing Ben Carson ahead in Iowa, calls him 'low energy'. And, Marco Rubio gives up on Senate: 'He hates it' while jeb Bush is fed up with running in this primary. Which is pretty unusual to say out loud as you are running to be the POTUS. Plus,
Adam Schiff sings 'Meet the Mets' on House floor.
Chris Christie also Gets Kicked Off Amtrak Quiet Car for Screaming on His Phone and Halloween is coming this week (I am seeing Moe. at the new Phillmore in Philly).
The Rams could barely throw the ball for most of Sunday's game. They didn't need to in a 24-6 victory over the Cleveland Browns.
1. It's amazing how much Todd Gurley has transformed the entire Rams team. Because of him, the 3-3 Rams can survive a first half with virtually no passing game. Gurley turns three-yard gains into 48-yard scampers and routinely makes the first tackler miss. Unless he runs through them. He finished with 163 yards from scrimmage. Nick Foles finished with 163 passing yards. Gurley even led the Rams with four receptions. Everything he does is smooth and explosive.
Every game, all season
2. This is Jeff Fisher's dream team. They are all defense and running. The Rams' defense essentially scored ten points in the first seven minutes by forcing two fumbles, including a recovery for a touchdown by safety Rodney McLeod. The defensive line gets all the attention, but the Rams secondary is playing very well. McLeod, Janoris Jenkins, Trumaine Johnson, T.J. McDonald, and Mark Barron all played big roles Sunday. They hit and they cover.
3. The Browns, now 2-5, don't have a lot to feel positive about. Josh McCown was knocked out of the game late in the fourth quarter with a shoulder injury. He also took a big hit to the head a handful of plays before leaving the game. The Browns actually out-gained St. Louis, but continually self-destructed with penalties and turnovers. They lost four fumbles, two of them by McCown. The Rams' hard hitting deserves an assist.
4. Cleveland may have no choice but to start Johnny Manziel next week. Perhaps it will be a blessing in disguise for a team that isn't going anywhere and should see if he has any chance to be their future starter.
5. St. Louis needs a better passing game to stay in the playoff mix all year. They manage to hit about one deep throw per game -- this time a 41-yarder to Kenny Britt, They also scheme up one good play for week for Tavon Austin. There is very little sustainable passing other than that.
6. The Rams need to bench Jared Cook. Few starters hurt their team more on a weekly basis.
Businessman Donald Trump cast Ben Carson as "low energy" and "very, very weak" on immigration and trade negotiations in a round of interviews Sunday, a response to poll numbers that showed him trailing the retired neurosurgeon in the key early-voting state of Iowa.
Mr. Trump appeared chastened and confused by the numbers, although it didn't stop him from making insinuations about Mr. Carson's religion and slapping him with dismissive labels that he has used on another Republican presidential rival, former Florida Gov. Jeb Bush.
The Cameraman Captured More Than Expected
Burning Man Photos Revealed For The First Time Are Unreal...You Won't Be Able To Stop Staring
Scandalous Cheerleaders Who Let Way Too Much Slip Out... WOW
"Actually, I think Ben Carson is lower energy than Jeb, if you want to know the truth," Mr. Trump told CNN.
In response, Mr. Carson said he is not about to dive into the "mud pit" of political sniping. He said anyone who can operate on someone for 20 hours straight has demonstrated the type of stamina that the presidency demands.
The exchange is the latest sign of discord between a pair of unlikely front-runners, who have mostly avoided direct combat as they ride a wave of enthusiasm for political outsiders.
Mr. Carson received the support of 28 percent of likely participants in the Iowa Republican caucuses in the Bloomberg Politics/Des Moines Register numbers released Friday. Mr. Trump was at 19 percent — down four percentage points since August.
A Quinnipiac University poll released Thursday also showed Mr. Carson overtaking Mr. Trump in the state and leading by 8 points, 28 percent to 20 percent.
"I don't understand the poll; I actually don't," Mr. Trump told CNN about the Bloomberg/Des Moines Register survey.
Sen. Ted Cruz of Texas was third in that poll at 10 percent, followed by Sen. Marco Rubio of Florida at 9 percent. Former Florida Gov. Jeb Bush and Sen. Rand Paul of Kentucky trailed at 5 percent apiece, followed by former Hewlett-Packard CEO Carly Fiorina at 4 percent and former Arkansas Gov. Mike Huckabee at 3 percent.
Mr. Trump joked that people tried to tell Mr. Carson about the Iowa results but he appeared to be sleeping.
Mr. Carson said he was a volatile person in his youth and may be relaxed and soft-spoken now, but he plans to stay above the fray.
"That's not who I am. And I don't get into the mud pit. And I'm not going to be talking about people," Mr. Carson said. "I will tell you in terms of energy I'm not sure that there's anybody else running who's spent 18 or 20 hours intently operating on somebody."
The former surgeon then carved through a series of prominent Republican issues with NBC host Chuck Todd, defending his suggestion that an armed populace might have resisted Nazis in Germany.
"I think it is generally agreed that it's much more difficult to dominate people who are armed than people who are not armed. You know, some people will try to take that and, you know, make it into an anti-Jewish thing, which is foolishness," he said.
He also said the 1973 Supreme Court decision in Roe v. Wade, which established abortion as a national right, should be overturned, leaving the door open to exceptions in cases in which the life of the mother is at risk, but not for rape or incest. As the doctor surges in Iowa, the businessman is stirring the pot so evangelicals wonder whether Mr. Carson, a member of the Seventh-day Adventist Church, is a true Christian.
Mr. Trump, a Presbyterian, refused to apologize Sunday, saying he was only curious about Mr. Carson's denomination.
"All I said was, I don't know about it," he told ABC's "This Week," though he refused to explain why he brought it up in the first place.
Donald Trump: No apology for questioning Ben Carson's Seventh-day Adventist faith.
Republican presidential candidate Donald Trump said Sunday that he saw no reason to apologize for raising the issue of rival Ben Carson's Seventh-day Adventist faith during a recent campaign rally.
"I would certainly give an apology if I said something bad about it. But I didn't. All I said was I don't know about it," Trump said during an interview on ABC's "This Week," one of three Sunday talk shows on which the billionaire businessman talked about recent polls that showed Carson pulling ahead of him in Iowa.
Trump dismissed a suggestion by host George Stephanopoulos that by mentioning Carson's religious affiliation he was trying to "send a dog whistle" to "some conservatives [who] claim the Seventh-day Adventists are not Christian."
"No, not at all," Trump said.
Trump had brought up Carson's religion on Saturday, during a rally in Florida.
"I'm Presbyterian, he said. "Boy, that's down the middle of the road, folks, in all fairness. I mean, Seventh-day Adventist, I don't know about. I just don't know about."
Carson, in an interview on Fox News, declined to strike back but noted that Trump "went ballistic" several weeks ago when Carson questioned Trump's faith, saying the difference between him and Trump was that "I've realized where my success has come from, and I don't in any way deny my faith in God."
"So it seems a little interesting that he would now be doing that," Carson noted. Carson, who has also said he would not support a Muslim for president, later apologized for the comments about Trump's faith.
[The backstory to Donald Trump's questions about Ben Carson being a Seventh-day Adventist]
Carson also passed when Fox News anchor Chris Wallace reminded him of Trump's criticisms about his rival's energy level and his stand on immigration.
"I really refuse to really get into the mud pit," Carson said, adding that Trump "is who he is. I don't think that's going to change. And I am who I am. That's not going to change, either."
He continued: "And the way I kind of look at it, if people resonate what I'm talking about ... And if they like that, and it works with them, and they feel I'm the good representative for them, that's great. I would love to have their vote. And if they don't want me, that's fine, too. Because I would never lie just to get an office. I wouldn't be happy, and the people wouldn't be happy."
The Seventh-day Adventist Church has struggled historically to be accepted by mainstream Protestants. It traces its roots to lay theologian William Miller, who predicted the return of Jesus Christ in 1844, the movement was abandoned by some of its early followers and dismissed as a cult after Miller's prediction didn't pan out.
Over the decades, leaders of the church have worked hard to emphasize their belief in Christian doctrine and practices, though some Christians still look at them with skepticism, as they do with Mormons and Jehovah's Witnesses. Mitt Romney, the GOP's 2012 nominee, is a Mormon, and while his faith was mentioned, it was never a major issue in that race.
Carson, who has said that he was twice baptized as a Seventh-day Adventist, talks frequently about his belief in God and the need to defend religious freedom, but not as much about his specific faith. In a 1999 interview with the Religion News Service, he said: "I spend just as much time in non-Seventh-day Adventist churches because I'm not convinced that the denomination is the most important thing. I think it's the relationship with God that's most important."
[Ben Carson: I don't want to get into a 'gladiator fight' with Donald Trump]
In their dueling Sunday show appearances, Trump kept up his aggressive rhetoric about his political prowess and Carson continued his confident but low-key approach to the campaign.
Trump suggested in interviews on Sunday that he was a bit taken aback by polls that show Carson, whom he has criticized as lacking energy, pulling ahead of him in Iowa. A Bloomberg Politics/Des Moines Register released Friday showed Carson with 29 percent support to Trump's 19 percent. The day before a Quinnipiac University poll had Carson ahead of Trump 28-20.
"I was really surprised to see it, because three nights ago, I was in Iowa. We had a packed house. We had 4,000 people, and it was a lovefest," Trump said in an interview on CNN's "State of the Union." "And I have done really well with the evangelicals and with the tea party and everything. And I just don't understand the number. But you know what? I accept the number. It means I have to work a little bit harder in Iowa."
Carson, in an interview on Fox News, attributed his surge in Iowa to "the power of social media and of word of mouth because as you know ... a lot of the media has it in for me. But, you know, if people listen to them, you know, I would be polling at less than zero."
Carson, who has gotten high marks for likability from grassroots Republican Party activists, continues to struggle to explain his policy positions. Wallace spent several minutes trying to get him to clearly articulate his plan for personal health-care accounts, which Carson has suggested could replace Medicare for some older Americans.
Wallace kept saying that Carson was not being clear about whether and how much the government would contribute to the accounts and whether such accounts are simply a new form of Medicare.
"If we take those same dollars and divert them into a system that gives you control over your home health care, you and your health-care provider cut out the middle man, the bureaucracy. Those dollars go much further. We won't have to use many of them. The dollars are already there, Chris," Carson said.
Wallace seemed unconvinced and ended by interview by saying: "Well, this is interesting, obviously, to be continued.... With more prominence in the polls, more discussion of your proposal."
Trump, in his "This Week" interview, said he agreed with Carson's proposal.
"I'm okay with the savings accounts. I think it's a good idea; it's a very down-the-middle idea. It works. It's something that's proven," he said.
Carson's violent past: Bricks, bats, hammers. Ben Carson says he's soft-spoken now -- but he hasn't always been so calm.
"As a teenager, I would go after people with rocks, and bricks, and baseball bats, and hammers. And, of course, many people know the story when I was 14 and I tried to stab someone," Carson said Sunday on NBC's "Meet the Press."
"You know, fortunately, you know, my life has been changed," he added. "And I'm a very different person now."
Carson's comments came after Donald Trump, his leading opponent for the Republican presidential nomination, said at a rally in Miami on Friday that Carson has even less energy than Jeb Bush, who the developer has repeatedly called a "low-energy" candidate.
"Ben Carson is super low energy, right? He's super low," Trump said. "Super low energy. We need tremendous energy. We need tremendous energy."
Carson told NBC's Chuck Todd that he thinks people mistake his soft-spoken manner with a lack of energy.
"I do have a tendency to be relaxed," he said. "I wasn't always like that. There was a time when I was, you know, very volatile. But, you know, I changed."
That's when Carson mentioned his violent childhood growing up in Detroit, Michigan. He'd also detailed his youth in his book "Gifted Hands," writing about nearly stabbing a friend during an argument before beginning to read the Book of Proverbs and applying its lessons.
Trump and Carson are also exchanging shots over religion after Trump told a crowd in Iowa of Carson's faith: "I mean, Seventh-day Adventist, I don't know about. I just don't know about."
In a separate interview on "Fox News Sunday," Carson noted that Trump "went ballistic" when Carson has questioned whether Trump is -- as he says -- Presbyterian. Carson later apologized.
But Trump said Sunday on ABC's "This Week" that he has nothing to apologize for.
"I know nothing about it really. I'm a Presbyterian and I had mentioned that, and I did say I don't know about it. And in fact those are my exact words," Trump said. "I didn't say anything bad about it. I just don't know about it. I would certainly give an apology if I said something bad about it. But I didn't. All I said was I don't know about it."
Carson, a retired brain surgeon, pushed back against Trump on the "low energy" attacks in Iowa on Saturday.
"As I've said many times, there have been many times where I've operated 12, 15, 20 hours, and that requires a lot of energy," Carson said. "Doesn't require a lot of jumping up and down and screaming, but it does require a lot of concentration."
Trump has taken aim at Carson after two polls showed that Carson had surpassed him as the Republican front-runner in Iowa.
"Donald Trump falls to second place behind Ben Carson," Trump said, pretending to read a headline. "We informed Ben, but he was sleeping."
Then, at a rally in Jacksonville on Saturday, Trump expressed incredulity at Carson's rise.
"I don't know what the hell is going on there," he said. "I don't get it!"
Marco Rubio is a U.S. senator. And he just can't stand it anymore.
"I don't know that 'hate' is the right word," Rubio said in an interview. "I'm frustrated."
This year, as Rubio runs for president, he has cast the Senate — the very place that cemented him as a national politician — as a place he's given up on, after less than one term. It's too slow. Too rule-bound. So Rubio, 44, has decided not to run for his seat again. It's the White House or bust.
"That's why I'm missing votes. Because I am leaving the Senate. I am not running for reelection," Rubio said in the last Republican debate, after Donald Trump had mocked him for his unusual number of absences during Senate votes.
Five years ago, Rubio arrived with a potential that thrilled Republicans. He was young, ambitious, charismatic, fluent in English and Spanish, and beloved by the establishment and the tea party.
But Rubio had arrived at one of the least ambitious moments in Senate history and saw many of his ideas fizzle. Democrats killed his debt-cutting plans. Republicans killed his immigration reform. The two parties actually came together to kill his AGREE Act, a small-bore, hands-across-the-aisle bill that Rubio had designed just to get a win on something.
Now, he's done. "He hates it," a longtime friend from Florida said, speaking anonymously to say what Rubio would not.
Which makes for an odd campaign message.
Rubio must convince voters that his decision to leave the Senate — giving up the power he already has — is actually a mark of character, a sign that he is too dedicated to public service to stay.
Rubio is not a quitter, the argument goes.
In fact, that's precisely why he's quitting this place.
"He wouldn't be doing what he's doing now if he were a quitter," said Norman Braman, a Florida auto dealer and one of Rubio's longtime donors.
Last week was — by Rubio's standards — a very busy week in the Senate.
On Tuesday, he cast a vote, his first in 26 days. He gave a floor speech, his first in 41 days. In the speech, he asked the Senate to pass a bill that would give Department of Veterans Affairs leaders more power to remove poor-performing employees. But it didn't happen. To pass something so suddenly, Senate rules required that every single senator agree. A Democrat, Sen. Richard Blumenthal (Conn.), objected that Rubio's bill did not allow workers due process.
"Unfortunately, we will not be able to move forward on this today, it appears," Rubio said, as his gambit failed. With that, he was done for the week, missing the next three votes.
Impatience had been a hallmark of Rubio's career, for good and ill. Even in his first elected office, as a young city commissioner in West Miami, Rubio had been exasperated by how slowly his colleagues worked.
In this case, his decision to give up his Senate seat in 2016 was, in some ways, forced upon him.
The state's election filing deadlines might have allowed him to test the presidential waters and then — if he failed — drop out and run for reelection as a backup plan. But even that Plan B was far from a sure thing. Rubio would be facing an expensive campaign in a competitive state, having already made clear that the Senate race was his second choice.
On the campaign trail, Rubio comes under attack from rivals who say he's become an absentee federal employee. Former Florida governor Jeb Bush, in a less-than-subtle knock on his former homestate ally, has said senators who miss work should have their pay docked.
"It's just, kind of, like, dude, you know, either drop out or do something," Bush's son, Jeb Bush Jr., told New York University College Republicans earlier this month, in comments first reported by Politico Florida. The junior Bush, a Floridian, cast himself as an aggrieved constituent. "We're paying you to do something, it ain't run for president."
Rubio waves off the criticism, saying his rejection of the Senate is all about finding a better way to serve all Americans.
"I'm not missing votes because I'm on vacation," he told CNN on Sunday. "I'm running for president so that the votes they take in the Senate are actually meaningful again."
Asked about his absences recently by Matt Lauer on NBC's "Today" Show, Rubio said: "My ambitions aren't for me. My ambitions are for the country, and Florida." If he is elected to the White House, he added, "we can begin to fix some of these issues that I've been so frustrated we've been unable to address during my time in the Senate."
In an interview with The Post, Rubio was asked to go further. What if he didn't see an opportunity for himself in the presidential race? Would he run for reelection, if the Senate was all he had?
"I don't know," Rubio said.
To understand how Rubio got to this point, The Post interviewed him, his friends and his staffers, and examined his nearly five-year-old Senate record — votes, speeches, legislation and committee hearings.
It is clear that Rubio's frustration started early.
"Do we just stand around and do nothing?" Rubio said on the Senate floor in November 2011. "Or do we actually begin to act?"
That was 10 months in.
Rubio had arrived in January, after a stunning defeat of Charlie Crist, Florida's sitting governor. Rubio had previously held the job of Florida House speaker, which had put him in the middle of one legislative fight after another.
He was used to action.
But in Washington at that point, action was not an option. The House had been taken by Republicans. Democrats still had the Senate. And those Democrats — who'd previously passed huge bills on Wall Street reform, health care and financial stimulus — saw little upside to crafting new, complicated bills. That might force vulnerable Democrats to take votes that could be used against them. And, if they did, the House would probably kill the bills anyway.
So the Senate fell into a bitter somnolence, interrupted by moments of panic.
It mainly took action when Congress's gridlock threatened to shut down the government or cause a national default. In Rubio's first two years, the Senate held just 486 recorded votes. That was the fewest in 20 years, according to the publication Vital Statistics on Congress.
Rubio had proposed an ambitious freshman agenda: cutting spending, rolling back EPA rules in Florida, even a clever legislative trolling effort to cut the money for signs that said this-and-such project was bankrolled by President Obama's stimulus bill.
All failed. Rubio's only successful bill that year was one to name September as National Spinal Cord Injury Awareness Month.
So, 10 months in, Rubio and Sen. Christopher A. Coons (D-Del.) unveiled an idea for a fail-proof bill. They assembled 10 job-growth ideas that were effectively pre-chewed: They were known to be bipartisan and uncontroversial. The AGREE Act.
"It went nowhere," said one former Rubio staffer.
Rubio's staff blamed its failure on the Republicans and Democrats on the Finance Committee, which had jurisdiction over the bill but ignored it.
In December of that year, a Florida reporter asked Rubio about the highlights of his first year in office.
"I can't think of a single real high point," Rubio said.
In his second year, Rubio had better numbers. He got four bills through the Senate. But all were symbolic resolutions, including such controversial items as "A resolution congratulating the Miami Heat for winning the National Basketball Association Championship."
In his third year, however, it appeared that Rubio's moment had finally come.
He joined a bipartisan "Gang of Eight" that negotiated a massive immigration-reform effort. He argued with talk-radio hosts, trying to sell conservatives on a plan that would give illegal immigrants a path toward citizenship.
Then, when the bill came to the Senate floor, Rubio gave the speech of his career. He used his own parents' story: They emigrated from Cuba and worked as a bartender and a maid while Rubio was growing up. He talked about the American dream — and how immigrants treasure it and nurture it.
"Here in America, those who once had no hope will give their kids the chance at a life they always wanted for themselves. Here in America" — he tapped the lectern — "generations of unfulfilled dreams will finally come to pass. And that's why I support this reform," Rubio said.
The bill passed, giving Rubio the kind of victory that most freshman senators could only dream of.
For a moment, it also seemed to validate his strategy of working within the slow-moving Senate's limitations. Two freshmen with presidential ambitions — Republican Sens. Rand Paul (Ky.) and Ted Cruz (Tex.) — had rejected that go-along strategy and instead used marathon speeches and other tactics to stop the system in its tracks.
But soon, Rubio's moment was over.
The House Republicans didn't move on immigration. Rubio didn't push them. Then, Cruz seized the spotlight, as he started a parliamentary game of chicken that ended with a government shutdown.
After that, friends and staffers started to see something different in Rubio. There was a new level of frustration and a new sense that he was looking beyond the place. In his Senate floor speeches, Rubio talked often about his family's humble backstory. In late 2013 and 2014, he told the Senate six different times that his father had been a bartender.
His colleagues already knew, of course. But Rubio was aiming at people who didn't know — people on the other side of a TV camera.
In the past couple of years, some of Rubio's other policy ideas have actually become law.
His Girls Count Act, which prods developing countries to register girls' births and give them greater property rights, became law on his second try. His idea to allow the VA administrator greater freedom to fire incompetent leaders also became law, tucked into a larger bill.
But it's also been clear that Rubio's ambitions were aimed elsewhere.
He began missing votes. He skipped 10 percent of them in 2014 — making him one of the most absent senators, with the 88th-best attendance record, according to statistics kept by GovTrack.us. He began missing committee work, even on the subject he most identified with. In 2014, Rubio missed 34 of 68 committee hearings and meetings in the Foreign Relations committee, according to his office's tally.
When Rubio tells the story of his career, the moment that he gave up on the Senate does not come until later.
"For two years, we just tried to slow-dance and wait for the 2012 election," in the hopes of winning a Republican majority, Rubio said. "And then, when that didn't work out, we spent two years trying to position ourselves for '14."
Then Republicans did win a majority that year. But, Rubio said, he was still told to be patient. The majority was still too small to overcome Democratic filibusters or override presidential vetoes.
"Now it's [2015], and the argument is, 'We've gotta wait to elect the president,' " he said.
That meant the same frustrations, under a new boss. And that was it.
Jeb Bush Orders Across-the-Board Pay Cuts for Struggling Campaign. Bush's advisers, under pressure from their donors and from falling and stagnant poll numbers, came to the conclusion that a course correction was essential. Jeb Bush, once a front-runner for the Republican presidential nomination, is slashing pay across the board for his struggling campaign as he attempts to regain traction just 100 days before the party's first nominating contest.
The campaign is removing some senior staff from the payroll, parting ways with some consultants, and downsizing its Miami headquarters to save more than $1 million per month and cut payroll by 40 percent this week, according to Bush campaign officials who requested anonymity to speak about internal changes. Senior leadership positions remain unchanged.
The campaign is also cutting back 45 percent of its budget, except for dollars earmarked for TV advertising and spending for voter contacts, such as phone calls and mailers. Some senior-level staff and consultants will continue to work with the campaign on a volunteer basis, while other junior-level consultants, primarily in finance but including other areas, will be let go, the officials said. The officials declined to say who would be removed from the payroll or provide an exact dollar figure for the savings. (A summary of the changes, provided to Bloomberg Politics by the campaign, is posted here.)
"You have to adapt."
Bush's advisers, under pressure from their donors and from falling and stagnant poll numbers, have been discussing ways to retool the campaign in recent days, and came to the conclusion that a course correction was essential. While recent tangles with Donald Trump have energized the campaign, Bush's senior team recognized a more fundamental set of changes was required that didn't involve dealing directly with the party's surprising—and surprisingly durable—front-runner.
"The circumstances when we started the election were different," Bush told Pat Robertson in an interview at Regent University hours after news of the shakeup broke. "I have not met a person that thought that Donald Trump would be the front running candidate at this point. God bless him for his success in that regard, we'll see how long that lasts. But you have to adapt." He said his new "lean and mean" campaign will allow him to do that. "Every dollar we can save in overhead is a dollar that goes on television, goes on radio, goes on media, goes on voter outreach," Bush added.
Analysts and rival campaigns will view the changes as a desperate act, perhaps the last one, of a man whose campaign has dropped in the polls in recent months and has remained mired in the middle of a crowded field despite a month-long blitz of friendly television ads. None of the changes deal directly with what even many of Bush's supporters say is his main challenge: The burden of trying to convince voters hungry for change to choose a man whose father and brother both served as president.
Officials said the changes—the second time the campaign has cuts its payroll this year—will enable them to shift more resources into New Hampshire, where the campaign has the largest operation in the state, and other states where early voters begin casting ballots in February. There will be more volunteers and surrogates for Bush, which the campaign refers to as "friends of Jeb," on the ground to help in a state that his brother lost in 2000 and his father won in 1988.
One Bush adviser told Bloomberg Politics in an interview Friday morning that the team was "unapologetic" about the changes, saying the moves were from a "position of strength." "This is about winning the race," the adviser said. "We're doing it now and making the shifts with confidence. We expect to win."
Bush plans to continue to focus on a core message that argues that he has experience to make the kinds of fundamental changes voters want to see in Washington. The campaign changes reflect that, an adviser said.
The campaign claims to have the most extensive field operation in Iowa, New Hampshire, South Carolina, and Nevada, states with the first four nominating contests. Bush had $10.3 million available for the primary race as of Oct. 1, about the same as U.S. Senator Marco Rubio, but less than U.S. Senator Ted Cruz and Dr. Ben Carson. Right to Rise USA, the super-PAC being run by Mike Murphy, raised $103 million in the first six months of the year.
Still, many thought Bush would keep the pole position heading into the 2016 primary calendar. But the former Florida governor and his advisers had little choice but to make the changes to redirect resources and attempt to create a new narrative for the campaign before the Feb. 1 caucuses in Iowa and—more importantly for Bush—the Feb. 9 primary in New Hampshire.
In a presidential campaign cycle that has already seen stunning twists and turns, to see the presumed establishment front-runner, whose strength was based in part on his fundraising capacity, have to make these kinds of cuts, is one of the most surprising developments so far.
One of Bush's rivals, Carson, who leads in a new Bloomberg Politics/Des Moines Register Iowa Poll, was taken aback in an interview Friday morning that Bush is being forced to make some changes.
"This is a little bit surprising, but you know a lot of his money, of course, was super-PAC money as opposed to campaign money," Carson said in an interview that will air on With All Due Respect today on Bloomberg TV. "That doesn't give you as much flexibility, quite frankly."
The campaign said its internal measures showed that the month-long run of TV advertising is having an impact. "We need to double down and triple down in the early states," another Bush official said.
Bush, who aides said was actively involved in the decision to cut back, will spend less time raising money and more time engaged in retail political events, such as town halls, meet-and-greets, and one-on-one meetings, advisers said.
Although Bush's long-time political adviser, Murphy, who now runs the pro-Bush super-PAC backing his candidacy, told Bloomberg Politics recently that Bush's strength in the March contests would earn him the nomination, the changes are an acknowledgement that Bush needs to first improve his standing in Iowa, New Hampshire, South Carolina, and Nevada.
Symbolically, the changes turn Bush from an establishment battleship into a more scrappy underdog, making radical alterations in how the campaign operates in order to avoid the existential threat the campaign now faces. When his brother George W. Bush ran for president in 2000, he was the fundraising leader from start to finish and never had to contemplate such draconian cuts.
The changes come a week after Danny Diaz, Bush's campaign manager, sought to ease concerns about the amount of cash being spent by pointing to campaign's robust operation in states with the earliest primary contests.
Polls from Bloomberg Politics this week showed Bush in fifth place in Iowa and a distant third in New Hampshire.
Trump in New Hampshire, Carson gains in polls. Facing a serious challenge for the first time in this Republican primary race, Donal Trump is staging an early morning rally in New Hampshire.
though he's promised to only counter-punch when attacked, he's now criticizing Ben Carson, who's leaped ahead of him in the polls in Iowa.
Carson says he refuses to sling dirt back.
Clinton surges in early states; Carson levels with Trump in Iowa.
The second wave of the YouGov/CBS News Battleground Tracker polled primary and caucus voters from both parties in Iowa, New Hampshire and South Carolina
Hillary Clinton has climbed to a narrow lead over Sen. Bernie Sanders among Democrats in Iowa while narrowing the gap in New Hampshire, according to the second wave of the YouGov/CBS News Battleground Tracker. In the Republican race, retired neurosurgeon Ben Carson has caught up with Donald Trump in Iowa – but continues to lag far behind him in New Hampshire and South Carolina.
THE DEMOCRATS
Hillary Clinton now has the support of 46% of Democratic and Democratic-leaning independents in the Hawkeye State, barely ahead of Bernie Sanders with 43% support.
Clinton's narrow lead in Iowa, while it is within the margin of error, is nevertheless a significant turnaround for Clinton, who trailed Sanders by 10 points in the September YouGov/CBS News poll of Iowa Democrats. Few other polls showed Clinton trailing at the time, but the movement in Clinton's favor is consistent with recent national and state polls.
Joe Biden announced he would not run for president on Thursday, while the fieldwork for the poll was underway. The figures cited for Clinton and Sanders include voters who initially picked Biden but chose Clinton or Sanders as a second choice in a follow-up question. Biden supporters mostly go to Clinton, though Sanders and Clinton benefit equally in New Hampshire. However, Clinton has increased her support in each state by between five to nine points even when Biden is included. Lincoln Chafee and Jim Webb also dropped out of the race last week, but neither had significant support.
The former Secretary of State remains behind in another first-in-the-nation primary state, New Hampshire, where Sanders holds a commanding 15-point lead. However, the Vermont senator led by 22 points in September, and with Biden out of the picture Clinton's support is up 9 points. Other polls have shown a close race in New Hampshire since the Democratic debate on October 13th, with several putting Clinton ahead.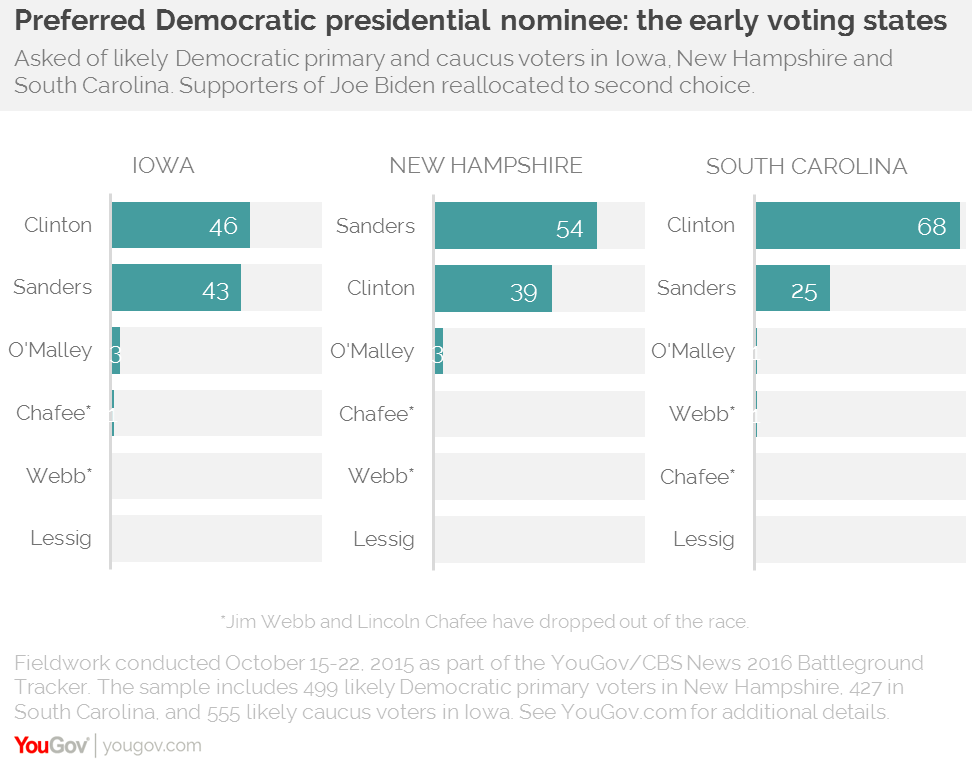 Clinton retains an overwhelming advantage among African American voters in South Carolina, helping her achieve to a massive 43-point lead overall. Sanders actually leads Clinton among white Democrats in South Carolina, 51% to 44%. But Clinton leads Sanders among black Democrats by 79 points. Here she also particularly benefits from Biden's exit: 92% of would-be Biden supporters in South Carolina name Clinton as a second choice.
Clinton supporters and Sanders supporters are distinctive groups in a few other ways. About a third of Sanders's backers are under 30, compared to only 7% of Clinton's. Democrats in the Sanders camp are evenly divided between men and women, whereas two thirds of Clinton backers are women. Sanders supporters are also much more likely to identify as liberal in their political views.
The YouGov/CBS News 2016 Battleground Tracker is based on surveys of registered voters who had previously voted in primaries in Iowa, New Hampshire and South Carolina. The poll was conducted online but included registered voters who were contacted by phone. The sample includes 548 likely Democratic primary voters in New Hampshire, 528 in South Carolina, and 646 likely caucus voters in Iowa. The majority of respondents are recontacts, meaning most also participated in the September wave of the poll. See a more detailed description of the methodology used here.
THE REPUBLICANS
The Republican primary race has seen less movement since September, though Donald Trump's dominance is no longer absolute.
Ben Carson and Trump are now tied at 27% support among Republican and Republican-leaning likely caucus-goers in Iowa, where Trump had lead by four points previously.
As in September, Carson and Trump take the first or second spot in all three states, and Trump's support has grown by four points in South Carolina but fallen by two in New Hampshire.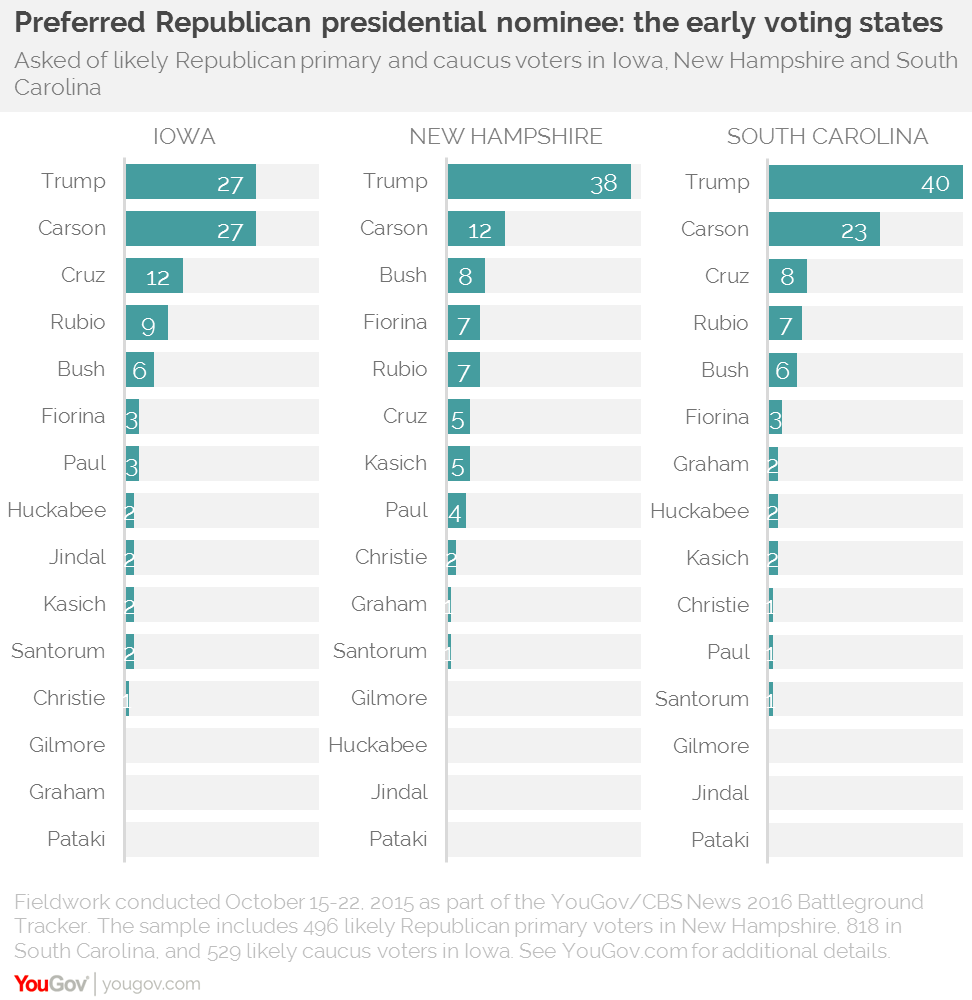 Carson tends to do better, and Trump worse, with women than men. He is also especially popular with evangelicals. There are some indicators the race could swing further Carson's way. Those who don't already support Carson are far more likely to say they would be "satisfied" if he became the eventual nominee than for other candidates.
The only Republican who has unambiguously improved his standing since September is Marco Rubio, though he remains outside the top three. The Florida senator's support has grown by five points in New Hampshire, four in South Carolina and three in Iowa. Another candidate to watch is Texas Sen. Ted Cruz, who takes the third-place spot in Iowa and South Carolina for the second month running. Cruz polls especially well with Tea Party supporters, "very conservative" Republicans, and, to a lesser degree, evangelicals.
The poll also contains evidence of a populist streak in the Republican primary electorate. As in September, candidates who have never held elected office (Trump, Carson and Fiorina) take over 50% of all support. Majorities of likely Republican primary and caucus voters in Iowa, New Hampshire and South Carolina say the party is not paying enough attention to the needs of the "middle class" – and significant numbers say the party pays too much attention to the needs of "the wealthy" and "large campaign donors".
The Republican portion of the sample includes 496 likely Republican primary voters in New Hampshire, 818 in South Carolina, and 529 likely caucus voters in Iowa.
Full results and margins of error:
Iowa
New Hampshire
South Carolina
Joe Biden: No 2016 death bed wish from son Beau Biden.
In an interview with "60 Minutes" that aired Sunday, Vice President Joe Biden knocked down reports that his son Beau Biden pleaded from his death bed that his father take one more shot at the White House.
"Beau, from the time he was in his 30's -- or actually his late 20's -- he and Hunter were my most reliable advisers," Biden said of his two sons to CBS News' Norah O'Donnell.
"Beau all along thought that I should run and I could win," Biden said. "But there was not what was sort of made out as kind of this Hollywood-esque thing that at the last minute Beau grabbed my hand and said, 'Dad, you've got to run, like, win one for the Gipper.' It wasn't anything like that."
Biden announced last week that he was opting out of the 2016 presidential campaign because he had simply run out of time to mount a successful campaign. His decision was delayed after his 46-year-old son Beau died of brain cancer in May.
Biden reveals his 2016 deciding moment
In his interview with O'Donnell, Biden said he made the "right decision for the family."
Biden decides not to run for president, but won't be silent
"I'll be very blunt," he said. "If I thought we could've put together the campaign that our supporters deserved, that our contributors deserved, I would've done it."
However, he said that it simply "took that long for us to decide," adding that "everybody grieves at a different pace."
"It just takes time, and until you get there, you know, it's not an appropriate thing to throw your -- and by the way -- you can't run for president unless you throw your entire being into it."
Biden said that his decision wasn't about the current Democratic frontrunner Hillary Clinton.
"I still think I could do a better job than anyone else could do" as president, he said. "That's the reason to run -- I wouldn't run against Hillary."
The vice president said he thought that both Clinton and her chief 2016 Democratic rival, Sen. Bernie Sanders of Vermont, did a "great job" in the first Democratic primary debate.
"I've debated Hillary 13 times in national presidential debates. I know Hillary," Biden said. "I know her debating skills, I know mine. I've never had any doubt about her intellect or her capacity to debate, and I thought she did a - she comported her self really well."
While he's not running for president again, Biden reiterated that he still wants to influence the direction of the Democratic Party, as well as the direction of the nation. He conceded that Clinton will run on "part" of the Obama administration's legacy, but not all of it.
"She's already made a decision on two important things -- it doesn't mean she won't be a great president," he said.
In his remaining months as vice president, Biden said he's looking forward to "really beginning to nail down this commitment to work on cancer."
Additionally, he said he's hopeful the administration can work with Republican Rep. Paul Ryan, who's expected to serve as next speaker of the House, "toward an accommodation on the budget and on keeping the government open."
Biden said that Ryan is "a decent guy, and he knows you cannot function, ths government cannot function, without reaching some consensus."
The vice president also weighed in on Donald Trump's controversial yet popular Republican presidential campaign, remarking that he's "disappointed" in Trump.
"I really don't think it's healthy, and I hope he reconsiders this sort of attack on all immigrants," Biden said. "I think that is beneath the country...and I hope he doesn't really believe it."
Adam Schiff sings 'Meet the Mets' on House floor.
A day after sitting through the 11-hour-long hearing over Hillary Clinton's role during the Benghazi attack, Rep. Adam Schiff has found something to sing about.
The California Democrat, having lost a bet to New York Rep. Steve Israel when the New York Mets topped the Los Angeles Dodgers in last week's playoff series, was forced to sing "Meet the Mets," the team's longtime fight song, on the House floor Friday.
After struggling through a few bars, Schiff concluded by saying, "Mr. Speaker, please tell me my time has expired."
"I don't want to give the impression I'm not happy for the Mets. I am, really. I say, thank God the Mets are going to the World Series, and not the Yankees," he added.
Israel attempted to assuage whatever discomfort or awkwardness Schiff must have felt while warbling through the song.
Following the performance, he tweeted, "You're a Class act, Adam!"
And he also tweeted that the performance was the "most erudite Floor speech ever. Ok, the bar is pretty low, but..."
The Mets advanced to the World Series on Wednesday after defeating the Chicago Cubs. They will play either the Kansas City Royals or the Toronto Blue Jays beginning next week.
Chris Christie Gets Kicked Off Amtrak Quiet Car for Screaming on His Phone. Oops. New Jersey Governor Chris Christie was kicked off an Amtrak car for screaming on his cell phone on Sunday, Oct. 25.
According to Gawker, Christie, 53, was asked to leave the quiet car on his train ride from Washington, D.C., to NYC for screaming on his cell phone. He was returning after taping Face the Nation in D.C.
A passenger on the same car as the governor told Gawker that Christie took a seat in the quiet car, yelling at his security for an apparent seating mix-up, and began making phone calls. After 10 minutes, the conductor asked him to leave the car, and as he was leaving, Christie started yelling again at the two men with him.
Later on Sunday, the governor's spokeswoman, Samantha Smith, released a statement to the Huffington Post about the incident.
"On a very full train this morning, the Governor accidentally took a seat in Amtrak's notorious quiet car," Smith said. "
After breaking the cardinal rule of the quiet car, the Governor promptly left once he realized the serious nature of his mistake and enjoyed the rest of his time on the train from the cafe car. Sincere apologies to all the patrons of the quiet car that were offended."
The GOP presidential hopeful is currently on a tour of various media appearances.
Martin Smith is o
n the show discussing the FRONTLINE Journeys "Inside Assad's Syria" (air date is on October 27th).
Inside Assad's Syria Premieres on PBS and online:
Tuesday, October 27, 2015, at 10 p.m. ET / 9 p.m. CT
All eyes are on Syria as Russia's military campaign intensifies, and as tens of thousands of refugees continue to flee the war-torn country for Europe.
What is life like for those who are left behind?
In Inside Assad's Syria, premiering Tuesday, Oct. 27 on PBS and online, veteran FRONTLINE correspondent Martin Smith makes a dangerous and revealing journey into government-controlled areas of Syria as the war escalates.
"In the past, most reporting about Syria has come from the rebel side, since the government of Bashar al-Assad has severely restricted access to regime-held areas," says Smith, who has been documenting conflicts in the Middle East for FRONTLINE since 2003, most recently in Obama at War and The Rise of ISIS.
But by working his contacts, Smith made his way in — and the resulting documentary delivers an up-close look at both the Assad regime's efforts to hold onto power, and the realities of everyday life for ordinary Syrians caught in the crisis.
"We used to live, eat and drink and go have fun. We were like every other people," says one woman whose brother, a soldier in the regime's army, was killed by ISIS. A propaganda video of his death circulated on Facebook. The woman now volunteers at a help center for people who have fled their homes.
"Our hearts are burning," another woman says. "We are humans. We are good people."
Starting in late July, Smith spent three weeks on the ground in Syria — from the central cities of Damascus and Homs, to the far South, to the Alawite heartland further north. As ISIS, Jabhat al-Nusra, and Western-backed rebels continued to push forward, Smith sat down with regime supporters and officials who defend Assad's actions, and insist that his leadership will save the country.
As Smith sees firsthand, the regime's PR efforts are sometimes surreal — from launching a "Summer in Syria" social media campaign promoting regime-sponsored art fairs, film festivals, and fashion shows as ISIS takes the ancient city of Palmyra; to opening a new luxury resort five miles east of the bombed-out remains of central Homs; to staging press conferences highlighting atrocities allegedly committed by anti-Assad rebels even as the regime drops barrel bombs on civilian neighborhoods.
In the meantime, ordinary Syrians — some seven million of whom have been internally displaced by the ongoing fighting — remain caught in the crosshairs of the crisis, hoping for safety and security.
"There is no alternative to president Bashar at this time. No alternative," one man in Damascus tells Smith. "It's not because we love the regime; it's because we don't want the collapse of the state," another man says.
The documentary is an unsettling look inside the perilous reality of everyday life in Syria, where the mundane – men playing games, bakers making bread, people dancing at a rooftop bar – exists side by side with the tragic. In fact, four days into Smith's trip, one of his contacts was killed by mortar fire. And on his last day in Damascus, a man was hit by shrapnel and seriously wounded outside his hotel window in an attack by anti-regime rebels. The Assad government, in turn, responded with massive air attacks on several rebel-held Damascus suburbs.
"And then," Smith says, "the conflict entered a dangerous new phase."
With Russian jets now bombing ISIS and rebel positions in Syria — including forces trained and backed by the United States — Inside Assad's Syria is a raw and rarely-seen glimpse inside a country in crisis.
Inside Assad's Syria is a FRONTLINE production with Rain Media. The writer, producer and correspondent is Martin Smith. The co-producer is Linda Hirsch. The executive producer for FRONTLINE is Raney Aronson-Rath.
About FRONTLINEFRONTLINE, U.S. television's longest running investigative documentary series, explores the issues of our times through powerful storytelling. FRONTLINE has won every major journalism and broadcasting award, including 75 Emmy Awards and 17 Peabody Awards. Visit pbs.org/frontline and follow us on Twitter, Facebook, Instagram,YouTube, Tumblr and Google+ to learn more. Founded by David Fanning in 1983, FRONTLINE is produced by WGBH Boston and is broadcast nationwide on PBS. Funding for FRONTLINE is provided through the support of PBS viewers and by the Corporation for Public Broadcasting. Major funding for FRONTLINE is provided by The John D. and Catherine T. MacArthur Foundation. Additional funding is provided by the Park Foundation, the John and Helen Glessner Family Trust, the Ford Foundation, the Wyncote Foundation, and the FRONTLINE Journalism Fund with major support from Jon and Jo Ann Hagler on behalf of the Jon L. Hagler Foundation.
Regardless of it happening today and over this last weekend, please stay in touch.