The panel will talk about the upcoming 2016 contests in Arizona and Utah, President Barack Obama's historic trip to Cuba, and Donald J. Trump's meeting with GOP Establishment leaders. Cubans Pack the Streets for a Glimpse of President Obama. Trumps poke fun at the POTUS because the leader of the Cuba was not here to greet him upon his arrival onto Cuba.
Shouts of "U.S.A.!" and "Obama!" echoed over the stone plazas as President Obama and his family made their way around rain-slicked courtyards in Old Havana on Sunday evening, savoring the adulation of Cubans welcoming him warmly despite a driving rain as he began a history-making visit.
"Welcome to Cuba! We like you!" a man shouted as Mr. Obama's entourage passed. Above, a woman applauded and hooted from her wrought-iron balcony.
Later, a motorcade including the presidential limousine, adorned for the first time with Cuban and American flags, snaked through narrow streets where elated residents, their clothing soaked from waiting in the rain, hoisted cellphones and cheered the first sitting American leader to set foot on Cuban soil in 88 years.
Mr. Obama himself marveled aloud at the significance of his trip.
"It's a historic opportunity to engage directly with the Cuban people and to forge new agreements and commercial deals," he told employees of the United States Embassy, his first stop in the country, "and build new ties between our two peoples, and for me to lay out my vision for a future that's brighter than our past."
Cuba on the Edge of Change
It's a land of endless waiting and palpable erosion. Yet after all these decades, an uncanny openness among the Cuban people remains.
Noting that Calvin Coolidge, the last sitting president to visit the island nation, in 1928, had arrived on a battleship after a three-day journey, Mr. Obama remarked, "It only took me three hours."
Mr. Obama thanked embassy personnel who had brought young children to the ceremony. "By the time they're adults," he said, "our hope is that they think it's natural that a U.S. president should be visiting Cuba, and they think it's natural that the two peoples are working together."
The Obamas then set off for the cobblestone streets of Old Havana, strolling to a statue of Carlos Manuel de Céspedes and then to the Museum of the City of Havana, set in a leafy courtyard that features a statue of Christopher Columbus.
At the Cathedral de San Cristóbal de la Habana, Mr. Obama met with Cardinal Jaime Ortega, who played a pivotal role in the secret talks that led to an initial rapprochement in 2014. The cardinal made a clandestine trip to the White House as an interlocutor for Pope Francis to prod an agreement between Mr. Obama and President Raúl Castro.
The sightseeing was a prelude to a meeting Mr. Obama is to have on Monday with his Cuban counterpart — the first official meeting of the two governments in more than a half-century
All around the city on Sunday, Mr. Obama's name could be heard — before he arrived, when bartenders on a hotel rooftop thought they saw his entourage; when he landed, as groups of Cubans stood under verandas by the sea; and in homes across the city, where families watched him wave and smile on Cuban television.
"It totally satisfies my soul to be able to have lived to see this moment, a moment I never thought I would have seen," said Carmen Diaz, 70, watching Mr. Obama's arrival from her daughter's living room. "I feel this visit of an American president to Cuba is being done in the most elegant way possible."
Still, between the rain and the muscular security presence throughout Havana after the arrest of dozens of dissidents Sunday morning, the arrival brought out little of the excitement and pride that many Cubans have expressed at having an American president — and better yet, this president — in their midst.
In Old Havana, many of the old streets were empty during Mr. Obama's tour. A few people tried to sneak a peek at the president, but were turned back more than a dozen blocks away. One shop owner, near a poster showing President Castro and President Obama together, said before Mr. Obama landed that she had been told to close her shop during his walk through the area.
"People will look in the windows," she said. "It's fine. I've been talking to all my friends about Obama, and we're all just happy to see him coming."
Mr. Obama has long been admired by Cubans, first as a candidate, then as a president. When he announced restored relations with Cuba on Dec. 17, 2014, he came to embody a Cuban moment that symbolizes opportunity. That date is now recited often as a new national starting point, joining other historic dates, like July 26, 1953, when President Castro's brother Fidel mounted an attack on the Moncada barracks, initiating the revolution.
The Cuban government has signaled that its leaders and people plan to treat the president with respect. They have been working to beautify Havana for weeks.
Roads with more potholes than flat patches have been repaved. Buildings along the president's route have also been painted in attractive pastels, prompting Cubans to call the president "Saint Obama" and to joke, "Too bad Obama can't stay for a month or a year."
The government, though, has also made clear to all Cubans, with editorials and preventive detentions and by other means, that it will not tolerate public demonstrations or any other form of public dissent — against the government or the United States. That urge for control has left some Cubans with nagging doubts about what this trip, and the change in United States-Cuba relations, really means.
Outside the baseball stadium that Mr. Obama will visit on Tuesday, Juliet Garcia Gonzalez, 17, said she was glad the president was visiting because he had given her generation hope, a rare commodity in a country that has long seemed stuck in place. She just wasn't sure it was enough.
"I want to travel, I want to leave," she said, tapping at her phone, connected through a new Wi-Fi hot spot outside the stadium. "I want to come back when Cuba is better."
Rallies and protests on the campaign trail ahead of Tuesday primaries. R
epublican and Democratic presidential candidates campaigned out West on Saturday while protesters from Arizona to Manhattan rallied against Donald Trump. The candidates are focused on Arizona, Utah and Idaho, states holding primary elections on Tuesday. Brook Silva-Braga reports from New York.
Trump supporters, protesters clash outside rally in Salt Lake City.
Supporters of Republican presidential front-runner Donald Trump and protesters clashed after a rally in Utah on Friday.
Crowds who chanted "Donald Trump" were met with "Mr. Hate Out of Our State" as police in riot gear blocked the entrance to the Infinity Event Center in Salt Lake City. Protesters tried to rush the door of the building and got into screaming matches with Trump supporters who were barred from entering the venue.
According to KSTU-TV, people who were exiting the building were being pelted with rocks. Some protesters were seen tearing down a security tent that the U.S. Secret Service used to screen attendees before they entered the building.
"Like I said, overall, you know our officers were on standby, we were just hoping everything was peaceful, and, no problems whatsoever, and fortunately it turned out just as we anticipated," Salt Lake City Police Det. Cody Lougy told KSTU-TV.
Lougy told the Salt Lake Tribune that he didn't think anyone was arrested.
According to the paper, the heated demonstrations outside the Infinity Event Center weren't the only protests around the city.
Tony Yapias, the director of Proyecto Latino, played a voice mail message over a loudspeaker he received Friday morning of someone telling him to leave the U.S. Yapias told the Tribune that Trump's rhetoric is playing a part in the increased tension drawn toward Latinos.
He said the rally – which was attended by about 150 people – was to show that the Hispanic community in Utah will not back down from his hate speech. Some in the crowd were heard chanting "Get out Trump" in Spanish.
Trump spoke to a crowd people in Salt Lake City and took a shot at former presidential candidate and Utah resident Mitt Romney, who said he was going to support Texas Sen. Ted Cruz in the state's caucuses.
"Are you sure he's a Mormon? Are we sure?" he jokingly asked his crowd at the Infinity Event Center.
Romney, who has made Utah his adopted home, said Friday that he plans to vote for Cruz in the state's Tuesday caucuses. He made the announcement on his official Facebook page as Kasich was speaking to about 600 people during a town hall at Utah Valley University.
Romney has campaigned with Ohio Gov. John Kasich in other states but stopped short of endorsing him. In addition to his position as a prominent member of Utah's dominant faith, Romney is also revered in the state for leading a turnaround of the 2002 Salt Lake City Olympics.
It's unclear to what degree his endorsement of Cruz may sway GOP voters in the Tuesday caucuses. The Texas senator was already expected to have a leg up on the other Republican contenders because of his emphasis on religious liberties and backing from Utah Republican Sen. Mike Lee.
Fox News' Peter Doocy and the Associated Press contributed to this report.
The Republican National Committee (RNC) is throwing cold water on pundit Bill Kristol's efforts to form a third party to challenge Donald Trump in the general election.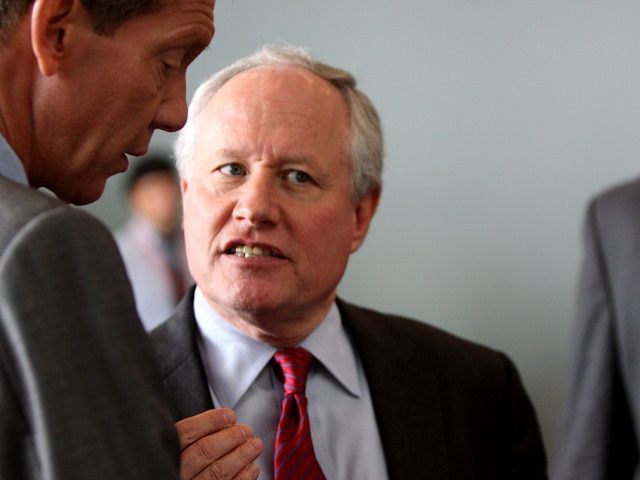 Bill Kristol, son of Irving, is trying to get retired senator Tom Coburn or retired Texas governor Rick Perry to run independently if the GOP Establishment can't figure out how to broker the convention in Cleveland to deny Trump the nomination.
RNC spokesman Sean Spicer told Breitbart News that "any effort to facilitate a third party ultimately is helping to elect Hillary Clinton."
"The Republican Party must be united to take back the White House," Spicer said.
Kristol has been touting his potential third party on Twitter.
The name of the third party: The Latter-Day Republicans.
"If they're going to do that, they're going to do that but then you might as well just hand the election to Hillary Clinton or whoever runs," Trump told George Stephanopoulos Sunday. "Frankly, the Republicans wouldn't have even one percent chance of winning if that's the case. So if they're going to be stupid and they're going to do that instead of embracing these millions of people who are coming in to vote, then they're going to have to do that. And I'll tell you what, that's going to mean more than any other thing. It's going to mean four or five justices, super liberal, placed on the Supreme Court. Our country will never, ever be the same."
Kristol and his cohorts might not actually care if they help to elect Hillary Clinton. It will give the party's power brokers a chance to stave off the populist takeover of their party as embodied by Trump's rise, and they can presumably go back to picking the nominees again in 2020. This plot also eliminates Trump's own third-party leverage. Trump can't threaten to split the Republican vote in November if the party itself wants the vote split so Clinton can win.
But before any third-party shenanigans occur, the Establishment is going to do everything it can to broker the convention in Cleveland.
Trump needs to get 1,237 delegates during primary season, which he thinks he can do "fairly easily," in order to win the Republican nomination on the first ballot. If he doesn't win on the first ballot, then many state delegates on later ballots can be freed from voting with their state and can form alliances to elect an Establishment candidate.
John Boehner already said that he would support House Speaker Rep. Paul Ryan (R-WI)56%
on a later ballot, and Ryan did not conclusively rule out the idea of accepting a brokered nomination.
Trump supporter Chris Christie, who leads the Republican Governors Association, said recently that "I do not want to go back to the days of the 1800s and 1700s… where a bunch of, you know, legislators, no offense, pick the United States Senator or pick, you know, who is going to be the Presidential electors."
"The fact is I like the way this system works and even though sometimes it has worked to my advantage and sometimes it has worked to my disadvantage," Christie said in remarks at a press conference that were provided to Breitbart News by his office. "So, I do not, I think it is wrong, I do not think we should be disenfranchising people. People vote for who they want to vote for. The one who gets the most votes should be the one who gets to be the nominee, in my view."
"It's childish nonsense," Newt Gingrich told Breitbart News, referring to a Kristol-led brokered convention. "There are two potential presidential nominees. One is named Donald. One is named Ted. The idea that some clever Washington intellectual or power broker — put quote marks around 'power broker' — can step into an election in which millions have voted and magically change the trajectory of history? It's goofy. There's two players standing."
Conservative commentator Erick Erickson is also leading a group that wants a brokered convention and is working with former Bush administration official Bill Wichterman to try to get it done.
But an effort is already underway by grassroots conservatives to stop the Establishment in its tracks.
Breitbart News reported that Trump and Sen. Ted Cruz (R-TX)97%.
delegates in Tennessee are already forming an alliance to make sure that their convention votes go to either Trump or Cruz and will not end up going to an Establishment candidate.
Republican Leaders Map a Strategy to Derail Donald Trump. Republican leaders adamantly opposed to Donald J. Trump's candidacy are preparing a 100-day campaign to deny him the presidential nomination, starting with an aggressive battle in Wisconsin's April 5 primary and extending into the summer, with a delegate-by-delegate lobbying effort that would cast Mr. Trump as a calamitous choice for the general election.
Recognizing that Mr. Trump has seized a formidable advantage in the race, they say that an effort to block him would rely on an array of desperation measures, the political equivalent of guerrilla fighting.
There is no longer room for error or delay, the anti-Trump forces say, and without a flawlessly executed plan of attack, he could well become unstoppable.
But should that effort falter, leading conservatives are prepared to field an independent candidate in the general election, to defend Republican principles and offer traditional conservatives an alternative to Mr. Trump's hard-edged populism. They described their plans in interviews after Mr. Trump's victories last Tuesday in Florida and three other states.
Former Gov. Rick Perry of Texas speaking last month at an event in San Antonio before Senator Ted Cruz took the stage. Some prominent Republicans have considered Mr. Perry as a possible independent candidate for the general election if Mr. Trump receives the party's presidential nomination. Credit Ilana Panich-Linsman for The New York Times
The names of a few well-known conservatives have been offered up in recent days as potential third-party standard-bearers, and William Kristol, editor of The Weekly Standard, has circulated a memo to a small number of conservative allies detailing the process by which an independent candidate could get on general-election ballots across the country.
Among the recruits under discussion are Tom Coburn, a former Oklahoma senator who has told associates that he would be open to running, and Rick Perry, the former Texas governor who was suggested as a possible third-party candidate at a meeting of conservative activists on Thursday in Washington.
Mr. Coburn, who left the Senate early last year to receive treatment for cancer, said in an interview that Mr. Trump "needs to be stopped" and that he expected to back an independent candidate against him. He said he had little appetite for a campaign of his own, but did not flatly rule one out.
"I'm going to support that person," Mr. Coburn said, "and I don't expect that person to be me."
Trump opponents convened a series of war councils last week to pinpoint his biggest vulnerabilities and consider whether to endorse one of his two remaining opponents, Senator Ted Cruz of Texas and Gov. John Kasich of Ohio.
Mr. Trump has a delegate lead of about 250 over Mr. Cruz, the second-place candidate, but he has repeatedly acted in ways that push party leaders farther from his camp. On Thursday, House Speaker Paul D. Ryan sternly admonished him for saying his supporters would riot if Republicans nominated someone else, the latest in a series of remarks Mr. Trump has made that seemed to encourage or condone violence.
David McIntosh, president of the conservative Club for Growth, which has spent millions on ads attacking Mr. Trump, said his group met on Wednesday and concluded it was still possible to avert Mr. Trump's nomination. The group plans a comprehensive study of Trump supporters to sharpen a message aimed at driving them away from him.
"This is still a winnable race for a free-market conservative that's not Donald Trump," Mr. McIntosh said, adding, "It's not a layup, but there's a clear path to victory."
Former Senator Tom Coburn, Republican of Oklahoma, on Capitol Hill in 2013, about two years before he left office to focus on receiving treatment for cancer. Mr. Coburn has been mentioned as a possible third-party challenger. Credit Doug Mills/The New York Times
A Delegate War
Central to this plan is stopping Mr. Trump in Wisconsin, the next major showdown after contests that Mr. Trump and Mr. Cruz are expected to split this week in Arizona and Utah.
On Thursday, the Club for Growth sent a three-page memo to influential Republican donors promising to spend as much as $2 million in Wisconsin and arguing that "the only viable option to defeat Donald Trump is Ted Cruz."
The memo conceded it was "very unlikely" that Mr. Cruz could overtake Mr. Trump in the delegate count, but outlined a strategy to deny Mr. Trump the 1,237 delegates required to clinch the nomination before the convention in Cleveland in July.
Mr. Cruz and Mr. Kasich also see the Wisconsin primary as pivotal. Mr. Cruz's campaign is dispatching additional staff members there and opening a "Camp Cruz" to house volunteers. The campaign will begin running ads there in the next few days, aiming to get a head start on Mr. Trump in the state.
A sticker for Gov. John Kasich of Ohio being handed out on the night of the state's primary last week. Mr. Kasich, in third place among the remaining Republican candidates, has shown no sign of relenting in the campaign, and his supporters plan to argue at the convention that he is the party's only electable contender. Credit Mark Makela for The New York Times
Beginning with Wisconsin, the race moves into states that apportion delegates based on who wins in each congressional district, which would allow anti-Trump forces to peel delegates away from him in states like New York and California, where he is expected to run strong. A few of the remaining winner-take-all states, like Montana and South Dakota, appear friendly to Mr. Cruz.
Anti-Trump Republicans said they would use the six weeks between the last primaries and the mid-July convention to woo individual delegates.
A number of states, including Pennsylvania and Colorado, send large numbers of uncommitted delegates to the convention, making those party regulars especially ripe targets for courtship. Other states will be sending delegates bound to candidates who have left the race, like Senator Marco Rubio of Florida and Jeb Bush. Those delegates could be persuaded to vote for Mr. Cruz or Mr. Kasich after the first ballot.
To justify rejecting Mr. Trump in Cleveland, Republicans say they will have to convince both delegates and the public that it was not the party's obligation to hand him a nomination he did not secure on his own.
"The burden is on Trump, not the party, if he fails to clinch the nomination," said David Winston, a Republican pollster who advises the House leadership. "He has presented himself as the ultimate dealmaker, and it's on him to close this one."
Mr. Trump has said that he expects to win a majority of the delegates before Cleveland, and that if he falls just short it would be unconscionable for the party to nominate someone else.
A Split Opposition
Mr. Trump's hand has been strengthened by disagreements within the stop-Trump forces, which fall along familiar lines: Conservative activists are uneasy with the party establishment and favor Mr. Cruz, while many Republican elites have warmed to Mr. Kasich, recoiling from those they perceive as ideological purists.
Mitt Romney, the party's nominee in 2012, attempted to bridge that divide on Friday by revealing that he would support Mr. Cruz in Utah and warning that "a vote for Governor Kasich in future contests makes it extremely likely that Trump-ism would prevail." But contempt for Mr. Cruz runs deep in Washington. Since the withdrawal of Mr. Rubio, who had the support of many fellow senators, just one has endorsed Mr. Cruz.
About two dozen conservative leaders met Thursday at a private club in Washington, where some pushed for the group to come out for Mr. Cruz to rebut the perception that the stop-Trump campaign was an establishment plot. "If we leave here supporting Cruz, then we're anti-establishment," said one participant, who could be heard by a reporter outside.
But the group failed to agree on an endorsement, instead pleading for Mr. Kasich and Mr. Cruz to avoid competing in states where one of them is favored. "They're going to have to come to terms and lay off each other," said Erick Erickson, an influential conservative commentator, who convened the meeting.
Yet in a sign that there is no such détente, Mr. Kasich ran ads and campaigned in Utah this weekend, angering aides to Mr. Cruz, who hopes to reach the 50 percent threshold needed to claim all the state's delegates. Mr. Kasich also refused to participate in a one-on-one debate, without Mr. Trump — denying them both considerable media exposure and an important online fund-raising opportunity.
But Mr. Kasich's backers have no appetite for a head-to-head ideological fight with Mr. Cruz on national television. They are focused on winning delegates wherever they can so that nobody reaches a majority before Cleveland, where Mr. Kasich's supporters plan to argue that he is the only electable Republican contender.
For Republicans opposed to Mr. Trump under any circumstances, a third-party campaign offers a last refuge. Such a candidacy might gain support from high levels of the party: Mr. Romney has said he would be inclined to vote for a third candidate over Mr. Trump and Hillary Clinton.
Advisers to Michael R. Bloomberg, the former New York City mayor who considered an independent run, concluded that petition gathering would have to begin by early March for a candidate to appear on November ballots in all 50 states.
But an independent could still get on ballots in dozens of states — or perhaps seek the nomination of the Libertarian Party, which is already on the ballot in most states and does not pick a candidate until late May.
Mr. Kristol, a leading critic of Mr. Trump, said in an interview that he believed it was not too late to put forward a viable independent candidacy. "I think the ballot access question is manageable," he said. "The big question is, who's the candidate?"
At the meeting in Washington Thursday, Mr. Perry's name was raised among several options, but his associates said that while he has fielded inquiries, he remains committed to backing Mr. Cruz.
Mr. Erickson described Mr. Perry as a "consensus choice" for an independent campaign: "He would win Texas and at least obstruct Trump."
Nicholas Sarwark, chairman of the national Libertarian Party's executive body, said its convention in Orlando could be open to a late entrant. But several candidates are already pursuing the nomination, including Gary Johnson, the former New Mexico governor who was the party's 2012 nominee.
"Theoretically, someone could come in," Mr. Sarwark said, adding, "But you'd better be a pretty impressive man off the street."
Republican Delegates
Democratic Delegates
Superdelegates Clinton

467

, Sanders

26
Democratic party leaders who are free to support any candidate. The majority of the 712 superdelegates have declared support for Mrs. Clinton, though they could switch candidates if she were to lose the lead in pledged delegates, which are awarded based on election results.
For Trump, AIPAC Speech Provides Foreign Policy Test.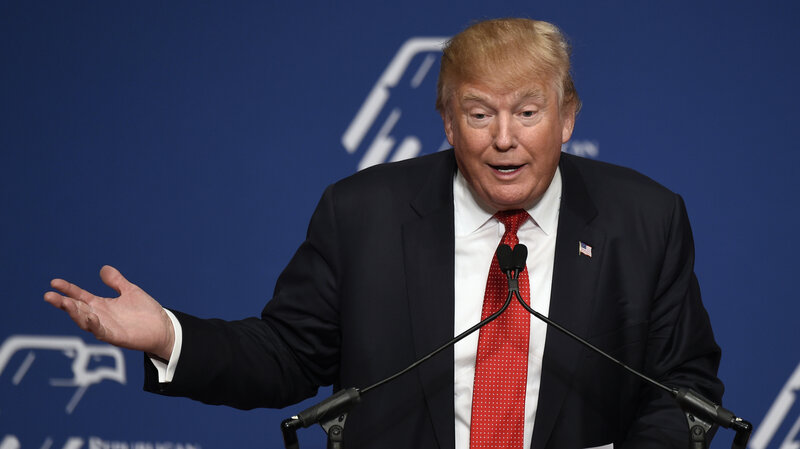 Donald Trump's past contradictory statements on the Israel have raised questions about his ability to handle foreign relations – especially as he moves closer to the Republican presidential nomination.
Whether Trump can sharpen his rhetoric will be the question Monday evening when Trump addresses the annual policy conference of the American Israel Public Affairs Committee, or AIPAC.
Like many Republicans, Trump is often quick to praise Israel. At a Republican primary debate in Florida earlier this month, Trump said there was "no one more pro-Israel" than him.
Trump was asked about previous statements he'd made about the Israeli-Palestinian conflict. At a forum in February, Trump said that he'd like to remain neutral between the two parties, sparking criticism from his rivals for the GOP nomination who said he was not supporting Israel strongly enough.
Asked to clarify at this month's debate, Trump said, "I'm a negotiator. If I go in I'll say I'm pro-Israel, and I've told that to everybody and anybody that would listen. But I would like to at least have the other side think I'm somewhat neutral as to them so that we can maybe get a deal done".
While the U.S. is officially neutral, Trump's position is a departure from his party's typical rhetoric stressing support for Israel.
It's not the first time he's stumbled on issues important to many Jewish voters, Last month, Trump seemed to hesitate when asked to repudiate the support of radio host David Duke, before clarifying that he disavows the former KKK leader.
Back in December, during an appearance with the Republican Jewish Coalition in Washington, D.C., Trump was asked if he'd support recognizing Jerusalem as Israel's capital. He said he wanted to wait to comment until after a trip to Israel to meet with Prime Minister Benjamin Netanyahu, eliciting boos from the audience. That meeting was cancelled after Netanyahu condemned Trump's proposal to ban all Muslims from entering the U.S.
In addressing AIPAC, Trump will face a sophisticated audience on Middle East policy, said Josh Block, president and CEO of The Israel Project and a former AIPAC spokesman.
"This speech is an important opportunity for him both to pivot to a more serious approach on foreign policy, and to provide the kind of specifics that people are looking for from each of the candidates," Block said.
Trump's critics have questioned his larger grasp of foreign policy, and his fitness to handle volatile international negotiations. Thomas Donnelly, a research fellow at the conservative American Enterprise Institute, said "the rest of the world is quaking" at the idea of a Trump presidency.
Donnelly said Trump's speech will be closely watched by observers wondering what such a presidency would mean for foreign policy.
"It's very difficult to regard the series of declarations and expressions of anger that Trump has made as anything so coherent as a policy. It's more an attitude," Donnelly said, adding that Trump could win over the audience if he adheres to standard Republican positions on support for Israel.
Last week on MSNBC, Trump was asked where he's turning for advice on thorny international issues.
"I'm speaking with myself, number one, because I have a very good brain," Trump said. "So I know what I'm doing, and I listen to a lot of people. I talk to a lot of people."
In a statement to NPR, the Republican front-runner's campaign said he'll be announcing his foreign policy advisers in the near future.
Even Trump's supporters, like neurosurgeon and former presidential candidate Ben Carson, have noted that Trump is not always steady when addressing policy.
Carson said there are "two different Donald Trumps" when he endorsed Trump this month, a statement Trump later said he "probably" agrees with.
"There's the one you see on the stage, and there's the one who's very cerebral, sits there and considers things very carefully; you can have a very good conversation with him. And that's the Donald Trump that you're gonna start seeing more and more of right now," Carson said.
At AIPAC, many foreign policy observers will be looking to see which Donald Trump steps up on stage.
Donald Trump, Hillary Clinton to speak about Israel at AIPAC.
Israel will be front and center in the 2016 presidential race Monday when frontrunners Donald Trump and Hillary Clinton speak at the American Israel Public Affairs Committee policy conference Monday.
U.S. Sen. Ted Cruz of Texas and Ohio Gov. John Kasich will also speak. The only presidential candidate not attending the conference is the one who is Jewish: Bernie Sanders. The Vermont senator told AIPAC in a letter that his campaign schedule in the west conflicts with the conference, although he would be willing to send his written remarks.
Clinton speaks Monday morning while the Republican candidates speak Monday night in Washington D.C.
AIPAC is considered one of the most powerful lobbying organizations in the country. The candidates will make their case about why they feel they are the best for Israel.
Trump is on the defense after he was attacked by GOP competitors for his past words about Israel.
"On Israel, Donald has said he wants to be neutral between Israel and the Palestinians," Cruz said at the GOP debate at the University of Miami. "As president, I will not be neutral."
Trump did make that statement during an MSNBC town hall in February. He has repeatedly said that in order to be an effective negotiator he believes he must approach the two sides with neutrality. But Cruz omitted Trump's comments and actions that have shown support for Israel, including that he endorsed Israeli Prime Minister Netanyahu and was the grand marshal for the Salute to Israel parade in New York City in 2004. PolitiFact rated Cruz's statement Half True.
Marco Rubio, before he dropped out of the race, lobbed similar attacks on Trump as did a PAC supporting Rubio.
A group of rabbis and Jewish leaders called "Come Together Against Hate" is expected to protest Trump's speech. Some said they plan to stand up before he speaks and silently leave the room.
"We denounce in the strongest possible terms the bigotry, racism, xenophobia, and misogyny expressed by Mr. Trump, and violence promoted by him, at various points throughout his campaign," states a press release from the group. "Our goal is not to disrupt the proceedings or to offend any of our fellow conference attendees. Our hope is to shine a moral light on the darkness that has enveloped Mr. Trump's campaign."
The AIPAC audience will want to hear the candidates' views on the Iran nuclear deal. Clinton backed the deal and has talked up her role as Secretary of State ushering in sanctions. Cruz has spoken harshly about the deal, while Trump called it "horrendous." Kasich signed a letter to President Barack Obama from 15 governors opposing the deal in September but in the Jan. 28 debate signaled he wouldn't immediately scrap it.
Trump's AIPAC speech will be another chance for him to present himself to a large Jewish audience after his speech to the Republican Jewish Coalition in December was criticized for his stereotypes about Jews.
"I don't want your money, therefore you're probably not going to support me," Trump said then. "Because stupidly, you want to give money. Trump doesn't want money. Even though he's better than all these guys... even though he's going to do more for Israel than anybody else."
Israel was not the top issue for Jewish voters leading up to the 2012 presidential election, according to a survey done by the Public Religion Research Institute.
The economy was the most important issue for Jewish voters, followed by the growing gap between rich and poor, health care, the federal deficit and then Israel tied for fifth along with national security.
A few Florida politicians were also scheduled to speak during the March 20-22 conference including U.S. Rep. Alcee Hastings, D-Delray Beach, State Rep. Alan Williams, D-Tallahassee and State Sen. Oscar Braynon, D-Miami.
Bernie Sanders rallies thousands at Seattle's KeyArena.
Thousands lined up in the drizzle at Seattle Center on Sunday to hear Democratic presidential candidate Bernie Sanders bring his anti-billionaire message to Washington ahead of this week's caucuses.
Vermont Sen. Bernie Sanders brought his message of a "political revolution" to a boisterous rally at Seattle's KeyArena on Sunday, avoiding mention of Hillary Clinton — his rival in this week's Democratic caucuses — while trashing Republican front-runner Donald Trump.
Taking the stage at 5:40 p.m. to deafening cheers, Sanders immediately launched into an attack on Trump, saying the U.S. will never elect someone "who insults Mexicans, who insults women, who insults African Americans."
"If we stand together and we don't allow the Trumps of the world to divide us up, there is nothing we cannot accomplish," Sanders said. "This campaign has enthusiasm and the energy to carry us to victory, because we are doing something very unusual in American politics: We are telling the truth."
Crowds lined up early in the drizzle at Seattle Center to hear Sanders' anti-billionaire message. By midafternoon, the line coiled from the Space Needle and EMP Museum and along Fifth Avenue.
Washington takes its turn at selecting a Democrat in Saturday's caucuses
With many told the 17,000-seat arena had reached capacity, a big screen and loudspeakers were set up at the International Fountain.
KeyArena was not entirely full, however, as some upper-deck sections were left largely empty.
Seattle Center staff later estimated the crowd for the speech at 10,300 inside the arena, with 5,500 more outside. Another 1,500 left after Sanders briefly addressed the overflow crowd outside.
His audience included many millennials, who have flocked to the Sanders movement and voted for him in big numbers over Clinton.
"He says a lot of stuff that needs to be said that no one else is actually saying," said Fiona Nightingale, 25, citing Sanders' denunciations of income inequality.
In his hourlong stump speech, Sanders railed against the political establishment, calling the U.S. political system rigged by corporate interests against the common people. He vowed to overturn the Supreme Court's Citizens United ruling, which has unleashed new gushes of money into elections from donors like the billionaire Koch brothers.
"That is not democracy, that is oligarchy. We do not accept that," he said.
Sanders shied away from criticisms of Clinton but returned again and again to Republicans, accusing them of "cowardly" efforts to suppress voting by minorities and of dangerous folly for denying climate change.
He laid out a platform of free colleges, reduction of student debt and expanded Social Security benefits, paid for with taxes on billionaires and Wall Street speculation — though he did not get into specifics on the payment plan.
Sanders also gave policy shoutouts to liberal Seattle, saying the rest of the nation should follow the city in passing a $15 minimum wage and the state in legalizing marijuana.
Backed by supporters who held up signs with names of African Americans killed by police, Sanders said while most officers are honest and hardworking, those who break the law "must be held accountable."
The Seattle event was part of a three-city swing through the state on Sunday. Earlier, Sanders rallied thousands in Vancouver. Later, he spoke in Spokane.
Clinton will campaign in Washington on Tuesday, with a speech at the machinists union hall in Everett, as well as events in Puyallup and Seattle. She's also scheduled for a private fundraiser at the home of Costco co-founder Jeff Brotman.
She'll get family help here, too, as her husband, former President Bill Clinton, and their daughter, Chelsea Clinton, also are to campaign in the state this week.
Washington's Democratic caucuses on Saturday will determine how 101 pledged delegates are divvied up between Sanders and Clinton.
That doesn't include the state's 17 so-called "superdelegates" — top Democratic elected leaders and party officials — who are unpledged and can back whomever they want. Most of the superdelegates here and nationally have said they support Clinton.
After a string of convincing wins, Clinton holds a commanding lead in the delegate hunt. But her campaign has downplayed expectations here, suggesting Sanders is likely to prevail in Saturday's caucuses.
Alaska and Hawaii also hold Democratic caucuses Saturday, but Washington has the most delegates at stake.
The enthusiasm for Sanders echoed through Key­Arena even before he arrived as speakers led the stomping crowd in chants of "Feel the Bern" and "This is what democracy looks like."
Inside and outside the arena, Sanders supporters said his frank talk about the system being rigged against ordinary Americans by corporate money led them to favor him over Clinton — though some said they'd fall in line behind her if she is the Democratic nominee.
Volunteer Leslie Zukor, 31, of Mercer Island, held two Bernie Sanders puppets as she directed the line snaking through Seattle Center
"I like his spirit and I like the fact that he will take on the drug companies," she said. Even after Obamacare, she said, too many don't have health insurance or are underinsured.
Like many Sanders supporters, Zukor said the senator had uniquely energized her about politics. But if it comes down to it, she said she'd have no problem voting for Clinton — especially with the prospect of Donald Trump as the Republican nominee.
"I don't understand the 'Bernie or bust' movement," she said.
Waiting in line for the rally with his daughter Zoe, 3, Alex Darrow agreed.
"I will probably end up voting for Hillary, but I like that he's speaking the truth," Darrow said. "I appreciate that in a politician."
The Associated Press contributed to this report.
Spence on Media - POLITICO

| | |
| --- | --- |
| | www­.politico­.eu - Both sides are watching the broadcaster closely for signs of bias | Peter Macdiarmid/Getty Images LONDON — As Britain's last momentous, too-close-to-call referendum campaign entered its final days,... |
Don Lichterman: Sunset Daily News & Sports Sunday Edition!
| | |
| --- | --- |
| | donlichterman­.blogspot­.com - Published by Sunset Daily News 20 March 2016 Read paper → Sports World Leisure Politics Art & Entertainment Business #springtraining #bosvslak Iain Duncan Smith's resignation fallout - politics liv... |
Drinks makers consider legal action against sugar tax
| | |
| --- | --- |
| | www­.theguardian­.com - Soft drink makers are considering taking legal action against the government over its controversial sugar tax as George Osborne's budget shows further signs of unwinding. Suing the government is on... |
Man who pulled protester revealed as Trump security
| | |
| --- | --- |
| | www­.politico­.com - The incident took place at Donald Trump's rally in Tucson, Ariz., on Saturday night. | AP Photo Campaign had shifted blame to unidentified man, without identifying him as member of its security tea... |
Regardless of it all today, please stay in touch.