The panel will cover this weekend's Democratic races, the latest Ted Cruz-Donald J. Trump feud, and some behind the scenes action in John Kasich's campaign. Plus, NYPD Commissioner Bill Bratton joins Morning Joe this AM.
Bird Visits Bernie Sanders Rally, Sparks Delight On Twitter.
At a rally in Portland, Ore., on Friday morning, Bernie Sanders had an unexpected visitor.
And the crowd went wild.
If you haven't seen it yet, here's the video:
Bernie's evident delight, the crowd's roaring applause and the tiny bird's savoir faire were social media gold. The moment prompted a Twitter response that was completely opposed, in content and tone, to, well, the other big political conversation on social media right now.
And nearly a full day after the bird made its appearance, #BirdieSanders is still trending.
I'm tired of the top 1% controling 99% of the wealth in this country.
#BirdieSanders
It's quite clear who Mother Nature endorses for president (
#BirdieSanders
)
The location of the avian appearance is prompting amusement, too — because of course it was Portland.
IFC's sketch comedy show Portlandia, starring Carrie Brownstein and Fred Armisen, famously featured a sketch called "Put a Bird On It" in their first episode.
In a case of life imitating sketch comedy, adding a bird to a political rally brought mesmerized delight — but also, as one reporter noted, could be messy.
Despite The Math, Bernie Sanders Has Already Won. Bernie Sanders scored huge-margin victories Saturday in the caucuses in Washington State, Hawaii and Alaska.
Sanders won with 82 percent in Alaska, 70 percent in Hawaii and 72 percent in Washington. That Washington margin was even bigger than the Sanders campaign expected — and significant, because there are 101 delegates up for grabs there.
AP has not yet allocated all the delegates out of Washington State. More will be tallied in his column over the next several weeks, as the state party releases margins by congressional district. But if Sanders' share holds, when all's said and done, he could net more than 60 delegates out of Saturday.
That's impressive and would cut into Clinton's pledged-delegate lead significantly, by 20 percent.
It doesn't change the math much, but that might not even be the point. Sanders has a narrow path (laid out below in detail), but he is going to win in lots of places over the next two months in similarly sweeping fashion. Regardless of what happens, when people look back on this 2016 Democratic primary, Sanders won't be dismissed as a gadfly or fringe candidate, as he was treated at the beginning of this campaign. He has already had a major impact on the Democratic Party, on Hillary Clinton and how they talk about the issues he's cared about most for the last 40 years — income inequality, regulation of Wall Street banks and power and influence in politics.
The math
As it stands now, Clinton leads Sanders 1,243 to 975 in the pledged-delegate count and 1,712 to 1,004 overall when superdelegates are factored in.
Even if Sanders is given a 73-to-28 split out of Washington State (so far, it's 25 to 9), going with the 72 percent margin he won by, he'd pick up 64 delegates in all out of Saturday.
Going into the day, he would have needed 58 percent of all remaining delegates for a pledged majority. Coming out, he would need 57 percent. With superdelegates factored in, he needs a whopping 67 percent of all remaining delegates. (The Sanders campaign is focused on winning a pledged majority, because superdelegates can switch their allegiances. The Sanders team believes they will do that if he wins a pledged majority.)
So can he win? "Our calculations are that, in fact, we can win the pledged delegates," Sanders said Sunday morning on NBC's Meet the Press. Sanders mentioned that his focus is on Wisconsin and New York, the two biggest contests over the next three weeks, and he pointed out that he has "won five out of the six last contests in landslide fashion."
There does remain a path, but with each passing contest, it gets narrower and narrower. Part of that is because Democrats allocate delegates proportionally, and despite those big wins Saturday, his campaign already suffered major setbacks over the past two weeks.
His campaign saw a real path to a pledged majority if he split the day on March 15, building off that win in Michigan a week earlier. It didn't happen. Instead, Clinton swept Sanders that day, including in Ohio, as well as Missouri and Illinois, where his team thought he'd win. He hit one more roadblock a week later with a loss in Arizona, another place his campaign had pointed to as key.
The calendar
It lines up well for him over the next 10 weeks, but winning everywhere he's expected to – places like Oregon, Kentucky and West Virginia, as well as caucus states in the West — won't be enough.
Let's take a look at some key dates that pose important tests and what Sanders would need to win each day. This path gets him a 2-pledged-delegate majority. (By the way, we've already written how this is mathematically going down to June 7, and it could all come down to California, which votes that day):
April 5 (96 delegates) — Wisconsin: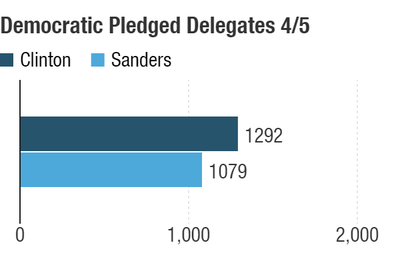 Sanders needs a big win here. Madison is a hub of liberalism and home to the University of Wisconsin. The 2008 electorate was also 87 percent white and ranked third on NPR's list of places Sanders should have his best shot going forward, considering the high share of white men as compared to black voters. SANDERS NEED: 65 percent (56 to 30 delegate split)
April 9 (14 delegates) — Wyoming:
Another Western caucus state where Sanders is expected to do well. SANDERS NEED: 71 percent (14 to 10)
April 19 (247 delegates) — New York:
This is a big day. New York holds a big cache of delegates, is Clinton's home state, where she was a senator and where her campaign is headquartered; and Sanders was born in Brooklyn. He's calling for a debate there, but Clinton has not agreed to one. (Clinton, by the way, has not yet lost anywhere she's lived – Arkansas and Illinois.) New York might be tough for Sanders given it was 30 percent non-white (16 percent black, 10 percent Latino) in the 2008 primary. A win there for Sanders would say something. SANDERS NEED: 55 percent (136 to 111)
April 26 (384 delegates) — Northeast Tuesday — Connecticut (55), Delaware (21), Maryland (95), Pennsylvania (189), Rhode Island (24):
This is another big test for Sanders. These are all primaries, and he's fared better in caucuses. Clinton also starts out the favorite in Maryland, which in 2008, was 47 percent non-white, including 37 percent black and almost a quarter black women, a real strength for Clinton. Pennsylvania is another key, and the biggest haul of delegates that day. It's a place Clinton did well in 2008, but it was 80 percent white in that primary. That could help Sanders, though Clinton did win neighboring Ohio with similar demographics. Sanders will need generous splits. If he can't pull these kinds of margins, it's the day people will start to say it's over. On the other hand, if he does pull them off... SANDERS NEED: 54 percent (205 to 179)
Conn. 56 percent (31 to 24)
Del. 57 percent (12 to 9)
Md. 45 percent (43 to 52)
Pa. 55 percent (104 to 85)
R.I. 63 percent (15 to 9)
May 3 (83 delegates) — Indiana: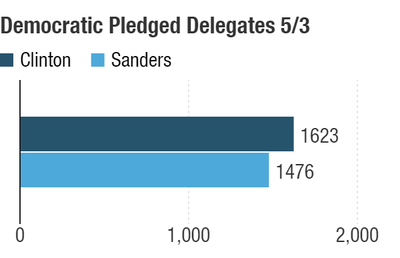 This is another Industrial Midwestern state Clinton did well in in 2008, but Sanders will need to chip away at her margin. Demographically, it looks similar to Ohio and Pennsylvania. SANDERS NEED: 55 percent (46 to 37)
May 7 (7 delegates) — Guam:
Sanders won Democrats Abroad, and while Clinton won the Northern Mariana Islands, give Sanders the win for math purposes. SANDERS NEED: 71 percent (5 to 2)
May 10 (29 delegates) — West Virginia:
The Democratic primary was 96 percent white in 2008. SANDERS NEED: 69 percent (20 to 9)
May 17 (116 delegates) — Oregon (61), Kentucky (55):
This should be a big Sanders day. Oregon looks a lot like Washington State, and Kentucky's primary in 2008 was nearly 90 percent white. SANDERS NEED: 69 percent (80 to 36)
Ore. 72 percent (44 to 17)
Kent. 65 percent (36 to 19)
June 4 (7 delegates) — Virgin Islands:
SANDERS NEED: 71 percent (5 to 2)
Possible delegate totals after the June 5 contests.
Possible delegate totals after the June 5 contests.
Domenico Montanaro/NPR
June 5 (60 delegates) — Puerto Rico:
Clinton is the favorite. SANDERS NEED: 42 percent (25 to 35)
June 7 (694 delegates) — California (475), New Jersey (126), New Mexico (34), Montana (21), South Dakota (20), North Dakota (18):
And it all comes down to this. The final big day of voting with all eyes on California. In this scenario, Sanders would go into the day down 96 delegates. To pass Clinton, and have enough to hold off a likely Clinton win in Washington, D.C., the following week, Sanders would still need 57 percent of all delegates on this day. He should easily take big wins in the Western caucuses in Montana, South Dakota and North Dakota. Clinton would be favored in New Mexico, and then there's California and New Jersey, the two biggest prizes of the day. Both are not the easiest states for Sanders. Even though California has a very liberal reputation, it was also 48 percent non-white in 2008. That was mostly Latinos, however. New Jersey was 41 percent non-white in 2008 and almost a quarter were black. For Sanders to pull this off, he can't do it without California and New Jersey – and he has to win by substantial margins there. SANDERS NEED: 57 percent (399 to 295)
Calif. 58 percent (275 to 200)
N.J. 55 percent (69 to 57)
N.M. 47 percent (16 to 18)
Mont. 67 percent (14 to 7)
S.D. 65 percent (13 to 7)
N.D. 67 percent (12 to 6)
June 14 (20 delegates) – Washington, D.C.:
Clinton is the favorite here, and potentially a huge margin for Clinton could give her the pledged-majority lead back. Wouldn't that be something? Clinton put over the top by D.C. Democrats and superdelegates. The optics of that would not be good, and that's why Clinton's campaign is focused on winning the pledged majority by June 7 or before. SANDERS NEED: 35 percent (7 to 13)
There are clearly some major hurdles along that path, especially New York, California and New Jersey, for Sanders. But he's going to have lots of momentum and lots of wins in that stretch.
Sanders has made a real impact on the race, especially from a message standpoint. Many in the party are crying out for action on what Sanders is pushing — leveling the economic playing field, being tougher on big banks and Wall Street and pushing to get money out of politics.
What Sanders has done, coming from virtually nowhere, is remarkable and has had an effect on Clinton. She would have preferred to focus on Republicans and likely moderate her message and tone to appeal to the middle. Instead, she's had to look left.
What Sanders has done not only likely guarantees him a prominent slot at the convention, but ensures his message, and the issues he cares about deeply, a place at the Democratic table.
Sanders is going to fight on to June, but even if he doesn't pull off the majorities he needs, in a way, he's already won.
The Los Angeles times did a report an article about how the Clinton email probe enters new phase as FBI interviews loom.
Federal prosecutors investigating the possible mishandling of classified materials on Hillary Clinton's private email server have begun the process of setting up formal interviews with some of her longtime and closest aides, according to two people familiar with the probe, an indication that the inquiry is moving into its final phases.
Those interviews and the final review of the case, however, could still take many weeks, all but guaranteeing that the investigation will continue to dog Clinton's presidential campaign through most, if not all, of the remaining presidential primaries.
No dates have been set for questioning the advisors, but a federal prosecutor in recent weeks has called their lawyers to alert them that he would soon be doing so, the sources said. Prosecutors also are expected to seek an interview with Clinton herself, though the timing remains unclear.
The interviews by FBI agents and prosecutors will play a significant role in helping them better understand whether Clinton or her aides knowingly or negligently discussed classified government secrets over a non-secure email system when she served as secretary of State.
The meetings also are an indication that much of the investigators' background work – recovering deleted emails, understanding how the server operated and determining whether it was breached – is nearing completion.
"The interviews are critical to understand the volume of information they have accumulated," said James McJunkin, former head of the FBI's Washington field office. "They are likely nearing the end of the investigation and the agents need to interview these people to put the information in context. They will then spend time aligning these statements with other information, emails, classified documents, etc., to determine whether there is a prosecutable case."
See the most-read stories this hour >>
Many legal experts believe that Clinton faces little risk of being prosecuted for using the private email system to conduct official business when she served as secretary of State, though that decision has raised questions among some about her judgment. They noted that using a private email system was not banned at the time, and others in government had used personal email to transact official business.
The bigger question is whether she or her aides distributed classified material in email systems that fell outside of the department's secure classified system. But even if prosecutors determine that she did, chances she will be found criminally liable are low. U.S. law makes it a crime for someone to knowingly or willfully retain classified information, handle it in a grossly negligent manner or to pass it to someone not entitled to see it.
Clinton has denied using the email account to send or receive materials marked classified. Though some emails have since been deemed to be too sensitive to release publicly, Clinton's campaign has attributed that to overzealous intelligence officials and "over-classification run amok."
Legally it doesn't matter if the emails were marked as classified or not, since government officials are obligated to recognize sensitive material and guard against its release. But legal experts noted that such labels would be helpful to prosecutors seeking to prove she knew the information was classified, a key element of the law.
"The facts of the case do not fit the law," said Stephen Vladeck, a law professor at American University. "Reasonable folks may think that federal law ought to prohibit what Hillary did, but it's just not clear to me that it currently does."
Even so, her use of the private server, which was based at her home in New York, has become fodder for Clinton's political foes as she campaigns to secure the Democratic nomination for president.
Though Sen. Bernie Sanders has largely declined to use the email scandal against her in the Democratic primary, Republicans have repeatedly said she should be indicted or disqualified from running for the nation's top office.
At a recent Democratic debate, Clinton grew exasperated when asked what she would do if indicted. "That's not going to happen," she said.
Her attorney, David Kendall, declined to comment. Her campaign spokesman, Brian Fallon, said in an email that Clinton is ready to work with investigators to conclude the investigation.
"She first offered last August to meet and answer any questions they might have," Fallon wrote. "She would welcome the opportunity to help them complete their work."
Lawyers for her closest aides – Huma Abedin, Jake Sullivan, Cheryl Mills and Philippe Renes – either did not respond to messages or declined to comment.
The Justice Department and FBI began their investigation after receiving what is known as a security referral in July from the inspector general for U.S. intelligence agencies, which at the time were in the midst of reviewing paper copies of nearly 30,500 emails Clinton turned over in 2014 that she said were work-related.
The State Department has since released all 3,871 pages of Clinton's emails in its possession and has determined that 22 of her emails contained "top secret" information, though they were not marked as such as the time. Hundreds of others contained material that was either secret or confidential, two lower levels of classification.
After stepping down as secretary of State, Clinton, who has said she used her personal email to conduct personal and official business as a matter of convenience, told her staff to delete 31,830 emails on the server that she felt were non-work-related.
In August, the FBI obtained the server and has since recovered most, if not all, of the deleted correspondence, said a person familiar with the investigation.
FBI agents have finished their review of the server and the correspondence turned over by Clinton to the State Department. They have interviewed a number of former aides so they could better understand how the system was used and why Clinton chose to use it, the person said.
Federal prosecutors granted immunity to one of those aides, Bryan Pagliano, who helped set up the server in Clinton's home. He has cooperated with the federal investigation and provided security logs that revealed no evidence of foreign hacking, according to a law enforcement official.
His lawyer, Mark MacDougall, did not respond to messages seeking comment.
The probe is being closely watched and supervised by the Justice Department's top officials and prosecutors. FBI Director James B. Comey has said he has been regularly briefed on the investigation, which is being overseen by prosecutors in the Justice Department's national security division.
The decision on whether to prosecute could be difficult. Vladeck, the law professor noted the differences between Clinton's email issue and two previous cases involving the mishandling of classified material that resulted in prosecutions and guilty pleas.
In 2005, Sandy Berger, a former national security advisor, pleaded guilty to the unlawful removal and retention of national security information after being caught trying to smuggle classified documents out of the National Archives.
In another case, Gen. David Petraeus, a former CIA director, was investigated for knowingly allowing a mistress to read classified material as she researched a book about him. Petraeus eventually pleaded guilty to a misdemeanor charge of mishandling classified material and was spared prison time.
Legal experts said Petraeus' actions were far more serious than anything Clinton is accused of doing. Clinton's emails, even those later deemed classified, were sent to aides cleared to read them, for example, and not private citizens, they said.
Several of the lawyers involved in Clinton's case are familiar with the differences. Petraeus' defense lawyer was Kendall, who also represents Clinton. And a prosecutor helping oversee the Clinton email investigation was part of the team that obtained Petraeus' guilty plea.
"Those cases are just so different from what Clinton is accused of doing," Vladeck said. "And the Justice Department lawyers know it."
While she is not likely to face legal jeopardy, the emails could cause some political heartburn when the aides are questioned. However, short of an indictment or an explosive revelation, the controversy is not likely to alter the overall dynamics of the primary race or general election, political observers said.
"This is clearly disruptive to the campaign," said Mark Mellman, a Democratic pollster. "It will take her off message and coverage about important aides being questioned is not coverage you'd like to have. However, this issue is largely dismissed by Democratic primary voters and baked into the cake for the general electorate."
Trump threatens lawsuit over delegate rules.
--------------------------------------------------------------------------------
Just to show you how unfair Republican primary politics can be, I won the State of Louisiana and get less delegates than Cruz-Lawsuit coming
--------------------------------------------------------------------------------
Ted Cruz came in second in the recent Louisiana Republican primary behind Donald Trump but could win more delegates -- and the the real estate mogul is crying foul.
Trump beat the Texas senator in the March 5 contest by 3.6%. Under party rules the pair each won 18 delegates. But Cruz's campaign is using its organization muscle to sway ten more delegates toward his camp, The Wall Street Journal reported on Friday -- a situation that seems to have caught Trump's ire.
"Just to show you how unfair Republican primary politics can be, I won the State of Louisiana and get less delegates than Cruz-Lawsuit coming," Trump tweeted Sunday evening.
Trump's missive reflects the still-unclear path his campaign faces in claiming the 1,237 delegates to the Republican National Convention in Cleveland that would make him the nominee. The Wall Street Journal article detailed the Cruz campaign's efforts at seating his supporters on crucial convention committees, potentially denying Trump the GOP nomination.
In Louisiana the 10 additional delegates Cruz's campaign is seeking come from two places: five from former Republican presidential candidate Marco Rubio and five unpledged delegates, who are not required to support a particular candidate.
Both tranches of delegates are likely to go for Cruz, the Journal reported.
Even these relatively small amounts of delegates could be important for Cruz in trying to overcome Trump's delegate lead. Trump has won 742 pledged delegates compared to Cruz's 462 delegates.
Later Sunday night the Cruz campaign hit back at Trump's threatened litigation over delegate rules.
Tweeted Ron Nehring, national spokesman for the Cruz campaign: "Maybe your time is better spent reading rules than sending hate-tweets."
--------------------------------------------------------------------------------
Maybe your time is better spent reading rules than sending hate-tweets.
--------------------------------------------------------------------------------
Andrea Mitchell rips Trump's foreign policy scam: 'He's uneducated about any part of the world'. MNBC host Andrea Mitchell warned on Sunday GOP front-runner Donald Trump was hiding the fact that he was "completely uneducated about any part of the world."
"It is remarkable," Mitchell told Meet the Press host Chuck Todd. "And when he doesn't know something, he just changes the subject, and makes it all about himself."
"On national security, it's very noticeable, especially to your ears and mine," Todd agreed.
"Absolutely. And this was a week where he could have gone after President Obama, arguably," Mitchell noted. "There's a lot happening, and the president has some vulnerabilities, so does Hillary Clinton. But instead, he's all over the lot."
As Mitchell pointed out, Trump indicated in a recent New York Times interview that he would cancel defense treaties with Japan and South Korea, and that he would allow the countries to obtain nuclear weapons.
"American policy for decades since World War II has been trying to keep nukes out of that arena," she observed. "He would stop importing oil from Saudi Arabia if they don't pay more for their defense."
"We need oil. We are not energy independent. We rely on oil still for our daily needs," Mitchell continued. "He is completely all over the lot. On Iran, he complains that Iran isn't buying our planes. It had to be pointed out to him that Iran is still under sanctions and cannot buy American planes. He thinks North Korea and Iran are the biggest trading partners, when North Korea's biggest trading partner is China."
"He is completely uneducated about any part of the world," the MSNBC host lamented.
Watch the video below from NBC's Meet the Press, broadcast March 27, 2016.
Bob Woodward to Donald Trump: How Will You Build The Wall?
Kasich: Trump and Cruz 'Should Consolidate Behind Me'. Sunday on NBC's "Meet the Press," Republican presidential candidate Gov. John Kasich (R-OH) said his rivals Donald Trump and Sen. Ted Cruz (R-TX)97% should end their campaigns and consolidate behind his candidacy.
Partial transcript as follows:
TODD: Ted Cruz's campaign is repeatedly called for you to get out, saying a vote for you is a vote for Donald Trump. … If you thought your position in this race strengthened Trump, would you get out?
KASICH: Chuck, I'm beating Hillary by 11 points. I'm the only one that can win in the fall. And as you noticed the narrative over the last week has been what is wrong with the party. Kasich's the guy that can win the general. Some people have said Kasich would be the best president. I mean get out for what?. If I'd gotten out Trump would be the nominee, he would have won Ohio. And frankly, we'll win some districts in Wisconsin. We will move to Pennsylvania where I'm basically in a statistical tie with Trump. And when we go to New York and everywhere else, we're going to pick up delegates. It's absurd. It's absurd. You know, if you really want, let them consolidate behind me because frankly I'm the one that can win in the fall. And I'm the one that can get the crossover votes.
NYPD Commissioner Bratton Slams Ted Cruz Over Call to Patrol 'Muslim Neighborhoods'.
New York City's police commissioner slammed Ted Cruz Saturday for suggesting police step up patrols of "Muslim neighborhoods" after the terror attacks in Brussels, and accused the Republican presidential hopeful of exploiting the tragedy.
"We already patrol and secure Muslim neighborhoods, the same way we patrol and secure other neighborhoods," Commissioner William Bratton wrote in an op-ed in the New York Daily News. "But no, we do not single out any populace, black, white, yellow or brown for selective enforcement."
"We do not 'patrol and secure' neighborhoods based on selective enforcement because of race or religion, nor will we use the police and an occupying force to intimidate a populace or a religion to appease the provocative chatter of politicians seeking to exploit fear," Bratton continued.
Bratton, along with President Barack Obama, Democratic presidential candidate Hillary Clinton and the Council on American-Islamic Relations all condemned Cruz' proposal shortly after he made it Tuesday.
Republican presidential candidate Ohio Gov. John Kasich also pushed back on the proposal, saying the effort would add "more polarization" and "create divisions" in the U.S. Donald Trump, in an interview on CNN on Tuesday night, said he supports Cruz's plan "100 percent."
"It is standard law enforcement — it is good law enforcement to focus on where threats are emanating from, and anywhere where there is a locust of radicalization, where there is an expending presence of radical Islamic terrorism," Cruz expanded to reporters on Tuesday evening in Manhattan.
Bratton said that "it is clear from his comments that Sen. Cruz knows absolutely nothing about counterterrorism in New York City."
"We have in this city, without a doubt, the most effective and extensive counterterrorism capacity of any city in this country and virtually any city in the world," Bratton said.
Twenty terror plots have been foiled by the NYPD since the 9/11 attacks, according to the department.
"We police our city not by campaign slogans or inflammatory rhetoric, but by an old piece of parchment called the U.S. Constitution and another called the Bill of Rights," Bratton wrote. "Ted Cruz and others seem to be willing to sideline these principles because what they stand for shifts with the tide of the campaign and the shrillness of the name-calling."
The Cruz campaign responded Saturday:
"Ted Cruz will never allow political correctness to drive decisions about our security. Innocent, peaceful Americans, no matter their faith, deserve to live in safe neighborhoods; that is what law enforcement exists to do, and that includes preventing radical Islamic terror cells from taking root in them. The police should have every tool available to follow leads and take action against those who would do us harm. That is what Cruz is calling for and it is the basic responsibility of our elected leaders — to prioritize the safety of our citizens."
Two more Americans were confirmed dead in last week's attacks in Brussels on Sunday, the State Department told NBC News.
The latest victims bring the confirmed U.S. death toll to four. They were not immediately identified.
A State Department official told NBC News that "we express our deepest condolences to their loved ones."
"The U.S. Embassy in Brussels is providing consular assistance," the official said. "We have no further information to share out of respect for the families during this difficult time."
Justin and Stephanie Shults, who had moved to Belgium in 2014, were also killed in the attacks. Justin, 30, was from Gatlinburg, Tennessee. Stephanie, 29, was from Lexington, Kentucky. Both were accountants.
The couple had just dropped off Stephanie's mother at the airport when two suicide bombers detonated their explosives. One person, Faycal Cheffou, has been charged in connection with the attack.
Two Dutch siblings who lived in New York — and hoped to become American citizens — were also among the dead. Sascha and Alexander Pinczowski had been visiting family in the area and were at the airport to catch a return flight to their adopted home. They were on the phone with a relative when two blasts interrupted their conversation.
The weekend did bring a sliver of good news, however: Richard Norby, a Mormon missionary who had been seriously wounded at the airport and was placed in a medically induced coma, awoke, according to relatives who were with him and described the visit in a moving Facebook post.
"He responded to us as we touched his shoulders and arms — the seemingly only places not wounded," the relatives wrote. "We told him that he was loved by many, many people and that thousands of people were naming him specifically in their prayers."
Wanting "a more definite confirmation that he was hearing us," the post continued, "we asked him to open his eyes if he could hear us. With all the energy our father, husband, and friend could muster, he lifted his head as high as he could off of the bed, and very deliberately turned his head to our direction. We burst into sobs of joy."
Belgian officials announced early Monday that 35 people were killed in the attacks, in addition to three suicide bombers.
In Pakistan, Taliban's Easter bombing targets, kills scores of Christians.
On Easter Sunday, a crisp spring day, some of the city's Christian population mingled with their Muslim neighbors, celebrating in a neighborhood park -- taking their kids on rides or pushing them on swings. Then, the sound of tragedy.
Without warning, a blast tore through the park, killing indiscriminately.
Because of the innocent setting, an unusually high number of those injured were women and children. But the attack, claimed by a splinter group of the Pakistani Taliban, intentionally targeted Christians, the perpetrators say.
The suicide blast, in the eastern Pakistan city of Lahore, killed at least 69 people, a local government spokesman told CNN.
More than 341 others were injured, according to Punjab government spokesperson Jehangir Awan.
It comes at a difficult time for Pakistan's Christians, some of whom were in the city's Gulshan Iqbal Park to celebrate the holiday Sunday evening, only to see their Easter Sunday fragment into terror and chaos.
The religious group makes up only 2% of the population, and tensions are high between them and a hardline Muslim core which wants to see a strict interpretation of Islamic law take precedence in Pakistan's legal system.
'Bodies everywhere'
One witness, Danish, was at the amusement park with his two sisters. He recalled the moment that the explosion ripped apart the park, killing one of his sisters and seriously injuring the other.
"It was so crowded that there was even no way of entering it. We went to a canteen to have something to eat, when there was suddenly a big blast. Everyone panicked, running to all directions. Many of them were blocked at the gate of the park. Dead bodies can be found everywhere," he told reporters.
"My sister got wounded in the neck. The object hit her looks like a piece of hard iron, and it burnt her in the neck. She was also wounded in the chest."
Ehsanullah Ehsan, a spokesman for the splinter group of the Pakistani Taliban known as Jamat-ul-Ahrar vowed such attacks would continue. Parks in the city remained closed into Monday, for security reasons, according the deputy commissioner of police.
Pakistani Prime Minister Muhammad Nawaz Sharif strongly condemned the blast. Sharif was born in Lahore and enjoys strong support there.
Pakistan's internal terror operations took a new turn following the incident, with General Asim Bajwa tweeting that the Chief of Army Staff chaired a high-level meeting to review an operation in Punjab -- something that has previously resisted by Nawaz Sharif's government, which has its power base in the province.
The two main military operations that are ongoing are in the city of Karachi and in the northern tribal areas of North Waziristan.
Blasphemy law protests erupt
Protests erupted again Sunday, almost a month after a former bodyguard who assassinated a moderate politician was executed. Mumtaz Qadri, was hanged in a Rawalpindi prison February 29, five years after being found guilty of shooting and killing Punjab Gov. Salman Taseer.
The governor had spoken out against the blasphemy law that makes insulting Islam a crime punishable by death.
As many as 10,000 demonstrators gathered in the capital, Islamabad, Friday, praising Qadri and demanding changes to Pakistan's laws, including the adoption of Sharia law, according to local media reports.
International condemnation
Indian Prime Minister Narendra Modi, who has worked to thaw the icy relations between the two neighbors, called Sharif on Sunday to express his grief over the bombing.
The Indian leader expressed solidarity with Pakistan, the Pakistani state-run news agency reported.
"Modi said coward terrorists had targeted females and kids which was highly condemnable and regrettable," according to the state-run agency, the Associated Press of Pakistan.
The United States and Australian governments also condemned the attack.
"This cowardly act in what has long been a scenic and placid park has killed dozens of innocent civilians and left scores injured," National Security Council spokesman Ned Price said in a statement.
Australian Foreign Minister Julie Bishop echoed the sentiment.
"As Christians worldwide celebrate Easter, a shocking terrorist attack in Lahore, Pakistan, reminds us that terrorism is a global scourge," she said Monday.
"The Australian Government condemns this horrific act that has killed dozens of civilians, including children, and expresses our condolences to the people of Pakistan and its government at this time."
History of violence
In March last year, suicide bombers attacked a Christian community, also in Lahore, setting off two blasts that killed at least 14 people and wounded dozens more, officials said.
The Pakistani Taliban claimed responsibility for that attack too and warned of more to come.
The explosions, which struck the Nishtar Colony area in the city of Lahore, wounded at least 78 people, Dr. Muhammed Saeed Sohbin, medical superintendent at Lahore General Hospital, said then.
In 2013, suicide bombers struck a church in the northwestern city of Peshawar, killing more than 80 people.
CNN's Sophia Saifi,
Adeel Raja, Zahir Sherazi, Yuli Yang and Jethro Mullen, and journalist Daniyal Hassan in Lahore contributed to this report.
Don Lichterman: Sunday on S2e TV!

| | |
| --- | --- |
| | donlichterman­.blogspot­.com - Eric Bibb - "Goin' Down Slow" SunStudioSessions Twisted Blackberry Powerade letseatwith bigjohn hey youtube its me john coming back at you for another review tonight i bring you twisted blackberr... |

The Night Manager finale review: did Pine pull it off?

| | |
| --- | --- |
| | www­.theguardian­.com - 'You know what this reminds me of?" said evil arms dealer Hugh Laurie to alarmingly buff undercover hero Tom Hiddleston as they took coffee in Cairo's Nefertiti hotel. "Winston Churchill and TE Law... |
Don Lichterman: A Whale Of A Week!
| | |
| --- | --- |
| | donlichterman­.blogspot­.com - The Whalers Are Long Gone, but These Great Whales Are Still Struggling. Researchers have created the first reliable population estimates for the now-rare New Zealand southern right whale. Once upon... |
Don Lichterman: Read It In The Sunday Paper
| | |
| --- | --- |
| | donlichterman­.blogspot­.com - Sunset Daily News & Sports Published by Sunset Daily News 27 March 2016 Read paper → Sports Leisure World Art & Entertainment Politics Business #nbavine #stlvswsh Easter: America's biggest candy se... |