Stay tuned for the latest developments in the Brussels attacks investigation... and how are 2016 candidates responding to the war on terror? Also, it seems that Gary Shandling may have died.Willie Geist on Garry Shandling: He changed TV. At least two Americans were confirmed among those killed in the Brussels attacks, according to reports Friday. Brussels Attackers May Have Spied on Top Belgian Nuclear Scientist. Brussels attacks: Belgian police arrest six suspects. The suspect that French authorities detained in a counter-extremism raid in northwest Paris on Thursday was convicted in absentia alongside Paris attacks ringleader Abdelhamid Abaaoud in 2015, according to officials. How Belgium's Bumbling Bureaucrats Boosted Europe's Terror Threat. Terrorism Expert: ISIS Is "Probably Cutting Videos" of Donald Trump's Response to Belgium Attacks. Republican Candidates Have 3 Very Different Responses to Brussels Terror Attacks. CNN/ORC poll: Clinton tops Trump on presidential traits.
The complete CNN/ORC poll results.
Cruz on Trump's attacks on his wife: 'Leave Heidi the hell alone'.
At least two Americans were confirmed among those killed in the Brussels attacks, according to reports Friday.
The development came as Secretary of State John Kerry traveled to Brussels to hold counter-terrorism talks with the Belgian government and European Union officials. He also payed his respects to the 31 people who were killed and dozens wounded in this week's attacks. He said the assault "struck at the very heart of Europe."
Kerry said the "United States is praying and grieving with you for the loved ones of those cruelly taken from us, including Americans, and for the many who were injured in these despicable attacks."
He did not specify how many Americans were killed. However, the Associated Press and NBC News reported that two had died. No further details were provided.
British officials say David Dixon, a computer programmer and U.K. citizen living in Brussels,a U.K., died in the bombing on the Brussels subway and the Chinese embassy reported the death of a Chinese national identifed only by his surname — Deng.
Kerry arrived in Brussels amid pressure on the Belgian authorities for lapses in its security services.
Belgium's interior and justice ministers offered to resign after it was revealed that Turkey deported one of the suicide bombers over concerns he was a militant but that Belgium failed to act on the warning. Prime Minister Michel refused to accept their resignations.
The country also bungled a counter-terrorism raid and appeared to miss other signs of an imminent attack.
The Brussels bombings and the attacks in Paris that left 130 dead have been linked by investigators, who now believe both incidents were carried out by the same Belgium-based Islamic State cell.
Investigators overnight detained six people in Belgium and one in France amid counter-terrorism operations in those countries.
New York-Based Sascha, Alexander Pinczowski Killed in Brussels Blasts.
A New York-based brother and sister were among those killed during this week's Brussels attacks, a person with knowledge of the situation confirmed Friday.
Sascha and Alexander Pinczowski had just arrived at the Brussels Airport when two explosions went off Tuesday. They had not been since since, but on Friday they were confirmed killed in the twin blasts.
A person with knowledge of the situation told NBC News in an email that an "identity match" had been confirmed for "both Alex and Sascha, so we can now lay them to rest."
At least 31 people died and more than 270 were wounded in the explosions at the airport and another blast an hour later at a metro station. ISIS has claimed responsibility.
Earlier on Friday, a senior U.S. official told NBC news that two Americans had been confirmed killed in the attacks, without giving their identities.
Two other Americans, Justin Shults and his wife Stephanie, have not been heard from since the attacks, family members have said.
Brussels Attackers May Have Spied on Top Belgian Nuclear Scientist.
Hours after suicide bombers struck a Brussels airport and metro station Tuesday, Belgian officials evacuated all nonessential workers from one of the country's major nuclear facilities, Tihange. The head of Belgium's nuclear regulatory agency had said that no direct threats to the plant existed, but that the move was "based on new information, and the events of today. Extra security measures were taken."
Yet new reports indicate that authorities knew of a plausible threat involving its nuclear infrastructure, based on intelligence gathered during raids prompted by the November 13 terrorist strike on Paris. After that operation — where one person was arrested on murder and terrorism charges — Belgian authorities uncovered about ten hours of secretly recorded footage of one of Belgium's top nuclear scientists and researchers. The camera, which CBS News says was mounted and hidden under a bush near the scientist's home, recorded his comings and goings. Officials suspect those spying on him may have been tracking his movements in advance of a kidnapping, in order to gain information or access to a nuclear research facility in Mol. (According to Belgian reports, the scientist did not have clearance at Tihange or the other big power plant in Doel.) Those operatives — with likely terrorist links, based on where the video turned up — may have wanted to steal radioactive materials for a dirty bomb.
Belgian officials admitted publicly in February that they had this tape of the scientist, says a previous report by the New York Times, but authorities recovered the footage November 30. Per the Times:
Sébastien Berg, a spokesman for Belgium's Federal Agency for Nuclear Control, said that the agency had been informed right away of the existence of the footage and that employees had been told to increase their vigilance on the work floor. But he acknowledged that no additional guards had been hired or other measures taken to secure the perimeters of Belgium's nuclear sites.
According to The Independent, officials said they believed the tapes showed the threat was directed at the nuclear scientist and not necessarily at a specific nuclear plant or research facility.
Officials, trying to investigate who had stalked the scientist, later viewed surveillance images revealing that two men had picked up the hidden camera from the shrubs and driven away with it. Speculation has already begun that those two men were Brussels suicide bombers and brothers Khalid and Ibrahim el-Bakraoui, though that information has not been confirmed.
According to Belgian media outlet RTBF, at least 11 workers at the Tihange nuclear facility — which, again, was evacuated after Tuesday's strikes — have been banned from the premises since last week. The plant took away security access to the first seven people following an anti-terrorist raid March 15 in Forest, a Brussels neighborhood. That raid erupted in a shoot-out, with one suspect linked to the Paris terror attacks being killed. That raid also helped police home in on wanted Paris attacker Salah Abdeslam; police detected his fingerprints at the scene, along with an ISIS flag and weaponry. (In another Paris-Brussels link, Khalid el-Bakraoui, who blew himself up at the Maelbeek metro station Tuesday, was the lessee of that raided apartment.)
Four more people were apparently denied access to Tihange following the airport and metro bombings Tuesday, says RTBF. No other details have been provided.
CBS News also reports that the terrorist cell may have planned to strike March 28, the day after Easter, but moved up the plans with Belgian police possibly closing in following the Friday arrest of Abdeslam. (Abdeslam's attorney claims his client only found out about the attacks after they happened.) On the Monday following Abdeslam's arrest, law enforcement set off a huge manhunt for Najim Laachraoui, a known Abdeslam associate whose fingerprints were found on suicide vests used in Paris. The next day, Laachraoui, the likely bomb-maker in Brussels and Paris, blew himself up in the Zaventem airport along with Ibrahim el-Bakraoui.
Brussels attacks: Belgian police arrest six suspects. Jump media playerMedia player helpOut of media player. Press enter to return or tab to continue.
Media captionJohn Kerry: "We will not rest until we have eliminated your nihilistic beliefs... from the face of this earth"
Belgian police have arrested six people in Brussels as a major investigation continues into attacks that claimed 31 lives in the city on Tuesday.
The arrests were made in the Schaerbeek district. Separately, in France, a suspect who was plotting an attack has been arrested near Paris.
The Brussels bombings have been linked to last November's Paris attacks.
US Secretary of State John Kerry, visiting Brussels, said that so-called Islamic State (IS) would be destroyed.
IS claimed the attacks in both Paris and Brussels.
Standing alongside the Belgian Prime Minister, Charles Michel, he expressed condolences for the victims and solidarity with Belgium, declaring "Je suis Bruxellois".
The Western alliance would continue its fight to destroy IS, Mr Kerry said.
"We will not be intimidated. We will not be deterred."
The arrests in Brussels were made late on Thursday, and followed house-to-house searches. Residents said they heard explosions during the police raids.
Belgian media reports on Friday suggest a seventh arrest has also been made in the Forest district of Brussels.
Also on Thursday evening, French police launched an anti-terrorism operation in Argenteuil, north-west of Paris, following the arrest hours earlier of a man suspected of planning an attack.
Interior Minister Bernard Cazeneuve said the suspected militant, a French national, was in an "advanced stage" of a plot.
The suspect, named as Reda Kriket, 34, was convicted in his absence by a Brussels court last year for recruiting IS members to go to Syria, officials say.
He was sentenced along with Abdelhamid Abaaoud, considered the main organiser of the Paris attacks and killed in a police raid in Paris days later.
Last November, 130 people died after militants opened fire and detonated bombs in a number of locations in the French capital.
Two suspects have also been arrested in north-western Germany in connection with the Brussels investigation, Der Spiegel is reporting.
One, called Samir E, was reportedly detained on Thursday afternoon in the Dusseldorf area and has links with the Brussels metro bomber, Khalid el-Bakraoui.
Another suspect, detained in the Giessen area on Wednesday, had suspicious text messages on his phone on the day of the Brussels bombings.
One, according to Der Spiegel, contained el-Bakraoui's name; the other contained merely the word "end", or "fin" in French.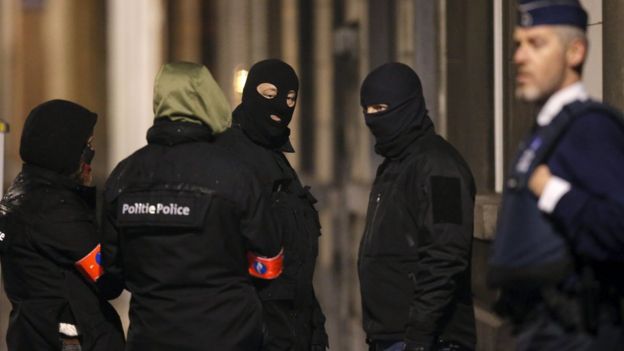 Jump media playerMedia player helpOut of media player. Press enter to return or tab to continue.
Media captionThe hunt continues for the airport suspect dressed in white, whose identity remains unknown
More details of those killed in the Brussels attacks continue to emerge. Nationals of 40 countries were caught up in the attacks.
Turkey has said it arrested and deported Brahim el-Bakraoui last June, warning Belgium he was a "foreign fighter" - but the message was "ignored". The Dutch authorities had also been alerted, Ankara said.
The Belgian interior and justice ministers said they had offered to resign over this but added that the prime minister refused to let them.
Brahim el-Bakraoui is one of three men - pictured in the middle on a CCTV image of them - who carried out the bombings at Zaventem airport that killed 11 people.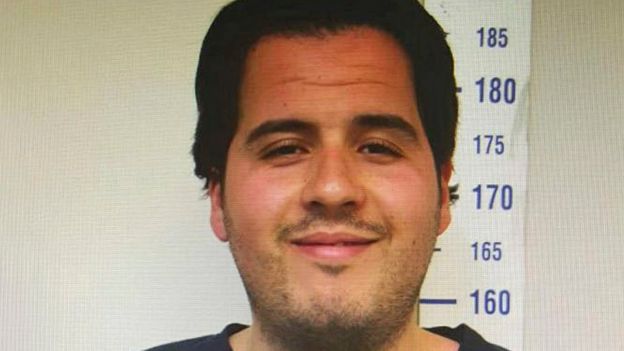 Unconfirmed reports say another of the Brussels airport attackers was the wanted jihadist Najim Laachraoui, whose DNA was found on explosives linked to the attacks in Paris.
The third suspected airport attacker has not yet been identified and is on the run.
Bakraoui's brother, Khalid, struck at Maelbeek metro station, where 20 people died.
There are reports of a second suspect being sought for that attack. One source told AFP news agency that a man with a large bag had been seen beside Khalid el-Bakraoui on surveillance footage at the metro station.
Meanwhile, the Flemish-language public broadcaster VRT reported that investigators were working on the assumption that the cell had been planning a far bigger attack, involving Paris-style shootings as well as suicide bombings.
Jump media playerMedia player helpOut of media player. Press enter to return or tab to continue.
Media captionHow Belgians feel about the attacks, in five words
Links have also emerged with Salah Abdeslam, a suspect in the Paris attacks.
Abdeslam was arrested and wounded in a police raid on a flat in Brussels last Friday - four days before the attacks in the Belgian capital.
Investigators say Khalid el-Bakraoui used a false name to rent the same flat.
Abdeslam, a 26-year-old French national born in Belgium, did not have prior knowledge of the Brussels bombings and had stopped co-operating with police following the attacks, his lawyer Sven Mary said.
The director of the EU's police agency, Europol, has told the BBC the network of jihadists in Europe is "more extensive than perhaps we first feared".
Robert Wainwright said there were concerns about "a community of 5,000 suspects that have been radicalised in Europe, that have travelled to Syria and Iraq for conflict experience, some of whom - not all - have since come back to Europe".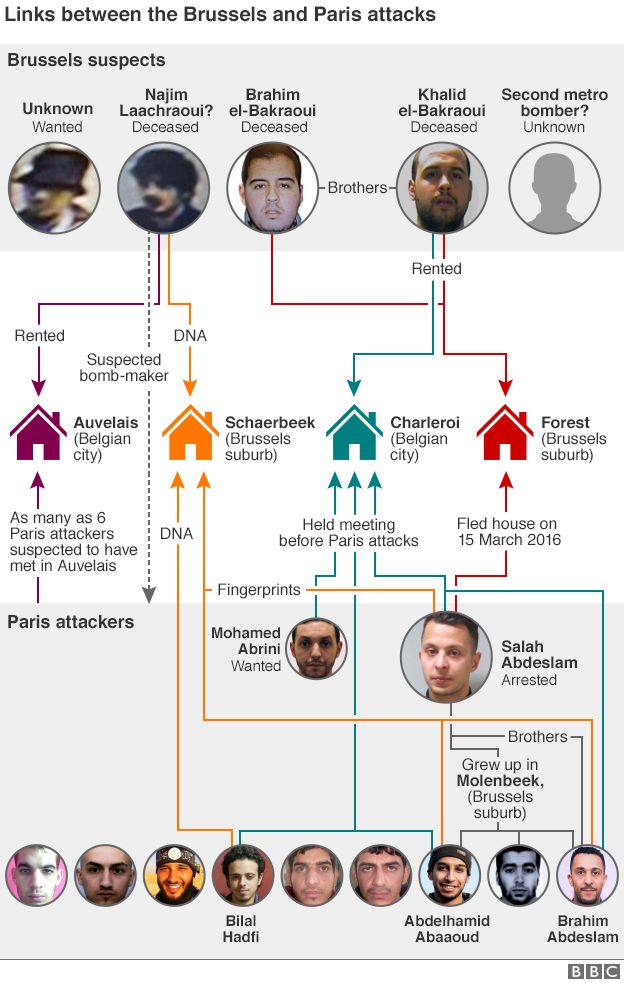 Brussels terror attacks: Why bomb blasts are more deadly in closed spaces
More than 30 people were killed in the Brussels bombings that targeted an airport and a metro station on Tuesday. With more than half of the casualties resulting from the Maelbeek station attack, it seems bombs detonated in a closed space could be more lethal.
A primer on bombings and blast injuries published in the American Medical Journal of Clinical Medicine explains that when a bomb detonates, it produces a high-energy pressure wave. In open air, blast waves last less than 10 milliseconds, according to the National Center for Biotechnology Information. In an enclosed space, however, hard surfaces reflect the waves — magnifying their effect. The extreme pressure results in primary injuries, which damage the ears, lungs, and other gas-filled or hollow organs.
Secondary injuries are caused by flying projectiles, which could include any object on site, as well as bomb fragments, shrapnel, and debris.
The suspect that French authorities detained in a counter-extremism raid in northwest Paris on Thursday was convicted in absentia alongside Paris attacks ringleader Abdelhamid Abaaoud in 2015, according to officials.
The man arrested in the Paris suburb of Argenteuil, identified as 34-year-old French national Reda Kriket, had been wanted since January on suspicion of links to extremism. Authorities discovered explosives during the arrest raid.
He had links to Abaaoud and was convicted in July 2015 for being part of a network that recruited jihadis to travel to Syria, Belgian officials told the Associated Press and police sources told AFP news agency.
French Interior Minister Bernard Cazeneuve said that Kriket was in the "advanced stages" of an extremist plot to carry out an attack on French soil and was "involved in the plan at a high level."
The interior minister added: "He belongs to a terrorist network that sought to strike our country."
He called it a "major arrest" but said that "at this stage" there was no evidence that the plot was connected to events in Paris on November 13 or Belgium on March 22. Kriket had been under surveillance "for several weeks" and the arrest was borne out of "close and constant cooperation between European services," he said.
French security services killed Belgian national of Moroccan descent Abaaoud in a shootout at a Saint-Denis apartment in the days following the coordinated suicide bombing and shooting attacks that left 130 people dead in the French capital.
He took part in the attacks on a cafe and restaurant in Paris and was implicated in four of the six plots French security services foiled on French soil since the beginning of 2015. He was raised in the same Molenbeek neighbourhood of Brussels as that of lone Paris attacks survivor Salah Abdeslam.
How Belgium's Bumbling Bureaucrats Boosted Europe's Terror Threat. As the world sends its sympathy to the victims of the recent terror attacks in Brussels, the most fervent prayer to be uttered for Belgium itself is that it finally wakes up. The incompetent Belgian government, its bureaucratic law enforcement agencies and its half-hearted intelligence services deserve as much blame for the slaughter as the murderers.
For more than a decade, the bumblers in Belgium have stood by as terrorist hotbeds emerged in their midst. Speaking to Newsweek on condition of anonymity, frustrated intelligence officers in other European countries slammed the Belgians, saying that they have failed to do the basic legwork to detect terrorist cells in neighborhoods around Brussels, with their efforts instead focused on groups that all but announce themselves, such as Sharia4Belgium, whose leaders were prosecuted last year. Belgian law enforcement has few contacts or informants in the areas around Brussels where terrorists live. Only in the last few months has Belgium started pumping greater funding to intelligence efforts and to recruiting more personnel.
Belgium's lackadaisical approach to Islamic terrorist cells has placed much of the continent in danger, which is why government officials from the European Union and the United States have been quietly pressing its leaders to shape up, intelligence officials say. The terrorists who have set up shop in Brussels are only a short drive from Paris, Strasbourg, Amsterdam, Berlin, Cologne, Frankfurt and Berlin. Few in the intelligence community were surprised to discover that the November terrorist attacks in Paris were organized in Belgium, led by a Belgian named Abdelhamid Abaaoud, and included a suicide bomber and shooter from Belgium. That attack was the deadliest in the European Union since the 2004 Madrid train bombings, whose perpetrators included Belgians in a terrorist cell that was part of the Groupe Islamique Marocain Combattant.
The Belgian connection to Islamic terror turns up again and again. The murder of Ahmed Shah Masoud, leader of the Northern Alliance and a Western ally who would have been capable of striking back at al Qaeda after the attacks of 9/11, was murdered days earlier by men who had conspired in Brussels. In 2005, a Belgian named Muriel Degauque blew herself up in an attack in Iraq, making her the first known female suicide bomber from the West. Amedy Coulibaly, a French Muslim who went on a shooting spree in Paris after the Charlie Hebdo attacks, obtained the Škorpion vz. 61 submachine gun, vz. 58 assault rifle and Tokarev pistols he used from criminals in Belgium, where intelligence officers say it is relatively easy to buy illegal weapons.
How is it that one comparatively tiny European country – which also has the highest per capita number of Muslims who have traveled to Syria to fight with ISIS – is tied to so many major terrorist operations? The disheartening answer is that through inefficiency and ineptitude, the Belgian government has allowed the nation to become a terrorist breeding ground.
Belgium is a federal state and a bilingual country, which has contributed to a paralytic incompetence of its government. Officials who speak French distrust those who speak Flemish. This leaves the Dutch-speaking areas of the north in frequent, disorganized conflict with the French speakers in the south that creates patchwork layers of bureaucracy and competing police agencies that undermine law enforcement and security efforts. (The capital of Brussels has six different police agencies.) Because of this extreme decentralization, Belgian investigators are renowned for not communicating with colleagues in other agencies and locations. Such disorganization allows terrorists to organize without detection.
If members of a terrorist cell in Brussels drove about an hour northeast and set themselves up in the Netherlands, they would face an organized counterterrorism effort involving the national intelligence services, national police, military and financial analysts who all work together and share information through a government agency called the Counterterrorism Information Center.
The lack of cooperation in Belgium extends to its allies as well. An American intelligence officer who spoke on condition of anonymity told Newsweek that it is not only difficult to obtain cooperation from the Belgians, often it is a battle to even figure out which of the many agencies at odds with each other actually has the information being sought. Indeed, in what this officer described as a result of misplaced pride or embarrassment, the Belgians refused to meet with American government officials seeking information about the investigation in Brussels in the aftermath of the Paris attacks.
This operational blundering and non-cooperation contributed to the success of the attacks in Brussels. Belgian officials acknowledged that they should have acted on an alert that a criminal from their country had been arrested in Turkey on suspicion of terrorist activity. Whichever agency or division of the government received the warning did nothing, and that criminal was one of the suicide bombers in Brussels. That man's brother, also one of the suicide bombers, had been wanted for months in connection with the Paris attacks, but Belgian law enforcement never found him.
The vast majority of the areas in Belgium where the terrorists conspire are in the semi-circle of deprived inner-city neighborhoods around Brussels known as the croissant pauvre, or poor crescent, including Schaerbeek, where Salah Abdeslam, one of the plotters of the Paris attack, maintained a safe house. The worst of these locations, Molenbeek, a neighborhood of about 100,000 people northwest of the center of Brussels, has been all but surrendered to Muslim gangsters. (One of the cars used for the November attack in France contained a parking ticket from Molenbeek.) That community has a large Islamic population and brutal unemployment, but also a burgeoning middle-class and commercial area.
Peaceful Muslims in Molenbeek who speak to journalists, much less law enforcement, are subjected to the same kinds of threats to them and their families that turn up in gang-infested neighborhoods in the United States. Not that anyone needs threats to keep quiet; talking to the police can be pointless. Law enforcement even shrugs when evidence of potential terrorists comes in over the transom; one Molenbeek mother interviewed by CNN who attempted to turn in her son to the police before he traveled to Syria to join ISIS says law enforcement simply showed her the door, mumbling they were powerless to do anything. That man, who easily could have returned to join in a terrorist attack, was killed in Syria.
After the Paris attacks, Belgian officials finally began to publicly acknowledge that they had been ignoring the festering danger in Molenbeek. Belgium's interior minister, Jan Jambon, said in November that "we don't have control of the situation in Molenbeek at present" and added that authorities needed to "clean up" the area. The failure to have a handle on the situation in Molenbeek was not the result of bad planning, but dereliction. "I see [Islamic terrorism] is almost always related to Molenbeek,'' said the country's Prime Minister, Charles Michel, shortly after the Paris attacks. "It was a form of laxity, to allow this. We are paying the bill for past laxity."
These belated admissions of government negligence – something experts say persists even in the aftermath of Paris – are greeted with eye-rolling disgust by intelligence agencies that have been trying for years to prod Belgium to act.
"Belgians have been counting on these guys knowing not to shit where they eat,'' one American intelligence official says. "The government could be comfortable bickering among themselves so long as the bad guys drove to other countries to blow up their bombs. Maybe now they'll figure out it isn't a strategy to just hope only people in other places get killed."
Terrorism Expert: ISIS Is "Probably Cutting Videos" of Donald Trump's Response to Belgium Attacks.
Donald Trump wasted no time in backing torture (again) after this morning's terrorist attacks in Brussels.
"Waterboarding would be fine" for Salah Abdeslam, one of the alleged participants in the massacre in Paris last November, Trump said on the Today Show. He's previously said he'd like to do "a hell of a lot worse" than waterboarding to terrorism suspects, and on Tuesday he repeated his call to change the laws to allow further acts of torture: "If they could expand the laws, I would do a lot more than waterboarding. You have to get the information from these people."
But terrorism expert Malcolm Nance, the head of the Terrorism Asymmetrics Project and a veteran of Navy intelligence, took Trump to task for doing the propaganda work of ISIS.
"Good God, they're probably cutting videos of this right now," Nance said on MSNBC about Trump's comments. "Donald Trump right now is validating the cartoonish view that they tell their operatives…that America is a racist nation, xenophobic, anti-Muslim, and that that's why you must carry out terrorist attacks against them…It's irresponsible and it needs to stop."
Republican Candidates Have 3 Very Different Responses to Brussels Terror Attacks.
The three Republican presidential candidates had three very different takes Tuesday morning on how the United States should respond to the terror attacks in Brussels.
Donald Trump appeared on Fox and Friends, where he again called to "close up our borders."
"It's going to get worse and worse because we are foolish, we are foolish," Trump said. "We can't allow these people, at this point, to come into the US."
Ted Cruz repeated his campaign refrain to name and declare war on the enemy: "radical Islamic terrorists."
We will name our enemy -- radical Islamic terrorism. And we will defeat it.
"This is a war," Cruz says in hastily arranged presser, calls for U.S. to use "full force and fury" against ISIS
Later Tuesday morning, Cruz held a press conference, where he escalated his response, calling for the United States to use its "full force and fury" against ISIS.
"This is a war," Cruz says in hastily arranged presser, calls for U.S. to use "full force and fury" against ISIS
Cruz this morning (1/2): "In the wake of Brussels, we don't need another lecture from Obama on Islamophobia…"
(2/2) "…we need to immediately halt the President's ill-advised plan to bring in tens of thousands of Syrian Muslim refugees."
John Kasich struck a very different tone, calling to strengthen America's alliances:
We must strengthen our alliances to root out evil. Not dismantle them.
#Brussels
CNN/ORC poll: Clinton tops Trump on presidential traits.
If Hillary Clinton and Donald Trump, the respective front-runners in the race for the Democratic and Republican nominations for president, wind up leading their respective parties into the general, voters nationwide think Clinton would most likely win in the November election, according to a new CNN/ORC Poll.
The poll also finds Clinton would start the general election contest with an edge over Trump on several potential presidential qualifications, with the former secretary of state widely seen as better able to handle the responsibilities of being commander in chief, more in touch with the middle class and more often aligned with Americans' views on important issues.
Hillary Clinton on Donald Trump: America needs 'steady hands'
Overall, 56% say they think Clinton would win a match-up between the two leading candidates in November while 42% say Trump would take it. Democratic voters are more convinced that Clinton would win (87% say she would) than Republicans are about Trump (75% say he would win), and Republican voters who aren't currently backing Trump are particularly skeptical of his chances. Among that group, 40% say Clinton would win, 57% Trump, vs. 92% of Trump supporters who think he would win in November.
The complete CNN/ORC poll results
An earlier release from the same survey found Clinton ahead of Trump in a hypothetical general election match-up, 53% to 41% among registered voters.
There are steep divides on each of these questions by gender, race and education, with women, non-whites and those with college degrees more apt to choose Clinton in each positive statement tested, but little of the age gap that defined the presidential elections that brought Barack Obama to the presidency and is currently prevalent in the Democratic nomination fight.
The poll also finds some doubts about the front-runners. Asked whether Trump or Clinton is better described as "a person you admire," Clinton has a 15-point lead over Trump, yet nearly one-quarter of voters say they admire neither candidate.
And 17% say neither is honest and trustworthy, though Clinton has a 5-point edge there among those who do choose a candidate. Asked who would be more likely to change their position on issues for political reasons, 47% say Clinton, 42% Trump, 6% say both do, but the share offering that neither would do that drops to 3%.
None of the remaining presidential candidates, including Clinton and Trump, is particularly well-liked. Not one of the five are viewed favorably by a majority of voters. Bernie Sanders and John Kasich are the only two with net positive reviews.
Sanders notches the highest overall favorability among registered voters, with 48% viewing him positively vs. 45% unfavorably. That's a steep drop since last month, when 60% of registered voters overall had a positive take on the Vermont senator. Sanders has seen his ratings slip among registered Democrats and Republicans during that time, and independents' impressions of him are now evenly divided.
Both of the two front-runners -- Clinton and Trump -- are viewed unfavorably by a majority of registered voters nationwide, with 57% having a negative take on Clinton and 65% on Trump. Most say they have an unfavorable take on Texas Sen. Ted Cruz as well, 56% say so. Views of Kasich divide 43% favorable to 32% unfavorable, with 25% unsure about the Ohio governor.
Within their own parties, the candidates are generally more highly regarded. Among Democrats, 73% have a positive take on Clinton, 71% Sanders. Among Republicans, 63% see Trump favorably, 60% Cruz and 49% Kasich (that's down 10 points since February).
The Republican Party's unfavorable rating is at its highest level since the partial government shutdown in 2013, when it notched its worst ratings in CNN/ORC and CNN/Gallup polling dating back to 1992. Just 34% of adults in the new poll have a positive view of the party, 61% negative. Among registered Republicans, the view is rosier, 66% have a favorable impression, but that's still down from 73% favorable in January.
More have a positive take on the Democrats, 50% overall, with 45% saying they have an unfavorable view. That's up slightly since January, when 45% had a positive view.
The CNN/ORC poll was conducted by telephone March 17-20 among 1,001 randomly selected adult Americans, including 925 registered voters. The results for the full sample have a margin of sampling error of plus or minus 3 percentage points, and it is larger for subgroups.
Can you guess whose campaign logo this is?
Cruz on Trump's attacks on his wife: 'Leave Heidi the hell alone'. An angry and emotional Ted Cruz on Thursday ripped into Donald Trump for his attacks on Cruz's wife, Heidi, and repeatedly declined to say whether he would support Trump if he's the Republican presidential nominee.
"Donald, you're a sniveling coward and leave Heidi the hell alone," Cruz told reporters after a factory tour in Dane, Wisconsin, pointing his finger at the cameras for emphasis.
Asked then multiple times if he could still support Trump in November as the Republican nominee given his most recent comments, a fired-up Cruz paused for a few beats before not directly answering whether he would.
"I'm going to beat Donald for the nomination," Cruz responded, before saying three times: "Donald Trump will not be the nominee."
Even as tensions escalated between the two, Cruz has insisted that he would back Trump if he won the nomination because he pledged he would do so at the outset of the Republican race. Cruz spent much of the campaign praising Trump, at one point calling him "fantastic."
The already fractious relationship turned nasty this week when Trump inserted Heidi Cruz into the race with a tweet Tuesday night that the Texas senator should "be careful" or he would "spill the beans on your wife." That was a response to a Facebook advertisement targeted to Mormons that shows Trump's wife, Melania, posing nude -- an ad was produced by an anti-Trump super PAC, Make America Awesome, which has no known connection to the Cruz campaign.
Trump then followed that up with a retweet on Wednesday night seemingly digging at Heidi Cruz's physical appearance. And he showed no signs after Cruz's rebuke that he would back down, telling his followers early Thursday evening that Cruz was responsible for the altercation.
"I didn't start the fight with Lyin'Ted Cruz over the GQ cover pic of Melania, he did. He knew the PAC was putting it out - hence, Lyin' Ted!" he tweeted.
I didn't start the fight with Lyin'Ted Cruz over the GQ cover pic of Melania, he did. He knew the PAC was putting it out - hence, Lyin' Ted
Cruz on Thursday attributed Trump's tweets to a broader discomfort with women, tying in his well-publicized feud with Fox News host Megyn Kelly. Heidi Cruz is a senior executive at Goldman Sachs.
"Donald does seem to have an issue with women. Donald doesn't like strong women," he said, at one point deeming the billionaire a "loud, New York bully."
"Real men don't try to bully women. That's not an action of strength. That's an action of weakness. It's an action of fear. It's an action of a small and petty man who is intimidated by strong women."
CNN's Betsy Klein contributed to this report.
Garry Shandling dead at 66
.
Comedian Garry Shandling died at an L.A. area hospital on Thursday ... TMZ has learned.
The 66-year-old star was not suffering from any illness ... as far as we know ... so, it appears this was sudden. A source connected to Shandling says he was healthy and speaking to people on Thursday morning.
Our source says there was a 911 call from "The Larry Sanders Show" star's home, and he was transported to the hospital. We're told Shandling was alive when he arrived at the hospital.
0324-garry-shandling-twitter-01Last weekend, Shandling was hanging with friends Kathy Griffin and Bob Odenkirk ... who also co-starred with Garry on 'Larry Sanders.'
Don Lichterman: Tonight on S2e TV

| | |
| --- | --- |
| | donlichterman­.blogspot­.fr - Top U.S. & World Headlines — March 24, 2016 WATCH: Grammy-winning Band La Santa Cecilia Performs & Discusses the Message Behind Their Music WATCH: Grammy-winning Band La Santa Cecilia Performs & Di... |

The beat goes on: why clubbing in Britain isn't over

| | |
| --- | --- |
| | www­.theguardian­.com - Back in the day – I mean, back before indie, house, hip-hop or Motown – the first humans would roll away their stones, leave their caves and party. Close to a roaring fire and under the stars – the... |
Don Lichterman: Good morning everyone! Happy Thursday to you!
| | |
| --- | --- |
| | donlichterman­.blogspot­.fr - Joining today's show are Nicolle Wallace, Steve Rattner, Richard Haass, Mark Halperin, Michael Steele, Elise Jordan, Walter Isaacson, Mike Barnicle, Robert Costa, Steve Kornacki, Sen. Lindsey Graha... |