Joining today's show are
Nicolle Wallace, Steve Rattner, Donny Deutsch, Ari Melber, Mike Allen, Andrea Mitchell, Howard Dean, Hallie Jackson, Lisa Boothe, Rep. Steve Israel, Sen. Amy Klobuchar, Anand Giridharadas, Christopher Ruddy, Sara Eisen, Dr. Ezekiel Emanuel, Dr. Dave Campbell and more...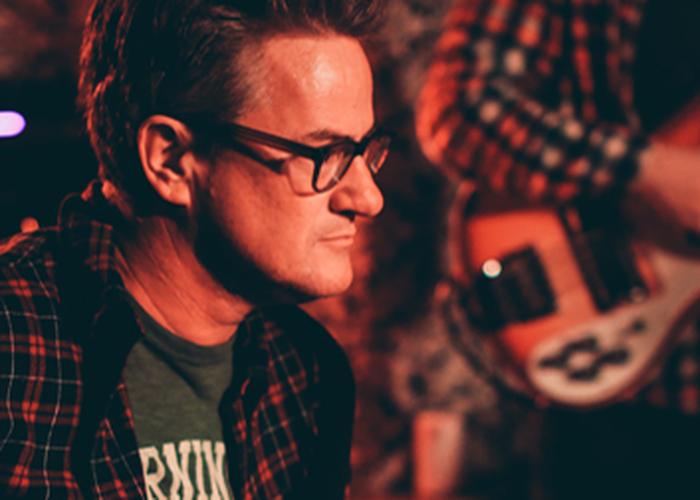 First off, Joe plays at SXSW two times this weekend (Tonight and tomorrow night at 8PM).
Joe Scarborough has been a teacher, football coach, congressman, lawyer, news host, best-selling author, but he's finally doing what he loves the most…his music! Joe has spent the past year recording his latest songs with styles that echo Beck, Gram Parsons & His Idols, The Beatles. But 30 years & hundreds of songs later, the sound is distinctly "Joe."
http://joescarborough.com/music/
THE SHOW AT ST DAVID'S HISTORIC SANCTUARY ON SATURDAY, MARCH 19
⋆
8:00PM Joe Scarborough Band
⋆
9:00PM Overcoats
⋆
10:00PM Deer Vibes
⋆
11:00PM Parker Millsap
⋆
12:00AM Wild Child
Then, in political news, conservatives pin hopes on convention fight to stop Donald Trump. Prominent conservatives led by Erick Erickson on Thursday called for a unity ticket and a convention fight to stop Republican front-runner Donald Trump, a sign of the growing desperation in the party establishment to find an alternative to the billionaire businessman.
"If that unity ticket is unable to get 1,237 delegates prior to the convention, we recognize that it took Abraham Lincoln three ballots at the Republican convention in 1860 to become the party's nominee and if it is good enough for Lincoln, that process should be good enough for all the candidates without threats of riots," Erickson wrote in a statement after conservatives gathered in Washington to discuss ways to thwart Trump's march to the nomination.
The long and contentious meeting at the Army Navy Club included discussion about a unity ticket involving Texas Sen. Ted Cruz and Ohio Gov. John Kasich, according to a source familiar with the conversation. But the group decided not to commit to that pairing "because of the egos involved," according to the source.
What is a brokered convention?
Around the time the meeting broke up, Florida Sen. Marco Rubio made his first public statements on Capitol Hill after dropping his presidential bid on Tuesday.
"Hopefully there's time to still prevent a Trump nomination, which I think would fracture the party and be damaging to the conservative movement," Rubio said.
Donald Trump's dominance -- and the late establishment effort to stop it
Trump dominated primary contests on Tuesday and has the lead in the delegate count. But his loss in Ohio raises the prospect that he won't secure enough delegates to win the nomination outright before the party's July convention in Cleveland.
Trump's rise has long worried many in the party. But recent incidents of violence and Trump's comment to CNN's "New Day" on Wednesday that riots might erupt in the event of a contested convention have escalated those concerns.
Erickson said his group is "committed to ensuring a real conservative candidate is elected."
"We believe that neither Hillary Clinton nor Donald Trump, a Hillary Clinton donor, is that person," he wrote.
The group left the door open to potentially supporting a third party race if Republicans are unable to stop Trump.
"We intend to keep our options open as to other avenues to oppose Donald Trump," the statement said. "Our multiple decades of work in the conservative movement for free markets, limited government, national defense, religious liberty, life, and marriage are about ideas, not necessarily parties."
Speaker Paul Ryan slams Donald Trump's riots comments
Rep. Trent Franks, a member of the House Freedom Caucus, attended the meeting briefly. So did conservative leader Bill Wichterman.
There was discussion that if Trump became GOP nominee, then "the GOP ceases to be a party for traditional conservatives, who must go elsewhere," according to the source familiar with the discussion. The thought process at this session was to work with "an existing third party instead of trying for ballot access."
That would probably be the existing Libertarian or Constitution parties.
Not all the attendees appeared to be giving up on Trump's existing challengers.
"I'm there to support Ted Cruz," said Mike Farris, a Republican lawyer. "There's a lot of Cruz support."
Another participant, Deborah DeMoss Fonseca, likened the Trump phenomenon to a "1,000 year flood."
"It happens once every 1,000 years and you don't know how to handle it," she said. "So I think people have been experimenting with different things to see what would work."
Paul Ryan slams door on potential 2016 GOP nomination
. House Speaker Paul Ryan slammed the door shut Wednesday on accepting the Republican presidential nomination, should it be offered to him at a contested Republican convention in July.
"The speaker is grateful for the support, but he is not interested. He will not accept a nomination and believes our nominee should be someone who ran this year," Ryan spokeswoman AshLee Strong said.
Ryan has consistently said he does not want to be his party's nominee for president. But former House Speaker John Boehner told a conference of futures trading executives Wednesday that Ryan should be the party's pick if no one was selected on the first ballot at the convention.
Ryan was also forced to beat back efforts to recruit him to run earlier this month.
However, Ryan ruled out running for speaker last year before being lobbied heavily by his colleagues and, ultimately, stepping forward as a consensus candidate to replace Boehner.
The GOP field is currently led by billionaire Donald Trump, who has dominated contests across the country and tallied 640 delegates out of the 1,237 needed to clinch the nomination. His closest competitor is Texas Sen. Ted Cruz, who has won 405 delegates.
A brokered or contested convention could occur if no one reaches the magic number.
Both Trump and Cruz warned fellow Republicans Wednesday of dire consequences if the GOP establishment attempts to have a brokered convention this summer.
"I think you'd have riots. I think you'd have riots," Trump said Wednesday on CNN's "New Day." "I'm representing a tremendous many, many millions of people."
Cruz said party leaders getting behind a brokered convention would be disastrous.
What is a 'brokered convention'? Here is a (kind of) simple explanation
"I think that would be an absolute disaster. I think the people would quite rightly revolt. The way to beat Donald Trump is at the ballot box," the Texas senator said on "New Day."
"If it ends up happening that we get to Cleveland and nobody has 1,237 delegates, that Donald has a whole bunch of delegates and I have a whole bunch of delegates and we come in neck and neck, then it is up to delegates to decide," he added.
Republican National Committee Communications Director Sean Spicer said Wednesday that a chance for a brokered convention still remains.
CNN's Eugene Scott contributed to this report.
US election: Trump warns of riots if not nominated
Presidential frontrunner Trump says there will likely be a violent backlash if Republican party blocks his nomination.
Republican presidential frontrunner Donald Trump has said that his supporters would likely riot if his party denies his nomination at the July convention.
In an interview with CNN on Wednesday after a string of primary election victories, Trump warned that there could be a major uproar if he falls just short in the delegate count and loses in a rules fight.
Trump might fall short of the majority required, enabling the party establishment to put forward another name at the convention in Cleveland to formally pick its candidate.
"I don't think you can say that we don't get it automatically. I think you'd have riots. I think you'd have riots. I'm representing many, many milions of people," he said.
"If you just disenfranchise these people, I think you would have problems like you've never seen before."
After scoring big wins in Florida, Illinois and North Carolina, Trump is now the only candidate with a path to clinching the Republican nomination before the party's convention in July. But he still must do better in forthcoming contests to get the necessary 1,237 delegates, leaving some opponents with a sliver of hope that he can still be stopped.
'Trump a global risk'
Meanwhile, the Economist Intelligence Unit, a British research organisation, has warned that if elected, Trump's presidency could have damaging impacts on the economy, trade, and fuel terrorist attacks.
Trump was ranked as one of the top 10 global risks in an updated list on Wednesday.
"In the event of a Trump victory, his hostile attitude to free trade, and alienation of Mexico and China in particular, could escalate rapidly into a trade war," the organisation said.
"His militaristic tendencies towards the Middle East (and ban on all Muslim travel to the US) would be a potent recruitment tool for jihadi groups, increasing their threat both within the region and beyond."
Fox cancels debate
Trump's decision to withdraw from the next Republican debate scheduled for Monday in Utah has forced Fox News to cancel the event after presidential rival John Kasich said he would not participate in it without the frontrunner on stage.
Trump told Fox News, which hosts the party's debates, in an interview on Wednesday that he would not appear at the event because he thought the Republicans had "had enough debates".
The billionaire had also skipped a Fox News debate in Iowa in January amid complaints that he had been mistreated by the network.
He has long clashed with anchor Megyn Kelly and revived criticism of her on Tuesday, calling her on Twitter "crazy" and "unwatchable".
The Iowa debate went on as scheduled, despite Trump's decision to host a rally at the same time.
President Barack Obama is urging Democratic donors against supporting Bernie Sanders for the party's nomination, telling them that the time has come to unite behind Hillary Clinton, two senior Democrats confirmed to POLITICO.
The New York Times first reported Thursday on Obama's private meeting last week with Democratic National Committee donors in Austin, Texas, where the president acknowledged the shortcomings of his 2008 primary rival.
Although Obama did not call on Sanders to drop out of the race and did not explicitly endorse Clinton, according to the Times' report, those in attendance told the newspaper that the president's tone suggested urgency. And the Times also confirmed that Obama acknowledged that many Democrats were not "excited" about her candidacy.
White House press secretary Josh Earnest said during Thursday's news briefing that he was at the fundraiser when the conversation happened and did not deny the story.
"What I'll just say in general is that President Obama made the case that would be familiar to all of you, which is that as Democrats through this competitive primary process, we need to be mindful of the fact that our success in November in electing a Democratic president will depend on the commitment and ability of the Democratic Party to come together behind our nominee, and the president did not indicate or specify a preference in the race," Earnest said.
"In fact, the president pointed out something that he's pointed out to all of you, which is that both of the Democrats who are running, because they have demonstrated an understanding and a commitment to building on the progress that we've made thus far, will be far better presidents than anybody that's been put up on the Republican side," he said.
Obama's private remarks echo those he made publicly in an interview with POLITICO in January, when he declined to discuss specific differences between the two Democratic candidates but seemed to be leaning toward Clinton. "[The] one thing everybody understands is that this job right here, you don't have the luxury of just focusing on one thing," he told POLITICO's Glenn Thrush — a comment many interpreted as a swipe at Sanders and his intense focus on inequality and Wall Street greed.
Glenn Thrush contributed to this report.
Question to Elizabeth Warren over Hillary Clinton's speech transcripts leads to tense exchange.
The content of Hillary Clinton's past paid speeches to Wall Street firms has become the issue du jour in the Democratic primary.
Despite calls from her opponent, Vermont Sen. Bernie Sanders, as well as The New York Times , for Clinton to release the transcripts of the speeches, the former secretary of state has steadfastly refused.
So why not ask Massachusetts Sen. Elizabeth Warren, who has avoided inserting herself into her party's primary, what she thinks of the issue?
In an interview Thursday regarding the recent Supreme Court nominee, CBS reporter Norah O'Donnell acknowledged Warren's hands-off approach to the primary, but asked the senator about Clinton's transcripts anyway.
"You know your lack of an endorsement at this stage has raised some questions. Let me ask you this—do you believe that Sen. Clinton should release the transcripts of her speeches to Goldman Sachs?" O'Donnell asked.
Seen as one of Democrat's leading voices on Wall Street policy, the Massachusetts Democrat deflected the question.
"I think that our candidates are out doing what they should do in a primary: They are debating the issues," Warren said.
"You're not answering my question, Senator," O'Donnell cut in.
"What I'm doing is I'm telling you what I think should be going on right now in this election," Warren said.
"It's a yes or no question," O'Donnell responded. "Should she release the transcripts or no."
But the reporter was not getting a yes or no answer from Warren.
"What I told you is that the primaries are doing exactly should be doing, and the candidates are being tested," she said.
Pressed on the speeches, Clinton has said she would release her transcripts when every other candidate does the same. In turn, Sanders has said he would release his transcript, except that he hasn't made any speeches to Wall Street.
According to the Times, Clinton accepted $675,000 for three speeches to Goldman Sachs, and has earned $11 million for 51 speeches from 2014 through the first quarter of 2015.
Having made no progress on that front with Warren, the CBS This Morning roundtable turned to another topic the senator has worked to avoid: What would it take for her to endorse a Democratic candidate?
As in her previous responses to that question, Warren made no preference toward either candidate, but praised them both for talking about the issues.
"It makes it very distinct between what's happen on our side and what's happening on the other side," Warren said, referring to the Republican candidates. "They're doing some kind of reality show."
House Speaker Paul Ryan said Thursday it's looking "more likely" the Republican Party will face an open convention in July – meaning, a floor fight to pick a nominee – and that Donald Trump and the party might want to accept that "reality."
Ryan discussed the possibility with reporters as he noted he's the chairman of the convention and will have to "bone up on all the rules." He openly acknowledged that – even as Trump puts away another round of primary victories – a convention where no candidate has reached the necessary 1,237 delegates could actually happen this year.
"Nothing has changed other than the perception that this is more likely to become an open convention than we thought before," Ryan said. "So, we're getting our minds around the idea that this could very well become a reality, and therefore those of us who are involved in the convention need to respect that."
He said his role as speaker is to be "dispassionate and to be Switzerland," and ensure that delegates abide by the rules in making their decisions.
Ryan also tried to tamp down speculation he might be put forward as an eleventh-hour alternative to front-runner Trump. This, after ex-Speaker John Boehner made an off-the-cuff comment that he'd back Ryan if Republicans are stymied on choosing one of the three remaining candidates.
Ryan said Thursday he's essentially told Boehner to "knock it off."
"It's not going to be me. It should be somebody running for president," Ryan told reporters.
Trump, with each set of wins, has tried to look ahead to the general election contest, which he presumes will be against Hillary Clinton. He declared once again Tuesday that he would win the nomination.
But speculation swirls over the possibility that Trump might not clinch the nomination before July.
Meanwhile, Capitol Hill leaders once again found themselves debating Trump's candidacy Thursday.
On the Democratic side, Senate Minority Leader Harry Reid, D-Nev., accused Republicans of fostering the conditions for years that allowed Trump's candidacy to thrive. Reid said if Majority Leader Mitch McConnell wonders where Trump came from, "He should take a look in the mirror."
He said the anti-Muslim rhetoric on the right "spawned Donald Trump," as did "anti-Latino" sentiments.
"The Republican Party has become without question the party of Trump," Reid said.
Ryan said Thursday he doesn't think he'll have to denounce Trump's campaign overall based on his rhetoric.
But he did scold Trump over a comment that there could be "riots" if he doesn't win at the convention.
Ryan said to hint at violence is "unacceptable."

Michigan gov, EPA chief face bipartisan blast at heated Flint water hearing.

Everyone is disgusting at the 'grandstanding' if you will at these hearing but fundamentally you all must remember that Jason Chaffetz is a complete asshole.

Why would anyone be surprised at how this went down yesterday?
House lawmakers unleashed their frustration Thursday with state and federal leaders they say are trying to spread -- if not unload -- the blame for the Flint water crisis, as its impoverished community remains without clean running water to this day.
"There are people in Flint, Michigan who are waking up today who cannot use the water. They can't drink the water, they can't take a shower. I can't imagine my family going through that," said Rep. Jason Chaffetz, R-Utah, chairman of House Government Oversight Committee, which held its second hearing on the matter this week.
He spoke as Michigan Gov. Rick Snyder and EPA Administrator Gina McCarthy, the two officials at the center of the controversy, testified and faced a grilling from both sides of the aisle -- even calls for their resignation.
In his opening statement, Snyder said inefficient and ineffective bureaucrats at the EPA, in part, allowed the Flint water crisis to happen and continue.
In her testimony, McCarthy argued Michigan caused the problem, claiming EPA got confusing and inaccurate information from the state.
Both acknowledged some responsibility on their end as well. But lawmakers voiced frustration with the two witnesses.
Chaffetz went so far as to call for McCarthy to resign.
And he said there must be a full accounting of whether the Environmental Protection Agency at the regional level deliberately forestalled action when they knew the water was poisoned, as growing evidence has suggested.
And after Sydner, a Republican, insisted he could not provide specifics about how quickly he responded to the Flint mayor's calls for help in 2015, or whether he knew of the well-publicized health problems there -- including e-coli, Legionnaires disease, and rashes -- Rep. Matt Cartwright, D-PA., appeared to boil over.
"You were not in a medically induced coma for a year," he told Synder, the hearing's audience beginning to chuckle. "I have had enough of your phony contrition … dripping in guilt, withdrawing your paycheck, hiring lawyers. Doing your dead-level best to spread accountability to others. It isn't appropriate."
"Soon we will have husbands beating their wives and saying 'I'm sorry, it is a failure at all levels,'" said Cartwright. "You need to resign, too, governor."
Flint switched its water source from Detroit's water system to the Flint River in 2014 to save money, but the river water was not treated properly and lead from aging pipes leached into Flint homes and businesses. Elevated levels of lead have been found in children's blood. Lead contamination has been linked to learning disabilities and other problems.
Emails, documents and hearings have indicated that the state knew much earlier that there were problems with the water and that pleas from the city that people were getting sick went unanswered. The EPA, which has oversight responsibility under the Clean Water Act, has been cited for not acting sooner and forcing out a whistleblower, EPA Region 5 Manager Miquel Del Toral, who brought the water problems to light as early as February 2015.
Chaffetz displayed, again, a memo by Regional Administrator, Susan Hedman, who resigned amid the growing crisis in January. The memo between EPA officials included one employee saying, "Perhaps she already knows all this but I'm not so sure Flint is the community we want to go out on a limb for." The memo had produced audible gasps from the audience at the earlier hearing this week, and on Tuesday Chaffetz said this was indicative of the callousness with which the people of Flint were being treated.
"It' one of the most offensive and disconcerting things I've seen," he said.
Ranking member Elijah Cummings, D-MI, blasted the governor, raising the specter of lead-poisoned, brain-damaged, children.
"People all around the governor were sounding the alarms, but he either ignored them or didn't hear them," Cummings said, citing emails showing that Snyder's top legal adviser warned in October 2014 that Flint should "get back on the Detroit (water) system" as soon as possible "before this thing gets too far out of control."
The warning came a year before Snyder says he became aware of the lead contamination on Oct. 1, 2015.
"There will be an entire generation of children who suffer from brain damage, learning disabilities and many horrible effects of lead poisoning afflicted upon them by Governor Synder's administration," he said. "They will be sitting in third grade and not able to read the words 'see spot run' and know what it is because there is lead running in their veins."
Rep. John Mica, R-Fla., used his time to go after McCarthy, putting her on the defensive over not holding more people accountable in Region 5, particularly Hedman, who he said was "getting vacation time bonuses while the kids were getting poisoned."
"You never fired anyone," he said. "Mr. Del Toral should get a congressional gold medal."
"They (EPA) didn't act, they gagged Mr. Del Toral," he continued, waving the June 2015 memo Del Toral wrote warning about high lead levels in Flint. "A high school student could take his report and determine these kids were being poisoned."
McCarthy said the state Department of Environmental Quality were the ones to push back on the mounting crisis, had assured the federal agency that the memo was not conclusive at the time, and "slow-walked everything they needed to do, precluding us from jumping in."
"We were strong armed, we were kept at arm's length, we could not do our job effectively," she said, noting that the state people bad mouthed Del Toro and "told everyone outside he was a rogue employee. "Miquel Del Toral is a hero."
For his part, Snyder said he took immediate action after learning that Flint's water was contaminated. He reconnected the city with Detroit's water supply, distributed water filters and began testing residents -- especially children -- for elevated lead levels, Snyder said.
"Not a day or night goes by that this tragedy doesn't weigh on my mind -- the questions I should have asked, the answers I should have demanded," Snyder said.
A state investigation has "uncovered systemic failures" at the state DEQ, Snyder says. "The fact is, bureaucrats created a culture that valued technical compliance over common sense -- and the result was that lead was leaching into residents' water."
In response to the crisis, the state has approved $67 million in emergency spending, with a request for $165 million more, Snyder said. The governor called for Congress to approve a bipartisan bill that would spend $220 million to fix and replace lead-contaminated pipes in Flint and other cities. Senators from both parties have reached a tentative agreement, but the bill remains on hold amid objections by Sens. Mike Lee, R-Utah, and Bill Nelson, D-Fla.
The Associated Press contributed to this report.
Police are investigating after a suspicious letter was sent to the son of Donald Trump at his New York City apartment.
"At approximately 7:15 pm, the NYPD responded to a residential building at 100 Central Park South to investigate a report of a suspicious letter received by a tenant. The letter has been removed and is being examined by law enforcement authorities. No injuries have been reported in connection with this incident," the New York City Police Department told ABC News.
The NYPD told ABC News that it responded to Trump Parc East on Central Park South. It did not confirm that the recipient was Eric Trump.
The Trump Organization source, however, confirmed to ABC News that the letter was sent to Trump's 14th floor apartment.
Also on Thursday, the group "Anonymous" claimed it had hacked Donald Trump. Anonymous released what it claimed was Trump's Social Security number, his cell phone number, as well as his his birth date, children's names, and company address.
Trump's campaign issued a statement to ABC: "The government and law enforcement authorities are seeking the arrest of the people responsible for attempting to illegally hack Mr. Trump's accounts and telephone information."
A government official confirmed to ABC News that federal authorities are investigating.
And, last chances for late weekend winter storm increasing with several inches of snow possible. Spring begins Sunday, but potential exists for winter storm. Spring begins on Sunday, but a winter storm will likely have an impact on southern New England later Sunday and into Monday.
"There is fair agreement among the forecast models that a potent coastal storm will impact southern New England with several inches of snow over some interior locations," said StormTeam 5 chief meteorologist Harvey Leonard.
Low pressure from the Gulf of Mexico will move northward toward the Carolina coast, merging with energy coming across the northern Plains. The storm will intensify quickly Sunday afternoon as it moves toward Nantucket.
There will likely be several impacts from the storm, including strong winds, heavy snow potential, minor coastal flooding, and heavy rainfall for areas closest to where the center of the storm tracks.
The precise track of the storm will be crucial in determining the amount and type of precipitation for any given location.
Quit Comparing Trump to Hitler!

| | |
| --- | --- |
| | www­.politico­.com - It's difficult to say when the Hitler analogies got out of control. Maybe it was when Donald Trump started asking people at his rallies to raise their hands in a loyalty oath, and the photos made i... |

Cruz draws from anti-Islamist fringe

| | |
| --- | --- |
| | www­.politico­.com - Ted Cruz talks with organizer Frank Gaffney after addressing the South Carolina National Security Action Summit on March 14, 2015, in West Columbia, South Carolina. | Getty The senator's foreign-po... |
Don Lichterman: Animal Cruelty Report

| | |
| --- | --- |
| | donlichterman­.blogspot­.com - Make Second-Offense Animal Cruelty a Felony. Target: Chairman of the Senate Agriculture Committee, Senator Jim Rice Goal: Support making second-offense animal cruelty a felony in Idaho. Republican... |

Don Lichterman: On S2e TV!

| | |
| --- | --- |
| | donlichterman­.blogspot­.com - Minty Vegan St. Patrick's Day Shake PETA (People for the Ethical Treatment of Animals) 1 cup fresh spinach 2 cups frozen banana chunks 1 cup raw cashews, soaked for 2 hours and drained 4–5 dried pi... |

Don Lichterman: Help Stop the PennEast Pipeline

| | |
| --- | --- |
| | donlichterman­.blogspot­.com - PennEast Pipeline Company is trying to build a 118-mile pipeline that will carry "fracked" gas from Pennsylvania into Hunterdon and Mercer counties in New Jersey. This project threatens our drinkin... |
Regardless of it all during this long week, please stay touch.