Joining today's show are
Mike Barnicle, Eugene Robinson, Kasie Hunt, Hallie Jackson, Bob Woodward, Tom Brokaw, Chris Cillizza, Chuck Todd, Sen. Cory Booker, Anand Giridharadas, Steve Kornacki, Anne Gearan, Sara Eisen and in
Taiji, Japan, the last boat in. Happy Blue Cove Day! 2016-16-2 9:32am
‪#‎
dolphinproject‬
‪#‎
tweet4dolphins‬
Donald Trump Holds Press Conference in Charleston, SC
And, let's be real about the comments Donald trump says about George Bush Jr. He did keep us safe after 9/12. The GOP and its people that vote that way are very linear with that issue because yeah, i guess during the war vs. Iraq which those people had nothing to do with 9/11, we have been relatively safe. I mean aside from the thousands of military people hurt and killed, we American's were safe after 9/12. Which I have said in writing on the Morning Joe forums 88 times in the last 5 years.
And yes, it makes no sense like I said yesterday to even utter the words that issue had anything to do with Bill Clinton who was not even in office those years or on that day.
In reality, Eugene Robinson is correct. It is Osama Bin Laden's fault and anyone that set off to kill people is at fault.
Regardless, George W. Bush seeks to rescue brother Jeb in South Carolina primary. South Carolina saved George W. Bush in 2000. Now the former president is looking to save his brother Jeb 16 years later.
"There's no doubt in my mind Jeb Bush has the experience and the character to be a great president," the former president told a crowd of supporters during a rare political appearance Monday, further joking that South Carolina should support the candidate with "the most opinionated mother" in Saturday's primary.
Jeb Bush told the crowd that half-filled the convention center space that he was "so honored that my brother is here" and said he would emulate his "steady hand to keep us safe" when it came to the nation's economic and national security challenges.
The former Florida governor also defended his older brother against attacks by Republican front-runner Donald Trump, saying it was "weird" that the New York businessman once suggested impeachment of President Bush over the Iraq war.
In his speech, George W. Bush did not mention other Republican candidates — or President Obama for that matter — but did appear to allude to Trump by saying that "these are tough times and I know that Americans are angry, but we do not need someone in the Oval Office who mirrors and inflames our anger and our frustrations." The former president also said that strength is not "bluster" or having the loudest voice in the room, but rather the "integrity and character" of people like Jeb Bush.
While extolling his brother's experience as governor and businessman, the former president also told stories about his past political life. He recited "fond memories" of South Carolina that include visits to military bases, the "okra strut" in Irmo and breakfast at Tommy's Country Ham House in Greenville — the latter an event at which a PETA protester poured manure into the parking lot.
"It was kind of a sign of things to come," the elder Bush said.
The ex-president repeated old jokes – "I've been mis-underestimated most of my life" — and trotted out new ones about his pastimes as writer and painter. Of the latter pursuit, Bush said he knows that "the signature is worth more than the painting."
Jeb Bush, who enlisted mother Barbara to campaign for him in New Hampshire, also found himself defending his brother's legacy in the face of continued attacks by Trump.
As Trump continued to assail the former president over 9/11 and Iraq, Jeb Bush repeated his line from last weekend's debate that "while Donald Trump was building a reality TV show," his brother was "building a security apparatus to keep us safe" after the terrorist attacks on Sept. 11, 2001.
Trump, who held a news conference near North Charleston just hours before the Bush event, questioned whether George W. Bush kept the nation safe, echoing his debate claims that the 9/11 attacks happened and "the World Trade Center came down during his reign." Trump also criticized Bush's decision to launch the 2003 invasion of Iraq, saying it destabilized the Middle East.
George W. Bush may never have been president if not for South Carolina, or at least its Republican primary.
On Feb. 19, 2000, just 18 days after his blowout loss to John McCain in the New Hampshire primary — the then-Texas governor defeated McCain in the Palmetto State. The win stabilized Bush's campaign and sent him on to the Republican nomination.
Hogan Gidley, a Republican political adviser based in South Carolina, said state party members feel like George W. Bush is one of them, nearly two decades after the primary that bound them together. "We rescued his campaign back in 2000," Gidley said. "We have ownership — he's our guy."
Whether that translates into actual votes for Jeb Bush remains to be seen, he said.
George W.'s win here still resonates as the symbol of South Carolina-style rough-and-tumble politics. McCain supporters still protest what they call dirty tactics, including false and anonymous e-mail and telephone rumors that were circulated about the Arizona senator and his family before the primary.
This year's campaign isn't for the faint of heart either, especially after a debate that some likened to demolition derby, including Trump's attacks on Jeb Bush and his family. Trump, who also criticized Barbara Bush for her attacks last week in New Hampshire, took to Twitter to bash the upcoming Bush event in North Charleston.
On Monday he tweeted that the legacy of the last Bush presidency may become "fair game" for the 2016 campaign.
During his speech in North Charleston, George W. Bush lamented the "petty name calling" of the current campaign. The former president also said that, if people want to call him part of the so-called establishment, "I proudly carry that label."
This is only the latest unusual intersection in the political careers of George W. and Jeb Bush.
During the presidency of their father, George H.W. Bush, many observers saw Jeb as the potential successor.
Then came 1994. Jeb Bush lost his election for governor of Florida, while George W., a co-owner of the Texas Rangers baseball team, captured the governor's mansion in Texas. Their roles had reversed.
George W. Bush won the presidency in 2000 after a fierce, still-disputed recount in Florida — the state where Jeb had finally been elected governor in 1998.
Now George W. Bush returns to South Carolina as Jeb Bush faces what looks like an uphill battle, both in South Carolina and in the overall race for the 2016 Republican presidential nomination.
The Real Clear Politics polling averages puts Bush nearly 30 points behind Trump both nationally and in South Carolina, and also trailing Ted Cruz, Marco Rubio, and John Kasich.
Tanya Robinson, 60, an undecided Republican who traveled to North Charleston from nearby Summerville, said the ex-president's appearance should help Bush, but "I don't know if it will win the state."
Robinson, the president of the South Carolina PTA, also said there's a lot of campaigning left before Saturday's primary. "A lot of South Carolinians are not sure yet," she said.
After debate, Trump still tops SC GOP presidential race.
Donald Trump still is leading the S.C. Republican presidential race after the weekend's explosive GOP debate in Greenville.
But the race for second place in Saturday's primary appears to be narrowing.
Behind Trump, who has 35 percent support in a new poll, U.S. Sens. Marco Rubio of Florida and Ted Cruz of Texas are tied for second place — at 18 percent each, according to a Public Policy Polling survey released exclusively Monday to The State.
Ohio Gov. John Kasich is in fourth at 10 percent support, followed by former Florida Gov. Jeb Bush and retired neurosurgeon Ben Carson, tied with 7 percent support each.
Public Policy interviewed 897 likely GOP primary voters Sunday and Monday – the first look at how after Saturday night's Republican presidential debate affected the race. The poll has a margin of error of 3.3 percentage points.
The GOP poll suggests Trump's debate performance – in which he criticized former President George W. Bush for the 2001 terror attacks – may not be hurting the frontrunner in a state that has deep ties to the Bush family.
The poll also suggests Rubio could be closing the gap on Cruz, who has finished second to Trump in seven out of the eight S.C. polls taken in 2016.
Clinton still leading
In the Democratic race, frontrunner Hillary Clinton still holds a double-digit lead — 55-34 — over U.S. Sen. Bernie Sanders, according to a separate poll of 525 likely Democratic primary voters.
Sanders and Clinton are tied among white S.C. voters, the poll said. But Clinton has a strong lead among African-American voters, expected to make up more than half of Democratic primary voters. Among those voters, 63 percent said they back Clinton compared to 23 percent for Sanders.
Fourteen percent of black Democratic voters said they were undecided.
Sanders has managed to close the gap on Clinton, according to the poll. In November, Clinton led Sanders 86-11 among African-American voters.
Four New Polls Show Rubio Catching Cruz in South Carolina.
We've been waiting for some post-New Hampshire polling in South Carolina, and we just got a blizzard of it dropped on us all at once. We have one from SC House GOP, one from Republican firm Gravis, one from garbage pollster ARG, and one from possibly fake pollster PPP.
Two of the four (SC House GOP and PPP) were taken after Saturday's debate, but they are necessarily single day samples and thus a bit suspect. Quite frankly, I don't trust this polling a lot, but all four polls present a pretty stable picture of the race thus far. Here are some conclusions that we can probably draw with some degree of certainty:
Trump has not received a bounce from New Hampshire. He was in the mid-30s (or higher) in South Carolina before New Hampshire, he remains there now. All four of the new polls have him between 33-37%.
Rubio is now tied with Cruz for second in South Carolina, or very close to it. In one poll, he trails Cruz 23-19. In two others, Rubio and Cruz are tied. In another, Rubio leads Cruz 14-12.
Trump probably did not suffer significantly from his debate meltdown. This is not a tremendous surprise. On the other hand, his ongoing departure into loony-land is probably preventing him from picking up any new support whatsoever, as you would expect a front runner to have done after winning New Hampshire convincingly.
The Cruz-Rubio tandem is creating space between themselves and the rest of the field. Jeb Bush absolutely has to defeat Marco Rubio in South Carolina, or at least make it close. One poll (SC House GOP) shows him doing that, the rest show him falling significantly behind. If he loses to both Rubio and Cruz by 8-10 points, as the polls suggest, he is done for.
Carson continues to be in last, and should drop out.
Other than ARG, no pollster shows Kasich gaining any traction at all in South Carolina, and he will likely finish just above Carson.
If Rubio does sneak up and take second place away from Cruz in South Carolina, that will fundamentally change the race. South Carolina is expected to be friendlier territory to Cruz than Rubio, and Team Rubio was hoping really only to beat Bush in South Carolina. Beating Cruz as well may have the effect of consolidating the field sooner rather than later.
Hillary Clinton barks like a dog to slam Republicans. Hillary Clinton's stump speech has gone to the dogs.
Not really. But Clinton told a colorful story on Monday in Reno that ended with the former secretary of state barking like a dog.
Clinton was in the middle of a riff about how, in her view, Republicans say things that are not true, when she remembered a radio ad that she said ran in rural Arkansas while her husband, Bill Clinton, was running for office.
"(Republicans) actually, with a straight face, say that the great recession was caused by too much regulation on Wall Street. They actually say that," Clinton said.
Then she launched into her story.
"One of my favorite political ads of all time was a radio ad in rural Arkansas where the announcer said, 'Wouldn't it be great if somebody running for office said something, we could have an immediate reaction to whether it was true or not. Well, we have trained this dog. Well, the dog, if it is not true, he is going to bark,'" Clinton said. "And the dog was barking on the radio and so people were barking at each other for days after that."
Clinton tips her hand on Supreme Court nominations
"I want to figure out how we can do that with Republicans. We need to get that dog and follow them around and every time they say these things like, 'Oh, the Great Recession was caused by too much regulation,' arh, arh, arh, arh," Clinton said, letting out a barking noise that caused the audience to laugh and some people to mimic her.
"I think," Clinton concluded, "we could cut right through a lot of their claims."
Marco Rubio's ad 'Morning Again in America' features Canadian skyline.
e sundry scenes and dreamy narration mimic Ronald Reagan's legendary ad "Morning Again in America." But where the incumbent trumpeted the strides that the country had made since his election, Republican presidential hopeful Sen. Marco Rubio digs into America's supposed decline under President Barack Obama in his latest campaign ad of the same name.
"It's morning again in America," the ad begins with shots of a harbor, busy city street and serene suburban neighborhood. "Today, more men and women are out of work than ever before in our nation's history."
The tone is a much darker one, yes. But Rubio has incorporated another element absent from Reagan's spot: a tribute to America's Liberal Party-run neighbor to the north.
As several discerning Canucks have pointed out, the opening shot of Rubio's American morning is not American at all. It's Canadian.
The first few seconds of the ad feature a tugboat moving across a serene harbor at dusk. The skyline in the background, however, is not one that can be found on this side of the border. It belongs instead to Vancouver, Canada.
"It's unmistakably Vancouver," the Vancouver Sun reported on Monday, pointing out the presence of city landmarks like the Harbour Centre tower and cranes of Port Metro Vancouver.
The tugboat even appears to be sporting a small Canadian flag.
(Somewhere out there, Ted Cruz is thanking God that the ad isn't his.)
According to the CBC, the stock footage was shot by Vancouver-based videographer Guy Chavasse, who said he filmed it last August from a northern Vancouver viewing tower.
"It's pretty funny, isn't it?" he told the CBC. "It's a good-looking video, no doubt, but it's pretty recognizable as Vancouver." As a freelancer for stock photo and video sites, Chavasse doesn't usually get to see where his work ends up, and this gave him a "good laugh."
"I'm not exactly a big Republican fan or a Rubio supporter," he said, but noted that "it's always cool to see your stuff being used." He thinks the campaign likely paid around $80 for the clip.
A Rubio spokesman told Buzzfeed News that the selection's national origin was unintentional.
"Ha! Nice catch by Buzzfeed -- we hadn't noticed that," he said. "We are not going to make Canada an issue in this election."
So far there's no sign of the ad being pulled, as the Ted Cruz campaign pulled an ad last week after discovering that a softcore porn actress had been cast in it.
Of course, one GOP candidate is already making the land of hockey fanatics and long winters something of an issue -- and another held Canadian citizenship less than two years ago. As Donald Trump has refused to let voters forget, Cruz was born in Calgary, Canada, to a Cuban father and an American mother. His eligibility for the presidency, which is granted only to "natural born citizens," has been the subject of some controversy.
In an interview with The Washington Post last month, Trump called Cruz's birthplace "very precarious."
"Do we want a candidate who could be tied up in court for two years? That'd be a big problem," he said.
Neither Cruz's Canadian connection nor Trump's preoccupation with it has hurt them in the polls so far. The two candidates won the Republican primaries in Iowa and New Hampshire, respectively.
Rubio, meanwhile, came third in Iowa and lost momentum in New Hampshire after a robotic debate performance. Could this latest ad be his attempt to get a piece of the Canadian pie?
As far as conservative politics goes, Canada may not be the best facsimile. Its new prime minister, Justin Trudeau, has pledged to take tens of thousands of Syrian refugees and raise taxes on the wealthy -- promises that helped him score a handy victory against his conservative opponent and sitting Prime Minister Stephen Harper. Trudeau is a liberal scion to boot: his late father, former Prime Minister Pierre Elliott Trudeau, decriminalized homosexuality, legalized abortion and vehemently defended universal health care.
One person tweeted, "If you like our #Vancouver skyline @marcorubio, u should try our public healthcare, banking system, affordable education, livable cities …"
But perhaps the Vancouver footage is Rubio's veiled attempt to point out how much America has changed under the current Democratic administration. So much so, apparently, that it's become a different country altogether.
Grammy winners: A quick-read list of 2016 winners.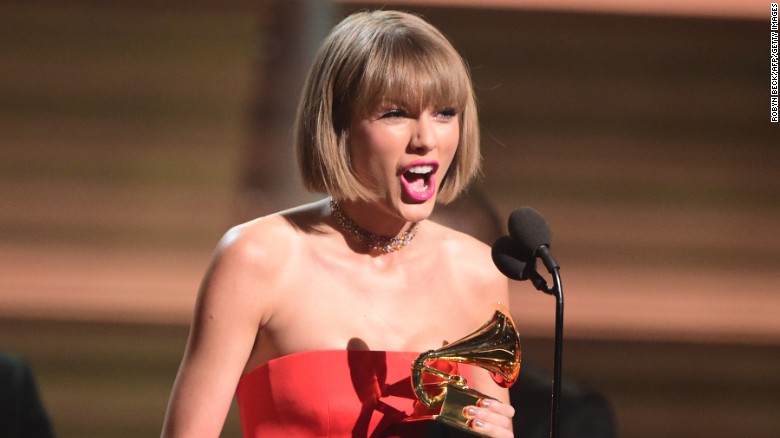 Best rap album
"2014 Forest Hills Drive": J. Cole
"If You're Reading This It's Too Late": Drake
"To Pimp A Butterfly": Kendrick Lamar *
"The Pinkprint": Nicki Minaj
Best country album
"Pain Killer": Little Big Town
"The Blade": Ashley Monroe
"Pageant Material": Kacey Musgraves
"Traveller": Chris Stapleton *
Song of the year
"Alright": Kendrick Duckworth, Mark Anthony Spears and Pharrell Williams, songwriters (Kendrick Lamar)
"Blank Space": Max Martin, Shellback and Taylor Swift, songwriters (Taylor Swift)
"Girl Crush": Hillary Lindsey, Lori McKenna and Liz Rose, songwriters (Little Big Town)
"See You Again": Andrew Cedar, Justin Franks, Charles Puth and Cameron Thomaz, songwriters (Wiz Khalifa Featuring Charlie Puth)
"Thinking Out Loud": Ed Sheeran & Amy Wadge, songwriters (Ed Sheeran) *
Best new artist
Album of the year
"Sound & Color" by Alabama Shakes
"To Pimp a Butterfly" by Kendrick Lamar
"Traveller" by Chris Stapleton
"Beauty Behind the Madness" by The Weeknd
Record of the year
"Really Love" by D'Angelo and the Vanguard
"Uptown Funk" by Mark Ronson featuring Bruno Mars*
"Thinking Out Loud" by Ed Sheeran
"Blank Space" by Taylor Swift
"Can't Feel My Face" by The Weeknd
Best dance recording
"We're All We Need": Above & Beyond featuring Zoë Johnston
"Go": The Chemical Brothers
"Never Catch Me": Flying Lotus featuring Kendrick Lamar
"Runaway (U & I)": Gallants
"Where Are Ü Now": Skrillex and Diplo with Justin Bieber *
Best pop duo/group performance
"Ship To Wreck": Florence + The Machine
"Uptown Funk": Mark Ronson featuring Bruno Mars *
"Bad Blood": Taylor Swift featuring Kendrick Lamar
"See You Again": Wiz Khalifa featuring Charlie Pluth
Best urban contemporary album
"Ego Death": The Internet
"You Should Be Here": Kehlani
"Beauty Behind the Madness": The Weeknd *
Best alternative music album
"Sound & Color": Alabama Shakes *
"The Waterfall": My Morning Jacket
Best rock performance
"Don't Wanna Fight" : Alabama Shakes *
"What Kind of Man": Florence + The Machine
"Something From Nothing": Foo Fighters
"Moaning Lisa Smile": Wolf Alice
Don Lichterman: Sunset Daily News & Sports

| | |
| --- | --- |
| | donlichterman­.blogspot­.com - Published by Sunset Daily News 15 February 2016 Read paper → Sports Politics World Art & Entertainment Leisure Environment #presidentsday #detvsnyi Don Lichterman: Today on S2e TV Shared by donlich... |

Grammys 2016: full list of winners

| | |
| --- | --- |
| | www­.theguardian­.com - Really Love – D'Angelo and the Vanguard Uptown Funk – Mark Ronson featuring Bruno Mars - WINNER Thinking Out Loud – Ed Sheeran Blank Space – Taylor Swift Can't Feel My Face – the Weeknd Related: Gr... |
Regardless of it all today, please stay in touch!