Artist:

Title:

Category:




---
Artist:

Title:

Category:




---
Artist:

Title:

Category:

Best Rap/Sung Performance




---
Artist:

Title:

Category:




---
Artist:

Title:

Category:




---
Artist:

Gaia's Eye feat. Azucena Azul

Title:

Category:

Best Pop Duo/Group Performance




---
Artist:

Gaia's Eye feat. Azucena Azul

Title:

Category:




---
Artist:

Gaia's Eye feat. Azucena Azul

Title:

Category:




---
Artist:

Gaia's Eye feat. Azucena Azul

Title:

Category:




---
Artist:

Title:

Category:




---
Artist:

Title:

Category:

Best Rap/Sung Performance




---
Artist:

Title:

Category:




---
Artist:

Title:

Category:




---
Artist:

Title:

Category:




---
Artist:

Title:

Oh, The Payday! (Midnight)

Category:




---
Artist:

Title:

Oh, The Payday! (Midnight)

Category:




---
Artist:

Title:

Oh, The Payday! (Midnight)

Category:




---
Artist:

Title:

Category:




---
Artist:

Title:

Category:




---
Artist:

Title:

Category:




---
Artist:

Title:

Category:




---
Artist:

Title:

Category:




---
Artist:

Title:

Category:




---
Artist:

Title:

Category:




---
Artist:

Title:

Category:




---
Artist:

Title:

Category:




---
| | |
| --- | --- |
| Artist: | |
| Title: | |
| Category: | |
Thousands of Wild Horses Saved from Unnecessary Slaughter
Target: Neil Kornze, Director of U.S. Bureau of Land Management
Goal: Applaud cancellation of cull that would have killed thousands of wild horses.
A government-sponsored cull of wild horses has been cancelled, meaning that thousands of wild horses will not be pointlessly killed. The U.S. Bureau of Land Management (BLM) announced the cancellation after animal rights activists, including a petition on ForceChange, expressed outrage about the senseless and violent plan.
Wild horse populations have skyrocketed in recent decades, and experts estimate that there are now about 67,000 horses living in America, mostly in California and Nevada. While such a high number can pose a threat of overgrazing and land encroachment, slaughtering these animals is an unnecessary and excessive solution.
The U.S. Bureau of Land Management initially planned to kill thousands of horses, but the plan was met with immediate resistance. In response to the outcry, a bureau spokesman announced that the agency will "continue its current policy of caring for unadopted or unsold wild horses and burros."
This encouraging reversal serves as proof that dedicated activism can change the world. Sign the petition below and thank the BLM for preserving these wild horses.
Convicted Animal Abuser Sentenced to Prison
Target: Denise Markle, Milford County Judge
Goal: Thank judge for punishing convicted animal abuser and removing abused animals from his custody.
An employee of an animal shelter was convicted on charges of animal abuse and will spend one year in jail followed by three years of probation, during which he will not be allowed to work with animals. Fred Acker worked for the SPCA of Connecticut and had been accused over a dozen times of animal cruelty. Now, he will finally serve time for his negligence, thanks in part to this ForceChange petition. Past sentencing was avoided by Acker for his seemingly remorseful attitude about what he had done, but finally a Milford County judge realized the severity of what this man was doing and deemed that he was not fit to work with animals.
Acker was known for his work with shelters but many did not realize that he was not taking good care of the pets he housed. In 2012, he allegedly bought 100 dogs after his facility had been zoned for just 29. According to reports, the overflow were kept in other locations where they would sometimes go 24 hours without care and would often fight. Thanks to Judge Markle, those animals and all pets brought in by Acker will be relocated to more humane facilities within 30 days of this sentencing, allowing them to live better lives as they wait for their forever homes. Sign this petition to thank the judge who sentenced Acker and saved the animals he abused.
We've won and Mohan is heading home.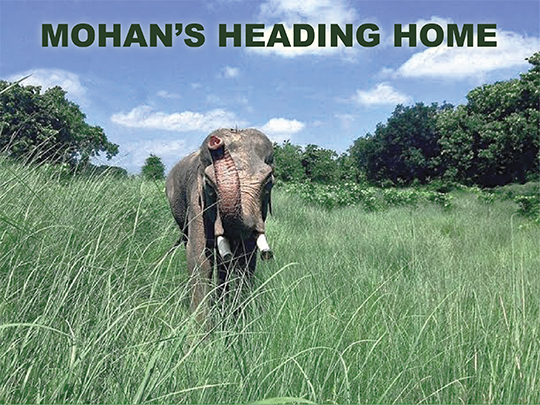 Because of you, we can celebrate this victory. You stood by Mohan for almost 20 court hearings. Through many months of countless setbacks, you did not give up. Although it was painful to see images of Mohan barely hanging on, you did not look away. When the obstacles seemed insurmountable, you stood by him. You united with people from around the world and became Mohan's voice. And today, your dedication and determination paid off; Mohan will live the rest of his life as a free elephant.
The unluckiest elephant in the world? Not Mohan. Not anymore. But this isn't just a win for Mohan—it's a victory for elephants around the world. Mohan can now be seen as a model of hope for them, and a reminder that as long as we work together, we can Save India's Elephants.
Your Signature Helped Free Mohan! Success! Thank you so much for signing this petition and being Mohan's voice. You came together with people from all over the world to free this elephant, and today, your dedication and determination paid off; Mohan is on the Wildlife SOS Animal Ambulance (pictured below with our tired-but-happy rescue team) will live the rest of his life as a free elephant. Read more
Mohan has been on an incredibly long journey to freedom. He has endured decades of abuse and even experienced the wrath of angry mobs. His right to be free has been debated and put on hold in court countless times. He has suffered alone and in silence for years, in fragile health… and miraculously, he has survived. He's finally home. And now he can live the rest of his life as a free elephant — because of your generosity.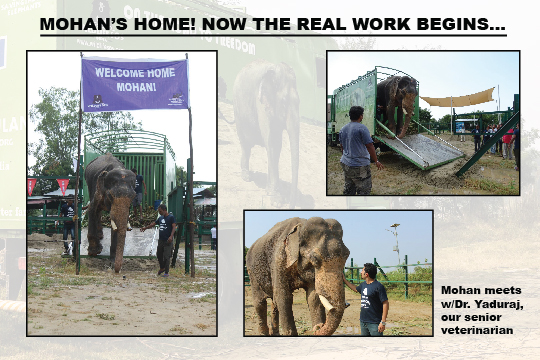 Today he is on a different journey. Mohan will need medical attention, rehabilitation, compassion, and care to fully realize his freedom. He is emaciated from decades of neglect; his digestive system has been severely compromised from parasites; his liver is not functioning well. Mohan has a very long way to go — but our staff of full-time veterinarians have already mapped out a diet and treatment plan. We hope that we can find 200 new monthly donors at $10/month who can help us. Can you lend a hand once again for Mohan? Any amount helps.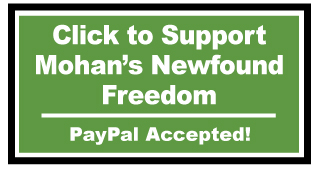 Together we will get Mohan happy and healthy so he can truly enjoy his newfound freedom. Once again, thank you for helping his cause!
On behalf of Mohan and from all of us at Wildlife SOS, thank you!
(Photo: Morkel Erasmus/Getty Images)
Manhattan-based Metropolitan Fine Arts and Antiques is famous for its collection of 20th-century French glassware, and now it is infamous for its role in the largest seizure of illegal elephant ivory in New York state history.
The three individuals are being charged with two counts of illegal commercialization of wildlife. The shop was in violation of New York's strengthened elephant ivory sale ban. The law, revised in 2014, prohibits the sale of any ivory unless the seller can demonstrate it is more than 100 years old and the item being sold is made up of less than 20 percent ivory. There is an exemption for sellers of antique guitars and pianos, which often include ivory inlays, but the store was selling much more than that.
Officials discovered 126 elephant ivory pieces for sale at the store, including two pairs of uncarved elephant tusks, priced at $200,000 and $150,000.
The store declined to comment on the seizure.
"Through Governor [Andrew] Cuomo's leadership in enacting the ban on the sale of ivory, we are continuing to take aggressive action to crack down on illegal ivory in New York state," Department of Environmental Conservation Commissioner Basil Seggos said in a statement. "The worldwide elephant population is hanging in the balance. With today's action, we are sending a strong message to poachers, traffickers, and dealers that we are committed to stopping this heinous activity."
Seized ivory. (Photo: Wildlife Conservation Society)
The department discovered illegal ivory at the store in November 2015 when undercover officers purchased an ivory carving from a Metropolitan Antiques salesperson, who told the officers the item was mammoth ivory. They bought it for $2,000, analyzed it, and determined the item was made from elephant ivory.
Officials plan to destroy the seized items on World Elephant Day in August 2017 as part of the Department of Environmental Conservation's Ivory Crush event.
Elephants are in peril thanks in part to the illegal wildlife trade, a black market worth an estimated $7 billion to $23 billion annually, according to the United Nations. A 2016 population estimate shows that 352,000 African bush elephants are roaming the savanna today—a 30 percent decline in just seven years.
Between 2010 and 2012, it's estimated that as many as 100,000 elephants were killed by poachers in Africa driven to kill by the high demand for ivory in the illegal wildlife trade.
Stronger ivory trade laws such as New York's are integral to preserving the future of the species, said John Calvelli, director of the Wildlife Conservation Society's 96 Elephants campaign.
"What's important to understand is that the killing of elephants in Africa can be driven by trade right in our own backyards," Calvelli said, noting that the U.S. is the world's second-largest market for trafficked ivory, with most sales occurring in New York, California, and Hawaii.
Those three states have all passed laws in the past three years banning domestic ivory sales, and the Obama administration pushed a nationwide ban on nearly all African elephant ivory sales this summer. The progress has heartened Calvelli, who worked with then–Secretary of State Hillary Clinton on strategies to quash demand in the ivory trade.
"While it's imperative to stop the killing in Africa, stopping the trafficking of those products is just as important," Calvelli said. "Closing the markets in New York, California, and Hawaii—the hot spots of the domestic trade—and increasing the penalties those involved in the trade can face is fundamental in slowing the demand and saving elephants in the process."
Busts like the one at Metropolitan Antiques are critical in changing the perception of ivory as a product worth buying—antique or not.
"This really sends a message to criminals that you're not going to get away with it if you're in New York," Calvelli said. "If you are found, you're going to get prosecuted. It's really about educating Americans that this is an issue not only across the sea but right here in the U.S. The legal market has masked an illegal market for some time, but now there is no distinction: If you are buying ivory, you are destabilizing Africa and endangering these beautiful animals."
Applaud Massive Seizure of Illegal Elephant Ivory
Target: Cyrus Vance, Manhattan District Attorney
Goal: Applaud efforts to save elephants by investigating and apprehending ivory traders.
A major purchaser of elephant ivory has been apprehended in the largest seizure of elephant ivory in New York history. Law enforcement officials filed an indictment against the Metropolitan Fine Arts and Antiques Co. (MFAA) and charged the store and its owners with attempting to purchase and sell $4.5 million worth of ivory.
After searching the store, officials discovered about 126 items made with elephant ivory, including two pairs of intact elephant tusks. Officials estimate that the seized ivory came from "more than a dozen slaughtered elephants." The illegal wildlife trade is a multi-billion dollar industry, and New York is considered one of its primary markets.
The world's elephant population is already dwindling, and the ivory trade only worsens the situation. Since 2010, elephant populations have dropped 30 percent, and from 2010 to 2012 alone, more than 100 elephants were killed for their tusks. New York Governor Andrew Cuomo recently enacted legislation that tightens restrictions on the sale of ivory articles, but violations still occur, as evidenced by this case.
The owners of MFAA have made it clear that personal profit is more important than the survival of the elephant. Sign the petition below to applaud law enforcement officials for their dedicated efforts to stop these greedy and selfish vendors. PETITION LETTER
A Huge Victory in Congress! Thank you HSUS for your kind words:
"Eliminate, Neutralize, and Disrupt (END) Wildlife Trafficking Act (H.R. 2494) passed the House today unanimously, on the heels of its passage through the Senate last week. This bill, which will help protect elephants, rhinoceros, tigers, and other animals threatened by poachers and traffickers, now heads to President Obama for his signature.
New Jersey has led the way with the bold and courageous actions the state has taken, thanks to the championing of the protection of endangered species by Senator Raymond Lesniak—whether it's his ivory ban, cracking down on trophy hunting, or introduction of the first in the nation ban on use of elephants in traveling shows—all have raised awareness of legislators and people throughout the country.
Our world's endangered species and exotic animals are better protected thanks to the steadfast advocacy of Senator Lesniak, and we in New Jersey are proud to have been the impetus for so much positive change for animals, both in our state and across the world."
Brian R. Hackett
New Jersey State Director, State Affairs
The Humane Society of the United States
Andy has been found!!
I am happy to announce that Andy the polar bear has been located and the faulty collar has been removed! I sincerely appreciate each and every person who helped make this rescue possible. Thank you to all who became involved by signing the petition, calling, and writing emails urging for action to be taken to save Andy's life. With your help, we were able to bring international attention to Andy which was imperative for his survival.
***photos and additional information can be found on "Protect The Polar Bear" facebook page***
Here are some details from the United States Fish and Wildlife Service (USFWS) about Andy and the removal of his collar:
"The bear had returned to the Kaktovik area in early August. We assembled an experienced team that included staff from the U.S. Fish and Wildlife Service, U.S. Geological Survey, North Slope Borough, Canada, and local residents. After careful planning and when conditions were optimal for success, the team got to work to captured the bear and removed the collar. Everyone is relieved that the effort was successful and that the bear's condition was good. He continues to hang out around the whale bone pile in Kaktovik along with approximately 70 other bears. We are grateful to all those who participated in the capture operation. We are especially grateful for the support provided by the community of Kaktovik. They have lived with polar bears for thousands of years and their local knowledge and expertise was essential to our success."
In addition, the USFWS also reported that "the collar was examined and it was determined that the collar failed to drop off as it was designed to do because of a couple of plastic washers."
It has been confirmed that the collar was placed on Andy by the University of Alberta through the direction of Andrew Derocher. I have contacted Mr. Derocher to ask him once again to immediately stop using this method of collaring both young and adult bears for his research purposes as it has proven to be dangerous and potentially lethal. If you would like to contact Mr. Derocher to urge him to conduct his research using only non-invasive methods, he can be reached at derocher@ualberta.ca
Again, I thank you for your kindness and concern for Andy the polar bear.
Major Retailer Ends Sale of Fur and Angora Hair
Target: Sarah Benady, Executive Director North America, The Kooples
Goal: Praise The Kooples for ending its sale and use of fur and angora hair that is harvested from suffering animals.
The Kooples has taken a stance against fur and angora hair harvested from helpless and abused animals, joining Forever 21, Topshop, Calvin Klein, and many other retailers that have stopped selling these products in recent years. This is wonderful news for animals everywhere that is made possible by petitions like this one at ForceChange.
Animals used for fur and angora hair are typically kept in tiny cages with limited access to food, water and clean air. The fur animals are typically killed by suffocation, anal electrocution, and poisoning. Angora rabbits have it even worse. Every three months their fur is ripped, plucked or torn from their bodies while conscious, subjecting them to years of terror and suffering.
Thankfully, more and more retailers are realizing that no animals should die or be tortured for clothing. Sign this petition and thank The Kooples for making the compassionate change.
Dog in hot car: You may now smash car windows to rescue dogs in California, new law says



The golden state's governor, Jerry Brown, announced a new law this week That will allow good samaritans to break into cars to save suffocating pooches.

Under Bill AB-797, if a dog is spotted in a hot car, people in California will no longer have to stand idly by, helpless. Citizens will be protected from legal repercussions for any damage done to rescue an overheating animal, provided they have followed the necessary steps to ascertain there was no other way to handle the situation. Concerned citizens must first make sure the car's doors are locked, and that there is no clean way to enter the vehicle. Citizens must also first contact law enforcement to report the situation. Only if the cops don't arrive fast enough, and the dog appears to be overheating, does it become legally permissible to rescue the animal by any means necessary. Citizens will then have to wait by the car for police officers to arrive.
Country Promises to Eliminate Tiger Farms
Target: Thongloun Sisoulith, Prime Minister of the Lao People's Democratic Republic
Goal: Applaud Laos for promising to phase out cruel farms that breed endangered tigers to profit from their body parts.
Laos has promised to end farms that breed tigers to harvest their body parts after international pressure. The country is thought to be a major center for wildlife trafficking in Asia as a result of the lack of enforcement of regulations restricting offenders.
This announcement could substantially hurt this illegal industry and save many tigers from a brutal fate, helping to protect the already dwindling population of tigers in Southeast Asia. This fantastic news is made possible by the tireless efforts of animal conservationist organizations and by petitions like this one at ForceChange.
Tiger parts are sold to be used as traditional medicine in some parts of Asia, and some even purchase parts of these majestic creatures as delicacies. Conservationists believe that there are only about 3,900 tigers left in the wild. Farms that breed tigers to sell their parts increase the appetite for this endangered species.
Laos' recent commitment to end tiger farming in the country is a major victory in the fight against animal trafficking in Asia. Sign this petition to praise the Laotian Prime Minister for joining the effort to combat these horrific activities and for helping to preserve an endangered species.
Coal leases toppled
We overturned two coal leases in August, successfully stalling expansion of mines in Colorado and Wyoming and keeping millions of tons of coal in the ground. The wins came in response to appeals we filed over coal leases that the Bureau of Land Management approved two weeks before a historic moratorium on leasing was put in place. Although these leases were considered "exempt" from the Obama administration's moratorium, they were not exempt from WildEarth Guardians' moratorium on leasing. The win is another big step forward for keeping fossil fuels in the ground and safeguarding our public lands. Read more >>
Victory for imperiled lynx in Colorado
Guardians has won the latest salvo in our longstanding efforts to protect imperiled Canada lynx. A federal judge agreed that the U.S. Fish & Wildlife Service improperly refused to provide vital habitat protections for lynx in the Southern Rockies, reprimanding the agency for failing to follow the science, which shows lynx are successfully reproducing in Colorado. These snow-loving wildcats need wildlife managers to perform their duty to provide the safeguards lynx need. The decision gives hope that lynx will not only continue to survive in their native high-alpine Colorado habitats but also truly recover along the Spine of the Continent. Read more >>
Joshua trees closer to Endangered Species Act protections
Joshua trees are one step closer to needed protections thanks to a Guardians scientific petition. The U.S. Fish and Wildlife Service recently announced it will conduct a full assessment of threats faced by Joshua trees and decide whether to list the rare desert icon under the Endangered Species Act. Though they are tough desert plants, Joshua trees have a difficult time surviving and reproducing amid severe drought and more frequent fires. These amazing trees could become the first plant to receive ESA protections because of the impacts of climate change. Read more >>
Big win for clean energy in Colorado
We scored a big win for the climate this month, securing a legal agreement to shutter two coal-fired power plants and a coal mine in western Colorado. The agreement will close one of the three smokestacks at the coal-fired power plant in Craig, retire the power plant in the town of Nucla, as well as close the coal mine that feeds the Nucla plant. All told, 500 megawatts of coal-fired power will be taken offline. The deal will keep five million metric tons of carbon from being released every year, equal to taking one million cars off the road. Read more >>
Photo credits: (Left column) Bridger coal company—WildEarth Guardians. lesser prairie chicken—Mark Watson, Creative Commons, Flickr. Canada lynx—AdobeStock. BLM public lands—WildEarth Guardians. grizzly bears—Sam Parks. Joshua trees—Forest and Kim Starr, Creative Commons. Joseph Canyon—WildEarth Guardians. Craig power plant—WildEarth Guardians. clearcut—Polly Peterson, Creative Commons, Flicrk. Valles Caldera work crew—WildEarth Guardians. radio-collared mountain lion—USFWS. (Right column) Patricia Helvey drawing—Patricia Helvey. anti-fracking rally—WildEarth Guardians. Greater Gila Bioregion—WildEarth Guardians.