I cannot wait for tomorrow nights game. Especially, the first half. I am so psyched to get my first glimpse of the new Sean McVay system. I am psyched to get a glimpse of that newly orchestrated D with Wade Phillips at the helm. I am psyched to see Jared Goff in action tomorrow night. And, then it will begin and we can go from there. We are ending week two of being in camp.
Rams Make the Trip to StubHub Center for Joint Practice With the Chargers
Spirited Rams-Chargers practice sees Jared Goff take shots downfield. A group of Los Angeles Rams fans standing near the 50-yard line kept taunting the Los Angeles Chargers' defensive backs. Finally, Casey Hayward, the Pro Bowl cornerback who led the NFL in interceptions last season, decided he wasn't going to stand for it.
"This is an offensive drill!" he yelled, turning around to stare at the group of hecklers. "We dominating it!"
A lot of smack talk, and ultimately a lot of punches, took place when the neighboring Rams and Chargers met for a joint practice for the second time in five days on Wednesday. The scene shifted from StubHub Center to UC Irvine, which opened it up to the public. Fans packed the shaded bleacher sections, crammed into the beer gardens and stood along the railing, filling this place with an energy that hadn't been seen since the Rams' very first practice last summer.
When Chargers quarterback Philip Rivers completed long passes in one field, the "Rams suck!" chants intensified.
When the Rams' offense took snaps on the other, a new, anti-Chargers cry was born: "Pay your rent!"
"You heard a lot of chants for both sides," Rams quarterback Jared Goff said. "It was fun. It was a really good experience out here, a lot of people."
The Rams' defense picked Rivers off a couple of times and generally did a nice job of minimizing deep balls. But they also threw punches. Cornerback Trumaine Johnson took off his helmet and swung at Chargers receiver Dontrelle Inman at one point, upset that Inman was driving his hand into his helmet off the snap. It prompted Nickell Robey-Coleman to shove Inman from behind, which led to Keenan Allen slamming Robey-Coleman to the grass. It was the first of three scuffles. The last two involved E.J. Gaines, who was ultimately told to leave by Rams coach Sean McVay.
"Where I'm from, if somebody's going to initiate it, we're going to finish it -- especially myself," Johnson said. "But it was fun, man. It was friendly competition."
Goff unofficially went 10-of-22 for about 110 yards during 11-on-11 drills, with one of those completions being a 25-yard hookup with rookie Cooper Kupp on play-action. During seven-on-seven drills, he threw a 30-yard pass over the top to Tyler Higbee and completed an 18-yard dart across the middle to Robert Woods. After a Saturday practice consumed by short passes, Goff was finally able to throw the ball downfield.
"About time, right?" Goff said, smiling. "Deep balls come. I think early on in camp you're just figuring out timing sometimes and just some different things with guys. It takes time sometimes. I think they are starting to come."
In 11-on-11 work, Goff attempted six passes to Pharoh Cooper, who's basically filling in for an ailing Tavon Austin. Goff attempted another five passes to Higbee, his roommate in training camp, and three each to Woods and Kupp. The Rams didn't cross the Chargers' 40-yard line in either of their two-minute drills, which Goff identified as "probably the one thing we want back."
Tackling wasn't allowed, but both teams played physically, especially the Chargers defensive backs, who frequently jammed Rams receivers at the line of scrimmage and delivered vicious blows when they came across the middle. Higbee felt "there were some times when their intensity was a little bit higher than ours. We needed to match it ourselves. I think we failed to a couple times."
The Rams' defense -- still without Aaron Donald, who continues to hold out -- more than made up for it. Enough so that Chargers running back Melvin Gordon said, "I think we've built a nice little rivalry with the Rams." The first fight took place within the first half-hour of practice; a third somehow erupted during special teams.
McVay spent all of Saturday guiding the offense, but went back and forth on Wednesday.
He spent a lot of his time breaking up physical altercations.
"Guys are great competitors," McVay said. "We always want to be mindful and smart with this, about how we do it."
Overheard from Rams' joint practice with the Chargers: CB Trumaine Johnson, on taking off his helmet before swinging at Chargers WR Dontrelle Inman: "I'm from Stockton, man. Stockton came out of me. It really did. I'm not going to take no mess from nobody; I don't care who it is."
Today marks a change of scenery for the Los Angeles Rams. Though the team has called UC Irvine home for the last six days of training camp, the Rams will make the trip up to Carson today, to participate in the first of two joint practices with the Chargers.
The practice will take place at the Chargers' new home for the upcoming year, the StubHub Center, and will give fans of both teams their first glimpse into the regular season - a test run of sorts for gamedays to come.
So what can we expect out of today's joint practice? According to Rams Head Coach Sean McVay, "a good, competitive day" is on the agenda. McVay stressed today's practice as a unique moment to compete against a system other than their own and a break from what can be a monotonous time in training camp.
"I think it will be a great opportunity for us to compete against a great team with a lot of good players and really for offense, defense and special teams to see a different system," McVay said ahead of today's practice. " I think it's going to be good set up where we'll get a bunch of good situational work and it'll be great for both teams."
With 180 players on the field both teams will get the chance to work on plenty of individual, midfield, and red zone drills. This afternoon will also feature 7-on-7 work as well as scripted and unscripted situational work, including first, second, and third down plays and two-minute drills. Both teams will be in full pads, but all drills will include no live tackling to the ground.
In the build-up to today's practice run at StubHub, Mcvay says he and Chargers Head Coach Anthony Lynn discussed the best way to go about the afternoon, in an effort to make sure both teams benefit from the competition while making player safety a priority.
"We talked going back a handful of months and early in the offseason program when we were going to try and get these practices set up," McVay said in reference to the planning stages of today's practice. "I know that Wade Phillips and Matt Lafleur - our defensive and offensive coordinators - have talked to Ken Whisenhunt and Gus Bradley - their coordinators - so they've all connected and we know what we're trying to get out of it. I think it's going to be a great opportunity for us to get some good looks and go against a team that's right down the road"
"I think you want to be able to get that great work, but absolutely there is a premium on staying healthy," McVay added, "and making sure that we get all of our guys through practice and really to that first game as healthy as we can."
Both teams will hit the field at 4:30 pm. The Chargers then made the trip to UC Irvine for the second of two joint practice on August 9th.
Latest renderings of LA Stadium:
Inside Kurt Warner's Gold Jacket Ceremony. hen people think of the Pro Football Hall of Fame, there are two objects that usually come to mind: the bust, and the gold jacket.
While former Rams quarterback Kurt Warner's bronze bust will be revealed on Saturday during the enshrinement ceremony, Warner received his gold jacket on Friday night during an event shown live on NFL Network from the Canton Civic Center.
Witnessing the Gold Jacket ceremony from the inside is a unique experience because there are many aspects of the show that aren't displayed on television. About 400 people — families of the inductees, NFL team officials, and many from the local community — were seated around circular tables for what amounted to dinner and a show. There were three tables at the head of the room — two for the Hall of Famers, and then one higher up in the middle for the emcee and honored guests.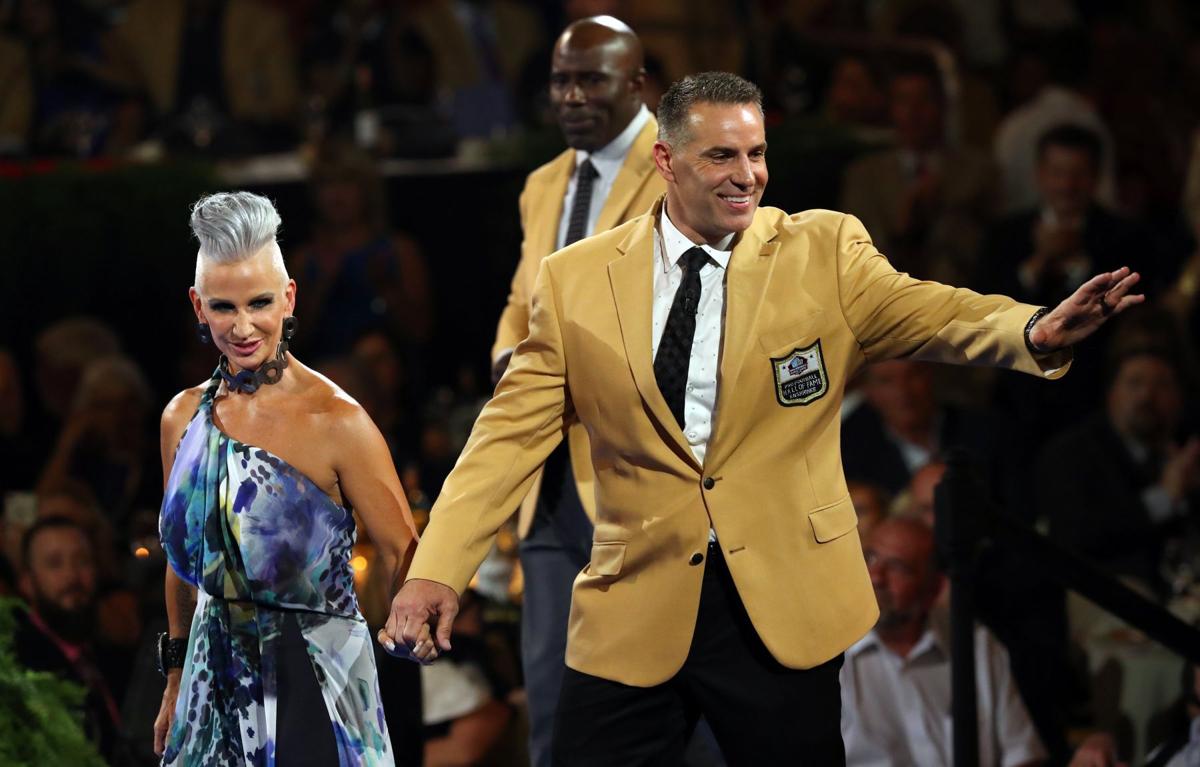 There was also a stage in the middle of the room, which was where the inductees would receive their gold jackets.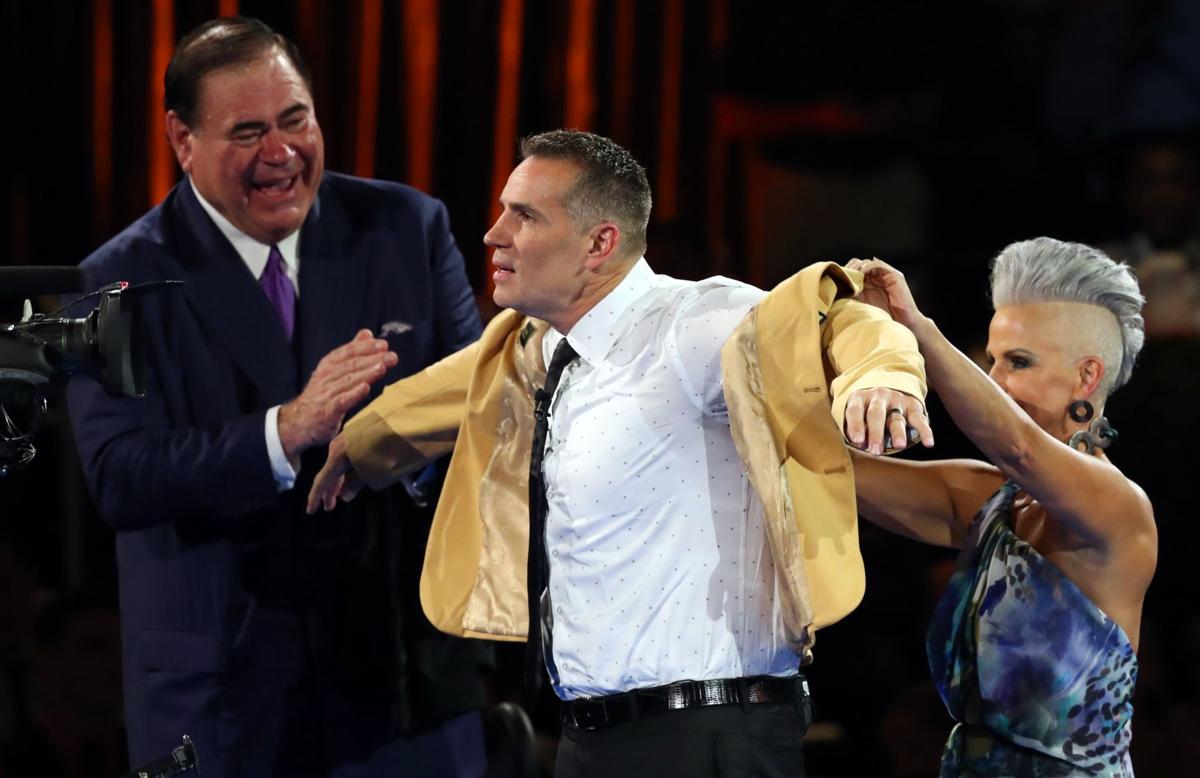 The live broadcast began at five p.m. pacific — eight o'clock local — but the event really began with a cocktail hour three hours earlier. Then once the hour flipped to six, the assembled guests began to get seated at their tables for the meal. During dinner, a horn quintet played a wide variety of music — from the theme to Pirates of the Caribbean, to the Beatles' "Yesterday," to Duke Ellington's "It Don't Mean a Thing."
Finally at 7:15, the program commenced with a video presentation featuring commentary and highlights from the Hall of Fame class of 2017 — kicker Morten Andersen, running back Terrell Davis, safety Kenny Easley, Cowboys' owner Jerry Jones, defensive end Jason Taylor, running back LaDanian Tomlinson, and, of course, Warner. Jones' words from an old press conference — "There is no substitute for winning" — started the video.
Then master of ceremonies Rich Eisen took his place at the podium, declaring that after Thursday's Hall of Fame game between the Cardinals and Cowboys, "Football is back."
It's after a few remarks by honored guests — among them commissioner Roger Goodell, Canton mayor Thomas Bernabei, and Executive Director of the Pro Football Hall of Fame C. David Baker — that the real show begins. If you watched the gold jacket ceremony, you saw all the inductees walk between two long rows of returning Hall of Famers to the middle stage in the middle of the room. But what you don't see is each of those men being introduced.
Each of the Hall of Famers has his career accomplishments listed and his name called as he walks into the room. It's a thrilling sight to see many of the greatest to ever play professionally — Jim Brown, Joe Namath, Emmitt Smith, Jackie Slater, Marshall Faulk, and Orlando Pace among them — all standing side by side, waiting to greet those who will join them in football immortality.
They form two lines, one on the left side of the room, and another on the right. That's when the live broadcast begins. And as shown on the telecast, each member of the class of 2017 gets greeted through the long line.
Each inductee is introduced individually, standing on a small stage with a sea of gold jackets in front of him. For Warner, the first three to greet him were Faulk, Slater, and Pace — all former Rams.
Because it's a television show, there were pauses in the event to allow for commercials. And during one of those breaks, singer/songwriter Paul Anka came on stage to sing a special Hall of Fame edition of a song Frank Sinatra made famous, "My Way."
But this came with a surprise, as American business magnate, investor, and philanthropist Warren Buffett — who had been seated at the head table — came on stage to perform, too. Aside from the inductees receiving their gold jackets, this was the most unforgettable aspect of the night, to be sure.
At long last, the Class of 2017 received their gold jackets individually, albeit with commercial breaks in between. Taylor received his first, and Warner last among the group.
When it was his time, Warner walked up to the stage with his wife, Brenda, who will also introduce him for his enshrinement speech on Saturday. As they walked out, a video played with highlights of Warner's career, including his Super Bowl XXXIV MVP-winning performance for the Rams. Then Brenda Warner helped her husband remove his suit jacket, and helped place the gold jacket on his shoulders. While many inductees walked around the stage to wave to the crowd alone, Warner held his wife's hand to keep her there with him — a symbolic gesture of how she has been along on the journey with him.
You'll see Warner sporting his piece of football immortality as he makes his enshrinement speech on Saturday night. Warner is slated to be the last speaker during the ceremony, which begins at four o'clock pacific.
Analyzing the Rams' First Unofficial Depth Chart with Myles Simmons. With the Rams' first preseason game of the 2017 season coming on Saturday against the Cowboys, the club released its first unofficial depth chart on Monday afternoon.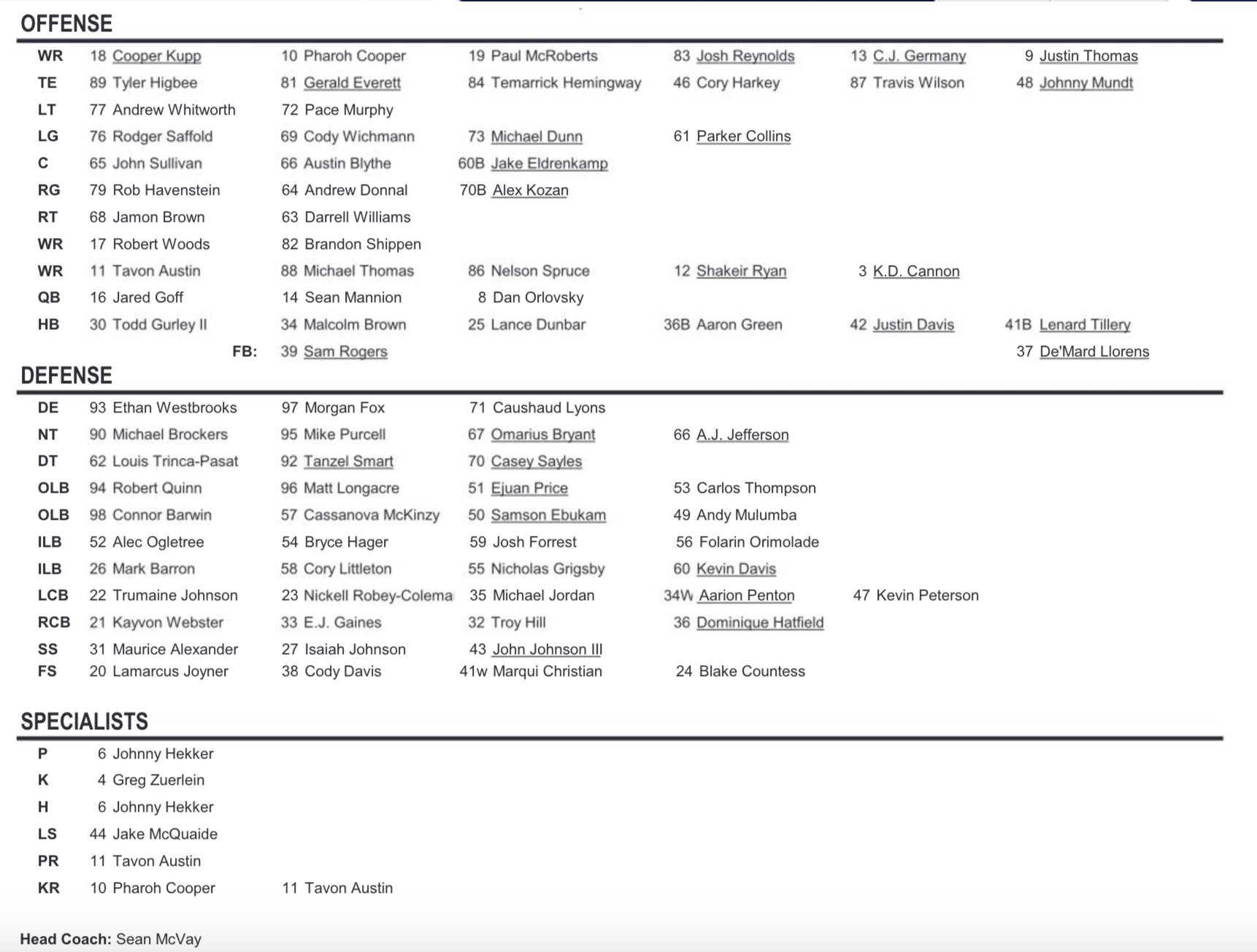 There weren't many surprises, though there are some notable names off the list. Here are three notes on what stands out.
1) Starting defensive line: Westbrooks, Brockers, Trinca-Pasat
Perhaps the most notable item from the depth chart is who isn't on it. Because he still has not reported to camp, defensive tackle Aaron Donald is not listed on the depth chart. And because he's on injured reserve after suffering a season-ending knee injury, Dominique Easley is also not on this depth chart.
Nose tackle Michael Brockers, defensive end Ethan Westbrooks, and defensive tackle Louis Trinca-Pasat are the three listed starters on the defensive line. Brockers has been a starter for a while, so there's no surprise there. Westbrooks has played 35 games in his career — with two starts in the 2016 season — recording 4.0 sacks.
But Trinca-Pasat has yet to play a regular-season snap. Originally signed as an undrafted free agent in 2015, Trinca-Pasat was a member of the Rams' practice squad for nearly all of that season. Though he was signed to the active roster in mid-December, he was inactive for the year's remaining games.
Then in 2016, Trinca-Pasat suffered a season-ending injury during the offseason program and spent the year on injured reserve.
Head coach Sean McVay has been complimentary of Trinca-Pasat's performance throughout camp, saying last week, "I think when you talk about a guy that's just doing things the right way, consistency, dependability, reliability — very physical player, hard to move, plays with a great low center of gravity, he uses his hands well even though he is a little bit stockier guy. So in the little bit that we've seen from him with the offseason program and then when you put the pads on, I think he has done a nice job for us."
2) Where are the draft picks?
Again, keeping in mind that this is an unofficial list, wide receiver Cooper Kupp is currently the only rookie listed in a starting role. He's listed ahead of Pharoh Cooper, Paul McRoberts, Josh Reynolds, and C.J. Germany in his particular wide receiver spot. Robert Woods and Tavon Austin are the other listed starters at wide receiver.
Gerald Everett is listed behind Tyler Higbee as the No. 2 tight end. Defensive tackle Tanzel Smart is also listed with the second-team defense.
Samson Ebukam is a third-string outside linebacker behind Connor Barwin and Cassanova McKinzy. On the other side at OLB, Ejuan Price is listed behind Robert Quinn and Matt Longacre. And safety John Johnson is listed on the third-team defense.
Finally, one is the loneliest number: Sam Rogers is listed as the only fullback under the second-team offense.
3) Who will be the returners?
If there's one mystery on Los Angeles' depth chart, it's who the returners might be in the preseason contests.
Tavon Austin is the only listed punt returner and he's second string at kick returner. Austin, however, is currently day-to-day with a hamstring injury. Pharoh Cooper is currently the only other returner listed, as the first-team kick returner.
But with Austin currently sidelined, who might be back there?
"I think when you look at what Tavon's been able to do and guys like Pharoh Cooper, so he's definitely in the mix with that. And I think you saw Cooper Kupp did a great job back there catching some in the practice against the Chargers," McVay said on Sunday. "But [special teams coordinator John Fassel] is one of the best in the league for a reason. He'll do a good job of finding that and we'll figure out how those guys fit into the mix based on how the way that our final 53 and our active game day roster shapes out."
How To Watch: Rams vs. Cowboys.
Broadcast information for the Los Angeles Rams' preseason opener against the Dallas Cowboys at L.A. Memorial Coliseum.
The game kicks off at 6pm PT on Saturday.
The Rams are set to take on the Cowboys in Week 1 of the preseason, with the live game being available throughout the Los Angeles area. The preseason opener will be broadcast locally CBS 2 as well as

UniMás 46 Los Angeles

. Fans living outside of the L.A. market are also able watch the game live on NFL Network or by signing up for a 7-day free trial of NFL Game Pass. Below is the full broadcast information for Saturday's game, along with information on how to get NFL Game Pass.
TELEVISION

: CBS 2 in Los Angeles, Orange County and San Bernardino County (Play-by-play provided by: Andrew Siciliano, Marshall Faulk, and Daniel Jeremiah. Sideline Reporting from: Jill Arrington and Dani Klupenger). The game will also be broadcast on UniMás 46 Los Angeles and nationally on NFL Network.
RADIO

: ESPN 710 AM, 100.3 The Sound FM (Play-by-play provided by:J.B. Long, Maurice Jones-Drew and D'Marco Farr). Tune into 1330 AM for ESPN Deportes' live Spanish broadcast of the game.
ONLINE:

NFL Game Pass* gives you access to live out-of-market preseason games, replays of every game, the NFL Films Archive and so much more! Click here above to sign up for your FREE 7-day trial and start getting unprecedented access to every game, all year long.
*For domestic subscribers NFL Game Pass does not include live regular season, playoff, or Super Bowl game broadcasts, as well as some preseason games broadcasts. Access to these games is available within NFL Game Pass on an on-demand basis in the NFL Game Pass archives.

International subscribers are able to watch both preseason and regular season games as they happen with certain restrictions.

Audio feeds may be subject to availability. 2009-2011 games are temporarily unavailable. For a full description of features, requirement, limitations, and other information, visit our FAQ at NFL.com/help/GamePass.