An entrepreneur has a plan to save the rhinos from poachers, but environmental groups hate his idea.



One of Cecil the Lion's sons has been shot dead by trophy hunters in Zimbabwe.

The 6-year-old male named Xanda was killed last week not far from the spot where his father was taken two years ago, the Telegraph reported.

Xanda's death came to light because he was wearing an electronic collar that was fitted by researchers to track his movements.

Professional hunter Richard Cooke, who was also involved in the killing of Xanda's 4-year-old brother in 2015, handed the collar back to the researchers.

Xanda's death gets the OK from the authorities in Zimbabwe because he was aged over 6 and had strayed outside the protected area of a National Park.

Xanda had seven cubs under his watch and scientists warn they could now be killed by the male lion that replaces him as head of the pride, the Times reported.

The death of Cecil the Lion caused uproar in 2015 after he was killed by an American dentist who paid $65,000 dollars for the dubious privilege.
Cecil's Son Killed by a Trophy Hunter—Tell UPS to Stop Shipping Hunting Trophies. UPS has banned the transport of shark fins and live animals as well as ivory. Let the company know that wild animals will continue to be slaughtered to boost hunters' egos and fulfill their perverse sense of "fun" as long as wildlife slayers with something to prove can ship heads, tails, and skins back home. TAKE ACTION TODAY
Pregnant Sheep Whipped, Cut Up for Patagonia-Approved Wool Producer. Eyewitnesses recorded heavily pregnant sheep being whipped, sent stumbling down slippery ramps, sheared so quickly that most sustained bloody wounds, and driven into the desert to give birth in freezing temperatures with virtually no coat to protect them. SPEAK UP FOR SHEEP
Another Horse Dies in Dangerous Chuckwagon Racing Event. Dozens of animals have died over the years in these reckless races, in which teams of horses pull "pioneer" wagons around a track at breakneck speed. They've sustained fractured legs and broken backs and have suffered heart attacks. Speak up for horses and help ban these races at the Calgary Stampede before any others die. ACT TO HELP SAVE HORSES
Big Cats Aren't Pets. Urge Congress to End The Private Ownership Of Dangerous Wild Cats.
Subject: Cosponsor the Big Cat Public Safety Act (H.R. 1818)

Dear Representative,

I am writing to respectfully encourage you to cosponsor the Big Cat Public Safety Act (H.R. 1818) to protect both big cats and the public.

Big cats face countless threats both in the wild and in captivity. Captive, privately-owned big cats are regularly subjected to mistreatment and miserable living conditions, while those who exploit them misrepresent these activities as "conservation." Despite these claims, roadside captive big cat displays, cub handling exhibits, and "pet" big cat breeding do nothing to benefit these animals' wild counterparts, and could in fact do just the opposite.

Private ownership of big cats is also a serious public safety issue. There have been hundreds of dangerous incidents involving captive big cats in the U.S., including maulings, escapes, and cases in which captive big cats have killed people. The Big Cat Public Safety Act (H.R. 1818), if enacted, will help to ensure that these tragedies do not continue.

As a proponent of big cat protection and conservation, I urge you to support H.R. 1818 to safeguard wild animals and communities across the U.S.

[Your Comment]

Thank you,

[Your Name]
Click here to help!



Hari Rani Chaudhary is a member of the community-based anti-poaching unit in Khata Corridor in Bardia in Nepal's Terai Arc Landscape. She helps protect tigers in this critical corridor that connects Nepal's Bardia National Park with India's Katerniaghat Wildlife Sanctuary. With support from WWF, Hari Rani's anti-poaching unit patrols the community forest to monitor and report illegal activity, and prevent poaching. Copyright: WWF-Nepal



Whenever you are searching for a trainer or going out of town and can't take your dog with you, the safest and least stressful option is to leave your dog at home with a trusted caregiver. If that's not an option, always carefully screen boarding facilities by touring them in person, asking detailed questions about animal care policies, getting references from other customers, and checking with the Better Business Bureau, the Chamber of Commerce, and animal protection organizations to see if any complaints have been lodged.
Text GLUE to 73822 to Urge Mercer County Civil Courthouse to Ditch Glue Traps. During discussions between PETA and The Home Depot regarding the company's sale of glue traps—products that cause immense suffering to small mammals and birds, who tear off parts of their faces and limbs trying to escape over hours or days—a Home Depot employee found a mouse suffering in a glue trap inside one of its own stores. After witnessing firsthand how animals suffer as they struggle in the traps' adhesive, The Home Depot decided to prohibit the use of glue traps in its more than 2,200 stores nationwide. Now, text GLUE to 73822 or take action online to urge Mercer County officials to join The Home Depot and other entities in ditching glue traps. HELP GID RID OF GLUE TRAPS
Missouri State Representative Brutally Kills Chicken to Somehow Protest Abortion.
Missouri State Representative Mike Moon has come under fire for a video he posted to his official Facebook page in June. The video begins with Moon standing beside a chicken who is strung upside down by her feet, fully conscious. Moon then beheads her while she flaps and flails wildly. The politician then begins to wax poetic about God giving us dominion over animals, which we assume is an attempt to justify his horrific and totally unjustifiable act of cruelty. No matter where you stand on the issue of abortion, killing an animal to further a political agenda is repulsive and disrespectful of life. Call on this heartless animal abuser to resign.
TAKE ACTION
Horses Crammed Together in Cargo Planes and Shipped From Canada to Japan for Slaughter.

Every year, about 6,000 horses are stuffed into tiny wooden crates in Canada and shipped halfway around the world to Japan, only to be slaughtered. They're often deprived of food and water and packed so tightly that they're unable to stand naturally for the duration of the 16- to 18-hour flight. Numerous horses have died, and one was even discovered dead and upside down in a crate.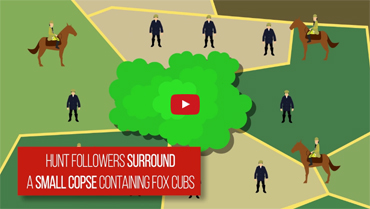 Every autumn, across the UK, something despicable happens during early mornings or late evenings, when it is still dark. We believe that up to 10,000 fox cubs may die every year through cub hunting.
Although we believe that cub hunting is very common, there has been only one successful prosecution, in 2012. If we want this practice to stop, we need to change that.
This video gives the key signs of what to look out for. Please share it far and wide so we can gather intelligence and stamp out cub hunting.
| | |
| --- | --- |
| | You've seen how cub hunting works, now help to stop it by donating to our latest appeal. |
| | |
| --- | --- |
| | The Parliament of the Balearic Islands just passed a new Act to regulate bullfighting, banning it de facto in all the islands, including Majorca, Menorca and Ibiza. |
| | |
| --- | --- |
| | An image appeared on Vinnie Jones' Twitter account showing what appears to be more than 100 dead foxes |
| | |
| --- | --- |
| | Join the League and other key animal welfare organisations in London on August 12th to make a stand against cruel sports in the UK |