Nosey the Elephant Will No Longer Be Forced to Give Rides at Tractor Supply Company.

Tractor Supply Company has taken steps to ensure that Nosey won't suffer on its property ever again. However,

Nosey still needs your help—urge the Great Lakes Medieval Faire not to host elephant rides and ask it to join the many venues across the country that have chosen not to use Nosey after learning of her intense suffering. RAISE YOUR VOICE FOR NOSEY
More Justice for Mohan!
Yesterday, using information and surveillance data provided by Wildlife SOS, two people were arrested in illegal possession of Mohan's ivory in India. Mohan's tusks had been cut just prior to us rescuing him last year, and after 11 months of surveillance we have the suspects in custody! It's more justice for Mohan and a message to illegal ivory traders. Huge thanks to the Wildlife Crime Control Bureau and the Uttar Pradesh Police! And another thank you to supporters like you, who truly made a difference for Mohan.
If you are concerned about other elephants in need, please help us with our charity challenge. If we can gather enough donations, we'll win an extra $100,000 in prize money, which will be allocated to the rescue and care of India's exploited circus elephants. See the following link for more information: https://www.crowdrise.com/wildlife-sos



The Sri Lankan Navy got a jumbo-sized surprise last week when a patrol boat spotted an elephant stranded in the ocean an incredible 9 miles from the shore.

A mammoth rescue operation was launched last Tuesday when the elephant was found off Sri Lanka's northeast coast.

The elephant was likely washed out to sea in a riptide when it was crossing a lagoon that separates two large areas of jungle, the Guardian reported, citing the Sri Lankan navy.

Wildlife officials and two more navy boats were quickly rushed to the area.

A team of divers tied ropes to the elephant and it was dragged gently toward the shore.

It took around 12 hours for the rescue operation to be completed. The elephant was then handed over to wildlife officials for inspection.
Over 200,000 People Took Action for Gajraj the Elephant, and It Led to His Freedom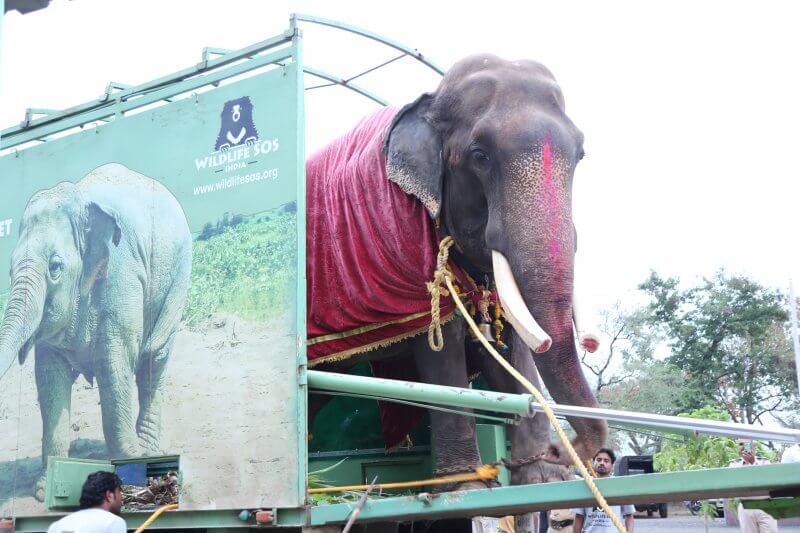 After more than 50 long years chained up as a tourist attraction in India, Gajraj the elephant has finally been rescued. Share the great news, then take action for Mali, an elephant living in captivity at the Manila Zoo. Click here to read her story!



Ringling Bros. and Barnum & Bailey Circus is shutting down, and Cole Bros. Circus—which used animals from Carson & Barnes Circus for a long time—is no longer touring, but Carson & Barnes is still forcing animals to perform confusing, often painful tricks. Please join PETA in urging the circus to join the 21st century by eliminating all animal acts and sending the long-suffering animals to reputable sanctuaries.
A RAN field investigation has just unearthed new evidence of fresh bulldozing through critical elephant habitat in Indonesia's Leuser Ecosystem. The links are crystal clear, from destroyed elephant habitat to mills supplying the world's biggest palm oil supplier Wilmar, which sells its palm oil to the world's biggest brands.
Demand accountability now! PepsiCo, Nestlé, Unilever, Mars, Kellogg's, McDonald's and Procter & Gamble must take immediate action to ensure the extinction of the critically endangered Sumatran elephant isn't on their hands!
All of these companies have so-called "no deforestation" policies in place to prevent exactly this type of incident, but without strict enforcement, those policies aren't worth the paper they're written on. While companies like PepsiCo and McDonald's continue to hide behind corporate greenwash, forests are flattened to make way for Conflict Palm Oil plantations.
Endangered Sumatran elephants don't care about corporate spin - they depend on these forests for their very survival. And as these forests fall, their numbers do as well - as few as 700 Sumatran elephants may be left in the wild. That's why these companies need to hear from us right now.
We need to act now - to tell the world's biggest brands that use palm oil that forests and endangered elephant habitat are more important than Cheetos, french fries, ice cream, cosmetics, snack foods, or anywhere else that Conflict Palm Oil is used to make a quick buck.
Demand accountability now - don't let major brands like PepsiCo, Nestlé, Unilever, Mars, Kellogg's, McDonald's and P&G get away with it.
Help us win $100,000 to help India's elephants. Wildlife SOS is currently participating in the Crowdrise Challenge to win $100,000 to help rescue and care for India's circus elephants.