Ivan's Prayer for Justice
Thank you for standing up for justice. Today Governor McAuliffe commuted the death sentence of Ivan Teleguz, stopping the execution of an innocent man in Virginia planned for April 25th. Ivan will be alive to continue fighting to prove his innocence. Updates will be available on social media (@InnocenceVA) and ivansprayerforjustice.org. Your voice made a difference!
Legal Chaos in Arkansas as Judges Halt State Plan to Carry Out Unprecedented Spate of Executions



Arkansas's plan to carry out an unprecedented series of executions has been thrown into chaos, after judges ruled to temporarily halt the state's plan. Hundreds of death penalty opponents rallied at the State Capitol in Little Rock on Friday, as state Judge Wendell Griffen issued a temporary stay of the executions over concerns the state used false pretenses to obtain the drug vecuronium bromide, which is one of a cocktail of drugs slated to be used in the executions. The following day, federal Judge Kristine Baker also temporarily blocked the state's execution plans from proceeding over concerns about another one of the execution drugs: the sedative midazolam. Arkansas is appealing the rulings. If Arkansas prevails, it's slated to begin the executions today.
Arkansas executions: first prisoner killed after legal challenge fails. Ledell Lee, who maintained his innocence in a brutal 1993 murder, becomes the first to die in state's historic attempt at quickfire executions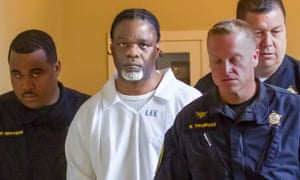 Ledell Lee appears in Pulaski county circuit court on Tuesday 18 April for a hearing in which
Arkansas has executed Ledell Lee, the first of eight condemned prisoners the Republican-controlled state had hoped to kill in the space of just 11 days.
Arkansas' governor is 'fighting back' to execute five men in 10 days. But why?
Lee was pronounced dead at 11.46pm local time, just four minutes before his death warrant had been due to run out. The department of corrections had sprung into action shortly after 11.30pm on Thursday, after the US supreme court gave its leave for the killing to go ahead.
As soon as word came from the nation's highest court, Lee was escorted from a windowless cell just feet from the death chamber at the Cummins Unit in south-east Arkansas, where he had been made to wait for several hours, and then strapped down on to the gurney.
IV lines were attached to his body, two in each arm; they passed through a wall into the room occupied by two executioners who then at 11.46pm plunged the syringes into the tubes that led back to him. Media witnesses inside the death chamber said the room was very quiet.
Lee was asked twice for his final words, but said nothing. He appeared to lose consciousness quickly – within three minutes his eyes were closed and when officials carried out a consciousness check by rubbing his head and flicking his eyelids, there was no visible reaction.
A stethoscope was used to test for a heartbeat a few minutes later. Then an official who is thought to have been the coroner entered the chamber to pronounce him dead.
The prisoner was killed with a combination of three medical drugs: midazolam to sedate him, vecuronium bromide to paralyse him, and potassium chloride to stop his heart. A media eyewitness from Associated Press said that as far as he could see there was no sign of pain or suffering.
The sudden activity in the death chamber came after a long day of legal wrangling between the Arkansas attorney general's army of lawyers and a team of defence lawyers that worked doggedly to try to keep Lee alive. It ended up at the door of the US supreme court, where Neil Gorsuch, the new member of the nation's highest court, participated in his first decision to send a man to his death.
The killing marks a victory of sorts from the perspective of the beleaguered governor of Arkansas, Asa Hutchinson, who astonished the world in February by announcing that he would set execution dates for no fewer than eight prisoners in an 11-day span before the end of this month. Such an intense burst of killing has not been attempted by any state in the US for half a century, and it invited a barrage of criticism from around the country and the globe.
It also tied the state up in legal knots. By Thursday evening four prisoners had effectively been taken off the execution list as lawsuits were taken up and turned into stays in both state and federal courts.
Lee, 51, was put on death row for the brutal 1993 murder of a 26-year-old mother named Debra Reese in her home in Jacksonville. He broke into the house and strangled her before beating her 36 times with a tire thumper.
Lee was offered his last meal at about 4pm, but according to prison officials he requested communion instead.
The prisoner had been represented in his final days by lawyers from the Innocence Project and the ACLU. Though the second prisoner scheduled to die on Thursday, Stacey Johnson, was granted a stay so that DNA testing could be used to determine his innocence or guilt, Lee's attempt to press the same argument in court filings failed to persuade either state or federal judges.
Nina Morrison, a senior staff attorney with the Innocence Project, said after the execution that Arkansas's rush to execute so many prisoners in such a short timeframe had deprived Lee of the right to DNA testing. "While reasonable people can disagree on whether death is an appropriate form of punishment, no one should be executed when there is a possibility that person is innocent."
A counter view of the proceedings was given by the state's attorney general, Leslie Rutledge, who has aggressively pursued the plan for an unprecedented killing spree. "The family of the late Debra Reese, who was brutally murdered with a tire thumper after being targeted because she was home alone, has waited more than 24 years to see justice done. I pray this lawful execution helps bring closure for the Reese family."
Lee always maintained his innocence of the Reese murder. Unknown fingerprints were found at the crime scene, none of them belonging to the prisoner.
At trial, the prosecution made much of two small drops of blood on Lee's shoes which they told the jury were human, though they were never submitted to scientific analysis. DNA testing, his lawyers insisted, could prove whether the blood had come from the victim, and they also called for hairs found at the crime scene to be tested to see if they were Lee's.
Arkansas governor spokesman JR Davis speaks after the news that the US supreme court stayed the scheduled execution of Don Davis.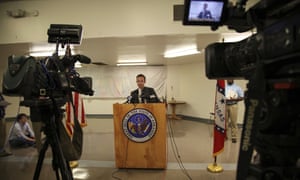 The prisoner's attorneys had also presented evidence that his previous counsel had been inadequate to the extreme, including representation by one lawyer who had been drunk during a crucial hearing.
As pointed out on Twitter by Sister Helen Prejean, the Louisiana nun and anti-death penalty campaigner played by Susan Sarandon in the movie Dead Man Walking, the drugs used in the triple cocktail of lethal injections on Thursday night illustrated the shady nature by which the state had acquired its instruments of death:
In earlier legal challenges that eventually failed to stick, the US healthcare giant McKesson had accused the Arkansas department of corrections of lying in order to acquire the second drug in the cocktail, vecuronium bromide. McKesson said in court filings that a state official had intentionally misled the medical distribution company into thinking that the chemical was needed as part of a routine restocking of the hospital wing of the prison service.
Wendy Kelley, the director of the corrections department, testified last week that she had personally acquired the third drug, potassium chloride, from a supplier who was so scared about his or her identity becoming public that they decided to "donate it".
The execution of Ledell Lee takes the experiment under way in Arkansas to a new level:
Hutchinson's initial plan was to kill eight prisoners in 11 days, with four sets of double executions set for 17, 20, 24 and 27 April.
Such an intense killing spree has not been attempted in the US since the 1951 mass execution of the Martinsville Seven, black men accused of raping a white woman in Virginia. They were put to death at 15-minute intervals.
The governor said the highly unusual timeframe was necessary in Arkansas because the state's supplies of the sedative midazolam, used as the first of the three-drug cocktail in lethal injections, was expiring on 30 April and would be hard to replace. Critics and lawyers for the eight countered that the plan was rushed and could expose the men to the risk of cruel and unusual punishment through botched procedures.
Lee's killing on Thursday night marked the first execution to actually go ahead in Arkansas after the state hit several legal roadblocks.
By Monday night three of the eight condemned men had dropped off the list of set executions, their lives spared. The first was Jason McGehee who was recommended for clemency by the state's parole board. Then both Bruce Ward and Don Davis were temporarily reprieved after the courts intervened, including a late-night flurry at the US supreme court.
On Thursday afternoon the state conceded that it would not be able to execute a fourth prisoner, Stacey Johnson, after Arkansas courts decided he should be given the chance to prove his innocence through DNA testing that had previously not been made available to him.
There now remain three more killings scheduled at the Cummins Unit: that of Marcel Williams and Jack Jones next Monday, and Kenneth Williams on 27 April. Should they all die, Arkansas would have put to death four men in eight days. Jacob Rosenberg is a reporter with the Arkansas Times
On April 11, we released a letter that has received national attention. It was signed by 25 notable Virginia conservatives calling on Virginia Governor McAuliffe to halt the planned execution of Ivan Teleguz. His execution is scheduled for April 25, despite a complete lack of physical evidence and the fact that two of the three witnesses who originally linked him to the crime have since recanted their testimony. The third witness had incentive to lie because he received a lighter sentence in exchange for testifying against Teleguz.
Considering all of this, there is simply too much doubt to execute Teleguz, and there is reason to believe that he may actually be an innocent man. Thus, pro-life conservatives in Virginia signed the letter respectfully asking Gov. McAuliffe to commute Teleguz's sentence. You can read it in its entirety and see the signatories here.
Conservatives Concerned in the Field
On March 22, I traveled to the College of William and Mary, where I presented the conservative case against the death penalty at an event hosted by the College Libertarians and College NAACP. The event was attended by inquisitive students who mostly opposed capital punishment by the end of the presentation.
On April 1, representatives of CCATDP exhibited at the regional Young Americans for Liberty conference in Pittsburgh, and it was another success. Our booth was flooded with supporters, and those working the booth met with many fellow conservatives and libertarians who oppose the death penalty and want to become involved.
Conservatives Concerned in the Media
• Multiple news outlets covered the conservative outcry to spare Teleguz from death. The
New York Times
,
Washington Times
,
Boston Globe
,
US News
,
National Review
,
Roanoke Star
, Richmond Public Radio,
Idea Stations
,
WVTF
, and many others all reported on the conservative sign-on letter.
• Ben Jones was a guest on
Wichita Liberty TV
to discuss why Kansans are better off without the death penalty.
• The
Flat Hat News
published a piece covering my speaking engagement at the College of William and Mary.
• I returned as a guest to the Chosen Generation radio show with Pastor Gregory Young,
Wayne Dupree Show
, and the
Colors of Politics
radio show to describe how the death penalty is inconsistent with conservatism.
• I penned an op-ed in the
Daily Caller
in which I discussed the Georgia Conservatives Concerned about the Death Penalty's launch.
• Friend of CCATDP, Jennifer Maffessanti, authored an op-ed in the
Libertarian Republic
discussing the reasons why she no longer supports capital punishment.
• Long time CCATDP supporter, Austin Paul, wrote an article for
Red Alert Politics
explaining how Georgia's death penalty violates conservative values.
Upcoming
On April 19, 2017 at 12pm, I will be presenting to the Oklahoma Conservative Political Action Committee (OCPAC). The meeting will be held at Mama Roja Mexican Kitchen in Oklahoma City.
The following day, April 20, 2017 at 7pm, I will be speaking on Oklahoma's sordid history with capital punishment with the University of Tulsa College Republicans at the Student Union Center
If you're in the neighborhood, then I hope to see you there!
Are you concerned that Virginia might execute an innocent man? If so, then click here to share the conservative sign-on letter on Facebook to help us get the word out!