Miracle Cat Who Survived Being Doused in Gas and Crushed in a Garbage Truck is Recovering!
All the myths aside, cats have only one life – and it is a miracle that Maisy, the cat recently rescued by the Humane Society of Berks County (HSBC) did not lose hers after the horror she endured.
Miracle Maisy, named so for a very good reason, was found on April 4, 2017, tied in a trash bag, doused with gasoline, crushed inside a garbage truck. Her desperate cries were fortunately heard by two sanitation workers from the Harold Adam Refuse Removal who brought her directly to the HSBC thus saving her life. Currently, Maisy is being treated for her injuries at the Humane Veterinary Hospitals Reading.
"This is the worst animal cruelty case I've ever seen or experienced," said Chelsea Cappellano, Office Coordinator at the HSBC, in her conversation with People. She emphasized how important it was that the two men had not ignored the situation, but taken action and helped the cat by bringing her to the HSBC.
Maisy was entirely soaked in gasoline and had to be bathed and dried for a long time to get rid of the substance. As reported by People, veterinarian Dr. Kimya Davani found that Maisy had to be shaved to help her body temperature recover. He was worried that the gas may have even soaked through her skin and affected inner organs.
Under the vigilant care of vets and caretakers, the kitty has already begun to feel better – she has gained back some of her energy and, as the organization reports, is even quite playful! She has a good appetite and her skin condition is definitely improving.
The response to Maisy's story has been enormous. Thanks to the priceless care she's received and the help from well-wishing people, Maisy is now on the road to full recovery. Once she is ready to leave the hospital, the kitty will be welcomed into an experienced foster home!
Humane Pennsylvania immediately took the steps to find the abuser who threw the animal away like garbage by filing a police report and offering a $1,000 reward to anyone able to disclose information leading to a criminal conviction. The organization also urgently needs help with funding Maisy's medical expenses. To help them, you can make a donation here.
To learn more about Humane Pennsylvania, click here. Image source: HumanePAPartners/Facebook
Epic dog rescues: Hero dog saves pal from being swept away; SPCA rescues stray dog



1. Jan 26, 2017 - In a now-viral video, a game of fetch between two dogs gets out of hand, and looks like it could end badly. However, as the old saying goes, looks can be deceiving.

2. Feb 16, 2016 - SPCA workers rescued a dog that locals had noticed and described as the 'ballooned faced dog'.

3. Mar 21, 2016 - Born in Seoul, South Korea, 2-year-old golden retriever mix Chi Chi was slated to be killed in the underground dog meat trade.

4. Jan 4, 2017 - New Year's Eve was harrowing for one terrier, who almost lost a paw to an escalator at Fort Lauderdale-Hollywood International airport.

5. Jan 5, 2016 - Shocking footage of an abused dog in Romania shrieking in fear when a woman tries to pet him has gone viral, and garnered sympathy for the rescued animal.
Kitten rescue: Unlucky kitten rescued after trapped behind glass wall for three days



A trapped kitten was recently rescued from behind a glass wall in China after being stuck there for 72 hours without food or water.

Earlier this month, the feline somehow became lodged behind a glass wall in a building in the southwestern city of Chengdu, China's viral news outlet Kankanews reported.

The animal was spotted after three days by a local karaoke receptionist named Dong.

He tried to help the kitten but couldn't find a gap to pull it out, so Dong called the building's property management office for help.

The glass wall was reportedly built between aluminium door frames and a load-bearing wall, so building staff dug a tunnel to rescue the animal.

Dong later decided to adopt the kitten, Kankanews reported.
Hope For Paws - Epic CAT rescue down a 60ft. long pipe! Please share.



Your $5 donation will help us save more dogs and cats: http://www.HopeForPaws.org

To adopt the mama or the kittens, please contact: http://www.Room8Cats.org
From Circus to Sanctuary: The Story of Sita
Note: Although this profile is about SIta, we are conducting a webinar on April 19 about the group of close ele friends that she belongs to — the Three Sisters. Click here to register for it!
Wildlife SOS has been rescuing injured and abused animals for 20 years. We've seen a lot. But even we were shocked by the signs of neglect when a circus elephant named Sita entered our elephant ambulance in November 2015. Her feet were a spider web of cracks and abscesses. She couldn't bend her right forelimb — at all. She was beyond exhausted. Sita was suffering from some of the worst neglect we'd ever seen in a circus elephant, or in any elephant for that matter.
But she was far from defeated. In fact, within minutes Sita was dangling her trunk from the rescue truck as if to wave at the well-wishers along her five-day ride from circus to sanctuary. Still, even her victory ride to freedom couldn't have been pleasant. Long-neglected injuries from the circus had left her barely able to stand and nearly impossible to lie down. And maybe worst of all: she'd been separated from the companionship of Rhea, a dear elephant friend who, along with Mia, was likely her only respite in the cruel circus life she shared with them. (Click here to register for our upcoming webinar about the "sisters").
Ladies who lunch: Mia, Sita, and Rhea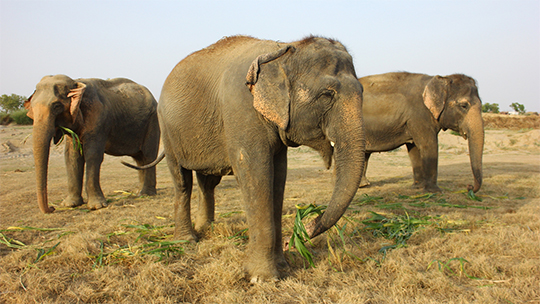 Since her arrival at our sanctuary 18 months ago, Sita has made good progress, and her reunion there with Mia and eventually Rhea has played a major role. And though decades of punishing work and neglect in a circus can't be reversed overnight, we're building a good life for Sita thanks in no small part to your help. The condition of her right front leg makes walking difficult, and she doesn't go far, but Sita has the freedom to take her time, explore whatever catches her curiosity, and enjoy the company of the other elephants. After a couple of early falls, supporters rallied to help us buy her a crane to assist in getting back up — and we're happy to report that it's been more than six months since she fell, a good sign that her strength and stability are improving. Additionally, we've redesigned her entire enclosure with support structures to keep the weight off her legs. We made a special sand bed to help her when lying down to rest. She's had ultrasound therapy for her front leg issues and receives medicated, warm-water foot-soaks to help alleviate foot pain. And we will continue to consult with international elephant experts to further improve Sita's life at the sanctuary.
Sita's injured leg, and medicated soak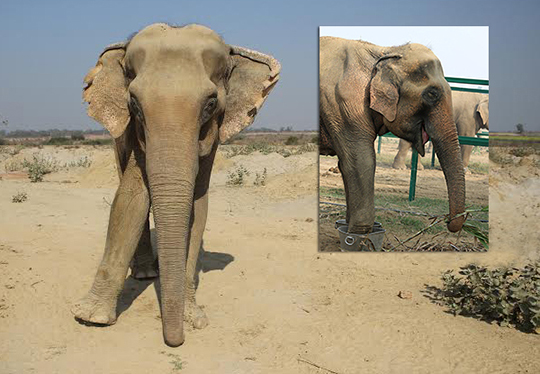 None of this would have been possible without two critical things: 1) The power of our supporters' dedication and support. And 2) Sita herself. Simply put, she is a survivor.
There are many elephants like Sita throughout India. Thousands still endure backbreaking labor for circuses and temples. We will rescue as many as we can in the future, but Sita has helped teach us that change must begin well before a rescue. For this reason we are proactively retraining mahouts of captive elephants to treat these animals with positive reinforcement in place of punishment, with respect in place of neglect.
Sita has been on quite a journey from the circus to the sanctuary. You made this possible by caring about her plight. On her behalf we would like to express our gratitude to you for helping us change her life dramatically!
Orangutan Rescued from River. Heartwarming footage has captured the moment conservationists save a wild orangutan stranded in the middle of a raging river.
The orangutan was found in the middle of the Gorilla Waterfall in Lesan River, East Kalimantan, Indonesia.
Members from The Centre for Orangutan Protection, OWT, BKSDA and Nemdoh Nemkay were out on a survey of the protected forest area when they stumbled upon the stranded orangutan.
FOUR PAWS care for stray dogs on Koh Chang



Our project on Koh Chang has now come to an end after four weeks of working on the island delivering community outreach events, school events and our CNR progamme. We are delighted to say that our CNR team managed to sterilize 451 animals including both street dogs and cats. In addition our school and community outreach events were also a success with over 200 children participating in the school events and 60 adults in the community outreach events. We have learned a lot from this pilot project in terms of Thai culture, the general situation for street animals in Thailand and how best to work with the local community.