Federal judge issues injunction to block Arkansas executions.
The death penalty is broken, but that isn't stopping Arkansas. The state plans to execute 8 people in 10 days so it can use up its nearly-expired – and dangerous – execution drugs.
Arkansas's planned assembly line of executions is irresponsible, risky, and out of step, at a time when most states are turning away from the death penalty. Take action to stop the Governor's reckless execution plan.
Governor Asa Hutchinson is racing to use up the supply of a controversial execution drug, Midazolam, because it expires at the end of April. Midazolam is known for causing botched executions, which is why states are rejecting it. Florida and Arizona have stopped using it, and a judge recently halted the use of Midazolam in executions in Ohio.
No state has conducted as many as eight executions in a single month since executions resumed in the U.S. in 1977. Arkansas hasn't executed anyone 12 years, and no state has executed two people in a single day in close to 20 years. Oklahoma recently attempted a double execution, but it was halted. It induced such stress on the corrections team that the first execution went horribly awry, and they wisely cancelled the second one.
Speeding through a record number of executions just to beat a deadline rushes the important clemency process and risks traumatizing innumerable corrections staff members throughout the process.
All igned petitions were delivered to the Governor on Friday, April 14th – Good Friday.
After you've signed the petition, be sure to share it with your friends to expand our reach and ensure the Governor hears from as many people as possible.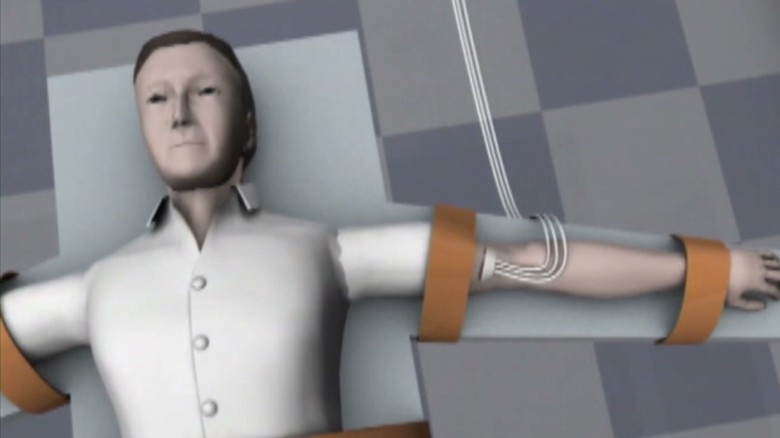 A federal judge in Arkansas issued an injunction Saturday halting the execution by lethal injection of nine inmates, saying the prisoners will likely succeed in demonstrating the state's proposed method of execution is unconstitutional.
The injunction represents the latest legal setback in Arkansas' attempt to execute the inmates -- eight of whom were originally set to be put to death by the end of April. One man's execution had not been scheduled yet.
A court must now decide whether the method of execution constitutes cruel and unusual punishment.
Arkansas Attorney General Leslie Rutledge appealed the decision hours after it was issued.
In her order Saturday, US District Judge Kristine Baker said there was "a significant possibility" the inmates will succeed in challenging the execution protocol. She said the prisoners were entitled to challenge the execution method on grounds it "creates a demonstrated risk of severe pain."
"The threat of irreparable harm to the plaintiffs is significant," she wrote.
"The court is mindful of the fact that the state of Arkansas has not executed an inmate since 2005, despite consistent support for capital punishment from (Arkansas residents) and their elected representatives," she wrote.
The families of the victims "waited decades to receive some closure for their pain," Baker noted. "By this order, that day is delayed yet again.
"These thoughts weigh heavily on the court, but the court has a responsibility to uphold the Constitution. After hearing the evidence ... the court is compelled to stay these executions."
John Williams, an assistant federal public defender who represents some of the death row prisoners, called on "state officials to accept the federal court's decision, cancel the frantic execution schedule, and propose a legal and humane method to carry out its executions."
"The unnecessarily compressed execution schedule using the risky drug midazolam denies prisoners their right to be free from the risk of torture," he said in a statement, referring to the drug used to render inmates unconscious before they are given two other drugs that paralyze and kill them.
The state's schedule of eight executions using midazolam between April 17 and 27 has been condemned by capital punishment opponents in the United States and abroad. Attorneys for the inmates said no state has attempted to conduct executions at the pace proposed by Arkansas in at least half a century.
Arkansas planned to execute the eight before its supply of lethal injection drugs expires at the end of the month.
Whichever side loses the appeal will likely take the case before the US Supreme Court, according to Carl Tobias, a professor at the University of Richmond School of Law in Virginia. The latest appeal could conclude as soon as the coming week, he said.
Another judge blocks executions
A state judge in Arkansas effectively stopped the executions Friday night, citing concerns over the lethal injection method.
Pulaski County Circuit Judge Wendell Griffen issued a temporary restraining order stopping the state from using the drug of vecuronium bromide for lethal injections.
The supplier of the drug, McKesson Medical-Surgical, argued the medication wasn't intended to be used for capital punishment. McKesson argued vecuronium bromide is for medical purposes, and that the Arkansas Department of Correction "misled" the company when it purchased the drug by phone, according to a court brief.
McKesson is asking the Department of Correction to return 10 vials of the drug.
Saturday, McKesson filed a motion to have the restraining order lifted because of the federal judge's ruling.
McKesson said: "The imminent danger that defendants (the state) would use McKesson's property and be unable to return it has been addressed by the federal court's preliminary injunction order. Consequently, there is no need for the temporary restraining order at this time."
Rutledge, the state attorney general, had filed an emergency petition to overturn the Griffen's order.
Two other drug companies, Fresenius Kabi USA and West-Ward Pharmaceuticals Corp., filed a brief in US District Court for the Eastern District of Arkansas arguing contracts prohibit their products from being used in executions, which run "counter to the manufacturers' mission to save and enhance patients' lives."
Controversial plan on executions
Two of the eight executions planned for this month already had been blocked in separate proceedings.
A federal judge on April 6 blocked the execution of Jason McGehee. The Arkansas Parole Board had earlier voted to recommend that McGehee's death sentence be commuted to life without parole, and the judge ruled McGehee's April 27 execution date would not have given the board enough time, as required by law, to notify the governor of its recommendation.
Jason McGehee's scheduled execution was blocked April 6.
Friday, the Arkansas Supreme Court also blocked the execution of Bruce Ward.
Attorneys argued that Ward, 60, should not be executed because he's mentally incompetent. He's been on death row since 1990 for strangling a woman in a convenience store bathroom, CNN affiliate KARK-TV in Little Rock reported.
A report by a Harvard Law School initiative suggests six of the eight men Arkansas plans to execute by the end of April are not mentally fit for the death penalty, including Ward.
According to the report, Ward told a forensic psychiatrist in 2010 that he hears voices, he gets revelations directly from God and he will "walk out of prison to great riches and public acclaim." He said he's been visited in prison by his deceased father and "resurrected dogs."
In March, Gov. Asa Hutchinson announced his controversial plan to execute eight inmates in a little more than a week, starting April 17.
Defense attorneys argued that midazolam does not effectively keep those being executed from experiencing a painful death.
"If midazolam does not adequately anesthetize plaintiffs, or if their executions are 'botched,' they will suffer severe pain before they die," Baker wrote in her order Saturday.
Ward was one of two inmates set to die Monday. Don William Davis was also scheduled to be executed then. CNN's Shawn Nottingham, Sheena Jones and Jessica Ravitz contributed to this report.
We wanted to make sure you saw this urgent campaign and had a chance to lend your support to stop Arkansas' "conveyor belt of death". Take action today and on Friday, Amnesty International will be delivering your petitions directly to Governor Hutchinson.
Arkansas will start up what many are calling an "assembly line of death". Don. Bruce. Stacey. Ledell. Jack. Marcel. Jason. Kenneth. These are the eight men that Arkansas plans to execute over the course of ten days. The death penalty is a cruel and inhumane punishment that violates human rights but it can be stopped. Arkansas Governor Hutchinson could stop this rush to execute but he needs to hear from you.
Eight executions in ten days is more than any state has undergone since the Supreme Court reinstated the capital punishment in 1976. So why the rush? Arkansas has exactly eight doses left of a crucial drug used to perform lethal injections, and it's set to expire at the end of April. So, Governor Hutchinson has scheduled eight executions packed into a ten-day period — as if the justice system was a conveyor belt. This rush to execute is wrong and reckless but it can be stopped. Arkansas Governor Hutchinson could halt these executions and that is why he needs to hear from Amnesty members like you.
Tell Governor Hutchinson to stop these executions now. Sign the petition.
While the rapid executions in Arkansas remain a threat, we are making progress to end the death penalty once for all. Two executions have recently been stayed by the courts, those of Paul Storey in Texas and Jason McGehee in Arkansas. Amnesty activists like you are one of reasons these executions were stayed. Together we can stop the executions in Arkansas too.
Mentally ill man set to die in Arkansas 'conveyor belt' executions

The case of Bruce Ward, diagnosed with paranoid schizophrenia, is glaringly at risk of flouting constitutional protections against cruel and unusual punishment
Lawyers race to save seven Arkansas inmates from 'execution by assembly line'
'Here is someone who was not competent to stand trial ... and here we are now with him facing imminent execution.'
At some time after 7pm on Monday night, Bruce Ward will be escorted into the death chamber in the Cummins Unit in Arkansas, strapped to a gurney, and have IV lines inserted into his veins. The lines will run through a hole in the wall to a "chemical room" separated from the main chamber by a one-way mirror, and behind that glass two executioners will sit who, when the word is given, will plunge syringes containing three deadly drugs into him.
If the procedure goes according to plan, Ward will sink into a deep sedation caused by the first drug, have his muscles paralysed by the second, and then the third will stop his heart. If it doesn't, he can look forward to a death that is prolonged, agonizing and grotesque for those unfortunate enough to witness it.
Either way, Ward, 60, is unlikely to understand what will be happening to him.
From his perspective, he is certain to survive the triple lethal injection and walk out of the prison to fabulous wealth and public acclaim, then go on to found an evangelical ministry that will spread God's love through the power of his preaching.
Since 1986, under the Ford v Wainwright ruling of the US supreme court, reinforced by Panetti v Quarterman in 2007, states have been banned from executing prisoners who are insane or incapable of understanding the reason they are about to be put to death. Yet Arkansas appears to be hurtling towards just such an outcome in its determined rush to kill Ward, who has consistently displayed signs of mental illness for almost 30 years.
On Wednesday, his lawyers filed a motion to stay his execution, based on his history of mental illness. However, if it goes ahead, it will be one of seven judicial killings (an eighth has been stayed) that the Republican governor of Arkansas Asa Hutchinson has scheduled over 11 days, a conveyor-belt of death carried out at a pace not seen in the US in more than 50 years. Lawyers for the eight condemned men warn that the crunch of so many executions in such quick succession will run roughshod over constitutional protections against cruel and unusual punishment.
Of the eight individual cases none is more glaringly at risk of flouting constitutional safeguards than that of Ward, who was first reported to show mental illness as early as 1990 at his initial capital trial for murdering Rebecca Doss, an 18-year-old clerk at the Jackpot Service Station in Little Rock. In 2006, he was evaluated by a court-recognised psychiatrist and diagnosed as a paranoid schizophrenic.
"At heart here is someone who back in the late 1980s was not competent to stand trial but never had a fair court process to look at whether he was insane. The question was kicked down the road, and here we are now with him facing imminent execution," said one of his legal team, Joseph Perkovich, an attorney with the Phillips Black project.
When it comes to unlawfully executing prisoners with mental health problems, whether of illness or disability, Arkansas has impressive form. It was the stage of one the most jaw-dropping examples of a politician cutting constitutional corners in order to pander to public opinion – the politician in question in this case being Bill Clinton.
It was January 1992, and Clinton was at the start of a presidential race that would take him all the way to the White House. In the course of the contest, Clinton unusually broke from the campaign trail and hurried back to Arkansas, where he was governor, to preside over the execution of Ricky Ray Rector.
The condemned man had been convicted of a double murder and one of his victims was a police officer. His execution provided Clinton with the perfect chance to establish himself as tough on law and order. The problem though, from a legal perspective, was that after Rector shot his second victim, he turned the gun on himself and pulled the trigger: a bullet went through his skull and blew a large part of his frontal lobe out, but Rector didn't die.
His subsequent mental impairment was not exactly subtle. Famously, he set aside the pecan pie he had ordered for his final meal before being taken to the death chamber, telling the guards that he wanted to save it to eat until after the execution. None of that gave Clinton pause: he went ahead with the lethal injection anyway, before returning to the campaign trial and eventual victory.
In Ward's case, mental health challenges started young. Teachers at his high school vividly remember him eating flies during class.
Later, after he was put on death row in Arkansas, he was observed to be a loner who lived in almost total isolation. One of his post-conviction lawyers, Joseph Luby, testified in an affidavit that Ward "lacked a rational understanding about his case and was unable to fully and reasonably assist counsel in litigating it".
Luby noted that Ward was always careful not to come across as insane, but once the attorney had gained his client's trust the inmate began to reveal his intimate thoughts. He was convinced that he had been framed for the murder of Doss through a vast conspiracy involving the "Illuminati" of Europe, an evil entity who he named Schuller, the Astor family in England and Bill and Hillary Clinton.
Ward's mental health challenges started young. High school teachers vividly remember him eating flies in class
He said he regularly had to wrestle demons inside the prison, as Satan was after him. At one point he believed a dog had entered his body and had lived inside him for many years.
At the same time, he was convinced that he was special. He traced his own lineage back to the Rothschild family, and bragged that his forebears had owned a castle belonging to Victor Hugo.
Among his special powers, he could push cars single-handedly out of snowdrifts and break up fights with ease. He had written a book on marriage and could drive on ice with ordinary summer tires.
William Logan, the psychiatrist who diagnosed his schizophrenia, wrote that when it came to his pending execution, he perceived it as "the product of a conspiracy to harass him so he will accept a life sentence so demonic sources can continue to feed on his soul. He does not believe God will allow the execution to occur."
In all the years that Ward has displayed such delusional behavior, the department of corrections has provided him with no treatment for any mental health condition. In 2015, the director of the Arkansas department of corrections found "no reasonable grounds" for thinking that Ward lacked understanding of the nature of his punishment or that he was unable to "reach a rational understanding of the reason for his execution".
In a lawsuit that Ward's lawyers lodged with state courts last month, it is argued that the lack of treatment was not just a failing in the system, it was actually a conscious policy designed to prevent condemned prisoners attempting to stop executions by appealing to protections established under the US constitution. One former prison officer who worked in the Arkansas death row testified that there was a "no involvement" policy towards death row inmates and mental health services.
"The implied policy that came from the mental health administrators and supervisors was that the agency doesn't provide psychiatric treatment to death row inmates because of legal concerns. Specifically … about the death row inmate playing crazy to avoid execution."
Instead of being given medical treatment for his diagnosed schizophrenia, Ward has been held in conditions that are known to cause devastating mental breakdowns. For the past 14 years he has been locked up in Arkansas' supermax prison in Varner, in conditions of extreme solitary confinement.
He spends all day and night in a cell measuring 12ft by 7.5ft with a solid steel door through which meals are passed via a slot. The cell contains a toilet and shower, so he never has to leave it, and though he is technically allowed out for one hour a day to go to another enclosed cell known as the "exercise yard", in practice he has for at least a decade declined to do so.
In all that time he has left his cell only two or three times each year. Every other hour of his life, waking and asleep, has been spent inside that solid box in total and unadorned isolation.
This is the individual that the state of Arkansas deems sane enough to go to his death on Monday. Ward himself appears relaxed about the prospect: he is looking forward to walking out of the death chamber a free man.
Please Stop the April 25 Execution of Ivan Teleguz, an Innocent Man
The Commonwealth of Virginia plans to execute an innocent man, Ivan Teleguz, on April 25, 2017. We need to make sure Governor McAuliffe knows that there is too much evidence of Ivan's innocence to allow this execution to go ahead. Please join the call for the Governor to intervene.
The government's case against Ivan was based on false evidence. Three men said that Ivan hired Stephanie's killer. But two of those men have since admitted that they lied in court – and sworn under oath that Ivan was not involved. The third, Michael Hetrick, confessed to killing Stephanie. He was offered a deal that spared his own life in return for saying that Ivan hired him to commit the murder.
The prosecutor coerced the witnesses. The witnesses have sworn under oath that they gave false testimony at trial because of threats from the prosecutor and promises she made to improve their sentences.
The prosecution tried to influence the jury by saying Ivan was involved in a made-up murder. At trial, the prosecutor argued that Ivan should be sentenced to death because he was involved in another murder in Pennsylvania, and was highly dangerous. It was later revealed that the testimony about the murder and the prosecutor's argument were completely made up—the murder never even happened.
There is evidence that calls into question every part of the Commonwealth's case against Ivan. There is too much doubt for Governor McAuliffe to allow this execution to go ahead. Please help make sure he knows that The Commonwealth is about to execute an innocent man.
Please help save an innocent man. Join the call for Governor McAuliffe to intervene.