GRAPHIC - Eye-injury owl needs urgent surgery



WARNING - GRAPHIC CONTENT!




We are lucky to have the support of many specialist vets at

Wildlife Aid

and it is thanks to them that we can save animals with particularly challenging cases.




This

tawny owl

was brought into us with an injury to one of its eyes from a

road accident

. The eye was irreparably damaged and was posing a serious infection risk, so it had to be removed.




Luckily, Claudia Hartly, a world-leading veterinary ophthalmologist was quick to jump to our aid, removing the eye in a process known as enucleation.




Owls with one eye survive well in the wild, and after recovering in our centre the owl was ready to be released once again!
After living on the streets, this poodle was transformed by the love of a little boy.



Please donate $5 and help us save more live: http://www.HopeForPaws.org

To adopt Yankee Poodle, please contact: http://www.RescueFromTheHar­t.org

Please SHARE this video so we can find him an amazing home.




Rescuers aid 10 stranded dolphins in Massachusetts harbor. Rescuers tried coaxing the dolphins into open water using 2 boats
Animal welfare activists began the new year in Massachusetts rescuing 10 dolphins stranded in Wellfleet Harbor.
International Fund for Animal Welfare spokeswoman Kerry Branon told The Boston Globe that the nonprofit group began receiving calls Sunday morning about three dolphins swimming in the harbor.
By the time rescue crews arrived, the number of dolphins was up to 10.
At first, they tried to coax the dolphins into open water using two boats.
When the tide went out, the rescuers had to adopt more aggressive techniques.
They used stretchers to move the animals one by one to transport trucks and released them in nearby Truro where the group hoped favorable winds and tides would help the animals make it out to sea.
Dozens of staff and volunteers participated in the rescue.
Moose rescued: Ice-skaters smashed ice on frozen lake to rescue moose



A video uploaded to YouTube on Wednesday shows the nail-biting moment when a pair of ice skaters in northern Sweden risked their lives to rescue a moose that was trapped in a frozen lake.




Viktor Johannessen and his partner Sigrid Sjosteen were skating on a lake near their home when they spotted the moose. The couple returned with an axe and tried to rescue the exhausted animal by smashing through the thick layers of ice.




The pair took turns pummeling the ice for 30 minutes straight. They eventually managed to clear a path for the moose to get to shore, and the animal clamored back onto land and disappeared into the woods.




The video, which was uploaded last Wednesday by Johannessen, has racked up more than half a million views.
How We're Working With Grassroots Animal Rescues to Spread Compassion in China. For the Nanchang Small Animal Protection Association (NSAPA), Animals Asia's help has been integral to its work caring for nearly 100 stray dogs.
NSAPA's Zhang Beibei said, "Over the past six years, we have gained a lot of experience and got a lot of help from Animals Asia. The animals' welfare has been improved and the shelter can launch more public education activities to convince more people to care for animals. Animals Asia has never failed us in our difficult work helping animals."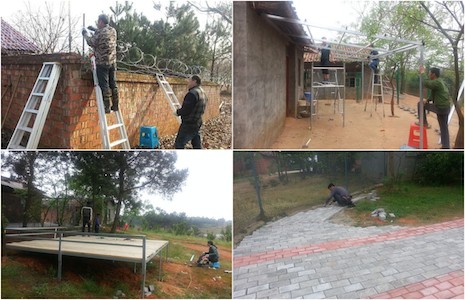 Pivotal in the NSAPA sanctuary's development was the guidance offered by Animals Asia's Dog Ownership Management Symposium and the China Companion Animal Symposium, each held every two years.
These events bring together a wide range of groups from governmental departments to home-grown NGOs, allowing them to discuss issues related to animal management.
For Zhang, these events helped his organization learn from those who had been through similar experiences and aided his NGO to prioritize their scant resources.
Those aims – educate, neuter, rescue, has seen the NSAPA grow from an animal lover's passion project to saved lives for a hundred animals.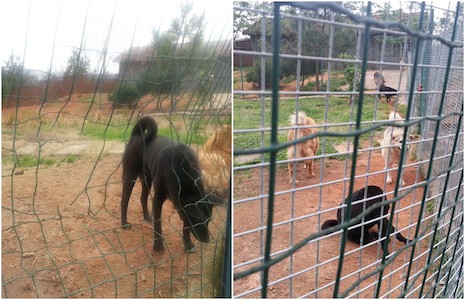 Animals Asia's Cat and Dog Welfare Director Irene Feng said: "Over the decades we've been working to help animals in China, we realized that for every horror story, there is a mass of people who are outraged and want to help. There is no shortage of compassion here and that is something we seek to harness with our consultancy and nurturing of local welfare groups."
The NSAPA is just one such charity to have benefited from Animals Asia's program.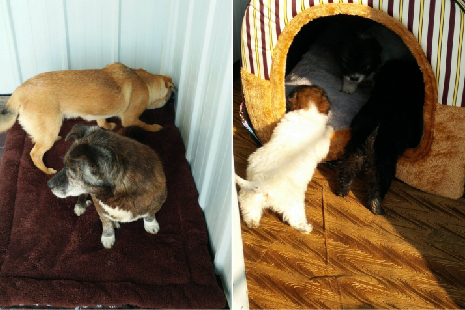 In 2016, Animals Asia worked with 14 grassroots and governmental animal shelters. Small shelters needed infrastructure funding and essentials such as medicine, vaccines, food and even heaters for the winter. Advice and expertise were also vital – including for governmental shelters. In total, over 7,800 animals were helped in just a single year.
These organizations have also become a vital voice for animals – advocating against cruelty, for animal education and are a growing voice in the campaign to end the dog and cat meat trade.
Animals Asia Founder and CEO, Jill Robinson MBE said, "Nurturing local groups is a huge part of our welfare work in China. No single person or organization can care for all the animals that need help by themselves, but by sharing resources and expertise, we can multiply our potential exponentially.
"The numbers speak for themselves really. Animals Asia could never dream of helping nearly 8,000 individual animals a year by ourselves, but by giving the skills and tools to others we've achieved the impossible. And in doing so, we've planted a seed. These organizations can now grow. They too can teach others and they can educate and influence the wider public. They are being heard. A movement has been started and has developed its own momentum. We can't wait to see what these groups achieve in the future."
For the last 19 years, Animals Asia has worked to improve the welfare of cats and dogs in China. To date, the NGO's conferences, grassroots mentoring, public awareness campaigns, Trap, Neuter, Release programs and veterinary training has helped thousands of animals across the country. All image source: Animals Asia.
Cristiano Ronaldo Donated His Signed Real Madrid Jersey to Save an Animal Shelter!
Cristiano Ronaldo has saved the day many times on the football pitch, but did you know that he was a superstar of the field as well?
Cantinho da Lili is an animal rescue in northern Portugal. The 2,000 dollars a day that it took to maintain the facilities and care for the residents of the shelter was proving to be too much for the owner, Liliana Santos. The shelter was drowning in debt and she was on the brink of shutting it down and sending the 80 dogs that live there to a kennel. However, when Ronaldo heard about their situation, he stepped in to rescue the rescuers.
Ronaldo sent Santos his signed Real Madrid jersey to help her generate a little extra revenue. She plans on auctioning off the jersey and will use the proceeds to keep her shelter open. She announced on Facebook that, as of February 8th, the auction has begun.
Liliana Santos told Correrio de Mahna, "We still do not believe it. I want to thank Ronaldo from the bottom of my heart."
A big shout out to Ronaldo for saving the day once again; we know his jersey will fetch a pretty penny on the Internet. We should follow Ronaldo's example in our own lives – not by giving away your old gym clothes, nobody wants them – by getting involved with our local shelters.
Pet homelessness is a huge problem around the globe and these shelters are the first line of defense when it comes to protecting abandoned and abused animals. When you work with your local shelter, your time and money will go a long way towards saving an animal in need. If you encounter a homeless animal in your daily life, contact one of these animal rescue hotlines to learn about how you should proceed. While we can't all be professional athletes, we can all be superstars to animals if we take the time to help them.
While we can't all be professional athletes, we can all be superstars for animals, if we take the time to help.
In-text image source: Leilão Solidário de Camisola CR7/Facebook
Lead image source: Marcos Mesa Sam Wordley/Shutterstock
When Forest Fires Devastated Chile, This Rescue Team Stepped in to Save Countless Animals.
Humane Society International's (HSI) Disaster Response Team recently touched down in Chile after the country was affected by severe forest fires. The massive blazes have not only claimed the lives of 11 people but also displaced thousands more. Sadly, over 4,000 homes have been either badly damaged or destroyed by the fires.
The expert HSI disaster responders are working towards bringing relief to the hundreds of thousands of animal victims of the forest fires. Natural disasters take a toll on animals, just like they do humans and these animals now face starvation, dehydration, and illness – unless they get help fast.
HSl's Disaster Response Team has found sheep, cows, horses, and pigs with burns ranging from minor to fatal.
Many companion animals have injuries to their sensitive paw pads and faces.
HSI will be on the ground for the next week or perhaps longer, depending on the need.
The animals and the people of Chile thank HSI for their life-saving work.
If you'd like to contribute to the HSI's Disaster Relief fund to help animals affected by forest fires in Chile, and help them respond to future disasters, you can donate here. Even a small donation can help save lives! All Image Source: Humane Society International/Facebook
UPDATE:

Mikey Gets Settled at our Sanctuary

Mikey the monkey was bred and sold as a pet. When his human had to move, the Born Free USA Primate Sanctuary agreed to provide Mikey with a forever home. We're pleased to report that Mikey has passed his quarantine and was recently released into his new enclosure! It was wonderful to give him this new space where he can explore, burn off energy, and finally be with other monkeys. Soon, Mikey will be introduced to a young female named Teddy, and will continue his transition to being a normal monkey. Check out this photo of Mikey in his new enclosure!