Vegan EggNog (Eggless Nog): An Eggless Nog that is completely Vegan, Dairy Free and easy to make. Perfect for the Holiday Season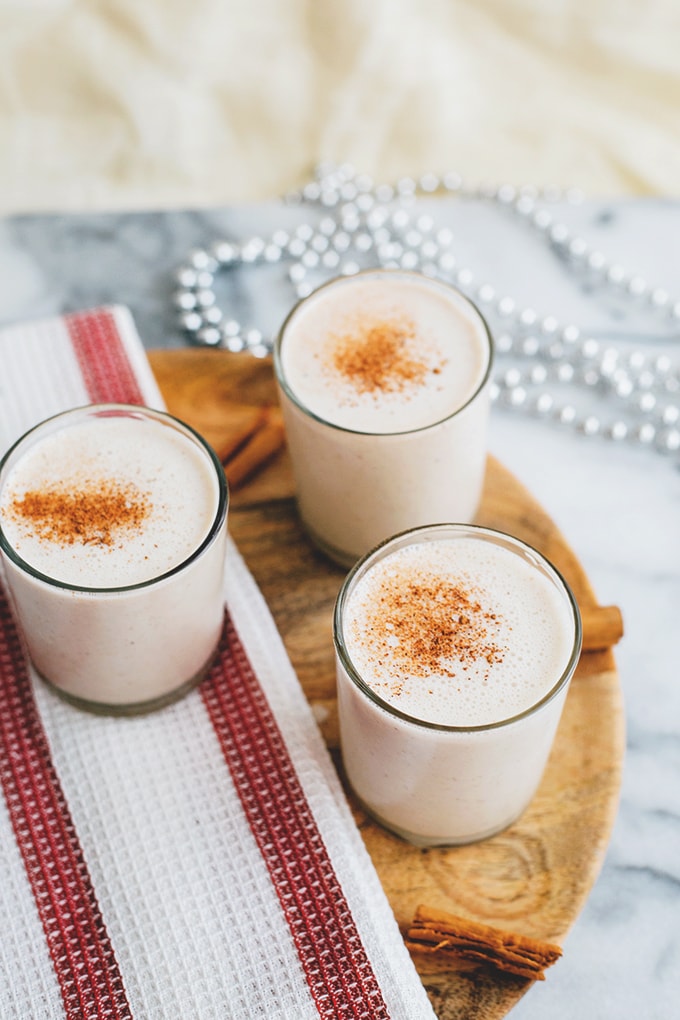 If there is one particular food I've always feared, it would have to be Eggnog. Every Christmas, as the supermarket fridges fill up with traditional Eggnog, I feel my stomach do a little dance of horror as I walk past. I mean, raw egg in a creamy beverage? Yucky yucky fukky! One of the perks of being Vegan is that I automatically cannot consume such atrocities, and have the privilege of making my own Eggless Nog, aka Vegan Eggnog. This Vegan Eggnog recipe is egg-free, chicken period free, full of nothing but tasty vegan deliciousness.
The recipe for this Vegan Eggnog is as simple as can be. All you need are a few ingredients – Almond Milk, Light Coconut Milk, Raw Cashews, Medjool Dates, Sea Salt, Nutmeg, Cinnamon, Cloves, Vanilla Bean and Bourbon. Of course, the Bourbon is optional and you can leave it out for a non-alcoholic Vegan Eggnog, but I personally love the little kick it lends to this Eggless Nog. Another great thing about Vegan Eggnog? You needn't cook it because there is nothing in here that could potentially give you Salmonella. Teehee. Anyhoo, all these ingredients go into a high-powered blender and you are a whizz away from Vegan Eggnog bliss.
The final result? A goddamn winner, that's what. This Vegan Eggnog recipe results in a creamy, thick and rich beverage that could fool any non-vegan out there. "This is fukking delicious, dude.", said my non-vegan friend. And there you have it. Delicious Vegan Eggnog!!!!!!! Without the fukking eggs!!!! Who would have thought! Scroll down for the full recipe and happy sipping!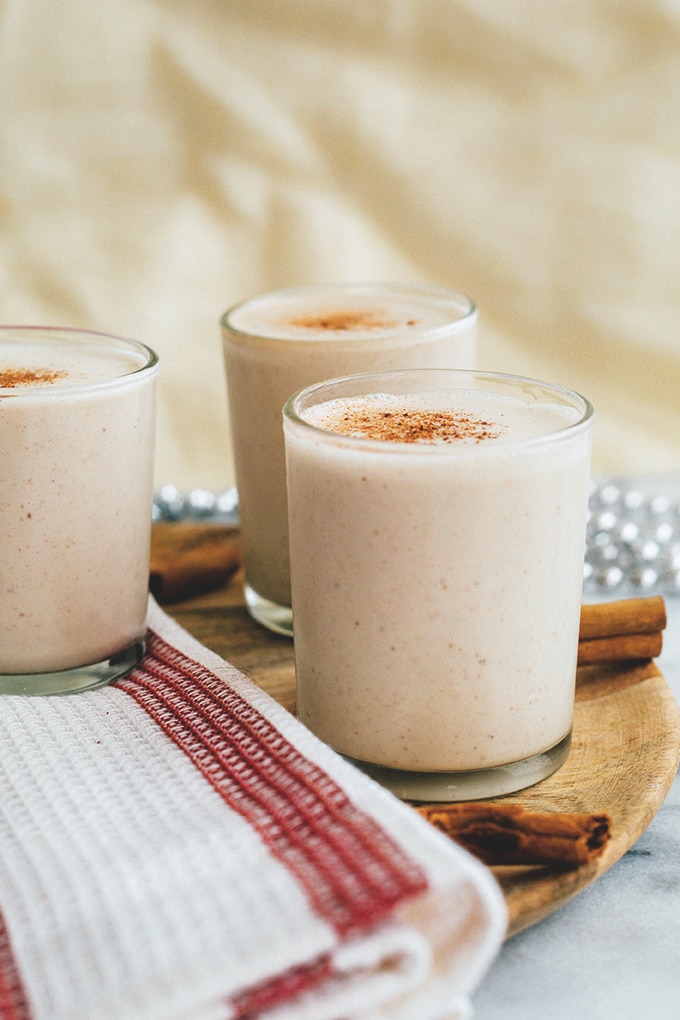 Ingredients (Serves 4-6):
3 1/2 cups Almond Milk (the refrigerated variety)

1/2 cup Light Coconut Milk

6 large Medjool Dates, pitted

1 cup Raw Cashews

1/2 a Cinnamon Stick

1 1/2 teaspoons freshly grated Nutmeg

Seeds of 1/4 of a Vanilla Pod

Pinch of Ground Cloves

Generous pinch of Sea Salt

2 tablespoons Bourbon
Jewish Bimuelos: Fried 'Honey' Puffs
At first, I made a batch of these with all-purpose flour but I couldn't't leave my gluten-free peeps out so I made a second batch with the ONLY gluten-free flour mix. I use Jennifer's Mix. The gluten-free version tastes even better! – maybe because the flours are hearty, protein-filled flours rather than the plain white stuff. The gluten-free one also looks prettier and are more tender inside.

These are a very sweet treat. I was sugared out after three of them, although they taste less sweet the next day.
JEWISH BIMUELOS: FRIED 'HONEY' PUFFS [VEGAN]
INGREDIENTS
FOR THE WET INGREDIENTS:
2 tablespoons ground flax seed, plus 6 tablespoons warm water

3/4 cup soymilk

1/2 cup unsweetened apple sauce

1 tablespoon vegan butter, melted

2 teaspoons vanilla extract
FOR THE DRY INGREDIENTS:
4 cups all-purpose flour, plus extra for dusting OR

2 cups all-purpose flour and 2 cups whole wheat pastry flour OR

4 cups gluten-free all purpose flour mix

1 tablespoon sugar

1/2 teaspoon baking powder

1 teaspoon salt

1/2 teaspoon ground cinnamon

Zest of 1/2 an orange

4 cups vegetable oil for frying
2 cups agave nectar or vegan honey

1/2 cup sugar

1/3 cup water

1/4 cup vegan sprinkles
PREPARATION
Mix the flax seed with the warm water in a small bowl or cup and let sit for 10 minutes until it is thickened and gelatinous. Mix the flax gel, soy milk, apple sauce, melted butter, and vanilla together in a small bowl.

Sift the flour, sugar, baking powder and salt together into a large mixing bowl. Add the cinnamon and zest. Make a well by pushing the flour mix to the sides of the bowl.

Add the wet ingredients to the dry in the well. Work the flour into the well and mix well until you have a dough that is smooth and evenly blended. Gather it into a ball and transfer the dough onto a floured work surface. Knead the dough for about 4 minutes, wrap the dough in plastic wrap and let stand for 1 hour.

After the hour, remove the dough from the plastic wrap. Pull a plum size piece of dough from the main dough. Roll the piece into a ball and then roll the ball into a long, thin rod, approximately 1/4-inch thick. Cut the long rod into small pieces about 3/4-inch . Roll the small pieces into balls. Repeat until you have used all the dough. Dust the balls with flour.

Heat the oil in a heavy pot until it reaches 350°F or until bubbles form around an inserted wooden spoon. Add the balls using a spider, about 10 at a time, shaking off any excess flour, and let fry until golden, about 3 minutes. Remove from the oil and transfer to a paper towel-lined plate.

In a large pot, heat the vegan honey or agave, sugar and water together over low heat until the sugar dissolves. Increase the heat and bring the mixture to a boil. It will foam; it's supposed to. Let cook about 7 minutes until it thickens a bit and the color darkens. Don't cook it longer than this or it will turn into caramel. Have a small bowl of cool water nearby.

Remove the honey mixture from the heat and add the balls immediately. Mix until the balls are covered. Using a slotted spoon, transfer the honey balls to a serving platter. Dip your hands into the cool water before touching the balls because they are really, really hot. Arrange the balls in a pile to resemble a tree. Add sprinkles.
The most magical time of the year is here! What are you going to make first? Let it be cookies, cakes, pies, warm stews, hearty entrees, and plenty of snacks and dips too, Christmas is the time to go all out when it comes to the spread. No matter if you have relatives coming over or if you're celebrating solo with just your nearest and dearest, there's a little something in our vegan recipe collection for everyone during the holiday season.
Before you can actually start making Christmas fare, it's helpful to know what it takes to make cooking for Christmas a success. Don't worry — it's so easy! See our tips in How to Have a Vegan Merry Christmas. We like to think that the most magical time of the year can also be completely delicious, and totally simple at the same time.
Christmas Breakfasts
Start Christmas morning out the right way with something special and delicious! Try these amazing Gingerbread Cinnamon Rolls or Eggnog Waffles that will fill your kitchen with the scent of holiday cheer! Looking for more ways to jump-start your day? Check out these awesome breakfast options!
Main Dishes
The main course is the part that anchors any Christmas dinner; it might not be the only part you look forward to, but dinner wouldn't be complete without it. We've got hearty, rich and delicious main dishes you can make entirely plant-based.
Christmas Breads
With so many savory meals filling the table, you'll want something to soak up everything from homemade gravy to sweet and tangy cranberry sauce. That's where bread becomes an important part of your Christmas table. From biscuits to crusty loaves and sweet breads for desserts, we've got everything you need!
Stuffing
No holiday meal is complete without a vegan stuffing. Perfect for dinner or hearty breakfast or lunch, stuffing is a must. Don't know where to start? Try these!
Christmas Sides and Drinks
Sides complement the meal, look beautiful on the table, and many are actually what some of us look forward to the most! You know that one aunt or grandma that makes a side you look forward to all year … oh yeah, we all have them. Or, maybe you're the one that makes the sides people love the most. You might just nail the recipe that keeps everyone coming back for more year after year! For more ideas and inspiration on how to fill your table, check out these amazing round-ups.
Christmas Cookies
Christmas cookies make the holiday complete and are some of the easiest desserts and snacks to make. Can't get enough cookies? Neither can we! These lists will help you pick the perfect cookies for your holiday festivities.
Sweet Christmas Pies
Pies make simple, amazing desserts because you can make them with a variety of ingredients that everyone will like! They can be spiced and sweet, like this gluten-free Apple Raspberry Ginger Pie or cool and creamy like this Banana Cream Pie. Or, slice up any one of the pies from these round-ups!
Christmas Cakes
No matter what Christmas celebration you go to, there's always … cake! Lots and lots of cakes to be exact. Something about a beautiful cake, like this Gingerbread Cheesecake or Apple Pumpkin Cheesecake With Glazed Peanut Butter Popcorn, on the table just symbolizes what Christmas is all about: beauty, and enjoying the very best part of the holiday last (just like dessert!). Ready to get baking? We're with you!
Christmas Desserts
You can't have a Christmas dinner, party, (or any celebration for that matter) without dessert! We've got you completely covered with these delicious Christmas desserts, all simple to make and sure to satisfy even Santa!
More Christmas Recipes
To see more Christmas recipes, check out our entire Vegan Christmas recipe section, filled with delicious holiday dishes we enjoy each and every year!
AUTHOR & RECIPE DETAILS: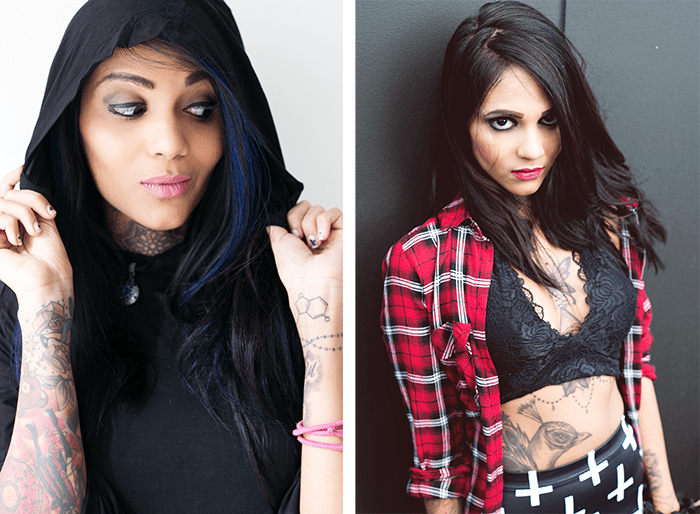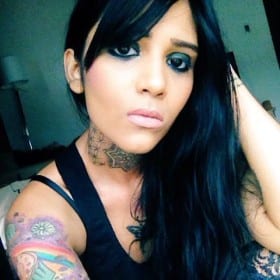 Crazy Vegan Kitchen: Hello! My name is Amrita. I am 24 years old, a bit of an oddball, dark sorceress of
vegan recipes
, and a board certified cat lady too. I'm not your usual
vegan food blogger
– I'm decked out in almost 30 (and counting) tattoos and I'm straight forward, sometimes cynical and blunt as a butter knife. Most people find me HILAAAAAARIOUS, others just think I'm legitimately clinically crazy.