Friends and family aren't the only ones making plans for Christmas dinner – so is the meat industry. More animals are slaughtered during the lead-up to Christmas than at any other time of the year, meaning the horrific abuse inflicted on chickens and other animals is happening on an unprecedented scale as you read this e-mail.
A recent PETA exposé reported by the Mirror Online reveals the appalling conditions thousands of "broiler" chickens are forced to endure inside huge, windowless sheds in Norfolk. These sensitive birds are often packed together so tightly that they can barely spread a single wing, and they never get a chance to see the outside world. It's not unusual for them to suffer from painful burns on their legs and feet from the ammonia present in the huge amounts of droppings piling up beneath them. After only six weeks, the frightened birds – still babies – who survive to reach "slaughter weight" are tossed carelessly into crates and driven to an abattoir, where their throats are slit. Our exposés encourage lots of people to think twice about supporting industries like this, and our vegan starter kits fly off our shelves as a result.
Of course, there's nothing unusual about what is shown in our footage. Right now, millions of birds all over the UK are kept in similarly awful conditions – and globally, intensive farms such as this one produce around 70 per cent of all chicken meat. We must reach as many people as possible in order to help them stop, think, and change their eating habits, thereby sparing thousands of gentle birds and other animals this cruelty.
PETA's exposé – along with media coverage of its release – has prompted millions of consumers to consider, often for the first time, the impact of their food choices on animals. Like all animals, chickens love their young and value their own lives. They're complex animals whose cognitive abilities are in some ways more advanced than those of cats, dogs, and even some primates. They comprehend cause-and-effect relationships and understand that objects still exist even after they are hidden from view. Their social nature means they always look out for their families and for other chickens in their group. They can complete challenging mental tasks, learn from watching each other, and demonstrate self-control – and they even pass cultural knowledge from generation to generation.
Perhaps you're looking forward to spending Christmas with your loved ones or in the warmth of your own home. Please, take a moment to remember the individual animals and entire families who have no such comforts. Your online gift will help PETA expose the horrific cruelty that is taking place on factory farms and in other dismal places right here in the UK – in many cases, around the corner from homes where families are gathered around their Christmas trees.
This exposé is only one example of the terrible abuse endured by animals on farms and in abattoirs. Because of your support, we've been able to share many similarly disturbing cases – and often secure great victories as a result. But we must throw ourselves into the fray with renewed vigour as the year ends. With your help, we will do all we can to prevent animals from suffering on meat, egg, and dairy farms.
Please make a special Christmas gift today to help chickens, pigs, cows, lambs, and other animals. It's one of the most powerful things you can do for them this season.
Merry Christmas to you and your family!
Cruel animal circus: Dolphins forced to jump through flaming hoops, bears rides tricycle



As members of a traveling circus on the island of Java, life for 72 captive bottlenose and stenella dolphins is as tough as it gets. Forced to do both dangerous and clownish tricks for the public as the stars of a traveling circus, their only reward is a few dead fish for completing routines successfully. Footage of their plight is now circulating rapidly online.

The dolphins are transported from venue to venue, performing in plastic pools filled with artificial salt water and high levels of chlorine, which can cause blindness. They perform all sorts of unnatural feats, such as leaping through flaming rings. During the performances, music is blaring and the deafening roar of the audience is painful for the dolphins, known to be acoustic creatures.

Once the show is done, the dolphins are then caught in large nets, and transferred onto stretchers. Loaded onto the tarp-like stretchers, they are carted off by circus staff toward rusty old trucks.
USDA: Don't let the factory farm industry define animal welfare claims on food labels.
You've read the labels. Grass-fed. Free range. Humanely raised. Cage-free. As a conscious consumer, you want your food choices to reflect your values, foster sustainability, and promote animal welfare. And most of the time, food labels are the only tool you have to help you make better decisions.
But what if the factory farm industry had the power to define what those labels mean?
Last month, the USDA released new labeling guidelines for food companies. But instead of providing baseline standards for higher animal welfare, these rules allow food businesses to slap whatever label claim they choose on their packages—with little oversight.
Please sign the petition to stop the factory farm industry from defining animal welfare claims on food labels.
Skinned Alive for Fashion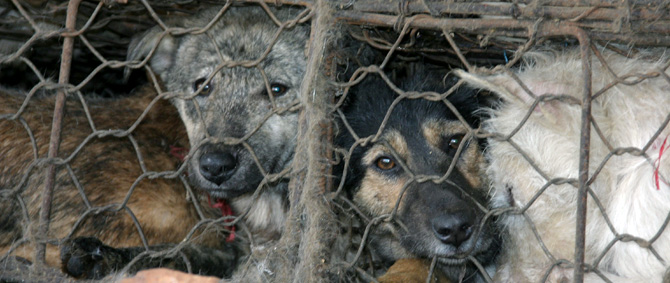 This year, we estimate that nearly 2 million cats and hundreds of thousands of dogs—as well as untold numbers of foxes, chinchillas, rabbits, and other animals—will be tortured and killed in China.
Will you take action for these and all other animals by making a generous gift to PETA right now?
China is not the only place where animals are painfully killed for cruelly produced garments, but as the world's largest fur exporter, it is home to misery on a massive scale. Investigations by PETA and others have uncovered evidence of animals hung up by one leg, writhing with their free limbs still kicking. Workers stand on animals' necks and heads as they tear off their skin. One eyewitness investigator recorded footage of a skinned raccoon dog on a heap of carcasses. The dying animal—fully skinned—found the strength to lift his bloody head and stare into the camera.
The fur peeled from sensitive living beings is turned into coat collars, rugs, trinkets, cat toys, and lining in gloves and boots. Some Chinese companies have even been known to attempt to fool consumers by deliberately mislabeling cat and dog fur as "Asian jackal," "rabbit," or "raccoon"—not that those animals would suffer any less.
Your support will immediately strengthen PETA's vital efforts to promote cruelty-free fashion and to work to help animals wherever they're suffering.
As long as animals continue to be electrocuted, bludgeoned, shot, trapped, and skinned alive for the global skins trade, we must do all we can to end their misery.
Recent demonstrations by PETA's international affiliates during fashion week events in London, Milan, and Paris brought international attention to the horrors of the trade and helped open the eyes of designers and consumers to the ever-growing variety of cruelty-free fashion choices.
By making a gift today, you'll be helping PETA organize eye-catching demonstrations and online campaigns to work to end the slaughter of dogs, rabbits, foxes, and other animals and pressure more designers and retailers to shun animal skins.
Please help us show the world that caring people like you won't stand by while animals endure a horrific death for the most trivial of human interests. Thank you for acting today.
We won't stop as long as sensitive living beings are still being killed for their skins. Your gift today will help provide the resources that we desperately need to keep this and all of PETA's vital work for animals going strong.
The ASPCA assisted federal authorities with the removal and sheltering of approximately 156 dogs from an alleged dog fighting operation in eastern North Carolina this week.
In search warrants executed on Tuesday, agents uncovered the victims along with dog fighting paraphernalia on multiple properties. Ten men were arrested and seven were charged with Conspiracy to Violate the Animal Welfare Act, including purchasing, receiving, breeding, training, conditioning, transporting and delivering dogs for the purpose of entering them in dog fights.
The ASPCA assisted in the removal of the dogs from the scene and has transported them to a temporary shelter for immediate care.
Dog fighting is a shockingly brutal form of animal cruelty that occurs in every part of the country and every type of community. The ASPCA works year-round to protect innocent victims of this heinous blood sport, and in situations such as this one, your support can make all the difference.
We will continue to update you as this story develops. In the meantime, please make an urgent gift to the ASPCA right now to enable us to be there for so many other victims of cruelty, like these dogs. We will not rest until each one is safe.
This Is How Turtles Get to PetCo
Did you know? The average lifespan of an aquatic turtle is 25 years, while a land tortoise could outlive you. Never buy animals. Always adopt. Learn more: http://peta2.me/2yki5 Subscribe: http://peta2.me/2yki6



Once thought to be abundant in number, giraffes are now in danger of extinction, according to the authors of a report published on Thursday.

The International Union for the Conservation of Nature (IUCN) said the number of giraffes in the wild has declined by about 40 percent in the last three decades, the New York Times reported.

Giraffes, the world's tallest land mammal, are mostly found in southern and eastern Africa, with smaller populations in West and Central Africa.

In 1985, there were approximately 163,000 giraffes in the wild, but that number now stands at around 97,000, according to the IUCN report.

However, of the nine giraffe subspecies, three are increasing in number and one is stable. The five other subspecies are decreasing in population size.

The biggest threats to giraffes' survival are the encroachment of humans, poaching, destruction of their habitat by economic activity such as mining, and war.
Joaquin Phoenix on Abuse in the Wool Industry and Cruelty-Free Options
Stray dog dyed pink in Russia sparked public outrage
A cruel prank has sparked public outrage after a stray dog's fur was dyed in bright pink in Russia.

The incident took place in the city of Izhevsk in Russia's Udmurt Republic. Someone must have thought it would be funny to make the canine look fabulous.

The poor dog was picked up by wildlife volunteer Vera Ivanova, after reports about it appeared on Russian social media. Vera took the dog, who'd been nicknamed the "Pink Elephant," to a local shelter.

Vera says the dog seems fine, though it has been vomiting. She suspects the dog is vomiting because it was recently dyed. At the shelter, volunteers have been washing the dog to get the dye out of its white fur.

Local police are now looking for the person who dyed the dog pink. The person may be charged with animal cruelty.
110,000 Strong! Free Houston Tigers
Thanks to you, we've surpassed 110,000 supporters for our campaign to free the tigers at Houston's Downtown Aquarium! When I started this petition just over a year ago, I could not have imagined such an incredible response from not just across Houston, but from across the world. You've helped us gain media attention, organize protests, and fund our web presence and outreach efforts. We've changed the conversation in town, but we haven't succeeded yet.
As ALDF goes to court on charges of defamation, and the fight over these tigers moves into the legal system, we need your help more than ever. Please be sure to like the Free Houston Tigers page on Facebook here: https://www.facebook.com/freehoustontigers/, and follow one or more of the following Twitter accounts for updates:


https://twitter.com/boycottlandrys
https://twitter.com/lincolndow
https://twitter.com/texasradio
We'll use the social networks above, along with these Change.org updates, to keep you posted on any developments and let you know how to help out. If you live in Houston, you might also receive emails or text messages. Thank you for your support, whether you just joined or whether you've been here since last year. Together, we WILL succeed in helping these animals.
Meet Charlie Bravo, the Abused Dog Who Overcame All Odds to Become an Animal Welfare Advocate. Any animal lover would tell you that their dogs are more than just pets, they are family. We shower them with toys, love, yummy treats, and would do anything to ensure their well-being. But sadly, not everyone thinks of dogs in this way. For whatever reason, people don't see dogs as sweet, loving animals and often give them up, sometimes even deserting them on the side of the road.
But there is hope for these forgotten pups. This is the story of Charlie Bravo, a dog who found abandoned in horrible shape but now has her own Facebook page with over 25,000 people following her heroic story.
Charlie was found one day when a father and son were out riding their motorcycles. They saw a crate on the side of the road and pulled over to look – and good thing they decided to stop. Inside the crate, they found what would have been a full-size dog reduced to a ragged, scabby skeleton. She smelled so strongly of death that the father and son couldn't stand to be downwind, her white feet stained brown from standing hunched in her own feces.
The sweet pup had oozing abrasions on her hips, spine, head and legs. The father and son initially thought that she had been hit by a car until they realized that these open wounds weren't road rash at all, but contact sores from living inside the filthy crate.
Not knowing how long she had been left to fend for herself on the side of the road, they knew leaving her was out of the question. They raced home to get their truck and then safely got the dog into the truck and on the road to recovery.
The dog aptly named Charlie Bravo stole the family's heart. Even though their house was full of other dogs, they couldn't say no to Charlie.
Now, not only does this pup have a forever home but she is an advocate for the importance of treating animals kindly.
Charlie Bravo went from being left in a crate to die of starvation to the queen of the household and she is inspiring people everywhere to help animals in their own town.
This sweetie's story is a testament to how we can all do our part to help solve the pet homelessness crisis.
Many people don't realize the extent of the pet homelessness issue in the U.S. While we love and adore the dogs we share our homes with, the fact that there are some 70 million stray cats and dogs living on the streets gets easily ignored. These animals need a loving home just as much as any other does, but sadly, they rarely get the chance. Of the six to eight million homeless animals that are brought into animal shelters a year, only a small fraction ever end up being adopted.
Please always spay and neuter your pets and urge your friends and family to do the same. For more ways on how you can get involved to help save animals, click here. To follow Charlie's journey, like her Facebook page! Image Source: Charlie Bravo/Facebook
Impaled by arrow: Dog shot in chest with 3-foot arrow rescued by Chinese animal shelter



Photos of a dog who was shot in the chest with an arrow have gone viral on Chinese social media and drawn attention to the plight of stray dogs in the country.

As reported by the Chongqing Morning Post, a Chinese netizen identified only as Ren Hui spotted the dog at Yinxing Hospitality Management College in the city of Chengdu, in China's Sichuan province.

Ren Hui posted photos of the injured animal on her Weibo account, along with a call for the public to help. Volunteers from the Sichuan Qiming Companion Animal Protection Center saw the post and found the dog. They removed the arrow, but the dog got scared and ran off.

It was later found and taken to Chengdu's Boai Veterinary Hospital for medical treatment. Fortunately, the arrow did not damage its internal organs.

Photos of the dog with the arrow sticking through its chest sparked outrage on the Chinese internet.
All You Need to Know About Roadside Zoos to Make You Never Go Again. Anyone who has taken a long road trip understands the need to stop and take a break once in a while, especially if you're traveling with young children. In addition to your typical rest stop with picnic tables, you'll pass scenic overlooks and billboards beckoning you to check out a town's quaint little shops. But there's another attraction that, unfortunately, is found along far too many travel routes. They draw you in with catchy names and photos of happy animals, promising the opportunity to see wildlife up close—and maybe even the chance to interact with them. Sounds fun, right? And after a bit of pleading from your adorable children who probably won't take "no" for an answer, you decide to pull off at the exit to check it out.
Roadside zoos and attractions are meant to be a quick stop for tourists, conveniently situated on the side of the road so people can take a break, stretch their legs, and take selfies with animals — for a small admission fee, of course. A truly interactive experience, they lure people in with opportunities to feed animals or participate in hands-on photo ops. But what so many don't know is that these attractions are often the worst of the worst; a place where profit comes first, and the well-being of the animals comes in dead last.
The Hidden (Or, Not So Hidden) Cruelty
We know that keeping animals in captivity is controversial to being with, but what's scary is most roadside zoos and attractions aren't even accredited by the Association of Zoos and Aquariums (AZA), who works to ensure standards of care are met in zoos and aquariums. In the U.S., less than 10 percent of the 2,800 animal exhibitors licensed by the United States Department of Agriculture (USDA) are accredited by the AZA. And while the USDA does inspect licensed facilities, having a limited staff makes it extremely difficult for them to ensure everyone remains in compliance with the laws.
The conditions in roadside zoos are deplorable; bears, tigers, lions, and other exotic animals or wildlife are held captive and placed in uncomfortable situations for the sake of entertainment. Those who are made to "perform" or participate in photo ops are often chained, and sometimes sedated to make them easier to handle. Tired and scared, they're subjected to long days where they're handled by countless people. And once the day is done, it's back into the cage to await the next round.
An investigation by the Humane Society of the United States uncovered horrific abuse at roadside zoos in Oklahoma and Virginia. Cubs were taken away from their mothers at an early age, then forced to endure hours of handling by humans. And when the tiny cubs wouldn't "cooperate" for the photo shoots, they were hit, punched, and aggressively handled. The cubs were also found to be malnourished and suffering from parasites. And a roadside zoo in Indiana was found to have multiple USDA violations, including unsanitary living conditions and animals in distress while being handled by humans.
It's No Life for a Wild Animal
One of the more well-known cases of roadside zoo captivity is that of Tony, a Siberian-Bengal tiger who has been living in a cage at a Louisiana truck stop for his entire life: over 16 years, to be exact. People have banded together in an effort to have him freed from captivity, including the Animal Legal Defense Fund, who even sued the Louisiana Department of Wildlife and Fisheries. The battle to free Tony the Truck Stop Tiger is ongoing; meanwhile, he remains in his tiny enclosure waiting to be saved.
Some roadside zoos, and those who source the animals, may claim they're helping them by assisting conservation efforts, but keeping animals in crude living conditions and breeding them so you can make a profit does nothing to preserve the species or ensure the survival of their populations in the wild.
In these subpar conditions, animals are not able to exhibit their natural behaviors, which can lead to "zoochosis," a condition resulting from the stresses of their unnatural captive environment. Animals suffering from this condition will constantly rock and pace, excessively chew or even mutilate themselves or pull out their hair. It's painful to think of a beautiful, wild being living under that amount of stress day after day, year after year.
A Continuing Cycle of Cruelty and Despair
Like any other animal used for the purpose of entertainment, there comes a time where they are no longer viewed as profitable. The cubs used in photo ops are bred into captivity, then sold back into the exotic pet trade once they become too old — and dangerous — to be used for photo ops. And adult animals who become old and sick, or begin to "act out" towards handlers and people will be either sold off or killed. It's a sad and terrible cycle of abuse that rarely ends well for the animals.
How You Can Help
Take action by supporting legislation that protects animals. Your voice matters and success is possible in the fight against animal cruelty. The recent passing of the Ohio Dangerous Wild Animal Act led to the surrender of nine bears from roadside zoos and private ownership. All of the animals were in terrible physical condition, but now all of the bears, plus four cubs that were born after, will be living a happy life in a sanctuary.
Don't give your business to roadside zoos or other animal attractions. Instead, donate money to reputable animal sanctuaries and organizations working to protect animals already in captivity and preserve natural habitats that allow their species to thrive in the wild.
Lead image source: Free Tony the Tiger/Facebook