They found a carrier with a chewed up roof, and what they saw inside changed everything. Bret Winingar and his son Zach were out riding their motorcycles in Arkansas when something caught their eye.
They decided to park their bikes and investigate. What they saw would change their lives forever.
A man and his son were riding motorcycles when they spotted an animal carrier off the road.
They noticed that the top of the carrier had been chewed. Something was trying to get out.
They opened the carrier and were shocked to see a starving dog inside. The dog came out, but was hunched over from being locked inside for so long.
They quickly left the dog and came back with food. She gobbled it up as fast as possible.
They also returned in a truck so that they could take the dog away.
When she got in the truck, she showed her appreciation.
The first thing they did when they got her home… gave her a bath!
They named her Charlie Bravo. Or CB for short.
They found this tied to a tree and couldn't believe their eyes. Reddit user babyinatrenchcoat uploaded some photos after finding a schnauzer tied to a tree on some country land. The photos document the entire rescue and transformation process and are amazing to see.
This is the story as told in her very own words:
"Kingsley was found tied to a tree on some country land. He had been neglected, beaten, and starved. His hair was matted and painful from not being taken care of."
"After they shaved him, he was found to have numerous wounds on his body. Some were old scars and some were fresh and bloody. How anyone could beat a 15 pound schnauzer is beyond me. I wish a special hell for them."
"After they shaved him. You can still see how skittish and skinny he is. He was so abused he was afraid of most people, especially men. But this is the picture I saw online and fell in love with. I knew I had to rescue him."
"The night we adopted him :)"
"First month in his new home. So many things we had to work on. Potty training (he'd never been in a house before), barking, possessiveness (he took to me quickly and tried to fend off my husband if he came near), car rides, etc. He didn't even know how to play with toys :("
"He picked up everything so quickly! We're now 2-weeks accident free and he's gotten most "dog things" down. He loves fetch, car rides, cuddles, vegetables, and dryer sheets (he's a weird one)"
"My boy today :) He's filled out to his ideal weight and is getting super fluffy. We're taking him to the groomer later this month for a proper schnauzer cut. He's come such a long way, and it's been a battle sometimes. But when he's snuggled in my lap and gently gives my hand or face a kiss, I know how grateful he is and how it's all worth it."
What a happy ending! If you love stories like this, make sure to share it with your friends using the button below.
Piglet's story: A machete, a bullet… and a rescue.
Piglet first witnessed the brutal poisoning of her brothers and sisters. Then her mother. Then Piglet herself was slashed with a machete knife. When that didn't kill her, she was shot. This poor tiny freckled puppy.
Who, you ask, could DO such a thing? No wonder Piglet was terror-stricken around humans, when Network's dedicated partner Thai Animal Sanctuary discovered her!
After delivering a tiny dose of dog-safe sleeping medicine, rescue staff gently readied the gravely wounded dog for transport to the sanctuary, and emergency surgery.
Without Thai Animal Sanctuary the next nearest veterinary care is a rutted, four-hour drive away. Piglet's infected flesh had not only been ripped apart by a bullet, but by the savage hack of a machete too. She would never have survived the long trip.
As an animal lover you can see what Thai Animal Sanctuary is up against. It's why we've partnered with them, and why I'm asking you to please pledge a donation to Network for Animals, so we can continue to fund their brave work to help persecuted stray dogs and cats in Thailand.
Reports estimate more than one million homeless dogs in Thailand. Daunting, I know. But by helping cover expenses for ongoing spay and neuter at Thai Animal Sanctuary's clinic, your contribution makes a massive difference. One careful surgery at a time, you'll slow the overpopulation cycle.
You'll also help Thai animals who are swept up in Asia's bloody dog meat trade. Although there are laws in Thailand against dog meat trafficking, enforcement is poor and criminals take full advantage of the grinding poverty and isolation, and are smuggling strays away for horrible deaths at the dinner table in dog-eating countries like Vietnam and China. It is estimated that one hundred thousand puppies and dogs are illegally trafficked out of Thailand, each year. We have to stop this.
Premature Baby Horse Who No One Thought Would Survive Beat the Odds! Whether you are human or animal, pregnancy is a wonderful, but complicated milestone in any parent's life. We call it "the miracle of life," and rightly so — the ability to bring another being into this world is nothing short of an everyday miracle. Just as humans can run into difficulty during pregnancy, so can animals. In the case of Chaperona, a mare who gave birth to the baby horse in the photo below, she could have lost her baby if it weren't for the help of people around her. It was early in the morning when Beaverlea Roye-Manderbach, Chaperona's guardian, received a call. The mare had given birth, but she was six weeks early and the little foal who just entered the world was immobile. Like any animal lover, Roye-Manderbach wrapped the baby, named Tamara Rose, in a blanket and took her to receive immediate medical care.
According to Roye-Maanderbach, "she had only been there for maybe an hour before we found her. Between her being a preemie and the cold morning, her odds didn't look extremely good," Roye-Manderbach. Survival would not be easy for little Tamara Rose, who was born six weeks premature. Her body temperature was so low that it did not register on the thermometer. The first step to helping this little one grow past these difficult times would be to keep her warm.
Tamara Rose the premature baby horse was severely underweight at only 29 pounds. To put this in perspective, a healthy foal from a 1,000-pound mare should weigh about 100 pounds.
According to News of the Horse, "The first two weeks of the foal's life, named Tamara Rose, were very hard for her. She had seizures, bed sores, and a host of other medical complications from being born so early."
But after a month of constant care, this little filly's wobbly legs are strong enough that she can walk on her own. She even cries when she hears somebody warming up her milk.
Thanks to the Roye-Manderbach's will to save this premature baby horse's life, little Tamara Rose is alive today. We hope that her tough times are over and she'll continue to grow stronger and learn how to be a little filly with the help of the humans around her. All image source: News of the Horse
This Rescued Tortoise and Cow Share a Friendship You Will Have to See to Believe. Even though we all inhabit the same planet, we also share many differences. We dress differently, speak different languages, and hold different professions. But even still, we are able to coexist. We become friends with one another and form relationships. Even though it may not seem like it in the wild, animals form friendships too. Interspecies friendships show there are no boundaries when it comes to love. Animals don't pass judgment – whether or not you're furry or scaly – they all simply want to be loved and cared for.
This story from Wildlife Friends Foundation Thailand shows one of the most unlikely interspecies friendships between Simon the Cow and Leonardo the African spurred tortoise. Check out these adorable photos!
Simon the cow was rescued by Wildlife Friends Foundation Thailand in February 2016. The young cow lost part of his hind leg after getting caught in a vine.
Leonardo was rescued from a Bangkok zoo in 2013 after the zoo closed down.
The whole staff at Wildlife Friends Foundation Thailand fell in love with Simon's sweet personality and playful nature. They decided to house him temporarily in a large open field enclosure so he could recover before being moved to another enclosure with two other rescued cows.
But to everyone's surprise, Simon formed a strong bond with Leonardo the tortoise.
They are often seen following each other around, sharing meals, and resting together.
Simon and Leonardo show us that love knows no bounds.
We hope these two share many more years of friendship!
Even if it is unlikely, Simon and Leonardo share a beautiful friendship and their relationship highlights an important message. Despite the bonds we share with our pets, people often overlook the emotional capabilities of other animals. At the end of the day, we're not all that different from one another and we could all benefit from being more compassionate. For more photos visit Wildlife Friends Foundation Thailand's Facebook page. All image source: Wildlife Friends Foundation Thailand
Sweet Pup Who Went Blind After Being Kept in a Dark Cage for 14 Years Finally Gets Rescued. Do you have a dog? If you do, where are they now? Most likely, on a cozy bed, on your couch, or somewhere at least remotely comfortable, are we right? That's because for us animal lovers, our dog's comfort is top priority. We do our best to give them the best life ever, but some dogs, unfortunately, don't get this kind of love.
Rosa, a 14-year-old mixed breed pup, had a home and a guardian but you couldn't call it much of a home and you couldn't call her guardian much of a guardian, either. Kept in a filthy, dark cage which stunk of urine under the stairs, Rosa was anything but a "beloved pet" in her person's eyes. No, she was treated more like a prisoner, forced to live in darkness behind metal wiring, with only a small bowl of kitty granule food for dinner. This was Rosa's life for 14 years – but luckily all of this is now in the past thanks to Animal Friends Foundation Burgas.
A Life of Horror
As soon as the Animal Friends Foundation Burgas, an animal rescue organization in Bulgaria, heard about Rosa's situation, they headed over to her ''home'' and managed to talk the owners into letting her go. Like with every animal they rescue, the veterinary clinic was their first visit.
Poor Rosa was in horrible shape. Skinny with dull fur, she looked more like a street dog than a domestic dog. And her dire upbringing had clearly taken its toll on her health as far as the tests showed. Anemic with parasites, Rosa needed not only treatment but good quality food – and plenty of it.
When a dog, like Rosa, has been brought up in circumstances as horrible as these, they are understandably scarred both mentally and physically as a result. From the moment the rescuers found Rosa, it was clear her eyes weren't normal. And veterinarians confirmed their suspicions: Rosa was blind.
Healing From Human Touch
While rescuers know little about her background other than the fact she spent her life in a dark cage under the stairs, it was obvious that Rosa wasn't used to affection. Maybe she'd never been touched before – not in a loving way anyway, at least. When the rescuers first touched her, Rosa reacted strangely but with time, she learned to enjoy being pet and cuddled. Ultimately, this little bit of affection helped her heal in stride.
Rosa's caretakers are happy to report that the pup has been eating well and, after almost three months of constant feeding, she is finally gaining weight, however, her mental scars haven't disappeared completely. Poor Rosa is deaf in addition to being blind, so the world around her is still largely a mystery.
Although they can't give back her sight or her hearing, rescuers are drowning her with love. Rosa is currently living in foster care but there's exciting news: she is going to have a new and forever home within the next few weeks. That's right. Somebody has fallen for Rosa as much as we have and they're adopting her. Finally, after fourteen years of misery, Rosa will get to live out the rest of her life in peace and dignity, surrounded by people who love her. Where are the tissues!?
Help Others Like Rosa
As Rosa's story shows, it's not just homeless dogs that need our help – even those that have guardians could be living in horrible situations. If you ever come across animals living in conditions like this, it is up to you to report it – check out these Animal Rescue Hotlines for more information. Animal abuse and neglect can only continue if we do not speak up for these helpless beings.
Thanks to organizations like Animal Friends Foundation Burgas, neglected pets like Rosa get another chance at life. If you would like to help more animals suffering at the hands of careless owners, please send a donation to this awesome organization today. All image source: Animal Friends Foundation Burgas
Precious Photo of Rescued Piglet and Dog Napping Together Will Change How You See These Animals. Due to growing up in a culture where we are taught to love certain animals but eat others, we have a tendency to not understand that the animals we eat are often no different from the ones we adopt. Take pigs, for example. When we think about pigs, sometimes the first image that pops into our minds is that of a big, mud-bound, and sluggish pink creature. But that just isn't true — pigs are actually super-smart. Studies have shown that not only are pigs smarter than dogs, they're smarter than some primates and even human toddlers. They can solve simple puzzles, learn tricks like dogs, and even use mirrors to find food. Just like our pups, they can recognize their favorite human and animal friends. And even though they like mud, pigs are actually very clean animals — but they have no sweat glands, so they use mud in order to keep cool. In the words of Charlotte the spider, all pigs are "terrific" and "radiant." In fact, in the photo below, posted by Sugarshine Farm Sanctuary in Australia, you can practically see the happiness radiating from Dreamy, the rescued piglet who has chosen Wally the dog as her napping partner.
This doesn't even look like a comfortable way to sleep. But we reckon that these two are such great friends, none of that even matters.
According to the sanctuary, these two didn't always get along due to Dreamy's habit of nibbling on Wally's tail. It looks to us like they've put their past behind them and opened a new chapter in their lives as besties. We don't know much about where Dreamy came from, but because she's living at the sanctuary, it is likely that this little piglet was rescued from the meat industry. We're so glad that she was rescued, especially since it means that she's made a fantastic friend like Wally the dog.
To learn more about Sugarshine Farm Sanctuary, visit their official website. Image source: Sugarshine Farm Sanctuary/Facebook
8 Pups & Mom Rescued From "Free Home" Fate. Friend of In Defense of Animals' Hope Animal Sanctuary, Deborah Young, saw a post on social media which claimed that a female dog had shown up at someone's home and had eight puppies under the house. Deborah called our Operations Manager, Sharon Stone, and let her know that all eight four- week- old tiny Dachshund mix puppies were about to be given away "free to a good homes" at too young of age and without any proper screening of adopters. Pictured is Lucy with her pup Dallas. READ MORE
Little Dog, Beaten for Refusing to Pull Man on Cart, Rescued by PETA in China.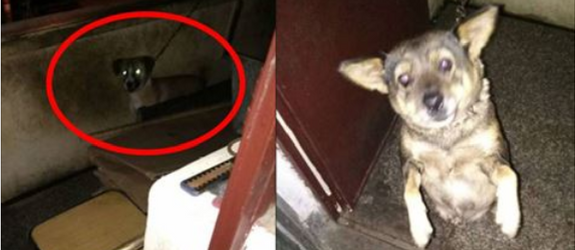 GREAT NEWS! Two Dogs Rescued From Man Who Viciously Beat One in Viral Video. And we documented the whole thing. Click to watch.
18-year-old blind dog meets her first person at the shelter and refuses to let go. This senior Dachshund had certainly seen better days, but she didn't want it to end like this. Dumped at the shelter, the 18-year-old blind dog just wanted to feel love again.
Muneca had lost so much in life: a family, a home and her vision. She wanted to make a connection with someone more than anything.
That's why when she met her very first person at the shelter, she didn't want to let go. Longtime volunteer Elaine Seamans came to visit Muneca, and the 18-year-old blind dog leapt into her arms.
Also on hand was photographer John Hwang, and it was his picture that changed everything for Muneca. Shared on Facebook, the photo caught the eye of a rescue group called Frosted Faces Foundation.
They took Muneca to a veterinarian for a checkup and will then place her in a foster home. From there, she hopes to find a forever home.
If you'd like to give this sweet senior dog a permanent home to live out the rest of her life, check out the Frosted Faces Foundation and fill out an adoption application. It would mean the world to her.
Baby Orangutan Who Was Kept on a Short Chain for 6 Months Gets a Second Chance at Life. Orangutans share 97 percent of their DNA with humans and have proven themselves to be highly intelligent and resourceful. When they are in their natural rainforest habitats, they spend virtually all of their time in the treetops, caring for their loved ones, exploring their environment, and foraging for food. Just like the rest of us, they want to live in peace and free from harm.
Unfortunately, not all humans sees these amazing creatures as the thoughtful and sensitive beings that they are. For "International Orangutan Week," International Animal Rescue, a worldwide animal rescue organization that is dedicated to saving and rehabilitating endangered and at-risk animals shared this heartbreaking story.
Bonika the baby orangutan was chained to a narrow plank for six months by a family who wanted to keep her as a pet.
The length of the chain was so very short that Bonika could barely move from side to side and was stranded on the plank of wood, according to the International Animal Rescue.
Her diet consisted of rice, sugar cane, biscuits, bread, mineral water, and baby milk.
When the International Animal Rescue's Human-Orangutan Conflict Team was visiting the Sandai district, they thankfully heard about Bonika and passed the information on to the rescue team who acted quickly to rescue this suffering baby.
We are happy to say that Bonika is now safe at the International Animal Rescue's rescue and rehabilitation center in West Borneo. She will be given expert treatment and care. With time, Bonika will learn how to be a wild orangutan again.
We are thankful Bonika was rescued but that's not the case for all of her friends. Orangutans may not be with us for much longer to do the palm oil industry's destructive actions. Unfortunately, over 90 percent of the orangutan's original habitat has been destroyed and converted to palm oil plantations, leaving these animals with nowhere to go. If orangutans wander onto a palm plantation, they can be shot on sight. Over the past two decades, 20,000 of them have met their deaths at the hands of the palm oil industry, with at least 1,000 of them directly killed for their presence on palm plantations each year. When parts of the rainforest are cleared, orangutans are left without food. In order to feed themselves, they have no choice but to enter nearby villages in search for food. As a result, mother orangutans are killed by poachers. And their babies are stolen from them and sold to wildlife parks or kept as pets, like Bonika.
To help end deforestation and save orangutans, choose planet-friendly alternatives to palm oil. To help the Human-Orangutan Conflict team save other orangutans just like Bonika who are chained up, malnourished, and waiting for their rescue, click here. Image Source: International Animal Rescue/Facebook
Dog Whose Legs Were Deformed From Living on a Meat Farm Learns to Walk Again. Even if you didn't grow up with dogs, it's likely that you've never thought of them as food but only as the beloved companions to humans all across the globe. Unfortunately, there are parts of the world where dogs are raised for meat in the same fashion that we raise farm animals right here in the U.S.
South Korea is the only known country in the world that commercially farms dogs for meat. No matter what the size of the farm, conditions for the dogs on these meat farms are always horrid — dogs are kept in small cages with no beds and they often go without adequate food and water. As tough as it is to stomach the idea of man's best friend being locked away in a tiny cage as they fearfully await a grim fate, there are people out there who are working to make things better for these animals. Florence, the dog in the photos below, was once one of these dogs but back in March, she was rescued by Humane Society International and brought to the Humane Society of Central Oregon (HSCO) branch.
Before she was rescued, Florence the dog was confined to a small, rusty cage on a Korean meat farm.
This poor dog's back legs were severely deformed, most likely due to spending her entire life in a cage. Once at HSCO, the staff prepared Florence for surgery with the hopes of one day helping her walk.
Both of Florence's leg surgeries were a huge success! Because she was raised in a cage, Florence never knew that humans could be wonderful. But with the help of her foster mom, she's slowly been getting ready for a forever home.
Florence's silly puppy-like personality has started to emerge.
And thanks to the tireless efforts of the humans around her, Florence is growing strong enough to run and play with all of her might.
In a little over seven months' time, Florence has gone from a dog who couldn't trust humans to the loving, energetic pup she is today. She's growing stronger every day and takes on her physical therapy sessions in an underwater treadmill with nothing less than enthusiasm. According to HSCO, "she tries so hard at every exercise, and is the best rehab patient ever," and soon she'll be ready to find her forever family. We know this stellar pup will find them.
To see what a trooper this pup is during her therapy sessions, check out the video posted by Humane Society International. To learn more about Humane Society of Central Oregon, visit their official website.
All image source: Humane Society of Central Oregon/Facebook