8 amazing animal rescues! Watch these real-life heroes.
Animal Aid Unlimited is one of India's busiest rescue centers for ownerless street animals. Watch these amazing rescues of animals who were desperate for help. Donate to help save street animals in India : www.animalaidunlimited.org/how-to-help/donate
I am pleased to share with you that Soi Dog Foundation has entered the Charity Film Awards with the story of Cola, whose front legs were brutally hacked off for chewing a pair of shoes.
Will you please help raise awareness of such brutal animal cruelty cases by clicking here to vote for Soi Dog in the Charity Film Awards?
To vote, you will need to create an account by using your email address and then a different password to the one you normally use. Once you have registered, please don't forget to click the Vote button in order for your vote to be counted! You can only vote once, but please share with all your animal-loving friends and family and ask them to vote too.
Your support means so much to the animals that have no voice. Voting closes November 30th and the charities with the most votes will be short-listed for consideration by a panel of judges, with the final winners announced in February.
Once again, I thank you for your support of defenceless animals.
Meet Tamiyoi! When we first met her, she loved suckling on the Keepers thumbs so much if they tried to take their fingers away, she would rumble and even head butt them!

A hugely active little girl, despite the extreme health problems she's overcome, she's never slowed down or stopped! So much so, we think at the beginning she tired our keepers and other babies out or at least made them dizzy!

Foster Tamiyoi to follow her journey back to a life in the wild at: http://www.thedswt.org/tamiyoi

Find out more about the work of the David Sheldrick Wildlife Trust at:
http://www.facebook.com/thedswt
http://www.twitter.com/dswt
http://www.instagram.com/dswt
http://www.sheldrickwildlif­etrust.org
Rescued Baby Owl Dancing to 'Monster Mash' Will Make You Smile.
An adorably baby owl bobbing his head to the Halloween classic, "Monster Mash" has become a viral sensation.
Hungry squirrel caught in bird feeder



As anyone with a bird feeder knows, sneaky squirrels often try and steal an easy meal from our feathered friends, and even supposedly 'squirrel proof' feeders can be foiled by the intelligent nut-addict.

This squirrel, however, seemed not to have fully thought through his heist as he has become stuck in the metal bars trying to escape!

Simon was busy on another rescue, so Wildlife Aid veteran Ron and volunteer Helen raced to the scene. Squirrels can be very feisty and both knew they had to ask fast.

Luckily, after a few well placed cuts, the squirrel was extracted from its prison and after being throughly checked over by Ron it was ready to be released back into the wild.

Maybe next time he will pay more attention to the getaway!
This Pup Was Trapped After a Massive Earthquake Struck Italy – Then Everything Changed! We love our pets and would do anything to protect them no matter what, however, sometimes there are circumstances that prohibit us from being able to do this, like in the case of natural disaster. While we can never fully prepare for disaster situations, it is imperative to take some precautions to make sure our pets are safe in the event of a natural disaster by coming up with a plan. Failing to prepare not only puts your pets safety at risk but also your own. But Mother Nature is unpredictable so what happens when planning only goes so far? Well, lucky for us there are many amazing people who can come to the rescue. When a 6.6-magnitude earthquake struck Norcia, Italy, a dog was buried alive in the rubble of a collapsed building.
Incredibly the dog was found alive under the rubble where Italian firefighters spotted the dog's legs.
The dog miraculously survived the 6.6 earthquake and was carefully rescued.
Thanks to a lot of patience and delicate maneuvering, rescuers were able to free the pup's head.
Once he was out of the tight, likely painful spot, the dog got some food and water. We can only imagine how relieved he must have felt!
This pup was very lucky to have the compassionate firefighters rescue him from the destruction of the earthquake and this story serves as a good reminder for pet guardians to take a few steps to prepare if there is an emergency situation. Always make sure your pet is microchipped and consider buying a pet rescue sign for your front door. If your pet is alone in the house during a disaster, a pet rescue sign is a great way to inform the right personnel. While we can never be prepared for everything nature might throw at us, we can at least take comfort in knowing we have a plan!

Ten slow lorises are returned to freedom in the forest. Fueled by viral YouTube videos, the popularity of slow lorises has risen and they have become a popular exotic pet. Slow lorises are typically taken from their natural habitat and sold into the illegal pet trade, where they will likely go through the horrifying process of having their teeth and claws removed so they can become "cuddly pets."
Taking animals from the wild for the pet trade is a major threat to biodiversity and of course to the endangered species themselves. Thanks to the work of International Animal Rescue (IAR), ten slow lorises now have their freedom back. After a lengthy rehabilitation process, these animals finally reached the point where they were strong enough to be released back to their wild home.
Seeing the lengths these incredible rescuers went to to get these lorises back to the forest is sure to bring a smile to your face! Remember, if you see an exotic animal living in horrible conditions, say something! You can report the suspected abuse to local authorities who can take action. For more information about International Animal Rescue (IAR) and how you can help stop the illegal exotic pet trade, visit their official website!
This Awesome Rescue Shelter Lets Dogs Live in Fairytale Cottages Instead of Cages. Were you heavily influenced by Disney (and any princess-driven movie whose target audience was girls) growing up? If so, you probably understand having a soft spot for anything that looks like it hopped right out of a medieval-inspired fantasy land. You can get your fix by visiting theme parks, but if you're also an animal lover, it is an unfortunate fact that most theme parks have a pretty firm stance on the presence of man's best friend: no dogs allowed. Luckily, your fantasyland paradise exists. Nestled in the forests of Eugene, Oregon is a pure and wonderful place called Luvable Dog Rescue, a sanctuary for dogs rescued from high-kill shelters.
While shelters provide a space for thousands of homeless cats and dogs to find their forever home, the stressful environment does not help to bring out the best in every animal. Consider for a moment what it must be like for a dog in a typical shelter. Halls with concrete floors are lined with cages and depending on the shelter, the dogs may not even have beds to curl up in or their own toys to play with. With nothing to do other than bark in desperation whenever a human passes by, there is no way of knowing what these dogs will act like once they make it into their forever home.
Set on a 55-acre wooded property, Luvable Dog Rescue's pastel cottages and kitschy wall decorations make it look like a combination of grandma's house and somewhere a Disney princess would live, in the best way possible.
When asked why she went for such a striking theme, founder Liesl Wilhardt told Inside Edition "A lot of dogs go downhill once they're in a shelter. It's a very stressful environment. We wanted to give them an environment that was as cozy and homelike as possible."
can be stressful. At Luvable Dog Rescue, the cozy furniture gives everything a homey feel and puts all the doggy residents at ease. It also gives shelter staff an idea of how each dog will behave in a home setting.
As for the wall decor, we have to say that it is 100 percent awesome.
In addition to their adorable cottages, the resident dogs enjoy daily hikes in the shelter's wooded property and plenty of playtime with staff and other dogs.
When you're a homeless pet, it's tough enough waiting for the day when you get to go home with your forever family. We're so glad that this amazing rescue is making the effort to make sure that each and every one of their residents is comfortable. Although their volume of animal residents is small compared to the six to eight million animals that enter U.S. shelters each year, we hope they inspire future shelter founders to make life for homeless animals the best that it possibly can be.
Last, but not least, if you're considering welcoming a dog into your life, always adopt and never shop! To learn more about Luvable Dog Rescue and their work, visit their official website. All image source: Luvable Dog Rescue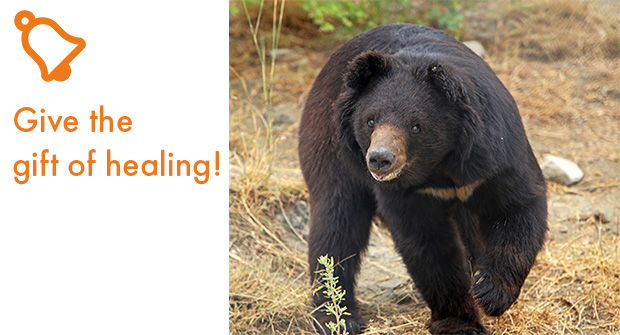 Pooh, a blind bear, lives in a special enclosure for disabled bears at the Pakistan sanctuary.
Pooh is a very special bear who loves splashing in the water, laying in the grass, and feeling the sun on his fur. However, this was not his life until recently. Pooh was rescued from bear baiting and as a result of the trauma he endured, is now blind and completely dependent on human care for survival.
Pooh is just one of 38 bears living in the World Animal Protection-funded sanctuary, a home to bears rescued from a cruel life of either bear baiting or dancing, or sometimes both. These bears have suffered more than we can begin to understand, and are finally living the life they deserve. However, medicine and veterinary care are expensive, especially given their past troubled lives.
This holiday season, consider giving the gift of healing to Pooh and others like him. Please help us raise $6,500, which could provide all essential vet care and medicine expenses for the bears at the sanctuary for the entire year.
The rescued bears are in terrible shape when they arrive at the sanctuary, often covered in wounds, and in desperate need of veterinary care. Even as they heal, they will continue needing medical attention and preventative care the rest of their lives.
The Look on This Rescued Goat's Face Captures Exactly What He Thinks About Life. Compartmentalization is a vital tool humans use to navigate life. After all, if we worried about our social lives, our career, our friends, our family, our diet, plus all of the problems in the world today, all at the same time, we'd never get anything done. Compartmentalizing is very useful, but in some situations, it can also be harmful. Take food, for instance. We understand why somebody may want to push calorie-counting thoughts out of their mind while at a birthday party so that they can enjoy a slice of cake in peace. However, people also use this mechanism when thinking about the origins of their food. It is the reason so many people can wholeheartedly say they love animals … and then eat meat.
Unfortunately, there are several industries who work very hard to make sure people don't connect these dots or at least don't connect them in the way they should. However, sometimes it just takes one powerful photo of an animal clearly enjoying life to realize that they want to live just as much as anybody else. These moments are often captured on animal sanctuaries, where many times animals are experiencing love and affection for the first time in their lives.
Take Darius, for example. Darius is a baby goat who was rescued and taken in by Santuario Igualdad Interespecie. Although Darius is very young, he has had a lot of stress in his life thus far. Before being rescued, he was fed very little and was hardly given the care he deserves. Now that he's at Santuario, he's finally getting the protection and love he deserves – and then some. He's been enjoying his new fluffy bed quite a bit and seems more relaxed than ever.
The look of happiness on Darius' face is truly touching. You can tell that he is basking in his new freedom. If this isn't evidence enough that animals feel emotions, we don't know what is.
According to Santuario, Darius is not completely at ease in the sanctuary yet, but considering all of the love we've seen Santuario staffers give the animals in their care, we have no doubt that he will be feeling better soon! If you believe that animals should be treated like friends and not food, share this article. Image source: Santuario Igaldad Interespecie/Facebook
Dog Rescued From the Meat Trade Learns to Trust Humans Again in His New Home. The dog and cat meat trade in places like South Korea and China is a topic that is usually brought up around the time of the Yulin Meat Festival. Although a large number of animals are killed during this event, the cruel and violent practice of eating dog and cat meat actually goes on all year long. In the case of South Korea, dog farms are not uncommon. This is a very upsetting reality for the majority of the world, especially since dogs and cats are typically put on a pedestal above other animals like pigs, chickens, and cows. That being said, what sometimes happens, and is definitely not legal is the abduction of pets into the meat trade. Sadly, many organizations that are battling this industry have come across several dogs that have either been microchipped, have collars, or simply have the behavioral tendencies of a former pet.
Humane Society International (HSI) is one of the organizations that is trying to bring an end to the dog meat trade in South Korea and elsewhere.
Earlier this year, HSI happened upon James, a dog that was languishing in a South Korean meat farm. You can see the fear and anxiety in his eyes.
James' sweet and gentle nature led HSI to believe that James was a stolen pet that had been kidnapped and dragged into the meat trade. Thankfully, HSI was able to rescue this darling pup and give him a second chance at life.
After a lot of care, love, and support from the HSI team, James recovered tremendously! In fact, he now has a forever home!
Nowadays, James can be found playing with a plethora of toys and enjoying all of the simple pleasures he was robbed of during his time on the meat farm.
James looks much calmer and happier. Despite all of the challenges he faced in the past, he is truly learning to love and trust humans again!
With all of the disheartening news there is about the dog meat trade in parts of Asia, it can get easy to feel that this issue will never be solved. However, we must remember that every dog saved is a small victory. Because of the perseverance of HSI, this dog's life is forever changed. And that is definitely worth celebrating. To learn more about Humane Society International, click here. All image source: Humane Society International/Facebook

Even While Suffering, These Dogs Showed Nothing But Love.

The Soi Dog Foundation is a not for profit organisation that relies on donations to help Thailand's dogs & cats that have been abused or neglected. As a supporter you will be giving these animals a 2nd chance at life. There are many ways you can help either by donating to our "Magic 1000' club that helps feed dogs rescued from the illegal dog meat trade to "Sponsoring one of the rescued shelter dogs, or one of many other options. Please take a moment to visit our Face Book page at

https://www.facebook.com/SoiDogPageIn...

& our website at

http://www.soidog.org
Rescuing a homeless senior dog from a water treatment facility. Please share.
Mufasa lived in this water treatment facility. Luckily, a worker saw one of our videos, and called us:
http://www.HopeForPaws.org
&
http://www.LionelsLegacy.org

Dying From Cancer Dog Receives Treatment and Becomes Therapy Dog - Tails of Hope.
Molly who suffered from the abuse and neglect of her previous owners survives and finds a happy home.
Subscribe to The Pet Collective-Cares
http://bit.ly/TPCCARESUB
Website:
http://www.thepetcollective.tv
Facebook:
http://www.facebook.com/thepetcollective
Twitter:
https://twitter.com/petcollectiveTV
Pinterest:
http://pinterest.com/petcollectivetv/
Google+:
http://gplus.to/thepetcollective
Special thanks to the Southern California Labrador Rescue.
To learn more and to DONATE to the Southern California Labrador Rescue go to:
http://www.sclrr.org/rescue/
Like them on Facebook:
https://www.facebook.com/pages/Southe...
Coordinating Producer: Dawn Poomee
Field Producer: Ashley T. Hughes
Associate Producer: Brittni Brown
Editor: Shawn McPherson
Color Correction/Sound Mixing: Hunter Hill
3 Rescued Big Cats From The Wildcat Sanctuary That Prove Big Cats Don't Make Good Pets. Big cats are by far some of the most popular exotic pets. It's now strongly suspected that there are currently more tigers living in homes and backyards throughout the United States than there are in the wild.
However, the unusual popularity of these exotic pets does not mean that big cats make for good companions. In fact, there are hundreds of incidents between big cats and their owners – and likely many others that go unreported. Despite big cat owners' efforts to make their cats be the "exception" to the rule and successfully domesticate their animals, these "pets" will always maintain their wild instincts and act out in ways that can be undesirable or even dangerous.
Tragically, many people who purchase big cats for the sake of their entertainment find that they are unable to properly care for the animals and end up surrendering the pets to sanctuaries. In some cases, incidents between big cats and their owners lead to the animals having to be confiscated by the authorities, but in either case, they are left in need of a home.
This is where The Wildcat Sanctuary comes in. Located in Sandstone, Minnesota, this sanctuary acts as a no-kill non-profit that provides a forever home for the cats in their care. The sanctuary is not open to the public as it strives to give the rescues in their care a life as natural as possible, meaning minimal contact with humans. At The Wildcat Sanctuary, these cats are free to live out their days in the company of other big cats and enjoy the simple pleasures of life.
While it is fantastic that this sanctuary exists for big cats, Wildcat's ultimate goal is to create a future where they are no longer needed. By telling the stories of the animals in their care, the sanctuary hopes to deter prospective big cat owners. These cats are only a few of the sanctuary's residents, but their stories certainly prove that big cats belong in the wild … not as pets.
1. Lily and Titan
Lilly and Titan found their way to The Wildcat Sanctuary after a fellow tiger, Tango, killed their owner where they were being kept at a residence in Minnesota.
Lily and Titan were both emaciated upon arrival at the sanctuary. While the owner of the tigers may very well have had good intentions, her tragic death and the state Lily and Titan were found in only further corroborated how poorly the animals were being treated.
Thankfully, The Wildcat Sanctuary is capable of caring for big cats like Lily and Titan and they now share a plush habitat together.
2. Tonka
International Fund for Animal Welfare found Tonka on display at an exhibition center that was completely unfit for a cat of his size. Tonka's owner was prompted to update his enclosure in 60 days or else the tiger would be confiscated from his care. In a positive twist for Tonka, his owner deemed this impossible and arrangements were made to send the adult tiger to The WildcatSanctuary.
His new caretakers at the sanctuary write, "When the transport gate was lifted, Tonka excitedly ran right out into his new habitat and began exploring every square inch of it. He was chuffing and walking all over the habitat, obviously so thrilled with the newness of it all. When he got over to the special shaved wood bedding we'd put in for him, we laughed seeing him dancing on it. He wore himself out very quickly since his back end is atrophied and weak. Our hope is to rebuild the muscle strength he obviously lost over the years while on exhibit."
Tonka has been at the sanctuary for over a year now and continues to flourish in his forever home.
3. Sabrina
Sabrina and her two cubs were being kept in the backyard of a Texas home when their owner passed away. For more than a week, the tigers remained on the premise, unbeknownst to neighbors relatives or authorities, where they had no choice but to fend for themselves.
After being discovered, Sabrina was left in a trailer for a week before finally being transported to a refuge in Texas. After a stint at the refuge, Sabrina and her sons left for their final destinations: Sabrina to The Wildcat Sanctuary and her two sons to the Peace River Refuge (Forest Animal Rescue).
"Today, Sabrina is a totally different cat than when she first arrive," Wildcat writes, "She chuffs to her tiger neighbors and can sleep peacefully even when strangers are around. She enjoys getting new enrichment and likes to shred any boxes. She really likes snowmen and even made a huge snowball herself after rolling one of the segments around her habitat. In the summer, she soaks in her pool and takes long naps on her perch. Her amazing transformation inspires us all and reminds us that we can make a difference."
How Can You Help Other Cats?
The Wildcat Sanctuary relies heavily on donations so that they may continue to provide forever homes for as many animals as possible. They're also committed to raising public awareness about the exotic pet epidemic in the United States. So, by supporting the work of the Wildcat Sanctuary you are not only helping the many residents of the sanctuary but also many other exotic pets. Raising awareness for the plight of exotic pets is the best way to combat this virulent trade. Share this post and check out the Wildcat Sanctuary's website and Facebook page to learn more.
These 16 before and after pics of rescue dogs will put a lump in your throat. Seeing where these pets came from to where they are now is indescribable. These photos show how amazing the day of adoption is for an animal.
1) Spokey's happy day
Reddit
2) Bumble Bee's new life
Unknown
3) Jackson's a changed dog
Imgur
4) Pillow's happy face
Imgur
5) A brand new Sandy
Imgur
6) Ned's ride home
Reddit
7) A once stray cat
Imgur
8) Amelia's Christmas joy
Imgur
9) Laurel's new friend
Imgur
10) Bandit and his treat
Imgur
11) Little fella, big heart
Imgur
12) Val has found comfort
Imgur
13) One lucky Golden Retriever
Imgur
14) Stray cat finds a home
Imgur
15) Chex is loving it
Imgur
16) Even a Betta fish needs some love
Imgur
If you loved these before and after pics, share them with your friends.