Great News for Imperiled Russian Belugas! This week the National Marine Fisheries Service (NMFS) made a historic first by officially designating the Sakhalin Bay-Amur River population of beluga whales as depleted under the Marine Mammal Protection Act. These beleaguered whales face a number of severe threats, including far too many being captured and sold into captivity. Since the whales don't live in U.S. waters, the U.S. can't put the same kinds of protections in place that we could for native species. But this new designation makes a powerful difference: It is now officially illegal to import any whales from this population into the U.S. for display in marine parks or aquariums. This is the first time NMFS has made such a designation for any species that lives completely outside U.S. waters, and sends a powerful message that the U.S. will not be complicit in pushing these belugas to the brink extinction. Learn about the Sakhalin Bay-Amur River belugas and how this designation can help >
The Northeast Gets a New Wildlife Refuge. On Tuesday, the U.S. Fish and Wildlife Service finalized approval of Great Thicket National Wildlife Refuge, the latest addition to our National Wildlife Refuge System, and the 18th refuge created under this administration. Spanning thousands of acres across six states, this refuge protects important forest and shrubland habitat (often called "thickets") that many species depend on, including the New England cottontail rabbit, blue-winged warbler, and more. Learn more about the newest addition to your public lands >
Lobbying leads to UN policy win for the welfare of farm animals worldwide. After we lobbied the United Nations, governments will now prioritize animal welfare thanks to new policy recommendations
Farm animals worldwide will be better protected following the adoption of groundbreaking global policy recommendations on animal welfare in farming, made by the UN this week.
Following our extensive work, substantive language on animal welfare was included in the recommendations, which have been adopted by member countries.
A massive step forward
This change by the UN is a massive step forward in putting animal welfare at the front and center of farming. It means countries will no longer ask 'should we include animal welfare?' but 'how do we deliver better animal welfare?'
The ruling was made at the UN Committee on World Food Security meeting in Rome on Monday (October 17).
Paving the way for change
Our lobbying efforts over the past two years have helped lay the groundwork for these changes in global policy, which involve:
the inclusion of language on animal welfare, making it clear that governments should prioritize animal welfare in designing their country's farming systems

emphasis that animals should be able to live free from pain, distress and hunger, and be able to demonstrate natural behaviors as set out by the Five Freedoms and World Organization for Animal Health (OIE) standards and principles

recommendations stressing the importance of animal health and access to veterinary services.
Lesley says: "By treating animals well, we can fight poverty, reduce hunger, improve people's health, tackle climate change and protect the biodiversity of our planet. We've been working to make sure the vital importance of animal protection is recognized at a global level.
"This is clear acknowledgement that better animal welfare contributes to better food security for communities, which in turn helps to tackle sustainable development goals to end hunger, achieve food security and improved nutrition and promote sustainable agriculture."
We will continue to work directly with key countries to embed these recommendations in policy and practice.
Despite this great step forward for farm animals, billions suffer every year on industrial farms.
You can help by signing our petition, urging KFC, one of the world's largest fast-food chains, to help end the secret suffering of chickens.
TripAdvisor to stop selling tickets for some of the world's cruelest wildlife entertainment attractions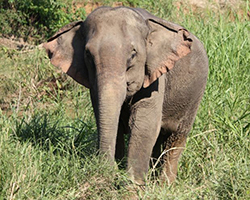 In order to bring an end to the suffering of animals for entertainment, we've engaged with the global travel industry, urging tour operators and others to commit to stop sending customers to venues where wild animals are exploited, such as riding elephants, taking selfies with tigers or petting lion cubs.
We've identified some of these activities as the world's cruelest forms of wildlife tourist entertainment.
Earlier this year, we shared the good news that with help from our wonderful supporters, over 100 global travel companies agreed to no longer offer visits to venues with elephant rides and shows in any of their markets.
Now, thanks to over 558,000 supporters we are proud to share that TripAdvisor will stop selling tickets to wildlife activities where tourists are allowed direct contact with captive, wild animals or endangered species. This means activities such as tiger selfies, petting lion cubs and swimming with dolphins will no longer be offered!
Click here to read more about our ongoing work with TripAdvisor as they launch an animal attraction education portal and to read comments from our CEO Steve McIvor.
State Bans All Elephant Circus Acts. Goal: Thank the Senate for passing "Nosey's Law" and banning all elephant circus acts from the state of New Jersey.
After some deliberation, Nosey's Law, which bans all elephant circus acts from the state of New Jersey, was approved and passed by the state Senate. The law is named in honor of Nosey, a circus elephant who is continually rented out and used by her trainer despite her many health problems.
Elephants are incredibly social, intelligent and curious animals. Unfortunately many are imprisoned within the entertainment industry where they are forced to do tricks and give rides. Thankfully more and more people are speaking up for those who cannot speak for themselves, including many at ForceChange.
Sign this petition to thank the New Jersey Senate for banning all elephant circus acts and for treating these animals as living beings and not objects.