Now that the race for the US Presidency is over, I want to take this moment to thank you again for your continued commitment to protecting animals around the world. I know you've been asked to do so much this year, but there are still so many animals that need us, and your support has never been more vital.
One of our most pressing campaigns is to build doghouses to protect dogs in freezing northern Canada. Please see the e-mail below to find out how you could help.
We're racing to save dogs - some of them just puppies - from freezing to death in northern Canada.
I need your help to build as many doghouses as we can before winter sets in.
But we must hurry! Most of these northern communities already have snow on the ground.
You've taken action to help animals before. I'm hoping you'll help again by opening your heart and donating today.
Your gift will help us provide shelter for dogs in these northern communities and do so much more to ease the suffering of animals everywhere we find them. It will also help us keep up the important work we do in northern communities, including providing much needed veterinary care, and humane education for school children.
In remote communities in northern Canada, it's common for dogs to spend the winter outside. Many people remember when their families owned working dogs who were bred to live and work outside.
But today, there are many different breeds who are not meant for life outside without a warm dog house. For them, winter is a harsh and even deadly time.

Puppies like "Brownie" pictured to the right are often tied up outside in the bitter cold. Others wander the streets all day. All of them are desperately looking for shelter.
Dogs exposed to severe cold can suffer terribly. Fur alone is not enough to protect them from freezing temperatures, fierce winter winds and driving snow.
Puppies and dogs with short fur are the most vulnerable and can quickly die from hypothermia. And when a dog's ears, paws and tail becomes frostbitten, it can suffer excruciating pain and permanent tissue damage.

So an insulated doghouse is a lifesaver. The doghouses we built last winter kept so many Northern dogs warm and protected. But there are many other dogs that need doghouses built for them. There is a puppy out there, right now, looking for shelter ... a puppy who may freeze to death if we don't build him a doghouse before Christmas.
Think Animal Performances Are Banned Where You Live? Think Again! via Animals Asia http://bit.ly/2fxSuK3
In the coming months, incidences of dog torture and killing will rise in the Philippines, as a hardcore group of traditionalists celebrate the winter season by illegally eating dog meat.
You see, in the Philippines some people hold onto the outdated idea that eating dogs puts 'heat' into the body. I personally think dysentery is more likely, having seen the total lack of hygiene offered in backstreet slaughterhouses.
As animal lovers, you and I would do anything to stop a dog going through the torture of abduction and death to be served as dinner. This is what happens: crippling confinement in a tiny, rusty cage with no food or water in fiercely hot conditions. Crammed in with frightened strangers, whimpering in fear. And finally, brutally, the knife. We need to stop this.
I recently told you how our team member Perry Baybay, was kidnapped during one of our raids. Our work is dangerous and will only become tougher as we fight the rising winter tide of cruelty.
Your donation today will help us plan ahead. Your generosity will provide our team with the resources they need to operate safely. Your gift will help us close down dog-meat serving restaurants and bars, and knock down the doors of slaughterhouses.
Please donate today. Help us end this vile dog meat trade and bring all Philippine dogs the safety that they deserve.
Baby koala found by Australian cops hidden in wanted woman's backpac
k
Police in the town of Wishart were in for quite a surprise over the weekend when they discovered a baby koala, hidden snug in the backpack of a woman they'd pulled over during a routine traffic stop.

Officers flagged down a 50-year-old woman in her car on Nov. 6, and spoke to her for a few moments. They soon realized the woman was wanted on previous charges, which they've termed "outstanding matters," according to the Queensland Police Service.

As they placed the woman under arrest, the cops asked if she had anything to declare. That's when she handed over her backpack which contained an adorable koala joey, weighing 3 pounds. The woman said she'd found the little guy the night before, and was caring for him.

The police took a few fun photographs of the koala before turning him over to the local RSPCA. The 6-month-old koala was a bit dehydrated, but has been receiving fluids and will be going to a carer shortly.
Chimpanzee freed from zoo by Argentinian judge after ruling ape has 'non-human rights'



A chimpanzee will be released from a zoo in Argentina after a judge made the landmark ruling that the ape is a being with "non-human rights" that deserve to be observed.

Cecilia the chimpanzee previously shared her enclosure with two companions, Charlie and Xuxu. Her friends passed away years ago, and ever since, Cecilia has been on her own in a filthy concrete habitat with only a blanket for cover, Argentinian news site Los Andes reported.

The chimpanzee, now aged in her 30s, is one of the Mendoza Zoo's most popular attractions, but left alone, her emotional health has long been in jeopardy. In the past, the zoo has received negative attention for the poor conditions its animals have been subjected to. The sad life and inevitable death in July of Arturo the polar bear is the most recent high-profile case.
Judge Declares Chimp Has Rights And Must Be Freed From Zoo.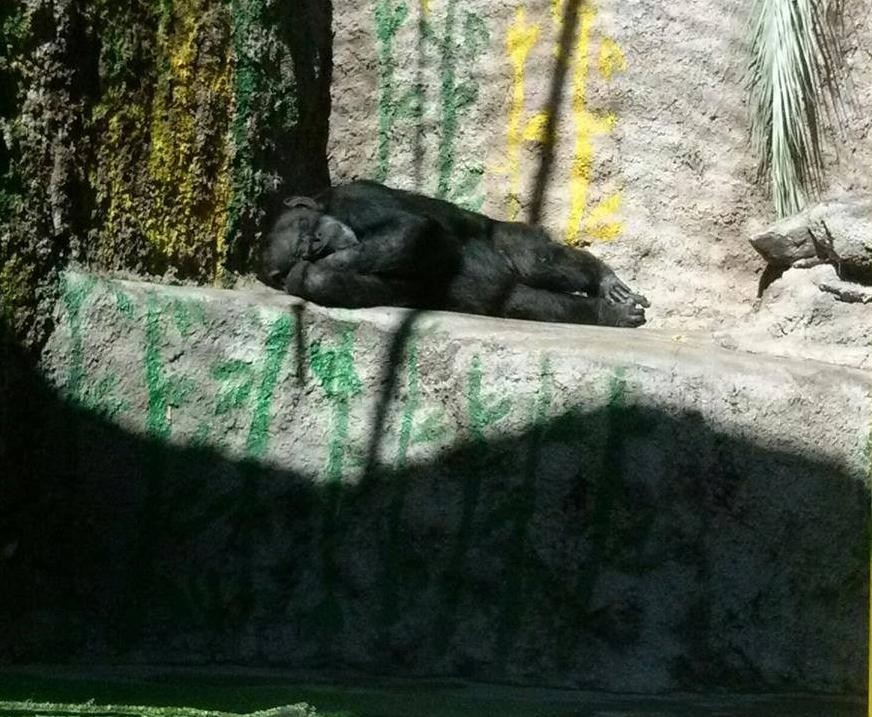 In an historic ruling this week, Argentine Judge María Alejandra Mauricio declared that Cecilia isn't a thing, but rather a being who is "subject to nonhuman rights."
She ordered that Cecilia be released from her barren home at the infamous Mendoza Zoo and sent to live among her own kind at a sanctuary.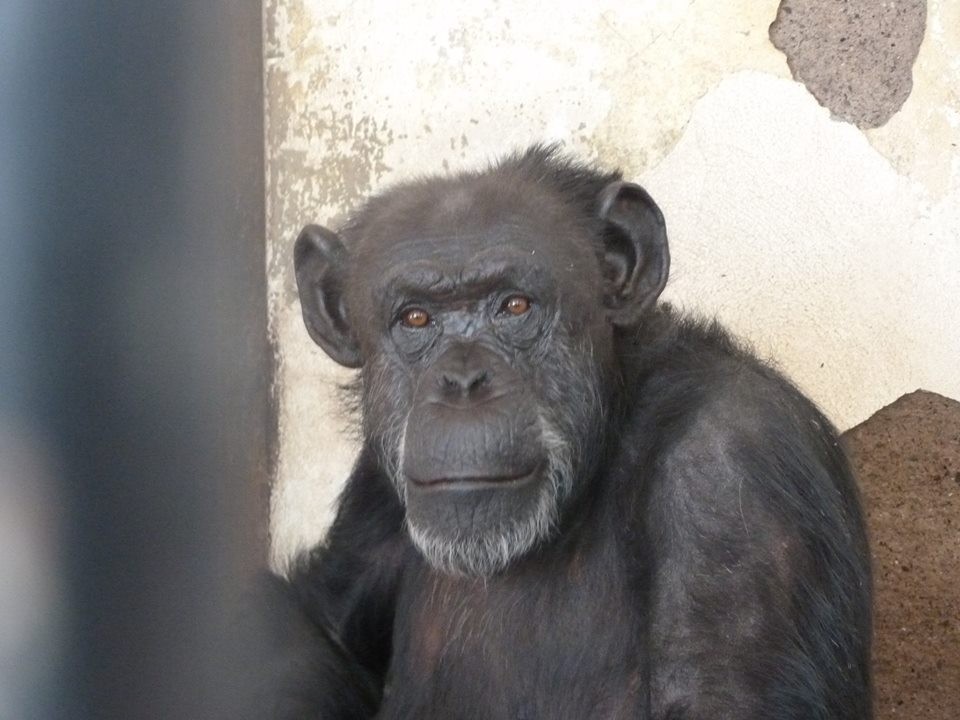 The decision comes on the heels of an extensive case filed by the Association of Officials and Lawyers for Animal Rights (AFADA) and the Great Ape Project (or Proyecto Gran Simio), some two years in the making. The NGOs had filed for a writ of habeas corpus on Cecilia's behalf, arguing that the circumstances of her confinement without companionship were unlawful and that her health was deteriorating as a result.
Judge Mauricio agreed, stating in her verdict that nonhumans indeed possess rights related to their "animal essence," and decreeing that Cecilia should be transferred to the Great Ape Project's sanctuary in Brazil within the coming months — the first time a habeas corpus case for an animal has resulted in this action.
"We're not talking about the civil rights enshrined in the Civil Code," she told the journal Los Andes, "but instead the species' own rights: to development, to life in their natural habitat."
With that, Cecilia will soon go from this ...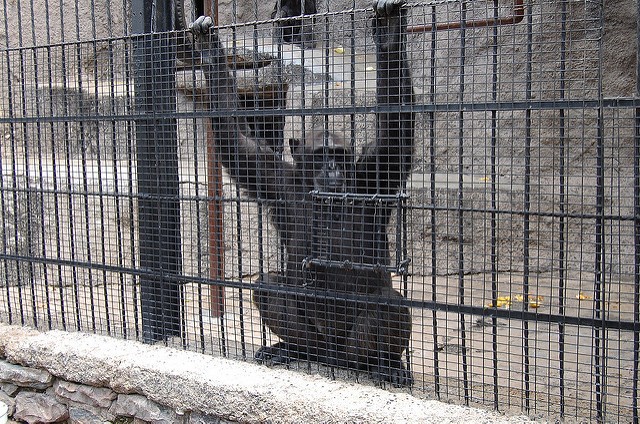 ... to this — a lush sanctuary where she can finally be herself.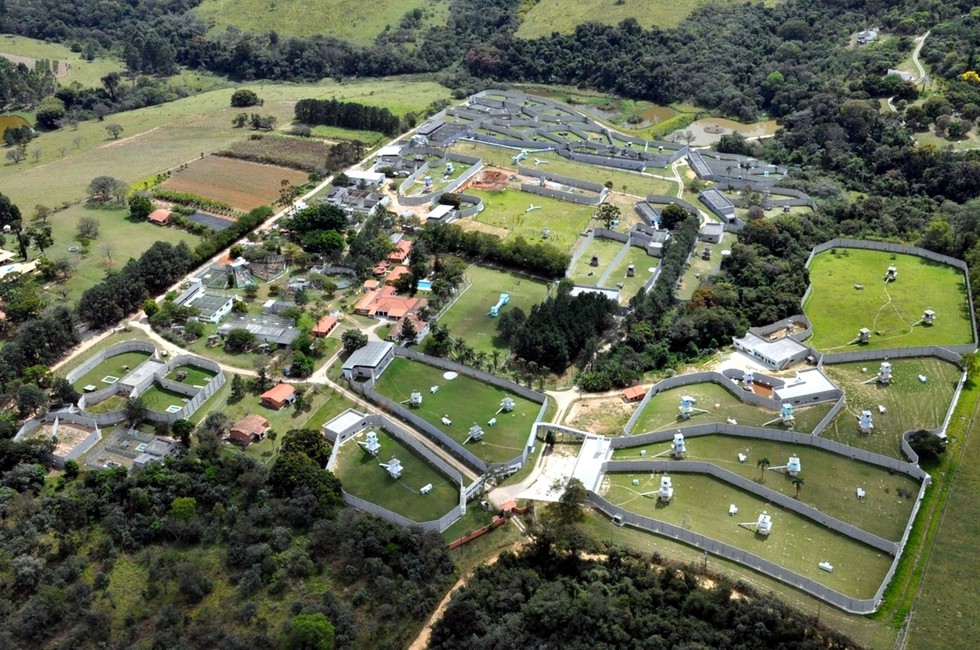 Pedro Terrados Pozas, executive director of the Great Ape Project, calls the ruling a "landmark judgment," stating in a press release that it should pave the way toward better treatment for animals in general. And perhaps it soon will.
Interestingly, Judge Mauricio's ruling also included a request that officials in Mendoza take necessary steps to improve conditions for all the animals who will remain at the zoo after Cecilia departs.
In closing her verdict, the judge went on to summon the words of philosopher Immanuel Kant, asking they be kept in mind: "We can judge the heart of a man by his treatment of animals."
For many dogs and cats in the poverty-stricken neighbourhoods of the Philippine capital of Manila, even daily survival is a struggle.
Homeless, injured, and neglected animals are left for much of their lives to scavenge for whatever meagre scraps of food or sources of clean water they can find as they wander through the slum-like streets and alleys. This relentless misery is often passed down from one generation to the next, as unsterilised dogs and cats give birth to litter after litter of unwanted puppies and kittens. But with your help, PETA Asia can begin to break that tragic cycle.
Will you support PETA Asia's vital work for dogs, cats, and other animals by making a much-needed gift today?
It's not uncommon for people to keep "unfixed" dogs as living alarm systems or for "owned" animals to be left to roam the streets, where they breed freely with other animals facing the same challenges. Many people in Manila live in deep poverty and can't afford any veterinary care for these animals – and in some areas, there isn't even a shelter to help address the flood of puppies and kittens they produce.
As PETA Asia's team has seen over and over again, the issue of animal homelessness is truly a matter of life or death. That's why last year the organisation held its first-ever spay-a-thon – the "Kapon/Ligation Immediately, Please" (KLIP) spay/neuter project – at which the group sterilised and supplied essential veterinary care to more than 280 animals in one of the poorest neighbourhoods of Manila.
While such vital work is alleviating some of the suffering in the Philippines, right now countless other animals still need assistance in order to have a chance at survival. Your generous gift today can help ensure that PETA Asia has the resources it needs to provide this support.
With your help, PETA Asia will be able to cover the cost of the veterinary services and supplies, support staff, educational materials, and other items necessary to reach hundreds of animals who need spay and neuter surgeries. Your support will help PETA Asia prevent countless puppies and kittens from being born into a world already teeming with homeless animals – a heartbreaking world of disease, neglect, and constant danger that many would never be able to escape otherwise.
If you have ever shared your home with a beloved dog or cat, imagine how miserable that animal would be searching for scraps of food, without the care and affection of a loving home. This is what thousands of homeless animals in the Philippines are enduring right now – and they need PETA Asia's intervention.
By donating today, you'll be strengthening PETA Asia's vital work and allowing it to reach hundreds more animals before they give birth to more puppies and kittens who will be abandoned and abused.
Pedals the bear shot dead: Bear famous for walking on two legs killed during hunt
A bear made famous for frequently being spotted walking around on two legs has been killed by an unnamed hunter during the annual New Jersey bear hunt.

On his adventures through the forest, Pedals the black bear suffered an injured left paw, and lost his right paw entirely, so to move forward, he adopted a bipedal gait. Unfortunately, his human-like walking couldn't protect him from the annual bear hunt, New Jersey's first allowing the use of bow and arrows in nearly 50 years.

On October 10, Pedals was shot dead with an arrow to the chest. Observers at the checkout station claim his hunter had been bragging about wanting to kill Pedals for three years. Over the past few weeks, fans of Pedals had rallied support to have his life spared. More than 300,000 signatures were collected to have him relocated to a wildlife sanctuary, and roughly $22,000 was raised to have him moved, preventing his death.
The New Jersey Senate just received bill SCR11, which seeks to ban painful leghold traps in the state by overturning a recent decision that allowed their use again. The Senate will likely consider the measure soon, so your voice is urgently needed.
Please take action—then forward this alert far and wide!
We work to expose and end the cruelty inflicted on animals in the name of sport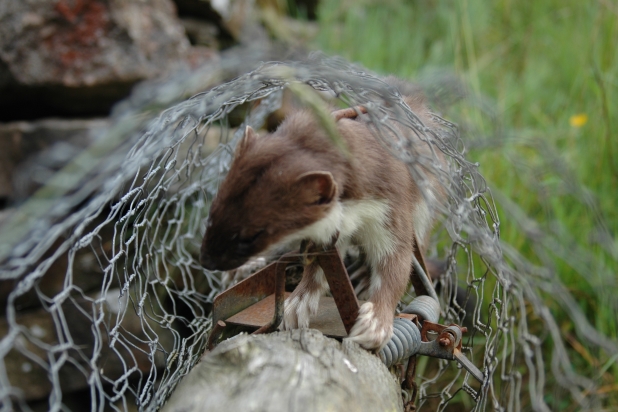 It is time to stop the endless killing. Please make a donation today and help us drive grouse shooting to extinction.
The killing doesn't end after the smoke of the gunfire clears.
Grouse populations are 'guarded' all year round ensuring as many birds as possible are available to be shot in season. Yet indiscriminate use of poison, pole traps, snares and other traps means continuous widespread persecution of any potential predators or threats to the birds – all year long.
Birds of prey are particularly targeted. In England, the hen harrier remains critically endangered and on the verge of extinction as a result of persecution on grouse moors.
Mountain hares, weasels, stoats, magpies, crows, foxes, badgers, rats, even squirrels and many more animals are also trapped and killed in huge numbers.
We urgently need your help to stop this merciless 'sport'. Can you make a donation today?
Our campaigning helped force the Parliamentary debate on grouse shooting that took place last week. It highlighted the environmental damage caused by driven grouse shooting – Kerry McCarthy MP for Bristol East outlined how the "weight of scientific evidence is that driven grouse shooting damages habitats, pollutes our water, increases greenhouse gas emissions, and increases flood risk".
However, this debate is just the beginning and we urgently need your help to bring a ban to this horrifically cruel and indiscriminate bloodsport.
You can make a donation securely online by credit/debit card or via PayPal, or you can make a telephone donation by calling 01483 524 250.
End Cruel Trapping of Hundreds of Cougars
They're called "dream boxes," but they don't lead to dreams. They lead to death.
Each year in Japan, animal shelters kill tens of thousands of cats and dogs who are either unwanted pets or strays. Many shelters in the country now use special gas chambers that are supposedly a more humane way to euthanize the animals. But these chambers, called "dream boxes," are anything but humane.
To euthanize the dogs and cats, the animals are placed inside the chambers and a door is sealed and locked behind them. Staff begin releasing carbon dioxide into the boxes, and the pets slowly suffocate on the poisonous gas. The process sometimes takes as long as fifteen minutes, and witnesses say the animals frequently struggle to free themselves from the boxes before it's too late.
And even though it is already too late for hundreds of thousands of cats and dogs, we still have time to save others.
Fumiko reminds us in her petition that other countries like Germany have adopted no-cull policies at animal shelters. Japan could be the next country to ban animal culling and become a role model for others to follow.
Petitioning Florida Fish and Wildlife Conservation Commission, United States Department of Agriculture (USDA), Florida Governor
Earlier this week tiger trainer Vicenta Pages was mauled by a tiger at Florida's Pensacola Interstate Fair as a group of children watched in horror.
Her assistant rushed into the enclosure, leaving the gate unlocked. Both Vicenta and her assistant are seen whipping the tiger with a stick in a video recorded by one of the children. Before the release of the video, the trainers reportedly lied about the incident, saying that Pages sustained only minor injurious when in reality she was rushed to the hospital and required surgery.
At age 19, Vicenta Pages began performing with the infamous Ringling Bros. Barnum and Bailey Circus which has been cited on dozens of cases of animal abuse. Now, Vicenta performs at fairs, festivals, and other events in North America, bringing with her inbred white tigers and strong evidence of punishment and scare tactics used to train the animals.
White tigers are bred solely for the purpose of entertainment. They host a number of health issues due to severe inbreeding. These include kidney problems, deformities, and premature death.
Virtually 96 percent of these animals' lives are spent on chains or in cages. They are also trained using fear tactics such as physical coercion.
With almost no government regulation on the treatment of circus animals, one of the most effective ways to prevent these injustices is to directly target the oppressors and local organizations that oversee performances.
Circuses that force wild animals to perform are dangerous to trainers, audiences, and the animals themselves. Please sign to insist that Pages White Tiger Show be shut down and that the animals be sent to a sanctuary where they can be free from abuse.
You don't need to promote injustice to be entertained. Here's a list of cruelty-free circuses.
Click to help.
Update
Lily is now officially on her trip to her new home just outside of Denver. The vets found her in good health, a bit fat, something she will lose in her new 20 acre home. There are a few other exotic animals that we will work to gain access to, but once they are gone, the zoo will only contain animals one would find on any typical farm. For those who would like to help those who did the rescue, they can send a donation to the Wild Animal Sanctuary - http://www.wildanimalsanctuary.org/ and click here to sign.
Turkeys Hurled From Airplane in Yellville; at Least Two Die. Yellville, Arkansas, was determined to resume its barbaric "turkey drop" at this year's Turkey Trot festival on October 7 and 8, and more than 16 domestically bred wild turkeys who would only ever fly short distances low to the ground were hurled from an airplane for sheer amusement. Despite Marion County Judge Terry Ott's assurances that "[t]hey're not going to crash. They're birds. They can fly," the Yellville Chamber of Commerce president's claims last year that "those turkeys flew perfectly well to the ground and no animals were harmed," and the alleged pilot's assertions that "the turkeys glide to a landing," at least two terrified animals reportedly fell to their deaths.
Below are images of Samuel, so named by the good Samaritan who found his lifeless body, and please click here for information regarding the second bird who died.
Please join us in telling Yellville officials and Turkey Trot festival sponsors that enough is enough and that it's time to end this monstrous tradition, which is a blight on the entire state—then share this alert far and wide! Personalized letters always work best. Feel free to send the sample letter provided, but keep in mind that your letter will carry more weight if you write your own customized message and subject line.
Bulls in Brazil need your voice! Please contact Brazilian officials and urge them to uphold the ban on vaquejada.
Tell Global Retailer Canada Goose to Stop Using Inhumane Fur and Down in Its Jackets!
What if you saw this before buying a Canada Goose jacket?
Cruelty can be found in every stitch of Canada Goose jackets and other clothing items. Wild coyotes trapped for the company's fur-trimmed jackets can suffer for days and face blood loss, shock, dehydration, frostbite, gangrene, and attacks by predators. Mothers desperate to get back to their starving pups have been known to attempt to chew off their own limbs to escape. Animals who don't succumb to the elements, blood loss, infection, or predators are often strangled, stomped on, or bludgeoned to death when the trapper returns.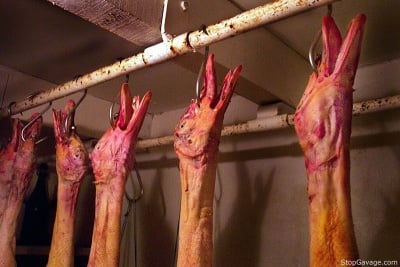 Ducks and geese suffer as well. Those used for the down stuffed into Canada Goose jackets are violently killed for both their feathers and meat, and some even have their throats slit while they're still conscious and able to feel pain.
There's nothing warm and cozy about the cruelty that Canada Goose stitches into every one of its jackets. Urge the company to stop selling fur and goose down now!
Please send a polite message to CEO Dani Reiss at dreiss@canada-goose.com or send a Facebook message to the company.
Please feel free to use our sample letter, but remember that using your own words is always more effective.
Tell the Akron Zoo to Spare Aquatic Animals Harassment and Possible Death.
The Akron Zoo's "Journey to the Reef" exhibit—in which wild animals are confined to tiny touch tanks and harassed by humans who grope them—is closing in November, but the zoo has not committed to sparing these animals future harassment. Please urge the Akron Zoo to announce a permanent end to its stingray-harassment program and to entice visitors with immersive augmented reality or other interactive displays instead. Click to help
Stop the Second Annual Massacre of Ann Arbor Deer
The City of Ann Arbor, Michigan has ordinances which do not allow hunting within city limits and it clearly has admitted that it does not have a deer population problem, or a deer/vehicle accident problem, yet it intends to brutally butcher 100 innocent deer anyway. In fact, it has never even had an aerial survey of the City done until last year. Therefore, it does not have an accurate history of its deer population which is needed in order to determine whether it has been increasing, decreasing or has remained stable. So, where is the justification for this massacre within city limits? Don't let trigger happy hooligans loose to assassinate friendly resident deer!
TAKE ACTION
On July 1, 2016, In Defense of Animals - Justice for Animals Campaign received a report that a Grenada County, Mississippi dog had been starved to death.
The caller, a close friend of our campaign's director, Doll Stanley, said the neighbor across the street had moved and the neighbor beside the vacant residence discovered that the tenant's dog was dead and decomposing in the dog house behind the residence.
TAKE ACTION
Sexual Abuse of Animals on Farms
During our investigations, undercover workers document some seriously sick and disturbing events—including the sexual abuse of animals, from pigs to turkeys. Unfortunately, sexual violence against farmed animals is not an unusual occurrence.
Shocking video shows man kicking cat and launching it into the air