Mexican Gray Wolves Will Finally Get a Recovery Plan!
Early this week a federal district court approved a settlement in one of Defenders' lawsuits on behalf of the endangered Mexican gray wolf. As a result, the Fish and Wildlife Service is now required to complete a valid recovery plan for the species – something that should have been done decades ago. As the most endangered gray wolf in the world, this is a vital step forward for Mexican gray wolves, and our team hopes it will be a turning point in the species' recovery. Find out more about what the court's decision means for wolves >
Wolverines to Finally Get ESA Protection?
Back in April, we won a case that we had brought against the Fish and Wildlife Service for failing to list the wolverine under the Endangered Species Act. The judge agreed with us that the Service hadn't used the best available science, and ordered the agency to re-assess the petition to list. This week, FWS proposed to list wolverines as threatened under the ESA, and opened a comment period for the public to weigh in. This is a much-awaited first step to getting wolverines the protection they need! Read more about the plight of the wolverine and what this latest proposal means >
Scientists Speak Out Against FWS Plan for Red Wolves
Not long ago, the Fish and Wildlife Service announced a disastrous plan for red wolves that involved, among other things, bringing most wild red wolves into captivity. It was considered by many to be a potentially fatal blow to red wolves, likely leading to their eventual extinction in the wild. The agency insists it used the best available science to create their plan. But this week the very scientists whose research they used came forward with a public letter to the agency, saying that the plan misinterprets their work, and the science doesn't support what the agency wants to do.
The State of the Wolf
This week was Wolf Awareness Week! Few species have been as historically vilified, as ecologically valued, and as continually controversial as wolves. So this week in particular, we wanted to take a minute to share with you how far wolf recovery has come over the past several years – and the important work we still have to do. Read more about the state of the wolf today >

People and Wolves Can Coexist. You care about wolves. And you and I will never give up on our quest to see wolf populations healthy and growing.
Majestic wolves must be free to run in the wild.
But people pose the greatest threat to wolves today.
Wolf recovery is working. Wolves are now living in areas where they were once wiped out - places like Oregon, Washington, Arizona, New Mexico and California. They are helping restore the balance of nature once again. But more wolves on the land brings more people into close contact with wolves. And when conflicts occur, the wolves are blamed. But it's not their fault. They're just doing what they've always done...looking for food and raising their young.
We must never accept a "shoot first and ask questions later" approach to living with wolves, or any wildlife. Too much hard work has gone into the decades of gray wolf recovery efforts that have brought these amazing creatures back from the brink in the lower 48 states.
We're partnering with landowners, livestock producers, biologists, community leaders, other conservationists and state and tribal agencies to develop creative solutions...like flag fencing and range riders that reduce the chances that livestock will encounter wolves. Our smart solutions are aimed at creating important dialogues and finding solutions while always putting the wolves first.
Together, you and I can save more wildlife – from wolves to panthers, bears to black-footed ferrets.
I hope you feel good knowing you are part of the solution when you support Defenders of Wildlife. You are helping wildlife thrive in their natural habitats and helping people appreciate the wild world around them.
Whether it's red wolves on the brink of extinction in the Southeast, gray wolves under attack in the Northern Rockies or the last 97 wild Mexican gray wolves in Arizona and New Mexico, wolves are threatened everywhere you turn.
This is no time for business as usual.
To save wolves – and ensure they continue to survive and thrive – we need unique, innovative approaches to protecting habitat and reducing conflicts with people.
Defenders works around the clock to reduce conflict between wolves and livestock. We're working to implement nonlethal deterrents like fencing and encouraging the use of range riders and herders to reduce the chances that livestock will encounter wolves.
And we're educating communities about the important role that wolves play in healthy landscapes.
Solutions like these help wolves and people share the land.
Wolves have come a long way since the early days of reintroduction, but we cannot let their fledgling success also be their demise. As wolves return to their historic ranges, we must ensure that people and wolves can coexist.Defenders has spent decades bringing wolves back from the brink in the lower 48 states. We simply can't afford to let conflicts with ranchers and communities set back the gains we've made.
CONGRESS CONTINUES ITS QUIET ATTACK ON WOLVES. The lame duck Congress looks to take a few last swings at wolves on its way out the door.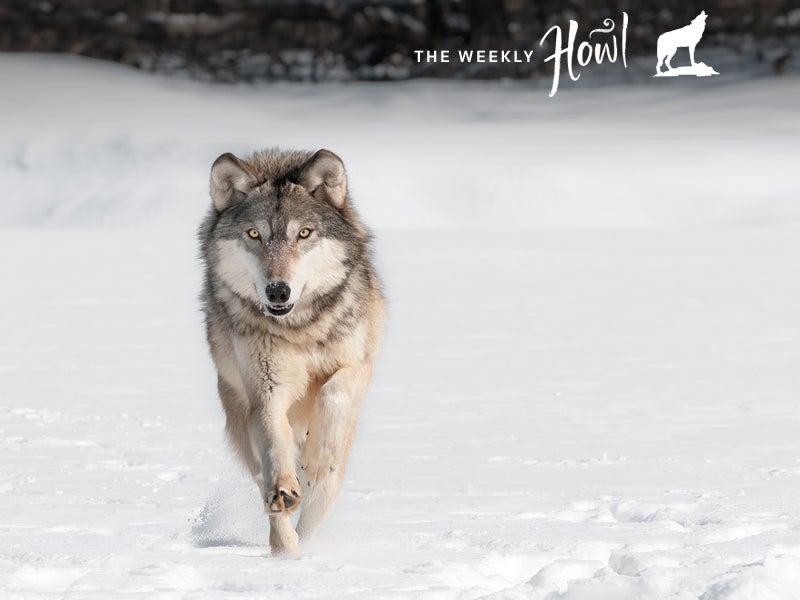 HOLLY KUCHERA/SHUTTERSTOCK
As the upcoming presidential election consumes our attention, the most anti-wildlife Congress in U.S. history is entering its final stretch and quietly working to pass members' last pet pieces of legislation. Much of the proposed legislation would have damaging and lasting impacts on America's wildlife and wild lands. These include measures that could prove devastating to a variety of wolf populations.
Last week, Earthjustice went to court to defend a 2014 victory that ended the state of Wyoming's extreme anti-wolf management plan. Wyoming had instituted a "kill-on-sight" policy for wolves in more than 80 percent of the state and allowed one wolf-killing loophole after another in the rest. Among the victims of this policy was of one of Yellowstone's most famous animal celebrities, 832F, the alpha female of the Lamar Canyon pack. The wolf had been hailed as a heroine in the dramatic success story of gray wolves' return to Yellowstone. She was the subject of podcasts and was featured in a National Geographic TV documentary. When she was killed, The New York Times wrote what amounted to an obituary for the wolf.
The life of 832F is documented in National Geographic's Wild Yellowstone series.
NATIONAL GEOGRAPHIC/YOUTUBE
Earthjustice took the U.S. Fish and Wildlife Service to court over the agency's decision to hand over wolf management to a state with a history of extreme anti-wolf policies—and we won. We expect a decision in Wyoming's appeal of our victory in the next three to six months. But while the judges deliberate, some members of Congress are trying to bypass the legal process by using legislative edict to remove wolves in Wyoming and three western Great Lakes states from the list of species protected under the Endangered Species Act.
Measures like the Wyoming-western Great Lakes wolf delisting threat are appearing as legislative "riders" tacked onto must-pass government spending bills and other large pieces of legislation. Another rider would block the act's protections for Mexican gray wolves, despite the fact that there are fewer than 100 of these highly imperiled animals left in the United States. And yet another rider would delist all gray wolves in the entire lower 48 states—despite the fact that wolves currently occupy just a small portion of their former U.S. range. These and other anti-environmental riders will be considered as part of negotiations between both political parties and the White House over how to keep the federal government funded beyond early December.
Earthjustice continues our fight in the courtroom on behalf of wolves, and you can help give this incredible species the chance it deserves by urging President Obama to reject any legislation that includes deadly provisions for wolves.
TAKE ACTION! Protect Wolves and the Endangered Species Act!
ABOUT THIS SERIES
2015 marked the 20th anniversary of the reintroduction of gray wolves to the northern Rockies, and since that time wolves have been under nearly constant threat of losing their protections. The Weekly Howl provides insights and education about the gray wolf and updates on the status of its protections while celebrating the iconic species as a vital part of a functioning, healthy ecosystem. Posts ran through the summer of 2015 and resumed in the fall of 2016.
Congress: Keep Gray Wolves on the Endangered Species List - Don't Allow Another Hunting Season.
Never Cry Wolf is one of my favorite books. It's an eye-opening first-hand story of a man studying wolves and learning they're not the monsters they're often made out to be. The book has compelled me to keep fighting for wolf protections.
As a Care2 member, I know you agree that wolves are amazing creatures that need to be protected, not feared. But yet again, they are threatened, and need our help. This time we're up against a few congressman in Wisconsin who want to reestablish hunting season.
Wolves aren't the threat that hunters, ranchers and politicians can make them out to be. That's why it's so insane that yet again, lawmakers are trying to de-list the wolves and re-establish a hunting season in Wisconsin.
In Idaho, hundreds of people have just bought dirt-cheap wolf-killing permits for only $12, and since the beginning of September they've already wiped out 14 of these intelligent, beautiful animals.
They have permission to kill at least another 179 this season.
Since wolves are highly social, each death could shatter a wolf family, break up a breeding pair or orphan a litter of pups.
If Idaho continues to kill at this rate, wolves may soon be wiped out in the state for the second time in a century.
That's why I'm writing now -- because the Center for Biological Diversity needs your help to even the odds. For every wolf-hater stepping forward to pay 12 bucks for a license to kill, we need a wolf-defender to
give to our Predator Defense Fund
.
By donating you'll help save wolves' lives and send a powerful message to Idaho that those lives are worth far more than $12 each.
The Center's going after Idaho Governor Butch Otter and his wolf-killing regime. We sued this summer to stop Wildlife Services, the rogue government animal-killing program, from slaughtering Idaho's wolves. We've shut down "predator derby" killing contests on public land, and since we don't trust the state, we've petitioned the U.S. Fish and Wildlife Service to continue to monitor wolf populations. And we've kept hired guns out of Idaho's Frank Church-River of No Return Wilderness.
Idaho's vicious hunt is being held up as a national model by extremist wolf-haters in Congress, too. They've worked up a cynical backdoor strategy of sliding in amendments to "must-pass" budget bills that will allow
as many as a half-dozen other states to follow in Idaho's bloody footsteps
. They want to bring Idaho-style wolf-butchery to the Great Lakes and Wyoming and even the Pacific Northwest, creating an open season on wolves wherever they roam.
But with your help we can beat back these brutal bills and keep cruel extermination practices from taking hold across the country again.
So please, give as generously as possible to the Predator Defense Fund.
We must stop this violence against wolves before it sweeps any wider.
Don't let Idaho's disgusting killing spree spread nationwide and endanger wolves in places like Michigan, Minnesota, Wyoming and Wisconsin.
Help us win today by joining the Center with a gift to our Predator Defense Fund.
Can We Save Norway's Wolves?
On Saturday, October 15, of this year, 3,000 dedicated wolf supporters showed up and made their voices heard in front of the Parliament at Oslo Center. This massive demonstration was held to protest Norway's barbaric plan to kill 2/3 of its critically endangered wolves in 2017.
TAKE ACTION
Appeals Court Considers Future of Midwest Wolves
The Center and allies were in the Washington, D.C., Appeals Court this week as part of our fight to keep Endangered Species Act protections for wolves in Minnesota, Wisconsin and Michigan.

The Humane Society and other groups, including the Center, are defending the 2014 legal victory that returned federal safeguards to Great Lakes wolves after the court found that the Fish and Wildlife Service had violated and misinterpreted the Act in previously removing them. The agency appealed that decision with the states of Wisconsin and Michigan.

"Without federal protection, hundreds of these wolves will once again suffer and die every year," said Collette Adkins, who was in the courtroom this week. "After the argument I remain hopeful that wolves in the Great Lakes will remain protected."

Read more in our press release.
Win: A New Recovery Plan Coming for Mexican Gray Wolves
Over livestock-industry objections, a court approved a settlement this week requiring the U.S. Fish and Wildlife Service to finalize a recovery plan for endangered Mexican gray wolves. With only 97 wolves and just six breeding pairs in the wild in Arizona and New Mexico at the end of 2015, the Mexican wolf is one of the most imperiled mammals in the United States.

For four decades the agency promised a recovery plan. The Center and our allies sued to get one in 2014, and now, backed by court order, the plan will be done by November 2017.

Get more from ABC News and check out this article on one of the Center's wolf experts, Michael Robinson.
$20,000 Reward Offered Over Killing of Oregon Mother Wolf
The Center this week added $10,000 to other rewards being offered for useful information on those responsible for killing an endangered Oregon wolf around Oct. 6 -- a female named "OR-28" who'd recently had a pup.

"This illegal killing of a mother wolf is heartbreaking," said Amaroq Weiss, our West Coast wolf organizer. "OR-28 was one of the first wolves to make the journey from northeastern to western Oregon. This killing leaves behind her mate and pup. It was a cowardly crime. I hope the perpetrator is caught quickly."

Anyone with information about this case should call the Fish and Wildlife Service at (503) 682-6131 or the Oregon State Police Tip Line at (800) 452-7888. Callers may remain anonymous.

Read more from KVAL.