Surviving Activism Behind Enemy Lines.
Have you ever wondered how undercover investigators can withstand witnessing animal abuse long enough to provide compelling evidence against animal abusers? What support systems do they have in place that allow them to tolerate immersing themselves in the world of institutional animal suffering for the greater good of all animals?
JOIN US
No More Dead Tiger Mascots.
Mike the tiger just died of cancer. He was held captive by Louisiana State University (LSU) in Baton Rouge, Louisiana. Mike has actually been a series of six miserable caged tigers, with each successive Mike being replaced once he dies. Since the last Mike died, LSU is looking to replace him with yet another suffering tiger who will be named Mike. Let's end the abuse! No more Mikes!
TAKE ACTION
Close Buffalo Zoo's Frozen-In-Time Elephant Exhibit! Frozen in time, the Buffalo Zoo in Buffalo, New York continues to keep the Asian elephant captives, Lothi and Surapa, inside the inhospitable prison it calls a barn, for yet another brutal Buffalo winter. Supporters of Buffalo Zoo brag that the Association of Zoos and Aquariums (AZA)has granted the zoo a five-year accreditation. However, meeting the AZA's paltry standards does not ensure a humane life for the elephants there. It's time to close the elephant exhibit and retire the elephants!
TAKE ACTION
Shocking Video Shows Very Clearly Why Tigers Don't Belong at Fairs or Circuses.
Online Ads Make it Easier than Ever to Buy Exotic Animals
Did you know that you can go online and purchase a monkey this very minute? It's as easy as buying a tech gadget or a household appliance—so easy, in fact, that nearly anyone, anywhere in the U.S. can do it.
Today, we released Downloading Cruelty: An Investigation into the Online Sales of Exotic Pets in the U.S. This new report confirms the massive scope of online sales of exotic animals. After tracking nearly 2,000 classified ads over three months across four different websites, we have demonstrated that private ownership of dangerous wild animals is just a click away. The internet has made the cruel and dangerous trend of exotic pet ownership accessible to anyone with a computer.
Highlights from the report:
At least 3,706 individual exotic animals were listed for sale over three months.

603 primates, 335 exotic cats, 439 canids, 263 snakes, and many others were available.

Juvenile animals (under one year old) were the most popular, with 2,039 listed for sale.

The locations of these ads situated sellers in 49 states and Washington, D.C.
These findings reaffirm our commitment to ending the abusive, risky ownership of exotic animals... but we need your help!
Urge your federal legislators to support the Captive Primate Safety Act (H.R. 2920) and the Big Cat Public Safety Act (H.R. 3546/S. 2541).

Never buy an exotic animal online (or at all). Even the smaller animals, like snakes, turtles, and sugar gliders, suffer in captivity.

Learn more about our new Downloading Cruelty report and share it with others.
Together, let's make a difference for exotic animals who belong in the wild—not in a living room!
Help shut down Grandview Aquarium in a mall in Guangzhou, China!
These animals have not only been taken out of their natural habitat, but they are forced to live in prison-like conditions in a gigantic shopping mall. The cages are small, without any natural features, including sunlight! Click to Take Action.
Last month alone, eight elephant carcasses -- with their tusks hacked off -- were found near Zimbabwe's Hwange National Park.
The suspected cause of death? Cyanide.
Poachers have been using cyanide to murder hundreds of elephants.[1]
Unlike bullets, cyanide is a quiet killer. Elephants caracasses are left abandoned -- and poachers are escaping.
Poachers are getting away with the brutal murder of our most treasured animals. They must be held accountable. http://go.saveanimalsfacingextinction.org/Arrest-Poachers
Chinese animal lovers protest against animal performance



These are the courageous members of Freedom for Animal Actors (FAA), just one of the hundreds of grassroots animal welfare organisations which have sprung up in China in recent years.

Their demonstration outside the Beijing Workers Stadium in May 2016 successfully convinced a number of parents to turn away from the show, even after they had bought the tickets.

For many more it started a dialogue and sowed the seed of a new idea which would force them to question accepted norms.

FAA has been supported for the last three years by Animals Asia. As a leading international charity with an established track record in awareness raising, Animals Asia offers experience and guidance to a number of animal welfare-related charities around the country.

Read the full story here: https://www.animalsasia.org/intl/media/news/news-archive/think-china-doesnt-care-about-animals-these-incredible-young-people-will-change-your-mind.html
Critical Marley Update #2 – Update on "Bay County Please Remove Dangerous Dog Designation for Rescue Dog Marley"-
We have become aware of a new petition that has formed and are asking everyone to sign it. Marley should NEVER be labeled as dangerous!
https://www.change.org/p/bay-county-please-remove-kathy-beatson-as-animal-control-director
PETA's Nude Skeletons Take Hollywood By Storm
Just in time for Halloween, PETA members wearing little more than black-and-white bodypaint posed as "skeletons" in upright coffins on Hollywood Boulevard with signs proclaiming, "I Wouldn't Be Caught Dead in Fur/Wool/Leather/Down."

"People who still wear animal skins have skeletons in their closet," says PETA Executive Vice President Tracy Reiman. "PETA's haunting display calls on shoppers to spare gentle sheep, cows, foxes, rabbits, and geese horrific slaughter by choosing vegan coats, jackets, sweaters, and accessories."
Donald Trump Jr., Anthony Bourdain Immortalized as 'Zombies' Outside PETA's D.C. Office
As Halloween approaches, PETA's devilish display of the undead outside its office at 1536 16th St. N.W. in Washington, D.C., is giving passersby the creeps—and lots of opportunities for selfies. Behind a banner that reads, "Only Ghouls Hurt Animals," a camouflage-clad "Donald Trump Jr." drags a hunted trophy animal; a "bloody Anthony Bourdain" holds a severed "pig's head"; a whip-wielding "Kenneth Feld," owner of Ringling Bros. circus, stands before a cowering "tiger"; Dr. Frankenstein grasps a "syringe" beside caged "rats"; a fur hag staggers forward in her "mink" coat; and a "walker" in a "Flesh Is for Zombies" T-shirt is seen climbing up a window. The eerie exhibit's message from the grave reminds living passersby that no one with a beating heart should support any of the horrifying abuses endured by animals.
Why Buying a Puppy Online is Just as Bad as Buying One From a Pet Store. Decades of advocacy efforts have helped generate awareness about the connection between pet stores and puppy mills, but many are still unaware of the cruelty that lies behind a newer trend: online puppy sales. The Internet has become a popular place to find puppies, providing the perfect marketplace for large-scale and backyard breeders, as well as puppy brokers, to sell to unsuspecting consumers.
An Arizona-based puppy retailer recently came under fire for removing the negative ratings and comments customers had posted about a particular breeder who was selling through their website, leaving only the five-star ratings behind. As a result, customers purchased puppies from the breeder that ended up being severely ill. One puppy was so sick, it had to be euthanized two weeks after it was purchased. It was also discovered that the breeder had previously been convicted of 47 counts of animal cruelty. Seven consumers have since filed a complaint, and the Humane Society of the United States (HSUS) has helped file a lawsuit against the online retailer.
Sadly, this news story is no surprise to those who are familiar with the connection between online pet sales and puppy mills: the large-scale commercial breeding facilities where animals live in substandard conditions and maximizing profits takes priority over the well-being of the animals. The HSUS estimates there are at least 10,000 puppy mills in the U.S., 3,000 of which are licensed and regulated by the United States Department of Agriculture. They also estimate approximately 1.8 million of the puppies sold each year come from puppy mills.
The Deception Behind Online Sales
Fancy websites are used to hide cruel puppy mill practices with photos of happy puppies prancing through the grass or dressed up in adorable outfits. Phrases like "family raised" or "we're a small, family-run business" and customer testimonials are used to further convince you they truly care about their dogs. Unethical breeders deceive customers by using any method — including using stock photos and fake customer testimonials — to paint a picture of a happy home environment where they are raising healthy pets. Even claims that puppies and their parents are registered by the American Kennel Club, or other breed clubs, are no guarantee of lineage or health.
When breeders don't want to create a website of their own, they use puppy broker websites like the one depicted in the story above to easily sell puppies online. These "click and ship" sites feature thousands of dogs from various sources; there's no way to guarantee who you are buying from or what conditions the dogs are living in. People have also fallen victim to scams where they go to a website and pay up to thousands of dollars for a puppy, but the puppy never arrives. And while there are reputable breeders who use websites to attract and connect with customers, the difference is they would never sell their puppies through online retailers or quick, online transactions to unknown buyers. The Internet makes it all too easy for puppy mills and scam artists to take advantage of customers, making the phrase "buyer beware" more significant than ever.
The Humane Alternative
The only way to end online puppy mill sales is to stop buying puppies online. Approximately 1.2 million dogs are euthanized in shelters every year, but we can change that by choosing to adopt. Almost any dog breed you find through a breeder can also be found at a shelter or rescue organization, including both puppies and adults. In fact, about 25 percent of the dogs in shelters are purebred. And the best part is that you will be saving two lives by helping a homeless animal and opening up a space for another dog in need to be rescued. Finding the right pet might take some time, but the wait is well worth it when you find a companion that's the perfect fit for your family.
Take Action to End Puppy Mills
As consumers, we have the power to put an end to the cruel puppy mill industry. By refusing to buy puppies through pet stores or online, we are decreasing the demand, which will eventually result in large-scale breeding facilities shutting their doors. Until that day comes, there are plenty of things we can do to be a voice for animals in puppy mills.
Please consider adoption when adding a new pet to your family. The happy faces of these adopted pups will convince anyone they're making the right choice.
Watch and share this video from Stop Online Puppy Mills about the connection between puppy mills and online pet sales.
Be a voice for animals by participating in peaceful demonstrations or volunteering with an organization that works to educate the public about puppy mills.
Share this and other One Green Planet articles to spread the word about puppy mills. Lead image source: HSUS-Puppy Mills Campaign/Facebook
Update - WELSH ASSEMBLY – Update on "Rt Hon Theresa May MP- Justice for Chunky". I just wanted to update you all about the recent movements in the petition and what is happening in the UK.
We have joined forces with someone from Wales who is working closely with the Welsh Assembly. The Welsh...
Read more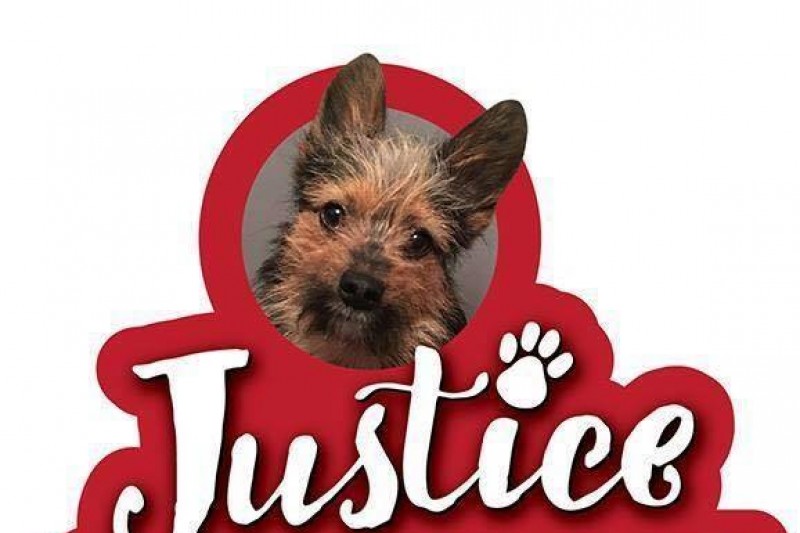 Share this update with friends
Ricky Gervais Has a Message for People Who Still Wear Fur. As animal lovers, there are some many issues that boil our blood when it comes to animal welfare. We can't believe that there are places around the world that still use bear bile as a form of medicine. We simply can't wrap our heads around why anyone would prize an ivory trinket over the life of an elephant. And of course, we get enraged when we think of the millions of animals that are killed every single day simply to satiate our appetite for meat and cheese.
When people are passionate about an issue, they usually want to spread as much information and awareness about the topic as possible. They want people to know about the matter from all sorts of different angles and make a knowledgeable opinion about it. After all, someone would be more likely to cut down their meat consumption, for instance, if they knew that not only is meat bad for animals but for the environment and human health, as well, right? Well, as much as we agree with this informed approach, there are alternate ways to raise awareness, nowadays. Some people, especially celebrities, are able to make an impact with just a simple statement. They know that millions of people follow their Twitter or Facebook page, and they use that elevated platform to get to the point quickly and tell people matter-of-factly "you should be caring about this," or "please don't do that."
Ricky Gervais is a big fan of this method of spreading awareness. In fact, just recently he shared a succinct Facebook status that made it pretty simple for people to know where he stands when it comes to wearing real fur.
This method works on a number of levels. It gets to the message quickly and directly: "please don't buy fur." It doesn't overwhelm viewers with a slew of information but instead sticks to the most hard-hitting fact: an animal is kept in a cage for their entire life simply for their fur. And it lets people know how silly it is that someone is buying that jacket just so they can "show off," when it's plain to see that this is not something worth bragging about. The fact that you can read the status in a Ricky Gervais accent helps get the message across as well.
By now, most people know how terribly abusive the fur industry is. Animals who are unfortunate enough to end up in this vicious industry are often stolen from the wild, kept in unbearably small cages, and then killed by cruel methods, including gassing and even anal electrocution. And the worst part is, it takes multiple lives to make one garment. Specifically, it takes about 40 rabbits, 70 minks, and up to 100 chinchillas, respectively, to make a fur coat.
While many high-end brands have halted their use of animal fur and skins in response to the public's disapproval of the practice, there are still companies out there who seem to have no problem continuing with the abuse. Hopefully, as even more awareness spreads and more prominent figures, like Ricky Gervais, stand up in opposition, people will realize that the lives of living, breathing animals are truly not equivalent to the feeling of looking fancy in a fur coat. Thanks for spreading the word, Ricky Gervais! Lead image source: Sam Aronov/Shutterstock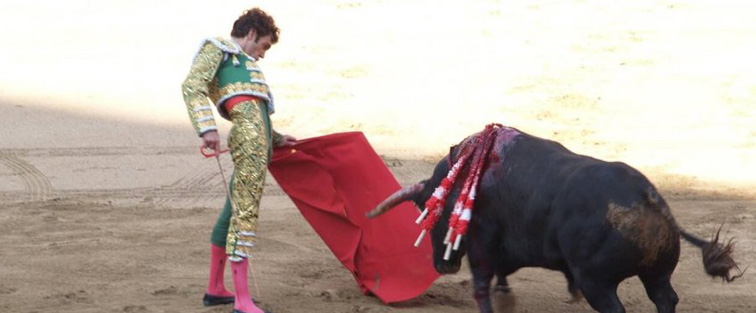 Huge Step Backwards as Catalonia's Ban on Bullfighting Is Overturned. Compassionate people are coming together to challenge this decision. TAKE ACTION
Take Action: Say No To Flawed "Humane" Labeling System.
New rules proposed by the U.S. Food Safety and Inspection Service (FSIS), would allow meat producers to use slogans like "Raised With Care" or "Humanely Raised" simply by making up whatever they want and submitting their own definitions! Even worse, they will maintain the right to use those labels by self regulating!
TAKE ACTION
Stop Winter Park from Starving Cats.
Cat advocates in Winter Park, Florida are outraged that City Commissioners adopted a temporary ordinance to prohibit the feeding of community cats in Mead Botanical Garden. Some of the cats are sterilized and some are not. Residents of Winter Park, like In Defense of Animals supporter Trudy McNair, are shocked and horrified by the ordinance, which fines anyone caught feeding the cats. We can't let these cats starve to death! TAKE ACTION
Prosecute Cop's Wife Who Cut Up Puppy.
Brandy Gidden, the wife of Jackson, Mississippi police officer Rahn Gidden, posted pictures of a pit bull puppy she hoped to sell with bloody, mutilated ears. The puppy, who looked to be 6-8 weeks old, had bloody ears because he was the victim of a painful home "cropping." The photos were posted on a community "yardsale" Facebook page. She also posted the photos of a second puppy, who also had no ears. Justice must be served for these pups whose ears were cruelly sliced off.
TAKE ACTION
Killing of Pedals 'the walking bear' sparks hunting debate.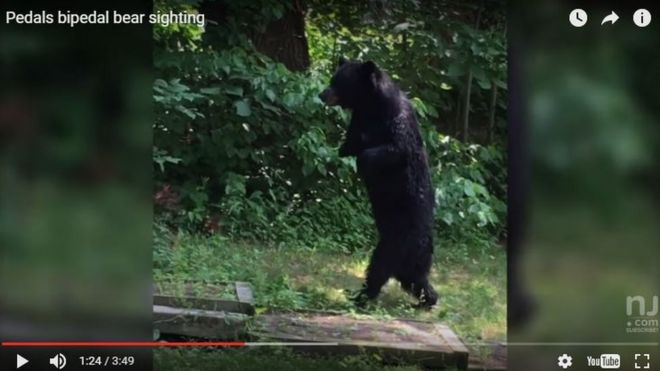 He may have been the internet's most cherished bear.
But news of the apparent slaying of Pedals - who became famous for walking upright on his hind legs through the suburbs of New Jersey - has outraged many animal lovers.
The "official fan page" for the animal, named 'Pedals The Injured Bipedal Bear', announced that the bear had been killed by a hunter with a bow and arrow last week, during the state's week-long legal hunting season. The Facebook page, which had more than 20,000 followers, has since been deactivated.
Reacting to the outcry, state officials have defended hunting as a way of keeping the bear population within sustainable limits.
Videos of Pedals - who is believed to have walked on just his hind legs because of maimed front legs - have been viewed thousands of times on YouTube. He was first spotted in 2014 after being filmed taking a stroll through the neighbourhoods of Oak Ridge. Internet stardom followed. As his fame grew, many became concerned for his welfare.
An online petition that asked state wildlife officials to place Pedals in a sanctuary gained more than 300,000 signatures. Similarly, a GoFundMe campaign to fund his relocation also raised more than $22,000.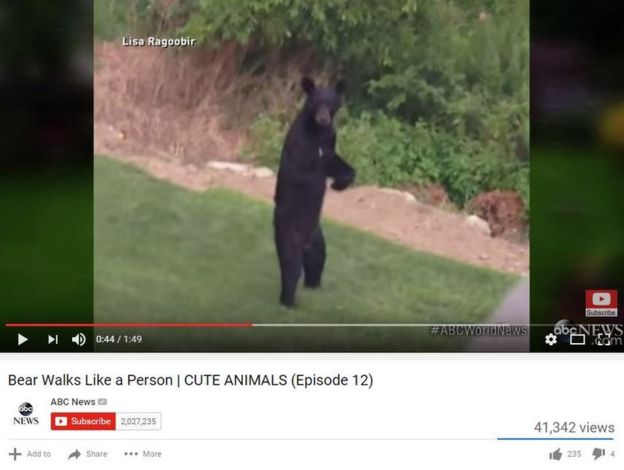 So when the body of a bear, that resembled the famous furry mammal, was brought to Green Pond Station in Rockaway last week, during New Jersey's hunting season, several social media users drew comparisons with other famous animal deaths.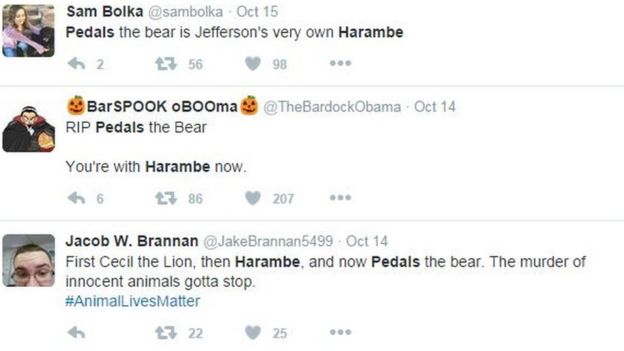 Activists identified the bear as Pedals, and immediately blamed authorities for his death.
"We wanted Pedals to go to a sanctuary to live the rest of his life without the threat of a hunt looming over him because someone wanted to pop him off because he was an internet sensation," said Angi Metler, director of the Bear Education and Resource Program, told the Guardian.
Lisa Rose Rublack, who started a petition to have Pedals relocated said Pedals should have been protected from the hunt, told CNN that fault lay with the New Jersey Department of Environmental Protection (NJDEP).
NJDEP spokesman Bob Considine told BBC Trending that without tagging there was no way to absolutely verify if the 333-pound carcass was Pedals. However, he added that: "The injured paws and chest blaze of this particular adult bear brought to Green Pond appear to be consistent with the bear seen walking upright on several videos taken from North Jersey residents over the past two years."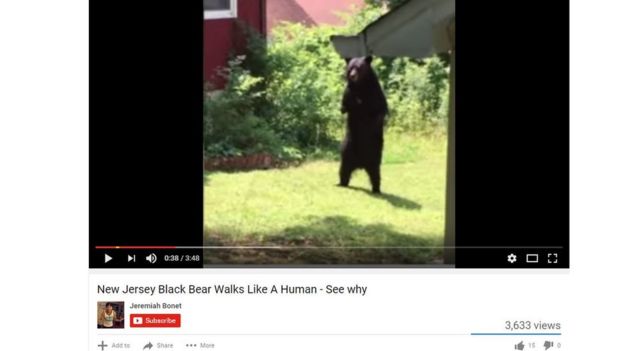 He went on to defend the State's bear hunt.
"While many have developed an emotional attachment to the upright bear, it is important to recognise that all black bears are wildlife. They are not pets. They are capable of doing damage, even in a compromised state. Additionally, there is no practical way to protect any single bear out of the estimated 3,000 bears roaming wild in bear country.
"New Jersey's annual black bear hunt is a management hunt, one tool to achieve the state's goals of having a sustainable bear population amid increased bear-human encounters and property and livestock damage, as well as expanding territories."
Mr Considine confirmed to BBC Trending that "a total of 562 bears" had been killed in the six day New Jersey hunt, and that he was not sure who had killed Pedals.
Since the news of Pedals' apparent death, some local politicians have said they will renew attempts to end the hunt. Among them is Senator Raymond Lesniak who has proposed a bill to ban black bear hunts in New Jersey for five years. In a Facebook post, he said: "Bear hunts are unnecessary and counterproductive. Let's put an end to them."
Pedals the Bear didn't have to die -- End the Bear Hunt.
Pedals is not a unique case. The black bears of New Jersey don't need to be hunted down. They need to be protected. The only way to do that is to end the hunt. Click to Take Action.
Free the Tigers at Houston's Downtown Aquarium.
Houston's Downtown Aquarium has been the home to four white Bengal tigers since 2005. These tigers are held indoors at all times in a small, stressful, and inhumane environment.
The aquarium is one of several of the "Downtown Aquarium" branded restaurants owned by Landry's, Inc. An aquarium-themed restaurant is not an acceptable habitat for tigers to live. The tigers at Houston's aquarium are denied everything that is natural to them, and are not even allowed outside.
We're petitioning Landry's, Inc. to transfer the tigers at this facility to a large cat sanctuary accredited by the Global Federation of Animal Sanctuaries. We're also asking the Association for Zoos and Aquariums to reevaluate the aquarium's accreditation.
We need your support to help these tigers. Please take just a moment to sign this petition.
Cities are no place for elephants. The hard pavement, cramped spaces, and relentless noise offer them nothing but stress and illness. And what could be less natural for an elephant than standing in the same place for days, even years, shackled — the way Suraj was? What Suraj needed (as well as all our other rescued elephants) was freedom and open space.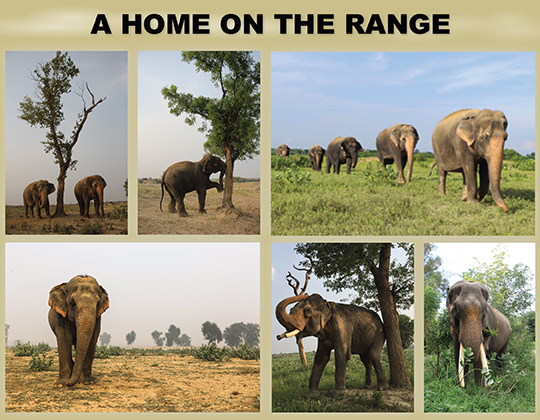 That's exactly our goal for 50 elephants we know are currently enduring a life in cramped, noisy, unsanitary places. We want to give them a beautiful new landscape to explore — one that is far, far away from the crowds and chains of the city. We have found just the place. We just need to acquire the land to make it happen.
All week we have been trying to reach a $100,000 goal to go toward this purchase. After the past three days. we are almost halfway there! Can you help us change the lives of 50 elephants forever?
Absurd Zoo Thinks It's Perfectly Fine For Captive Chimpanzee to Smoke a Pack of Cigarettes a Day. Animals in captivity are often made to do some pretty ridiculous things. We've seen dolphins forced to jump through fire hoops on command. We've seen elephants swimming in pools of water, simply because zoo staff thought that would make up for keeping them in isolation. And recently, we were made aware of a chimpanzee that currently resides in a North Korean zoo and smokes a pack of cigarettes a day. You heard that right. A chimp … smoking … a pack of cigarettes … every day.
While there are definitely a myriad of factors that would drive any captive animal to engage in a stress relief practice like smoking, nineteen-year-old Azalea does not smoke by choice. Nope, she was trained to do this. And by "this" we mean, how to use a lighter, puff smoke, and oh yeah, touch her nose, bow, and do a little dance right after. How darling…
This is Azalea. The chimpanzee that zoo employees claim is not actually inhaling the smoke from this cigarette, just puffing on it.
To say we're skeptical as to how true that claim is would be an understatement.
If this isn't animal abuse, we don't know what is.
To make matters worse, spectators at North Korea's Central Zoo in Pyongyang are not all that upset about it. In fact, according to The Guardian, visitors have been having quite a laugh at the smoking chimp, snapping photos for social media and generally having a ball watching the spectacle.
As terribly sad as this whole situation is, we honestly can't say that we're all that surprised. To start, this is not the first time animal rights activists and campaigners have had their eyes on this zoo for questionable practices. NK News reported North Korea has stocked the zoo with exotic animals from countries all over the world, with many of the deals raising red flags among animal rights campaigners. The zoo has also been criticized in the past for keeping animals in extremely inadequate conditions and even instigating staged fights.
The situation at this North Korean Zoo just goes to show how animals in captivity are not treated with the respect they deserve and are instead manipulated to act in whichever way will generate more profit. Sadly, it seems that there are currently no steps in place to shut down this ridiculous zoo. So, at the moment, all we can do is hope that the media coverage on this ludicrous act will inspire activists to push forward and do everything they can to end this abuse. We're fighting for you, Azalea! All image source: Wong Maye-E/AP Photo
Chain-smoking chimpanzee is North Korean zoo's star attraction



A 19-year-old female chimpanzee in North Korea has gained a reputation for a very nasty habit, but it's paying off for her keepers quite handsomely.

Journalists from the Associated Press visited the Central Zoo in Pyongyang on October 19, photographing the smoking ape among many other staged media events put on in the Hermit Kingdom this week.

The chimp, named Azalea, smokes roughly a pack of cigarettes every day. She usually receives them from audience members who came to see her in action. The routine consists of a trainer shouting instructions and making hand gestures at Azalea. She is then thrown a lighter, and she lights the cigarette herself.

Some of the other acts at the zoo include dogs that can do math, and a monkey that can slam dunk a basketball.

In 2014, the great, magical, all-powerful Kim Jong Un ordered an upgrade for the Central Zoo, one of several efforts to erect more stunning, contemporary structures and leisure centers.
Zookeepers in a North Korean zoo taught Azalea, a 19-year-old female chimp, how to smoke! Now, her trainers throw cigarettes into the exhibit to encourage her to continue smoking, all for entertainment.
Sign the petition to ask the zookeepers to stop providing Azalea with cigarettes.
The chimp is able to light the cigarettes herself either with a lighter of another lit cigarette and puffs on it like a human would. This is a disgusting display of animal cruelty and must be stopped immediately!
Primatologist Frans B.M. de Waal said this is absolutely animal brutality. He said "Of course, it is as addictive and unhealthy [for primates] as it is for humans."
Central Zoo, where Azalea lives, has also been accused of animal cruelty on several occasions, including the zoo staging deadly fights between various endangered animals.
Take Action to Ban Cruel Traps on Public Lands. A newly proposed bill to protect wildlife would limit trapping by the rogue federal agency, Wildlife Services. The Limiting Inhumane Federal Trapping (LIFT) for Public Safety Act, H.R. 5954, severely restricts the use of inhumane and indiscriminate "body gripping traps," including archaic leghold traps, Conibear traps and strangulation snares. All three of these traps cause immense suffering, often leaving animals alive and in pain for extended periods of time before they die. If passed, the bill will effectively prohibit personnel in the U.S. Department of Interior and the U.S. Department of Agriculture from using body gripping traps, and from recommending that others use them. It will also prohibit any other individuals from using these traps on federal public lands.
The bill imposes badly needed reform on Wildlife Services, whose contracts with counties across California the Animal Legal Defense Fund has lobbied and litigated to terminate. While the bill will not dissolve the USDA's rogue killing division that slaughters millions of animals every year, it will prevent its agents from using some of the worst forms of killing. The bill would also make it illegal to set body-gripping traps alongside trails and in areas where people and pets may accidentally encounter traps. The Animal Legal Defense Fund will continue to work with our coalition partners to advocate for nonlethal wildlife policies, but right now we need your help to make H.R. 5954 law!
Take Action. Call your Congressperson today and urge him or her to cosponsor H.R. 5954, the Limiting Inhumane Federal Trapping (LIFT) for Public Safety Act. After calling, use the form on our website to send a follow up email.
H.R. 5954 now has five co-sponsors: Nita Lowey (D-NY), Zoe Lofgren (D-CA), Sam Farr (D-CA), Dina Titus (D-NV) and Mike Quigley (D-IL). If your Congressperson is already a co-sponsor, call to offer your thanks and support.
The Animal Legal Defense Fund applauds Representative Blumenauer (D-OR) for introducing this important bill to impose meaningful restrictions upon federal agencies and federal public lands and for protecting our wildlife and the public from these barbaric devices.
The Deadly Side of Tiger Cub Photo-Ops



In 2015 and 2016, a PETA eyewitness worked and volunteered at Dade City's Wild Things (DCWT), a Dade City, Florida, roadside zoo and documented abusive handling, stressed and sickly animals, and a callous disregard for animals' welfare. DCWT is a tiger cub breeding mill. It removes the helpless infants from their mothers within hours or days after birth so they can be hand-reared and get "used to" public handling. DCWT shamelessly—and apparently fraudulently—misleads the public about its exploitative operation.
Tiger Cubs Smacked, Yanked, Thrown at Dade City's Wild Things. A PETA eyewitness worked and volunteered at Dade City's Wild Things, a Dade City, Florida, roadside zoo and documented abusive handling, stressed and sickly animals, and a callous disregard for animals' welfare.
Pamela Anderson Has a Message for Theresa May on Wild-Animal Circuses
"Animal acts are embarrassingly archaic and have no place in modern Britain – or anywhere else."
SIGN AND SHARE
What They Do to Prawns Is More Disgusting Than You Ever Could Have Imagined
This is just one more reason not to eat seafood.
WATCH
Make a Difference for Animals This November
It's World Vegan Month! Sign our 30-day vegan pledge and get tonnes of support with trying out an animal-free diet.
TAKE THE PLEDGE