(Photo: Morkel Erasmus/Getty Images)
Manhattan-based Metropolitan Fine Arts and Antiques is famous for its collection of 20th-century French glassware, and now it is infamous for its role in the largest seizure of illegal elephant ivory in New York state history.
The three individuals are being charged with two counts of illegal commercialization of wildlife. The shop was in violation of New York's strengthened elephant ivory sale ban. The law, revised in 2014, prohibits the sale of any ivory unless the seller can demonstrate it is more than 100 years old and the item being sold is made up of less than 20 percent ivory. There is an exemption for sellers of antique guitars and pianos, which often include ivory inlays, but the store was selling much more than that.
Officials discovered 126 elephant ivory pieces for sale at the store, including two pairs of uncarved elephant tusks, priced at $200,000 and $150,000.
The store declined to comment on the seizure.
"Through Governor [Andrew] Cuomo's leadership in enacting the ban on the sale of ivory, we are continuing to take aggressive action to crack down on illegal ivory in New York state," Department of Environmental Conservation Commissioner Basil Seggos said in a statement. "The worldwide elephant population is hanging in the balance. With today's action, we are sending a strong message to poachers, traffickers, and dealers that we are committed to stopping this heinous activity."
Seized ivory. (Photo: Wildlife Conservation Society)
The department discovered illegal ivory at the store in November 2015 when undercover officers purchased an ivory carving from a Metropolitan Antiques salesperson, who told the officers the item was mammoth ivory. They bought it for $2,000, analyzed it, and determined the item was made from elephant ivory.
Officials plan to destroy the seized items on World Elephant Day in August 2017 as part of the Department of Environmental Conservation's Ivory Crush event.
Elephants are in peril thanks in part to the illegal wildlife trade, a black market worth an estimated $7 billion to $23 billion annually, according to the United Nations. A 2016 population estimate shows that 352,000 African bush elephants are roaming the savanna today—a 30 percent decline in just seven years.
Between 2010 and 2012, it's estimated that as many as 100,000 elephants were killed by poachers in Africa driven to kill by the high demand for ivory in the illegal wildlife trade.
Stronger ivory trade laws such as New York's are integral to preserving the future of the species, said John Calvelli, director of the Wildlife Conservation Society's 96 Elephants campaign.
"What's important to understand is that the killing of elephants in Africa can be driven by trade right in our own backyards," Calvelli said, noting that the U.S. is the world's second-largest market for trafficked ivory, with most sales occurring in New York, California, and Hawaii.
Those three states have all passed laws in the past three years banning domestic ivory sales, and the Obama administration pushed a nationwide ban on nearly all African elephant ivory sales this summer. The progress has heartened Calvelli, who worked with then–Secretary of State Hillary Clinton on strategies to quash demand in the ivory trade.
"While it's imperative to stop the killing in Africa, stopping the trafficking of those products is just as important," Calvelli said. "Closing the markets in New York, California, and Hawaii—the hot spots of the domestic trade—and increasing the penalties those involved in the trade can face is fundamental in slowing the demand and saving elephants in the process."
Busts like the one at Metropolitan Antiques are critical in changing the perception of ivory as a product worth buying—antique or not.
"This really sends a message to criminals that you're not going to get away with it if you're in New York," Calvelli said. "If you are found, you're going to get prosecuted. It's really about educating Americans that this is an issue not only across the sea but right here in the U.S. The legal market has masked an illegal market for some time, but now there is no distinction: If you are buying ivory, you are destabilizing Africa and endangering these beautiful animals."
Applaud Massive Seizure of Illegal Elephant Ivory
Target: Cyrus Vance, Manhattan District Attorney
Goal: Applaud efforts to save elephants by investigating and apprehending ivory traders.
A major purchaser of elephant ivory has been apprehended in the largest seizure of elephant ivory in New York history. Law enforcement officials filed an indictment against the Metropolitan Fine Arts and Antiques Co. (MFAA) and charged the store and its owners with attempting to purchase and sell $4.5 million worth of ivory.
After searching the store, officials discovered about 126 items made with elephant ivory, including two pairs of intact elephant tusks. Officials estimate that the seized ivory came from "more than a dozen slaughtered elephants." The illegal wildlife trade is a multi-billion dollar industry, and New York is considered one of its primary markets.
The world's elephant population is already dwindling, and the ivory trade only worsens the situation. Since 2010, elephant populations have dropped 30 percent, and from 2010 to 2012 alone, more than 100 elephants were killed for their tusks. New York Governor Andrew Cuomo recently enacted legislation that tightens restrictions on the sale of ivory articles, but violations still occur, as evidenced by this case.
The owners of MFAA have made it clear that personal profit is more important than the survival of the elephant. Sign the petition below to applaud law enforcement officials for their dedicated efforts to stop these greedy and selfish vendors. PETITION LETTER
Push for ban on domestic ivory trade spurs feud at international summit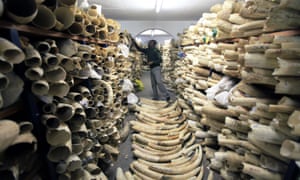 As coalition of countries, including the US, push for resolution to end ivory trade, Japan, Namibia, South Africa and Canada raise concerns at Hawaii meeting ivory. Delegates from several countries opposed a proposed ban on domestic ivory trading. Photograph: Tsvangirayi Mukwazhi/AP
A resolution to end the domestic trade in ivory has descended into acrimony at a major conservation summit, with a handful of countries, including Japan and South Africa, objecting to the proposed ban.
A coalition of countries, including the US, France, Gabon, Kenya and Malawi, spoke in favor of an International Union for the Conservation of Nature (IUCN) motion that calls for every country to ban their internal trade of ivory.
However, delegates from Japan, Namibia and South Africa argued that domestic ivory markets should be left open as long as they are regulated. Canada voiced concerns that the ivory ban would affect trade of walrus and narwhal, which are hunted by indigenous people in the country.
South Africa and Namibia even threatened to end their membership of IUCN over the wording of the motion, according to sources at the world conservation congress, which is being held in Hawaii. After two days of deadlocked talks, the resolution will be discussed further on Saturday in a bid to find consensus.
The intransigence of some countries has enraged environmental groups that make up the bulk of the IUCN's 1,300-strong membership, which also includes 217 state and national government agencies.
"It is disappointing that we are now told we have to meet again for a contact group [a negotiating session], since a few members were not pleased with the outcome of previous discussions," said Sue Lieberman, vice-president of international policy at the Wildlife Conservation Society, a cosponsor of the motion.
"There's truly a crisis for elephants and we need to close the elephant ivory markets. The overwhelming majority of the earlier contact group wanted to close domestic ivory markets."
Danny Auron, campaign director at Avaaz, similarly expressed frustration. "Every 15 minutes an elephant is slaughtered for its tusks, and at this rate they'll be gone forever in a few short years," he said. "If we want this species to survive, governments need to be falling over themselves to strengthen protections, not fighting to water them down."
While the IUCN does not regulate the ivory trade, it is hoped that a resolution calling for the end of domestic markets will help spur nations to commit to a ban at the Cites convention, held in Johannesburg later this month. It is through the Cites treaty that the international trade in ivory was banned in 1989.
John Scanlon, secretary-general of Cites, told the Guardian the forthcoming convention "is without doubt one of the most critical meetings of Cites in its 43-year history.
"It is clear that this [IUCN] motion is generating an intense and robust debate amongst the membership of IUCN, with differing views being strongly expressed."
The IUCN resolution calls on governments around the world to "close their domestic markets for elephant ivory as a matter of urgency". The motion states that IUCN members are "deeply concerned" by the illegal killing of elephants that threatens the species' survival, harms national security and undermines sustainable economic development in countries where elephants are found in the wild.
Millions of elephants once roamed throughout Africa and from the coast of Persia through India and deep into China. Habitat loss and rampant poaching has drastically reduced this number, with African elephants now being killed at a faster rate than they are reproducing.
The first ever continent-wide census of Africa's savannah elephants found that nearly a third were wiped out between 2007 and 2014. Poachers target the animals to supply ivory from their tusks in Asia. Gangs can get $1,100 per kilogram for ivory in China, which announced last year it would shut down its own domestic market.
Ivory can also be found by buyers in many western countries. A recent report by the NGO Traffic found that the antiques ivory market in the UK appeared to have declined significantly, though there are still thousands of ivory items on sale in London's markets.
Even though the international trade in ivory has been banned for more than 25 years, a flourishing black market has led to the slaughter of elephants, as well as the people charged with protecting them.
A separate IUCN motion to protect 30% of the world's oceans was agreed with little dispute. The resolution, if adopted by countries, would drastically increase the small amount of marine area currently off limits to commercial fishing and drilling. A related motion that supports marine protected areas on the high seas, which are beyond national jurisdiction, also passed.
"These motions will help reverse the tide of habitat destruction, pollution and depletion of the world's oceans," said Francine Kershaw, a science fellow with the Natural Resources Defense Council.
"Both emphasize the need for more marine protected areas, which are scientifically supported to enhance ocean health and resilience in the face of global warming, ocean acidification and rapidly escalating industrial activities."
Dr Lance Morgan, president of the Marine Conservation Institute, also praised the motions. "This is terrific news and will surely create momentum for establishing more marine reserves around the world in coming years," he said. "We know how to fix the oceans but now we need the political will and public support to make hard decisions before it's too late."
More than 80 other resolutions passed with little fuss. They include a call for a ban on gillnet fishing, which threatens the vaquita porpoise in Mexico, and restrictions on the trade of pangolins. Other motions backed the adoption of renewable energy and energy efficiency by countries. Voting was conducted online prior to the IUCN congress.
Shut Down the Elephant Exhibit at the Los Angeles Zoo and Release the Elephants to Sanctuary
The Los Angeles Zoo would like for the public to believe that its redesigned Elephants of Asia Exhibit, opened in 2010, is meeting the needs of its current inhabitants. However, while the environment may look pretty to human visitors, the scene quickly deteriorates when viewed from the perspective of the captive elephants. Click to help!
Mohan has been on an incredibly long journey to freedom. He has endured decades of abuse and even experienced the wrath of angry mobs. His right to be free has been debated and put on hold in court countless times. He has suffered alone and in silence for years, in fragile health… and miraculously, he has survived. He's finally home. And now he can live the rest of his life as a free elephant — because of your generosity.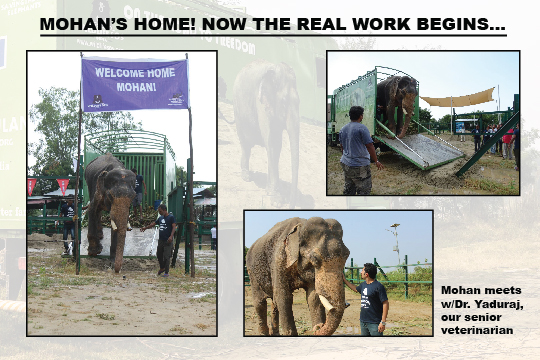 Today he is on a different journey. Mohan will need medical attention, rehabilitation, compassion, and care to fully realize his freedom. He is emaciated from decades of neglect; his digestive system has been severely compromised from parasites; his liver is not functioning well. Mohan has a very long way to go — but our staff of full-time veterinarians have already mapped out a diet and treatment plan. We hope that we can find 200 new monthly donors at $10/month who can help us. Can you lend a hand once again for Mohan? Any amount helps.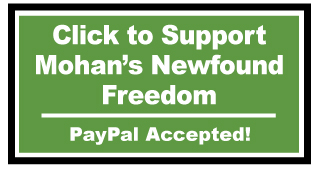 Together we will get Mohan happy and healthy so he can truly enjoy his newfound freedom. Once again, thank you for helping his cause! To follow updates on Mohan's progress, please visit Mohan's blog here.
Nosey: The Saddest Elephant in the World
The rest of the world hears Nosey's pleas for help... Nosey advocate at Chiang Mai, Thailand's Global March for Elephants-Rhinos-Lions. photo courtesy of Lek Chailert.
Team Nosey members come in all sizes...here's a poem by an eight year old friend of Nosey. Thank you Amber.
Nosey the elephant communicates with Samantha Khury
Send Nosey love and praise Nosey for the sacrifice she has made to teach so many, help her remember her greatness! I wanted to make a documentary about the Zimbabwe babies sold to China and connect Nosey's story. The government of ZIM has made it impossible for journalist to work the threat of going to prison is real. I decided instead to tell the story WHERE ELEPHANTS RULE. To learn more visit Where Elephants Rule dolfilms.org/where-elephants-rule and LIKE my Facebook page https://www.facebook.com/whereelephan...
Baby elephants need your urgent action on this unique day
Today, as governments of the world meet at the Convention on International Trade in Endangered Species (CITES) in Johannesburg to draw up rules governing the trade in wild animals, their citizens march in unison to stand up for wildlife. Network for Animals will be amongst the campaigners in London and Cape Town, and have helped organize and finance the march in Edinburgh.
It is a sad parallel that as so many stand up to bring safety to the animal kingdom, the government of Zimbabwe is reaping utter terror. Wicked and evil; those are the words to describe their action. Last year Network for Animals led an international outcry about their export of 24 baby elephants to China. This year they are doing even worse: 40 elephants all under the age of six have already been captured and more are being taken from their mothers at the rate of five a day. They are being held in a secret area in the Hwange National Park.
As well as 40 baby elephants, Zimbabwe has so far captured eight lions, four giraffe, eight hyenas and an unknown number of antelopes. Their new owner is the Chimelong 'Safari Park', in China where elephants are forced to do tricks in a circus auditorium. Some of the captured animals – those with large horns – have been beheaded so that they may be mounted and sold as trophies. Recently Zimbabwe announced it was going to 'relocate' 500 elephants within the country. Now we know where they are really going – to a life of hell. We have to fight this evil.
CITES meetings happen only once every three years, so this is a rare chance to take action. Please sign our petition to CITES telling its leaders to ban the export of baby elephants. If two thirds of the governments agree then the babies can be saved. Take action today.