NIH, It's Time to Discuss Your Unethical Monkey Experiments. Your actions have made a huge difference by helping to end the National Institute of Health's (NIH) cruel maternal deprivation experiments on monkeys. However, other cruel experiments continue. Now, a federal bill requires NIH "to conduct a review of its ethical policies and processes" related to the use of nonhuman primates in experiments. Next week, NIH will hold a meeting to discuss this requirement, but examining the ethical concerns of the experiments doesn't appear to be on the agenda. Let's make sure that NIH doesn't avoid the issue. E-MAIL NIH NOW
Urge Congress to Take Action for Dogs and Monkeys in Laboratories!
Every year in the U.S., tens of thousands of dogs and monkeys are imprisoned in laboratories, where they are caged in tiny steel and cement cells—often alone—and are forced to endure excruciating experiments before being killed.
Dogs are mutilated in experimental surgeries, forced to run on treadmills until they collapse from heart attacks, selectively bred to suffer from painful and debilitating conditions such as muscular dystrophy, and more. Monkeys are immobilized in restraint devices, forced to become addicted to drugs, deliberately infected with diseases, subjected to invasive brain experiments, and tormented in heartbreaking psychological experiments. Both dogs and monkeys are poisoned with pesticides and pharmaceutical compounds. Even though dogs are adored members of our families and monkeys—like humans—are highly intelligent, social, and sensitive primates, these animals endure horrific abuse inside laboratories. What's more, scientific evidence shows that experiments on animals—including dogs, monkeys, mice, rats, cats, rabbits, and even our fellow primates, such as chimpanzees—are not relevant to human health.
Please contact your representative and senators in Congress and respectfully urge them to work to end experiments on dogs and monkeys and to support promising, lifesaving, and relevant non-animal research.
Stop Deadly Dog Experiments! Save innocent dogs from cruelty now! Stop Deadly Dog Experiments! Goal: 30,000 • Progress: 32,190 - Sponsored by: Physicians Committee for Responsible Medicine
Right now, dogs are suffering from deadly heart failure experiments at Wayne State University. They need your help!
First, medical devices are surgically implanted in the dogs' bodies. Then, they are forced to run on treadmills while heart failure is artificially induced. Many dogs die during the experiments — but if not, they're killed a few months later when they're deemed no longer "useful" to researchers.
Innocent dogs don't deserve to suffer and die like this! Especially when Wayne State has made no medical advances for heart disease in its 20 years of conducting these horrific experiments! Please help stop this cruelty by taking action now. Sign the petition to the President of Wayne State University. Urge him to stop these outrageous dog experiments now!
Secret Student Video Shows Dissection of Pregnant Cats
Tell school to ditch cat dissection and use modern, humane learning methods instead: http://peta2.me/2y998
Complaints Against Animal Use in North and South Carolina Medical Training
Hundreds of media outlets covered the Physicians Committee's recent federal complaints against the University of South Carolina School of Medicine and the University of North Carolina at Chapel Hill for using live animals in emergency medicine training. Alternatives >
Ensuring Lautenberg Act Has Resources to Minimize Animal Testing
The EPA needs to dedicate resources to ensure the Frank R. Lautenberg Chemical Safety for the 21st Century Act successfully reduces and replaces animal testing, says a new Physicians Committee commentary for Bloomberg BNA. Commentary >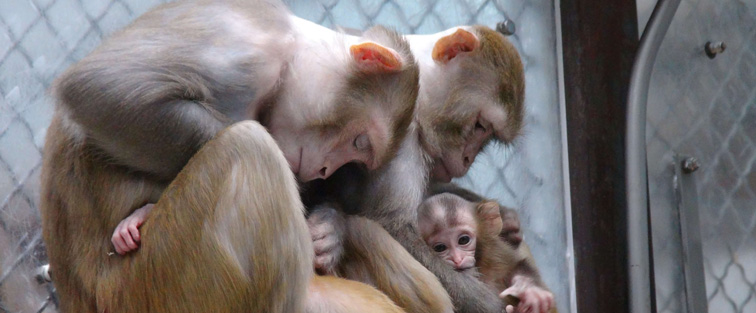 Ask the EU to End Experiments on Monkeys.

The European Commission is currently reviewing the use of non-human primates in research. Sign the petition and ask it to end these barbaric experiments!

ADD YOUR NAME
Antibacterial Cleansers: You Don't Need Them, and Neither Do Animals.

Good news! After PETA submitted comments to the U.S. Food & Drug Administration (FDA) on ways to avoid tests on animals for antiseptic washes, the FDA found that the ingredients in question are not safe and effective, that products containing them cannot be sold anymore, and 9,000 animals were spared agonizing tests.

READ MORE
Petitioning University of Missouri -

Petition by Beagle Freedom Project





Six female beagle puppies were purposely injured by researchers at University of Missouri as part of a controversial eye experiment. Half were given a special type of acid to see if it helped heal their damaged eyes. When the experiments failed to provide conclusive and useful information, all the puppies were killed.

Please sign our petition demanding University of Missouri stop any further experiments on dogs.
The fact that this cruel and fruitless experiment was approved by the university's animal use committee only demonstrates how weak and ineffectual these oversight committees are. Under the law, there is no such thing as an illegal experiment, and these "rubberstamp" committees approve nearly every single application that comes before them. These committees are also shrouded in secrecy.

The shocking and tragic use of public funding for the experiment is outrageous, and now the University is trying to hide documents about the beagles from taxpayers. They want more than $80,000 for access to public documents, and we're suing them to get access.

Moreover, the researchers admit there were problems with the experiment's design. Their own report says the sample size of dogs was insufficient to "detect a clinically significant difference in healing rates." They also said the dogs were likely too young to accurately reflect real world scenarios where eye damage occurs.

No reasonable person can deny that these dogs were in pain following the injury to their cornea. As everyone knows, the eye is an extremely sensitive part of the body. The epithelium of the cornea is filled with thousands of tiny nerve endings.

It's a shame University of Missouri killed these beagle puppies, and it's our collective responsibility to create enough public pressure that these experiments will never take place again.

The Beagle Freedom Project helps to rescue and rehome animals after they have been used for animal testing. There's no reason to kill these animals when good homes await them. We see how these individual animals feel joy and love when they are treated with respect.
Please sign our petition to spare this misery from any more dogs and instead use cutting edge, humane alternatives to cruel animal experiments.
Save Animals Reportedly Living in Filthy, Negligent Labs.
Target: Uri Yehuda Ariel, Minister of Agriculture
Goal: Investigate labs accused of keeping animals in horrific conditions and failing to provide veterinary care.
A volunteer in the zoological research branch of Tel Aviv University recently released photos of the animals used in the laboratories and they were not easy to look at. Mice, rats, gerbils and other animals have allegedly been subjected to extreme mental and physical stress and it is time to put this to an end.
The pictures appear to show the animals living in filth. Green algae was growing in the water, dirt and grime filled the cages along with maggots and flies, and dead bodies were left to rot in cages. Many of the animals were denied veterinary care, water and adequate space, with some cages having as many as 50 mice crammed inside.
Sign this petition and demand that Israel's Department of Agriculture investigate Tel Aviv University's labs. These animals should not be subjected to this torture any longer.