Animaland Zoo shut down for good! The Animals at Animaland Zoo Have a New Home
Now they have grass under their paws, clean water, companionship, enrichment and veterinary care. At last, thanks to the Animal Legal Defense Fund and your support, the animals once held at Animaland Zoo in Wellsboro, Pennsylvania will get the lives they deserve. With you by our side, we sued the roadside zoo for violating the Endangered Species Act and state wildlife laws. In the face of our lawsuit, Animaland settled with us and shut down. We were able to step in and choose new locations for Bear the wolf and the two black bears, Shawn and Sandy.
Let's celebrate this together—your continued support of the Animal Legal Defense Fund empowers us to litigate these victories for animals.
All of the animals at Animaland were suffering physically and psychologically. Sandy and Shawn were forced to share a concrete enclosure for 17 years. Almost two decades in a cell hardly big enough for the bears to move in. Thanks to our lawsuit and logistical support from the sanctuary team at Lions Tigers & Bears, Sandy and Shawn are now living at Wildlife Rescue & Rehabilitation, a Texas sanctuary where they'll have the freedom they need.
We also found a safe place for Bear the wolf to live out the rest of his life. Bear was lethargic at Animaland, a pack animal in agonizing solitude. After being nowhere near others of his kind for years, Bear is now safe at the Wolf Sanctuary of Pennsylvania, where he is exploring lush vegetation amongst other wolves.
Your generous support helped save Bear, Shawn, Sandy and other animals from Animaland. The tax deductible donation you make today can help us find happy endings for even more animals.
We would also like to thank the law firm Baker Hostetler in Philadelphia for their invaluable pro bono assistance with this case.
Every day, the Animal Legal Defense Fund fights to protect animals, and victories like this one are the reason we never give up
Dog Found Living His Own Version Of Hell Is Too Weak To Run From Rescuers
Man Makes The Rescue Of A Lifetime After He Hears Barking Under The Sidewalk. A man in Voronezh, Russia, heard a noise coming from underneath the sidewalk that sounded an awful lot like barking. Could it be? He had to find out…
He immediately got to work removing bricks where he heard the barking.
Watch the many touching rescues BFP has done from laboratory research that involved pigs. Contact us to adopt one of them! Email cate@bfp.org about how to adopt. WWW.BFP.ORG
Abandoned Puppy Rescued by Neighbors on Ep #5 Rescuing Rogue Detroit Pit Crew Rescue.
This Hope For Paws dog rescue and animal aid unlimited is part of the Rescuing Rogue series with Detroit Pit Crew Dog Rescue featuring Terri Sumpter. Produced by WA2S Films: http://www.WA2S.org
Neighbors had been trying to get help for an abandoned puppy someone had abandoned in South West Detroit.
Be a WA2S Films patron on the WA2S films Patreon Page:
https://www.patreon.com/WA2SFilms
Terri Sumpter and Detroit Pit Crew Dog Rescue were finally called when no other authorized agents in Detroit responded.
These dog lovers in Detroit are commended for helping save this beautiful dog, Brownie's life.
Subscribe to WA2S Films and stay tuned - another new series from WA2S Films VET Rescue - Let The Healing begin, will have updates about Brownie.
Subscribe to the official WA2S Films YouTube​ Channel for updates and new rescue videos: http://www.youtube.com/WA2Sorg
To contribute to the American Strays Fund: http://www.WA2S.org/donate
For more about Detroit Pit Crew dog Rescue:
https://detroitpitcrew.com/
WA2S Films is:
Deanna Vollano & Tom McPhee
c. 2016 All Rights Reserved
World Animal Awareness Society
http://www.WA2S.org/WA2S-Films
818.561.5109 Los Angeles
#AmericanStrays #WA2SFilms,#RescuingRogue #VetRescue #StrayDogCity

This American Gave Up His Plan for a Relaxing Retirement to Start an Animal Shelter in India. In the United States, people work extremely hard during their career, and so when it comes time to finally retire, it's no surprise that many flock to faraway places to spend the rest of their days relaxing. Some go to Florida, some go back to their home countries, and some go to lands they've never visited for a new experience. When Leslie Robinson was about to turn 70, he decided his retirement destination would be the Himalayas, but first, he would stop in Tiruvannamalai, Tamil Nadu, India for about 10 days. Little did he know that he would find out information that would inspire him to stay there for the next 10 years.
Being an animal lover, Robinson simply couldn't leave the town where he was staying when he found out that local authorities had plans to kill street dogs in a few days, as a means of population control. Hundreds of phone calls later, Robinson was able to delay the plan with one contingence: an alternate population control program had to be set into place. Knowing that nobody would rise to the occasion, (since no one had for the last 40 years) he decided to ditch his plan to escape to the Himalayas to instead start the Arunachala Animal Sanctuary and Rescue Shelter.
Now 80-years-old, Robinson works with a team of 23 to help as many stray dogs as possible, and given how many homeless animals there are on the streets of India, the work never seems to run out.
People either bring injured stray animals to the shelter, or Robinson's team coaxes them until they feel safe and are willing to return to the sanctuary with them.
At the sanctuary, the dogs are provided with water and food, space to roam, veterinary care, and plenty of cuddles! Arunachala's clinic gets up to 800 patients every month.
While they mostly work with pups, other animals are also given shelter and care, if needed.
The fact that they will help any animal shows just how compassionate the center is towards all living creatures.
Leslie Robinson's choice to enter the animal rescue world – one that is often disheartening and taxing – is truly inspiring. Thousands of animals in India owe their lives to his kindness.
Robinson's determination to help animals is truly admirable. In a world where so many people turn away in the face of difficulty, especially when it has to do with animals and not humans, Robinson decided to rearrange his life to help others. When Robinson first founded the shelter, he used his savings and then was later supported by private donors. However, the shelter never has more than enough money for the next 3-6 months while the volume of animals in need of help continually rises. If you were inspired by Robinson's story and would like to help keep the shelter running you can help them by donation here. All image source: Arunachala Animal Sanctuary and Rescue Shelter/Facebook
Loyal Dog Who Waited for Weeks With the T-Shirt of Person Who Abandoned Her Finally Gets Love. There's nothing that comes close to the warm feeling you get when you finally get home after a long day and your dog is there to greet you at the door. Young or old, energetic or reserved, they're always ready to greet you with a happy face and a wagging tail — and all they ask for is a little bit of playtime, a walk, and a belly full of treats and food. That being said, many of us pet parents can't wrap our minds around why anybody would decide to abandon a companion animal whose unconditional love is infectious. Sadly, abandonment and pet homelessness is a huge problem. It's estimated that over 70 million stray animals live in the U.S. alone, and a large majority of these animals once had families. If those animals could speak, how many of them would tell us that they once had a human who they loved?
According to Animal Lighthouse Rescue, this is exactly what happened to Lily, the dog in the photo below. We don't know the story behind why Lily's former guardian decided to leave her in the woods, but it was clear that they had no intentions of coming back for her. Left all alone with nothing but a t-shirt and a crate, Lily remained glued to the spot for weeks, loyally awaiting the return of her beloved human. Lucky for this poor pup, she was discovered by a kind-hearted woman who kept her well-fed until she was taken in by Animal Lighthouse Rescue.
It's heartbreaking to imagine how even after weeks of waiting, Lily never gave up hope that her former guardian would come back for her.
Now up for adoption, Animal Lighthouse Rescue reports that this two-year-old pup may be timid, but she's "pure happy lovebug." They also note that she gets along well with other dogs and loves all people, so the perfect home for Lily would be one where she can be everyone's best friend. If Lily sounds like the dog of your dreams, you can fill out an application for adoption here.
If you're considering welcoming a pet into your home, please keep in mind dogs like Lily, who once had a home, but lost it. This sweet pup's story is just one of the many reasons why we should always remember to adopt and never shop. When you adopt, you're saving more than just one life; you're also freeing space in the shelter for other pets who are looking for their forever home.
We hope that Lily finds her new family soon — this cute little dog has a lot of love to give. All image source: Lighthouse Animal Rescue/Facebook
Moon bear Rainbow is released back into the wild
Just four weeks after being caught in a wire snare, moon bear Rainbow was returned to her mountain home in China's Peng Zhou area.

Animals Asia vets had to amputate the one year-old bear's caught limb but her life was saved and experts around the world believe she will have every chance of thriving in the wild.
Animals Asia Founder and CEO, Jill Robinson describes her team's successful efforts to return rescued moon bear Rainbow back into the wilds of China's Peng Zhou mountains.
Dog Found In Bushes Can't Stand Up For Her Rescuers
Animal Aid Unlimited was called to the scene where a dog was lying in the bushes with a massive wound on her head. Her eyes were open, but she couldn't move. So they carefully picked her up and took her in for treatment.
She had suffered a heavy blow to the head, but they weren't sure how it happened.
She had trouble balancing and standing which indicated injury to her brain. But they weren't about to give up on her…
On day 15 she was a lot stronger but still had trouble standing up.
Every pet parent knows the sinking feeling that happens when our beloved fur babies get sick.
Whether it's something as small as a scrape on their nose, an upset stomach, or something as serious as heartworm or a fatal disease, seeing our best friends scared or in pain just breaks our hearts. Knowing they can't tell us exactly what's wrong makes the situation even worse, but at the very least we can take comfort in the fact that we can be by their side, comforting them every step of the way. Or that's what a good pet parent would do …
In this story, we see the example of the absolute worst thing a pet parent could do when their dog is in trouble – abandon them. Yes, we're already fuming just thinking about it.
This Pit Bull Was Abandoned After He Was Stung by Thousands of Bees – Now He's Finally Loved. Recently, a young Pit Bull was brought into a West Michigan vet after receiving thousands of painful bee stings. According to Carri Shipala, founder of LuvnPupz rescue, the pup had come across an underground hive and released an angry swarm. While this dog's guardians did have the sense to take him to the vet immediately, after he had a severe allergic reaction to the medication he was administered they simply left him behind!
All alone and sick, the poor pup was likely terrified, but thankfully, Shipala and LuvnPupz took him in, named him "Stinger," and gave him the care he truly deserves.
Shipala told WZZM13 that she loves taking on tough cases because it's what a true rescue organization does. "He's eating, drinking, going potty," Shipala explained. "So, he's not miserable by any means. He's completely spoiled there."
Once this little sweetie is back to health, LuvnPupz plans to find him a loving home. After what Stinger has been through he's certainly earned a warm bed and around 100,000 belly rubs to make up for the treatment he got from his former owners.
They are currently running tests to find out what Stinger is allergic to and depending on the results, he may need medication for the rest of his life. Shipala is seeking donations to help them care for Stinger's treatment, you can help them make sure this pup returns to tip-top shape by donating here.
Brave Rescuers Work for an Hour to Free Drowning Horses Trapped in Muddy Waters. When it comes to helping animals in need, there is nothing that a true animal lover wouldn't do to save the day. Most of us know what to do if we spot a dog or cat in need of help, but when it comes to helping out a larger animal, that requires a whole new set of skills and determination. Luckily, there are plenty of kind professionals who always know just what to do in the time of an emergency. Just take this recent horse rescue, for example.
The skipper of the Knott End ferry in Lancashire, UK spotted what appeared to be two girls stuck on horses in the middle of Knott End Beach. The horses had gotten stuck in the mud and with the rapidly rising tide, the pair was stuck fast.
Thankfully, the skipper was able to alert the coast guard who called in the local Fleetwood Royal National Lifeboat Institution (RNLI) and the Lancashire Fire and Rescue Service to lend a hand.
Once the rescue team was on the scene, one of the horses seemed to have freed himself from the mud, but in a matter of moments, sunk back down in the current. The second horse, Eddie, however, was firmly stuck and the water had begun to rise at the rate of one foot every five minutes – clearly, the situation had become incredibly dire.
Despite the rising tides, and the sheer size of the horses, the rescue team remained determined to get both out safe and sound.
"After struggling with the exhausted horse for nearly an hour and with water around the neck of the animal, he eventually got free from the mud, Clearly exhausted, he took a short time to recover before being led ashore," an RNLI spokesman told the Horse and Hound.
It took over an hour to get both horses to shore, but the crew was successful!
Eddie's caretaker was incredibly grateful for the heroic work of the rescue team and reports that he is doing well and fully recovered from the incident. We certainly hope this pair won't think of taking the horses back out in the water any time soon! All image source: Lancashire Fire and Rescue Service/Facebook
Depressed, Abandoned Dog Stared at Shelter Wall for Days – Then Something Amazing Happened. As humans, we also often forget that we are not the only ones to experience a period of grief when we lose a loved one. But, animals experience it, too. Hachiko the dog became famous for waiting at the train station for his guardian long after he passed away and other dogs have displayed the same refusal to leave their dearly departed. Loss doesn't look the same for every animal. For a companion animal, being abandoned at a shelter by their guardian can affect them as badly as losing them forever. That's what happened to June, the dog in the photo below. On the day that she was left at The Haley Graves Foundation in North Carolina, she had no idea that it would be the last day she ever saw her former guardian — and it shook her.
After June watched her former guardian walk away forever, she was so shaken up that she could hardly function. Too frightened to even look at her new home, this poor pup remained frozen in the corner.
All alone, yet surrounded by the barks of hundreds of other dogs who wanted to be let out, June had no idea where she was or who she could trust.
Not only was June diagnosed as heartworm positive — something that could have easily been prevented, but also she was not microchipped. It was clear to the staff that June's former guardian had never taken her to the vet.
When This Pup Was Abandoned, She Stared at a Wall For Days ... But Look at Her Now! (PHOTOS)
Looking into her eyes, it's clear to us that June is no longer the dog who was so frightened that she couldn't move from the corner. There are humans who love her and it's thanks to their love that she's healing in all aspects of her life: body, mind, and soul.
Because she was diagnosed with heartworm, it will be some time before June is available for adoption, but in the meantime, we're happy to report that she loves to be pampered. According to The Haley Graves Foundation, June had a spa day and loved it and she's undergoing treatment for her heartworm. June has been microchipped, so once she's finished with her treatment, this happy girl will be ready to go to her new forever home! It's amazing how just one week of love and care has completely transformed this pup.
There are about six to eight million like June living in shelters across the United States, if you're considering welcoming a companion animal into your life, please consider adoption your only option and never shop.
To learn more about The Haley Graves Foundation or to donate to their cause, visit their official website.
Neighbors Couldn't Ignore A Muzzled Dog The Town Was Doing Nothing About. They were terrified to see what was going on at the house next door: A puppy being neglected, chained up all day and even muzzled at times for no reason. They tried to call the police, but nothing was done. These kind neighbors finally had enough. One day, they jumped the fence and freed the neglected dog. He was about to get the family he's always deserved.
This nameless pup with no real family was chained up and forgotten about.
He was all alone…
Just the concrete to lie on.
The pup would bark and cry for help…
Thankfully, the neighbors took notice and called the cops. But nothing was being done.
So they jumped the fence and saved the dog. They named him Alfie. And this is his new dad. :)
The dank smell of fear hung in the air. Buckets filled with skulls lined the slaughterhouse floor.
Rescuers steeled themselves.

There would be no slaughter for these dogs

...
You may already be aware how – thanks to your support and with the help of our partners in Asia - IDA's in-country friends recently negotiated the release of a handful of dogs away from a horrible butchering facility in South Korea.
We call these amazing Jindo dog ambassadors "The Slaughterhouse Five."
To save Valencia, rescuers had to wait for darkness. The little dog somehow managed to escape the blood-soaked slaughterhouse, and hid against the building.
Then there was scared, shy Billy, who was "mysteriously" missing his tail. (We'll never know for certain if - or how or why - it was severed, but it doesn't take much to guess.)
Plus Paul... Barbara... and Kurt. A rescue opportunity that literally came out of the blue. The rescue cost $3,000 - just for airfare from South Korea to Atlanta. From there, they were transported another eight hours to Hope Animal Sanctuary.

There are food and veterinary costs

.
Five dogs may seem like a drop in the ocean compared to the massive wave of killing going on there, I know.
Yet their rescue comes at a pivotal time.
With China's gruesome Yulin Dog Meat "Festival" weeks behind us, and South Korea's own Boknal Days barely ended, your support will fortify us to do what we do best:

Remain linked in with our friends on the ground (and form new high level partnerships) to strengthen laws and public opinion NOW, helping South Koreans make change happen within their borders before the next killing wave arrives

.
More and more, South Koreans are moving away from eating dog meat. Education and the open, honest outreach you make possible through IDA is making a difference!
For living proof, you need only look to the Slaughterhouse Five. After a 7,000-mile journey, they are now safe and sound at IDA's Hope Animal Sanctuary where we are accepting applications for experienced, patient guardians and forever homes.
There's one more thing I need to tell you.
For one sweet dog, it was too late. Even though we'd worked nonstop to secure his release, he was slaughtered and butchered before we could reach him.
Please. Help us keep up the fight to end the dog (and cat) meat trade. No dog or cat should suffer like that. Not now. Not EVER. Please give as generously as you can.
Instead of Putting Down Disabled Dogs, This Romanian Shelter Gives Them All Wheelchairs! When it comes to finding a forever home, there are a few demographics of pets in shelters who get the short end of the stick. Kittens and puppies are the most likely to be adopted, while senior animals often end up calling the shelter their permanent residence. Special needs animals, specifically those who live with a physical disability, are also less likely to find a family with humans who visit the shelter in hopes of finding their new best friend. But from what we've seen, physical disability does not coincide with any animal's ability to love. That's why at Adăpostul Speranța, a dog shelter in Romania, they see to it that every disabled dog who ends up there gets the chance at life that they deserve.
At Adăpostul Speranța, every dog's life, no matter what their physical capabilities, is valuable. Instead of putting disabled dogs to sleep, this shelter sees to it that every dog who needs a wheelchair gets one.
The shelter believes that with proper care, every dog can live a happy life. Looking at these photos, we can tell that these pups have nothing to be sad about.
The only difference between these happy puppies and able-bodied dogs are the wheelchairs that help them race around and play.
According to the shelter, "the happiness of our paraplegic dogs is our reward." Warms your heart, doesn't it?
Able-bodied or not, every pup's life is worth saving — and we're glad that Adăpostul Speranța understands that. However, some wheelchairs have worn out and with the Romanian winter approaching fast, the shelter does not currently have the means to pay for new ones. But we can help keep these pups' tails wagging.
Read more about how you can help Adăpostul Speranța give wheelchairs to their resident dogs by going here. To learn more about them, visit their official website. All image source: Adăpostul Speranța/Facebook
Mohan has been on an incredibly long journey to freedom. He has endured decades of abuse and even experienced the wrath of angry mobs. His right to be free has been debated and put on hold in court countless times. He has suffered alone and in silence for years, in fragile health… and miraculously, he has survived. He's finally home. And now he can live the rest of his life as a free elephant — because of your generosity.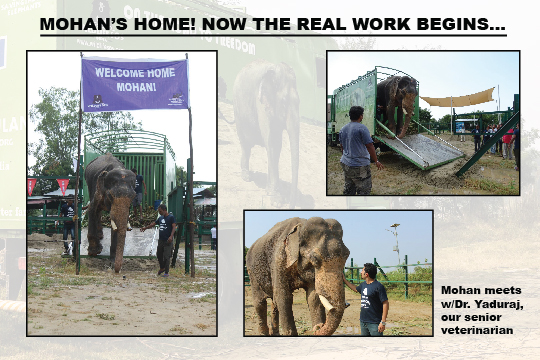 Today he is on a different journey. Mohan will need medical attention, rehabilitation, compassion, and care to fully realize his freedom. He is emaciated from decades of neglect; his digestive system has been severely compromised from parasites; his liver is not functioning well. Mohan has a very long way to go — but our staff of full-time veterinarians have already mapped out a diet and treatment plan. We hope that we can find 200 new monthly donors at $10/month who can help us. Can you lend a hand once again for Mohan? Any amount helps.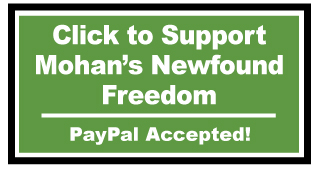 Together we will get Mohan happy and healthy so he can truly enjoy his newfound freedom. Once again, thank you for helping his cause! To follow updates on Mohan's progress, please visit Mohan's blog here.
They've been dubbed "The Bayou Babes" by the Norfolk Animal Care Center (NACC), which took in four young rabbits after PETA evacuated them from the Louisiana flood zone last month.
The Bayou Babes are all estimated to be 3 to 6 months old and will be spayed prior to adoption. If you live anywhere on the East Coast, don't hesitate to jump at the chance to join these gals' entourage. Even though they are currently in residence at NACC, PETA will help transport them to new homes anywhere within a day's drive of Norfolk. E-mail Adopt@peta.org to find out more about becoming a Bayou Babe's special somebunny.
'Dog Whisperer' Frees A Snarling Pit Bull From Its Life On A Chain. Steffen Baldwin, animal advocate and dog trainer, recently released a video of himself freeing a pit bull from life on a chain. Baldwin, a County Humane Agent who also founded the Animal Cruelty Task (ACT) Force of Ohio, heard about the dog from concerned neighbors who suspected neglect.
Nothing could be done for the dog legally as Ohio state laws dictate that a dog with food, water and shelter is adequately cared for. So Steffen reached out to the owners.
Fortunately, the owners were fine with the idea of finding Tank a new home. The dog exhibited worrisome behavior, like lunging at the children playing in the yard. Even the owners had to keep their distance and throw his food to him.
Chained 24 hours a day, Tank would get no mental or physical stimulation. The anxiety and stress would build up making him act the way he did. The poor dog had no way to release his energy.
Depressed Shelter Dog Can't Stop Smiling During His Day Out On The Town.
Elmo the pit bull was discovered in a yard with another dog, and animal control was alerted to come help the neglected pups. The dogs were taken to KC Pet Project in Kansas City where Elmo was scared and miserable.
The other dog was adopted, but Elmo still hadn't found his forever home. He was terrified and didn't know what to do.
The other dog was adopted, but Elmo still hadn't found his forever home. He was terrified and didn't know what to do.
So the staff thought it'd be a good idea to get the depressed pit bull outside where he might be able to enjoy himself. And that smile says it all!
The outing was part of KC Pet Project's "furlough" program that gets shelter dogs outside for a day or two. Elmo went to the park and even made some friends at a local hair salon.
And he couldn't stop smiling the entire time!
Formerly blind dog Duffy seeing the family after surgery.
Duffy the Irish terrier struggled with numerous health problems, but in this YouTube poster Benjamin May still chose to give the sweet rescue dog a forever home. Duffy lost his eyesight due to complications from diabetes, but he qualified for surgery and is able to see again!
Watch this touching video from 2014 to see the curly-haired terrier emerge from the vet's operating room into the loving arms of his family members. A round of cheering tells us the surgery was a success, and though Duffy is wearing an e-collar to protect his eyes, his wagging tail shows that he's in good spirits. Sure, any dog could recognize his family by smell alone, but now he can finally see their smiling faces.
Some might hesitate to adopt a dog who struggles with health issues, but Duffy's relationship with his family proves that he's just as loyal, joyful, and loving as any other dog can be.
Our BEAR SANCTUARY Pristhina
This is how the future home of Pashuk, Tomi and Gjina looks like - our Bear Sanctuary Prishtina​. Surroundings which are close to the nature, a lot of green areas and even pools where they can play in the water. No more tiny cages, no more inappropriate food but finally a perfect (bear) life! Next week they will finally be transferred to Prishtina in collaboration with the Ministria e Mjedisit​. We are already excited to see their first steps outside! Stay tuned and don't miss the transfer mission on our social media channels! If you want to provide the bears a good start please donate: https://kampagne.vier-pfoten.org/org/donate #savethesaddestbears