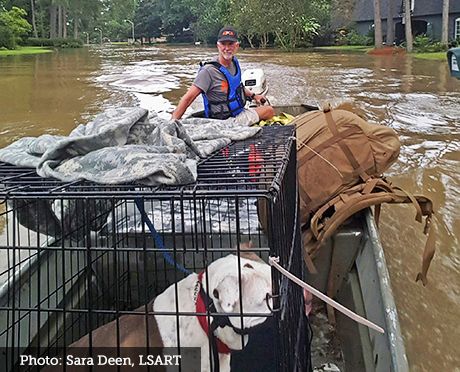 In the midst of severe flooding spanning East Baton Rouge and Lafayette Parish, the ASPCA has dispatched its Disaster Response Team to Louisiana to conduct water rescues for animals. At least six people have died in the disaster, with approximately 20,000 residents displaced.
Our team is acting at the request of the Louisiana Department of Agriculture and Forestry and is working with the Louisiana State Animal Response Team (LSART) to coordinate local resources required to rescue the large number of animals displaced by flash floods.
"Many people consider pets as family members, and losing a pet on top of this already tragic situation can be horribly stressful," said Dr. Dick Green, Senior Director of Disaster Response for the ASPCA Field Investigations and Response team. "We want to give people peace of mind while they cope with this crisis by making sure their pets are safe."
These rescues coincide with the ASPCA's ongoing sheltering of more than 1,000 farm animals removed from a neglectful property in Westport, Massachusetts, as well as several other concurrent operations nationwide. Resources are stretched thin and your support is urgently needed. Please make a donation to the ASPCA today to enable our team to continue to be there for these and other animals in need at a moment's notice. Click to help!
Baton Rouge rescue: Hero rescues woman, dog from drowning in sinking car



A woman was rescued from a sinking car on Saturday, after deadly floods hit Baton Rouge, Louisiana.

WAFB reports that some men on a boat came upon a woman inside a red convertible that was already half-submerged in floodwater. Video footage of the incident shows the woman calling for help, as rescuers try to get her out.

They first attempt to break the window, but fail. The car continues to sink, and soon the woman is fully underwater. One man finally jumps into the water and tears through the convertible's roof. The hero, identified as David Phung, manages to pull the woman out to safety.

The woman then shouts for Phung to "Get my dog!", and is distraught when her savior can't locate the pooch. When one man suggests the dog is gone, the woman replies, "She better not be."

In one final attempt, Phung dives in and manages to finally save the puppy. All three then swim back to the boat.
Jill Robinson : To The Moon and Back Film Trailer



TRAILER: Movie set to tell Animals Asia founder Jill Robinson's story




This autumn Jill Robinson's story will be told in a new documentary entitled To the Moon and Back - detailing her work to rescue bears and end animal cruelty in Asia..




Jill Robinson founded Animals Asia in 1998 and since has rescued almost 600 bears from the bile industry where bears are caged and face regular, painful extractions for use in traditional medicine. Over 12,000 bears remain caged by bile farms in China and Vietnam alone.




Jill and Animals Asia's work also extends to ending the consumption of dogs and cats, and helping the plight of animals in captivity..




The one hour documentary is directed by Andrew Telling of Orange Planet Picture - a long time supporter of Animals Asia.




READ MORE: https://www.animalsasia.org/intl/media/news/news-archive/trailer-movie-set-to-tell-animals-asia-founder-jill-robinsons-story.html
Highly endangered tiger rescued; now she needs you
She had no chance of survival. And soon she would be all alone. When "Filippa" the tiger cub was found in a rural area of Russia, she was starving and very weak. She was rescued and rushed to the IFAW-supported PRNCO Tiger Center.
You can help us provide everything Filippa needs and help rescue, care for, and protect vulnerable animals around the world.
Just hours after Filippa arrived, her sister was brought in too. Sadly, her sister was just too weak and died soon after.
Now Filippa has no mother and no sister - she has to face the world without her family.
You have a chance to help us provide the food, care, and around-the-clock monitoring and protection Filippa needs until she's ready for the wild again. And you'll help other animals that desperately need us.
Orphaned tiger cubs are incredibly vulnerable on their own. They have no mother to protect them, or to teach them how to hunt.
But the staff at the Tiger Center is doing something that many people thought was impossible. They're raising tiger cubs and successfully releasing them back to the wild.
The Center's unique tiger rehabilitation program cares for the cubs, while also encouraging them to use their natural tiger instincts to find food, mark territory, and even to play. And it's all within a large and natural enclosure.
You've helped the animals before by taking action to help them. By donating now, you can be part of this special project for Filippa, and help us rescue, care for and protect animals like her.
With your help now, we'll be able to provide her with food, vitamins, protection, health check-ups and medicine.
In fact, our wildlife rescue centers and animal shelters around the world are constantly rescuing and admitting injured and suffering animals. We need to keep those centers stocked with food, medicine and supplies.
The Tiger Center has previously released six tigers to the wild. One of the tigers, Zolushka, has even given birth to two cubs. And two more of the released tigers have bonded and may soon be having cubs of their own.
For a critically endangered species like the Amur tiger, every cub counts. Each one saved could be the key to their survival.
Squirrel with Yoplait cup stuck on head rescued by Connecticut EMS



Video of emergency workers in Connecticut rescuing a squirrel with its head stuck in a yogurt cup has gone viral on Facebook.

In the video, which was posted by the Emergency Medical Services of Enfield, Connecticut, the squirrel can be seen hopping up and down with a Yoplait container stuck to its head.

As the terrified animal tries in vain to free itself from the tasty trap, Enfield paramedics arrive in time to save the day.

Food containers can be dangerous for animals, especially ones with a narrow opening like the iconic Yoplait container. Animal welfare experts suggest that people crush food containers before disposing of them to prevent this sort of thing from happening.
Caged for seven years - this sun bear was freed today
This happened today in Vietnam. Sun bear Annemarie was released from the cage that has trapped her since she was a cub.




Right now she is on our rescue truck headed for her new home at our Vietnam sanctuary. She is likely to arrive in a little over three hours.




Please donate today to make this happen - let's get beautiful Annemarie home and make her well again: http://bit.ly/AMhelp




Follow her rescue live here: http://bit.ly/AMrescue




More background on Annemarie and her rescue here: http://bit.ly/2b2rIGf
Children Save Four Abandoned, Newborn Kittens Discovered in The Bushes



These abandoned Siamese kittens

Nikki, Jordan and Justin were on their way home from playing at the park when they heard high-pitched screams from the bushes. That's when they discovered 4 tiny, newborn kittens - abandoned, alone and starving. What they do next makes them #heroes #pawsitive




✿ Please subscribe to our channel so you don't miss a single PAWsitive story! ➔ http://bit.ly/PAWsitiveSubscribe




Leo, Brie and Oscar were only 4 days old when they were discovered in the bushes crying and hungry. Their Siamese momma, a stray, had abandoned them. The babies would have died had it not been for three young, Good Samaritans (Nikki, Jordan and Justin) that found them and Cats at the Studios who took up the challenge to care for these three bottle babies.




One of their siblings found that day, unfortunately, did not make it. But, the rest of the family are now healthy and were all adopted.