According to sources, Andrew Siciliano will soon be named the play by play radio voice of the Los Angeles Rams. Siciliano has done an excellent job on the Red Zone Channel and NFL Network and has prior radio experience in Los Angeles working for FOX Sports Radio and ESPNLA 710. He also worked as a sports radio reporter earlier in his career in Chicago. His ascension to the play by play position with the Rams has been expected for quite some time. The team utilized him to call pre-season games on television in St. Louis during the past few seasons.
One person who isn't expected to be part of the Rams radio broadcast team is Eric Dickerson. The Los Angeles Rams legend was the odds on favorite to be named the team's radio analyst and talks with the team did take place, but the Hall of Fame running back is planning to explore a different role instead. Multiple sources say Dickerson will join AM 570 LA Sports as a contributor for the 2016 NFL season. Details about his role remain unclear. With Dickerson out of the picture, the names Jim Everett, Jerome Bettis, and Maurice Jones-Drew have been mentioned as possible options in the analyst role.
Stedman Bailey is returning to his alma mater, West Virginia, to serve as a graduate assistant for their football team. The Rams waived Bailey this past spring. While this will allow Bailey more time to recover from gunshot injuries he suffered to his head, it also gives him an opportunity to complete his degree in multidisciplinary studies.
Bailey was a popular fan draft pick in 2013 when the Rams selected him in the 3rd round after already selecting Tavon Austin, his college teammate. During his time with the Rams, Bailey had 59 catches for 843 yards, two receiving touchdowns, one rushing touchdown, and one of the most memorable punt return touchdowns in recent memory.
Bailey does not consider his playing days over yet and still is working extremely hard to get back to 100% football shape. Although the Rams waived Bailey, they wanted to keep him around in a coaching role during the team's latest OTA sessions. It's possible Bailey could eventually return in some coaching capacity in the future.
Los Angeles Rams plan to have Nick Foles at camp barring trade.
The Los Angeles Rams have made it abundantly clear that Nick Foles is available to trade suitors if the price is right but because the right deal has yet to come along, they will still have him report to training camp.
Foles' playing status in Los Angeles has been in question since Foles refused to take part in the Rams' offseason programs earlier in the Summer. This can be attributed to the fact that the Rams have planned their future around number one overall pick Jared Goff and seem to be ready to either have him take the reigns or sit behind quarterback Case Keenum.
By taking this course of action, the Rams have essentially alienated Foles and now the relationship between the team and former starting quarterback is awkward at best. This decision to keep Foles is not an ideal situation for the team but rather a product of no trade options.
Foles certainly did not make it easy for the Rams to gain trade suitors after his 2015 campaign. As a starter Foles was 4-7 and had a completion percentage of 56.4 per pro-football-reference.com. He also threw for 2052 yards, seven touchdowns, 10 interceptions, and had a quarterback rating of 30.01 per pro-football-reference.com.
It was not exactly a performance that would have teams clamoring for his services. The Rams could always use Foles in a backup role if anything were to happen to Goff, Keenum, or even second-year quarterback Sean Mannion.
There is also the option of releasing Foles towards the end of the summer should no options make themselves available in order to move him. Foles is apart of a past that the Rams would like to forget sooner than later.
Jeff Fisher Contract: Latest News and Rumors on Coach's Negotiations with Rams.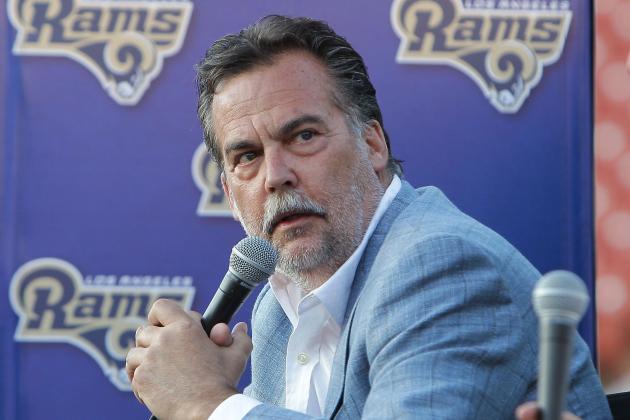 As Los Angeles Rams head coach Jeff Fisher enters the last season of a five-year contract, the team isn't in any rush to move forward with extension talks.
Vincent Bonsignore of the Los Angeles Daily News reported the buzz on Fisher's potential new contract, which also applies to general manager Les Snead.
The raw numbers say Fisher hasn't earned an extension at this juncture, so the rumor doesn't come as much of a surprise. Since taking over the Rams in 2012, Fisher has failed to guide the team to the playoffs and has posted a 27-36-1 record with no winning seasons.
As is often the case with NFL head coaches, though, the lack of a clear-cut solution at quarterback has hindered Fisher's efforts to turn the franchise around. Sam Bradford was injured too often to prove himself as a high-end starter, and his replacement, Nick Foles, flopped last year.
Snead went ahead and got Fisher a potential franchise QB by trading up for the rights to No. 1 overall draft pick Jared Goff. The California product figures to start in 2016 and may be just what the Rams need to secure a playoff berth for the first time in the Fisher era..
2016 Los Angeles Rams 53-Man Roster Projection: Mid-July Edition
With less than two weeks to the opening of training camp, here's a look at the Rams' full roster and how it might get pared down to the 53-man limit for Week 1 of the regular season.
QB
2016 projection: 3
RB
2016 projection: 4
WR
2016 projection: 6
TE/FB
2016 projection: 3
OL
2016 projection: 10
DL
2016 projection: 9
LB
2016 projection: 5
CB
2016 projection: 5
S
2016 projection: 5
ST
2016 projection: 3
Bubble Watch
A satirical look at more than 75 years of Football's Rams history, combined with discussions of American Exceptionalism and almost 50 years of personal experience in the life of a Rams Fan. The history parallels and intertwines life to form a humorous, yet serious look at American History, World History, an American Football team, and Political Science.