Poachers should be arrested for slaughtering endangered animals
Poachers are getting away with the slaughter of our most treasured animals:
• Last year alone, poachers murdered tens of thousands of animals in South Africa. But only 317 poachers were arrested[1]
• Every single year, at least 100 MILLION sharks have their fins ripped from their bodies[2]
• And just last week, two elephants were critically injured -- their limbs blown off by landmines[3]
These are the facts. These animals could become extinct in our lifetime because of poachers. We must hold them accountable. Therefore, we think poachers need the most severe punishment for killing these defenseless animals.
Do you agree? Let us know: http://go.saveanimalsfacingextinction.org/Stop-Poachers
Speak Up for African Elephants and Lions
Rampant poaching by heavily armed criminals has reduced the elephant population by 90% in Tanzania's largest protected area in less than 40 years. We need your voice to help protect this reserve and its wildlife.
And these three travel companies are still promoting this.
URGE COMPANIES TO STOP NOW
Rides on Nosey the elephant at Shipshewana Flea Market canceled after complaints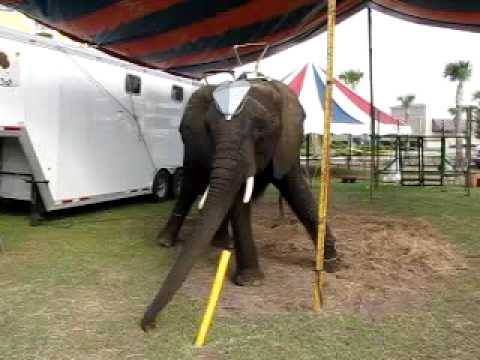 Shipshewana Trading Place, the operator of the Shipshewana Flea Market, has canceled an appearance by an elephant used to give rides to the public.
The cancellation came after patrons and the People for the Ethical Treatment of Animals, objected to the event.
"Shipshewana Trading Place has made the decision to cancel the elephant rides at Shipshewana Flea Market effective immediately due to expressed concerns from our valued visitors," was the statement the company posted on its Facebook page Thursday.
The elephant is owned by Hugo Liebel and is named Nosey, according to PETA. The animal was scheduled to be at the flea market each Tuesday and Wednesday in July, according to PETA. The organization claims the elephant suffers from arthritis.
"Shipshewana Flea Market's compassionate decision to cancel Nosey's appearances offers the ailing elephant a few days of much-needed respite while we continue to fight for her long-overdue freedom," said PETA Foundation Associate Director of Captive Animal Law Enforcement Rachel Mathews. "PETA urges families to take a stand against Nosey's suffering by avoiding any business that exploits intelligent, sensitive elephants or any other wild animals."

Nosey the Elephant's Medieval Fair Rides May Be Illegal. Hugo Liebel is at it again, forcing ailing elephant Nosey to perform grueling tricks and give rides despite her showing signs of painful, crippling arthritis. But this time, it looks like the performances may be illegal.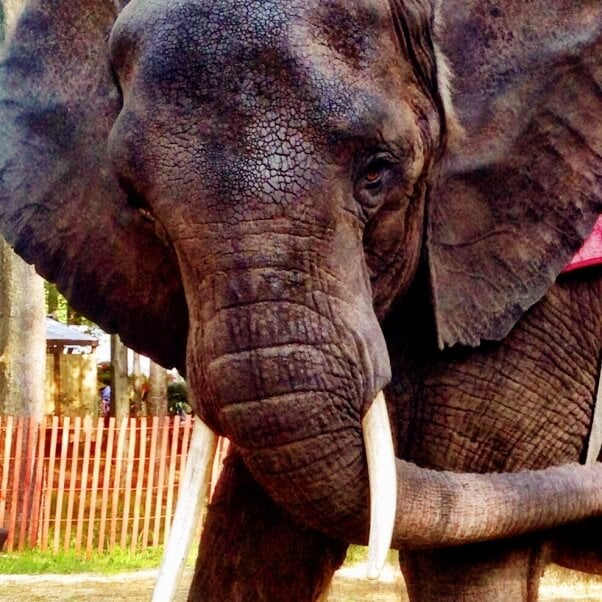 Nosey is being forced to give rides at the Great Lakes Medieval Faire in Trumbull Township, Ohio, where zoning regulations prohibit "dangerous pets." And not only does Ohio law list elephants as a "dangerous wild animal," Nosey also has a history of dangerous incidents. She once threw a handler to the ground with her tusks, sending him to the hospital with a head injury, which resulted in a federal fine. PETA rushed a complaint to Trumbull Township authorities urging them to stop the elephant rides.
The complaint also noted that Liebel's circus may violate Trumbull Township's transient vendor restrictions, which prohibit sound amplification devices, shouting, and having more than one motor vehicle or trailer at the temporary place of business—all of which occur during Liebel's circus acts.
PETA has persuaded venues to cancel Nosey's performances and has worked with elephant experts, engaged members of Congress, and gathered celebrity support in favor of her release to an accredited sanctuary where her needs can be properly met.
What You Can Do
We hope this will end elephant rides at the Great Lakes Medieval Faire for good, but in the meantime, urge the fair to cancel them, and if you're in the area, plan to attend a protest.
Stop the Enslavement and Abuse of Elephants for Tourists
Target: Kristina Wagner, Marketing and Communications Manager, Classic Journeys
Goal: Stop promoting the enslavement and abuse of elephants used in the tourism industry.
Classic Journeys is a popular travel company that continues to promote elephant rides despite all the terrors these animals have to face. In addition, elephant rides put people in danger.
In this industry, elephants are typically taken away from their mothers when they are just babies. They are then put through training, which usually involves chains, little food or water, and painful instruments like bullhooks. If the elephants survive the training, then they are chained for the rest of their lives, prodded to keep moving, and forced to give rides.
Despite all these atrocities, Classic Journeys continues to promote elephant rides to its customers. Sign this petition and demand the company stop promoting these cruel rides.
Despite all the known atrocities these elephants face daily, your popular travel company, Classic Journeys, continues to promote elephant rides to your customers. Not only are elephant rides cruel, but the attraction puts people at risk as well.
In this cruel industry, it is common for elephants to be taken away when they are only babies. Once they are captured, they are put through training. During this training, the elephants are subjected to painful procedures like being prodded with bullhooks, they are shackled in chains and are often denied food and water. If the elephant makes it through, then it will be forced to give rides in shackles for the rest of its life.
It is a sad, heartbreaking life these elephants live. They should be playing in the water and roaming free with friends. Please consider ending your promotion of this cruel attraction for the elephants' sake.
Photo credit: guido da rozze
Ridiculous Zoo Thinks Making Elephants Swim in Transparent Pools Makes Everything Better. It has taken hundreds of years, but we're finally starting to recognize that elephants do not thrive in captivity. We've witnessed the death of countless captive infants, watched these gentle giants sway back and forth in a mindless haze, and seen too many elephants euthanized due to foot conditions to be able to honestly think zoos have any beneficial value to these animals. Yet, despite this heartbreaking knowledge, facilities that profit from holding these animals, notably zoos and other attractions, refuse to put an end to displaying elephants. Rather, many are choosing to "improve" the conditions of elephants' captivity. In the U.S., rules dictating that zoo elephants must have a companion have been made – but this hardly relieves the complete suffering of these animals.
In an effort to make life for visitors … err, we mean elephants … better, the Fuji Safari Park has built a 213-foot pool for their Asian elephants. Given the summer heat, the pool is a great relief for these animals. But there is one pretty HUGE problem with this "solution" … it is tailored more to improve the experience of paying customers more than the actual elephants.
The addition of the pool has been lauded as a great attraction for visitors. Thanks to the transparent walls, people can watch the elephant's legs moving and see them use their trunks as a snorkel!
Wow … "natural" elephant behavior at its finest…
Sure this pool provides these elephants with a much-needed diversion … but it hardly improves the fact that after this animal gets out of the pool, they will return to standing on hard concrete, mindlessly, for hours.
According to a report in the Daily Mail, "The inspiration behind the glass swimming pool came from images of elephants in the ocean. The zoo wanted to show tourists that the animals can actually swim, something many were unaware of." We don't think there are enough facepalms to do that comment justice…
Aside from the blatant fact that this pool was built to draw in tourists – not really to, you know, keep the elephants from becoming too mentally or physically distraught, using the justification that they were inspired by elephants in the ocean is just ridiculous. Yes, elephants enjoy swimming in bodies of water, but you would be hard-pressed to find a wild elephant willingly venturing into the ocean. The salt water is harsh on their skin and eyes and being exposed to the sun without shade is extremely uncomfortable for them. The only case you would see an elephant swimming in the ocean is if that animal has been broken and trained to do so – hardly a behavior that should be replicated for "educational" purposes. It almost seems as if they couldn't afford to keep captive orcas, so they just put their elephants in a pool to make up for it!
It seems that the highlights of the Fuji Safari Park doesn't end with swimming elephants, but they also offer opportunities for visitors to "cuddle lion cubs" under the watchful eye of zookeepers. (We won't get into what's so wrong with this now, but if you'd like to learn more, click here.)
It is extremely clear that this added attraction is nothing more than that, a show for people, not a genuine addition to benefit of elephants. Asian elephants are in grave danger of extinction and if we continue to treat them as nothing more than props to make money from, they will disappear from the wild within the next 20 years. As consumers, it is up to us to see through these sham "animal welfare" scams and work to put an end to the cruelty. The easiest way to make this happen is to stop paying to see animals suffer. Share this article and encourage others to boycott this safari park and all other facilities that profit from captivity.
Animals belong in the wild, not tanks, cages, or enclosures decorated with fake trees. It's time we stood up to #EmptyTheCages. Lead image source: AP
The 2011 civil war in Africa's Ivory Coast was horrifying for the nation's people, and it proved even worse for the animals at its largest zoo, Abidjan Zoo. More than a quarter of the animals died of starvation. But one beautiful elephant managed to survive: CAN, one of the few forest elephants ever bred in captivity, overcame impossible odds. She, however, is wasting away before our eyes. We must help her.
CAN has been living in bitter isolation since 2000, when all the zoo's other elephants died. Female elephants have an intense need for close companionship. One of the elephants who died was CAN's mother. Mother and daughter elephants never leave each other's sides, so the heartbreak from this alone was extremely damaging to CAN.
She lives in a small enclosure, far too tiny for her to get adequate exercise. Because of this, CAN is suffering from health problems, including arthritis. She also has chronic eye infections, which place her at risk of blindness.
Mr. Samouka Kane, Director of the Abidjan Zoo, and his staff are to be respected, for they have endured much and tried their hardest to provide for the animals. But reports from those on the ground indicate that the zoo is unsustainable. For this reason, it is time to release CAN, one of the only surviving forest elephants bred in captivity, to a sanctuary to live out her days in freedom.
Please ask Mr. Samouka Kane to release CAN so we can take her to a safe, natural environment with other elephants.
1. Poaching Facts. Environmental Crimes and Arrest Statistics. 20 November 2014
2. Smithsonian.com. The Race to Stop Africa's Elephant Poachers. July 2014
3. The Telegraph. Meet Mosha and Motola: The elephants injured by landmines, in pictures. June 30, 2016.