Orangutan Mother Tortured By Villagers For Trying To Feed Baby.
One soulful picture captures the painful torture that farming can inflict on orangutans.
Back in 2010, a mother orangutan ventured near a village in Borneo after a landslide, her little baby still clinging to her. The surrounding area had been stripped to create palm oil plantations — her home forest was gone and the deforestation had caused landslides like the one she had been caught in.
She was weak, starving and likely injured, and only traveled this close to humans because she was desperate to find food and shelter for her little daughter.
Unfortunately, the welcome she received wasn't a kind one. A group of villagers spotted the mother and began to throw rocks at her and hit her with sticks, even though she was helpless, according to International Animal Rescue (IAR), which had a staffer stationed nearby. When a male orangutan who was also traveling with her tried to defend her and her baby, the villagers chased him away.
They continued to beat the mother until she collapsed. They then tied her up with ropes and pulled her little daughter off her. When the dying mother mustered the strength to fight for her baby, IAR wrote, the villagers dragged her over to a pool of water and held her underwater until she passed out from the near-drowning. Then they threw her into a cage.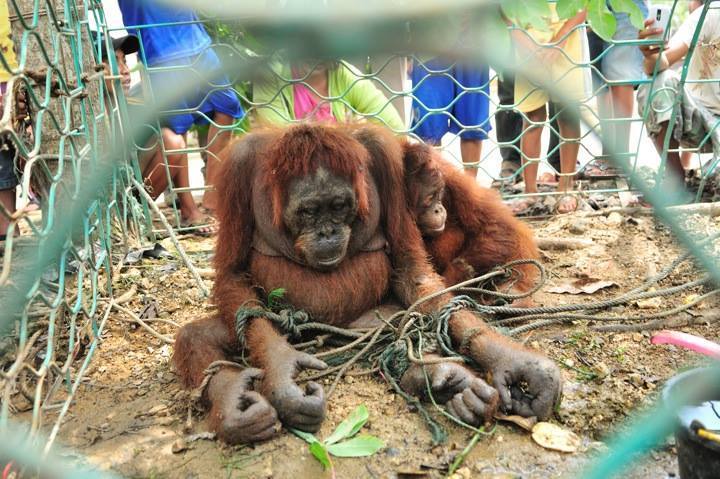 "She was still alive but could barely sit up," IAR said. "As she no longer posed any threat to the villagers they dragged the infant by the rope attached to her foot and tossed her into the cage with her dying mother. A large crowd of people gathered around the cage and took amusement in their suffering. The mother used what strength she had left to wrap her arms around her terrified baby while her infant desperately tried to chew through the ropes still tied to her mother's arms and legs."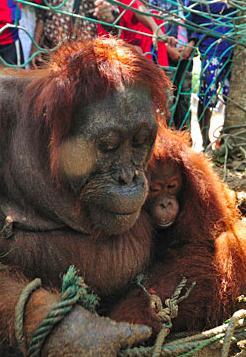 Fortunately, an IAR veterinarian stumbled onto the scene. She managed to rescue the pair from the crowd, but despite medical attention the mother died, unable to recover from her previous injuries and the water in her lungs.
While the cruelty in this case might be extreme, death isn't an unusual fate for orangutans affected by palm oil production. Orangutans have lost 80 percent of their habitat due to human activities like deforestation — in the past decade alone they've lost around 50 percent of their population.
Their forest homes are being leveled to make way for plantations and the orangutans are often shot on sight. If not, they often die in the wildfires that deforestation can cause. Mothers are also killed so their babies can be sold into the exotic pet trade — which could have happened to this little one if IAR hadn't been on site to stop it.
Instead, the little orangutan whose mother fought so valiantly to protect her moved to IAR's rescue center, where she was named Peni and spent four years learning how to be a grown-up orangutan. And last fall, she was released into the forest to hopefully live the life her mother never got to live.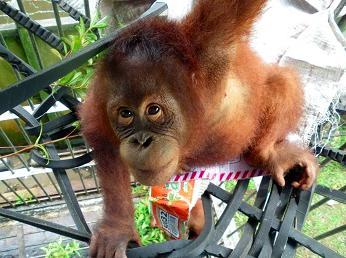 INTERNATIONAL ANIMAL RESCUE
Since her release, she's reunited with two former friends from IAR's orphanage and appears to be doing well, the rescue group reported. Her former caretakers monitor her daily.
"After such a tragic start to her life, everyone involved in Peni's rescue, rehabilitation and release is hopeful that she has a long and happy life ahead of her," the organization wrote at the time of Peni's release.
To help rescue orangutans like Peni, you can make a donation through IAR's website.
Totti the police K9 died in a hot car; her handler should be fired!
Target: Pennsylvania Department of Corrections -
75,687 SUPPORTERS of the 80,000 GOAL
Totti was a friendly 2-year-old yellow lab. She was also a police dog trained to sniff out drugs. Now she is dead because her handler left her in a hot car for over two and a half hours. This handler should lose his job now.
Totti was training to sniff out drugs for the Pennsylvania Department of Corrections on the morning of July 7th. It was 86 degrees Fahrenheit that day and Totti's handler somehow "accidentally" left her in the car from about noon to 3 PM. This person's whole job is taking care of this dog and he failed miserably. Totti was taken to emergency care around 3 PM and died at 7 PM.
The Department of Corrections says they are investigating what went wrong, but they have not released the name of the handler or promised to hold him accountable. Anyone who loves their dog would never leave it in a hot car for that long. Anyone who respects a dog would not leave it in a hot car that long. This was a heinous murder of a promising career police dog.
In addition to their investigation into how this could have even happened: we demand that the Department of Corrections fire this handler immediately. It is obvious that he cannot be trusted to care for a living animal. Click to help!
Ban Use of Wild Animals in Circuses Nationwide
Target: U. S. Congress -
46,373 SUPPORTERS of the 50,000 GOAL
Despite all talks and continued efforts to stop the use of animals in circuses and other entertainment venues, the issue continues throughout the United States and Worldwide. Some areas of the country are doing their part in banning animals for these purposes but we want to see this achieved on a national level. You can read more on the compelling and inhumane effects on circus animals at http://www.onegreenplanet.org/animalsandnature/photo-exposes-what-training-animals-for-the-circus-looks-like/
Animals, wild and tame are not born and bred to be part of the entertainment field and those that are engaged for these purposes are most frequently trained in an abusive manner. People are easily entertained when witnessing the amazing things a cute and mysterious animal can do without realizing what many of those animals endure when being trained for their enjoyment. The reality is that the main goal for any entertainment venue is how much money rolls in rather than considering the health and well-being of these animals.
Our goal and effort in this petition is to urge the government to implement a nationwide ban on the use of animals in circuses and any other entertainment fields. We need to be a voice for all animals used for human enjoyment and ensure that such practices are banned. Treat animals humanely and as they are meant to be. You can help us in our goals by signing and sharing this petition.
Read petition letter ▾
U. S. Congress – Several areas of our country has placed bans on using animals for any entertainment purposes but our efforts and goals are to urge such a ban on a national level. Please implement laws and regulations that place a nationwide ban throughout all of the United States against using animals in circuses and any other entertainment venue for the purpose of human enjoyment. This is not natural for any of these animals and most people are unaware of the abuse and cruelty an animal has to endure just to be trained tricks that do not come natural to them. Keep all animals out of circuses or any other field of entertainment; place a national ban that is fully enforced!!
Undercover Investigation Reveals Dogs Killed in Horrific 'Death Pits' to Fuel India's Illegal Meat Trade.
The reality of the illegal dog meat trade is something that most dog-lovers find very difficult to stomach. We see our dogs as beloved and trusted companions and the idea that any person could bring themselves to torture or kill a pup is absolutely abhorrent. In the wake of the Yulin Dog Meat Festival in China and the beginning of Bok-Nal in South Korea, many organizations and individuals have stepped up to raise awareness for the practice of dog meat eating and help to either make it illegal or hinder the trade as much as possible.
Unfortunately, as a recent undercover investigation from Humane Society International (HSI) shows, just because dog meat is banned in certain places doesn't always mean that the trade no longer exists.
Nagaland, India is located in the north-eastern region of the country and shares a border with Myanmar. Although the dog meat trade is illegal in India, HSI discovered that there is a thriving illicit trade in this area. Investigators witnessed horrific images of dogs packed into sacks, sitting blatantly in defiance of the law at local markets in Kohima and Dimapur. Many of the dogs either had their mouths stitched closed or were muzzled with tight ropes. To make matters even more heartbreaking, HSI explains, "During transport and display in the markets, they are denied movement, food or water, before finally being clubbed to death."
These dogs end their short and terrifying lives in "death pits" where they are beaten to death in front of other dogs. According to investigators, most dogs were beaten several times before dying.
HSI/India's managing director, N. G Jayasimha, who witnessed the killing, said in a press release, " I see animal suffering every day as part of my job at Humane Society International/India, but the brutal dog trade of Nagaland is some of the worst inhumanity to animals I have ever witnessed, and it still haunts me. The underground pit in Kohima where we filmed was like a nightmare … It was clear to me that many of the dogs were stolen pets still wearing their collars, but whether street or pet dogs, none of these animals should ever have to endure such cruelty."
An estimated 30,000 dogs, a combination of stray and pets, will be subjected to this horrible experience a year. While this is devastating to learn, there is something we can all do. HSI has launched a campaign to get India's government and the Chief Minister of Nagaland to crack down on this illegal trade. They have also put out an online petition calling the government to act swiftly.
With our collective efforts to raise awareness and put pressure on the Nagaland government, we can help see justice for all of the dogs who have already lost their lives, and hopefully ensure that no more are subjected to such horrific abuse.
All image source: Alokparna Sengupta/Humane Society International
Bullfighter killed: Mother of bull destined to die per tradition, animal lovers outraged
Animal lovers are outraged following the announcement that the mother of a bull, who recently killed a matador, would be put to death — per tradition.

On July 9, professional bullfighter Victor Barrio, 29, was killed when a bull's horn pierced his chest in front of spectators during a competition in Teruel, Spain.

The incident was broadcast live on television and the video has since gone viral on YouTube. Barrio's death was confirmed on the website of Madrid's Las Ventas bullring, where Barrio began as an apprentice bullfighter in 2010. He is the first Spanish bullfighter to die in a ring since the turn of the century.

Per tradition, whenever a matador is killed during a fight, the bull's mother is to be killed to end the blood line. But that notion didn't really sit well with animal lovers, who took to social media to start a campaign: #SalvemosALorenza (Save Lorenza).

As of Tuesday, the hashtag was trending in Spain.
The campaign to end dog fighting in the UK is going from strength to strength and with your support today we can go one step further. We need you to contact your MP.
In early 2016, the League Against Cruel Sports began 'Project Bloodline', a six month investigation into the murky world of dog fighting in the United Kingdom. Following publication of our report on 'Project Bloodline', Luton MP Kelvin Hopkins tabled Early Day Motion 64 on Organised Dog Fighting.
In line with the League's recommendations, this motion calls for tougher sentences and a register of animal abusers in order to stamp out the horrendous practice of dog fighting once and for all.
This is a huge opportunity to show the level of support for tackling dog fighting and it is very important for your MP to sign the motion. Don't forget that earlier this month a Parliamentary debate called by Lisa Cameron MP resulted in cross-party MPs calling for a national taskforce to tackle 'repugnant' dog fighting.
We need to solidify this support by getting large numbers of cross-party MPs to sign the motion. Please email your MP asking them to sign EDM 64.
Click here to contact your MP.
Carson & Barnes Circus: Cruelty Under the Big Top
This video shows behind-the-scenes elephant training, bears pacing and bouncing abnormally in cages, and tigers inside cramped, barren prisons in Carson & Barnes Circus.
Can you live a day in the life of a sheep used for wool? Go behind the scenes of the wool industry and find out what really went into that wool hat, scarf, or sweater:
South African Model Narrates Video of Ostrich Slaughterhouses
South African model David Miller shows what ostriches endure before their skins hit the runway
Baby Chicks Ground Up Alive at Sanderson Farms Hatchery
At a massive hatchery operated by Sanderson Farms, which supplies chicken meat to Walmart, Sysco, Arby's, and other companies, a PETA eyewitness documented newborn chicks left to languish in barren plastic crates, sometimes near the bodies of birds who had already died.

"Late hatchers"—chicks who didn't hatch at the same time as the other birds—are ground up alive. Every year, the egg and poultry industries kill millions of baby birds.

Please, don't be a part of this cruelty. The next time you're at the grocery store, choose vegan. Because if you don't help stop this, who will?
Roosters have it rough! If they are not killed, they are used as "packing peanuts" to keep hen chicks warm on their way to private homes or feed-stores. Unwanted, most end up dead.

Volunteer Kendall saved nine roosters from a feed-store selling hens for backyard coops.

| | |
| --- | --- |
| All nine came to one of Animal Place's shelters, including three at our permanent sanctuary - Patrick, Percy, and Pierre. They are getting bigger every day and are happy to be free and loved. If you would like to open your heart and home to backyard chickens, I urge you to adopt. Increasing demand for female chicks from feed-stores increases the number of forgotten brothers—roosters who are ground alive at birth or used as disposable packing material. Adopting adult hens is good for the ladies and it helps reduce the cruelty inflicted on roosters. | |

Boknal Dog Meat Days

Are Almost Upon Us!
In just a few weeks, the annual dog eating festival of South Korea will begin and tens of thousands of dogs and cats will be tortured and killed in some of the most brutal and inhumane ways imaginable.





BokNal translates literally as "Dog Days" and is a Korean holiday marking the height of the summer growing season. It is traditionally the hottest time of the year, and in a bid to beat the summer heat, many Koreans will consume "traditional" soups or tonics made of dog meat. The meat is believed to have magical restorative powers, increasing overall health and fitness, yet no such magical health benefits exist. Dog meat vendors operate in unsanitary, unlicensed and unregulated back-alley butcher shops that spread sickness and disease from food-borne pathogens.





Most tragic of all is the belief that the more the animal suffers in the preparation of this vile and horrid meat, the stronger and more potent the health benefit. It is not uncommon for dogs to be beaten, electrocuted, boiled alive, and hacked to pieces while still conscious – all for a witches' brew of unfathomable suffering.



If you have not already done so, please consider making a generous contribution today and join In Defense of Animals as we prepare to be on the ground and in the streets amid one of the most cruel and inhumane 'Festivals' in the world. With your help we will be there to shine a radiant spotlight of international attention on the atrocities suffered by thousands of innocents each year. Stand with us now and help us to usher in an end to Boknal Days

http://idausa.org/endboknaldays

Stop the Ephrata Greased Pig Chase



Each fall in Pennsylvania, The Ephrata Fair greases up pigs, puts them in a field and encourages dozens of screaming children and adults to chase, grab and slam terrified pigs to the ground. Whoever can grab the pig and carry her back to the crate receives a trophy. This event lasts several hours and the same scared pigs are abused over and over again.





"A whistle was blown and dozens of screaming children and adults ran towards a beautiful little pig covered in chunks of grease fat. Hundreds of people in the audience were screaming, laughing, applauding, and making bacon references while shouting, 'dumb pig!' This poor, innocent pig screamed so loudly you could hear his voice above the crowd. The pig's expression grew more defeated with each whistle blow, representing yet another round of emotional and physical torture." - animal activist, Kelly Lehman




Ephrata Fair has been holding this cruel 'entertainment' for over 39 years and calls it a "family fun event." This practice is nothing but blatant animal abuse in the name of tradition.




Pigs are sensitive, intelligent, loving animals and there is no doubt that these events cause them physical and emotional harm. Pigs instinctively fear being chased by predators and often urinate or defecate out of sheer terror while being chased and wrestled. Tormented individuals end up covered in cuts, scrapes, and internal injuries by the end of this event. Pigs deserve to be treated with compassion and respect.


Click here to read more and take action.



Justice NOT SERVED for

Dog Shot in the Face



Friends, you will remember the hideous case of Luke, the family dog who was shot in the face with a shotgun last month. We have been working tirelessly since the shooting to bring the perpetrator to justice, and last week we held a courthouse vigil to keep the pressure on in Mississippi. Sadly those calls fell on deaf ears.





Luke, a Malamute-Husky mix dog, beloved by his family and neighbors was maliciously shot in the face with a 12 gage shotgun on June 13th. His family wasn't home, but his adjacent neighbor heard the shot and rushed to out to discover a neighbor from up the road clutching his shotgun and Luke running screaming into the wooded area behind his home. The witness, whose six children regularly play with Luke, immediately called law enforcement.





Neighbor and suspect, Eddie Gene Mathews was intoxicated when law enforcement arrived at his home. Mathews admitted to shooting Luke and was arrested.





Last week was Mathew's arraignment on animal cruelty charges. He should have also been arrested for firing a weapon from the road.





At the arraignment Mathews uttered audible sounds, spoke aloud, and even saluted the judge. Leflore County presiding Justice Court Judge Jim Campbell had to ask Mathews for his plea four times before Mathews finally pled guilty.




Mathews contempt of court was completely ignored by Judge Campbell who handed down a pitiful $500 fine and a suspended six-month jail term.

Click here to read more

.



Animal Rights Support is Growing!



For another year, In Defense of Animals was a proud sponsor of the National Animal Rights Conference. Over 1,700 animal advocates turned out in Los Angeles to learn and share how to do more for animals. Our movement is growing, which is excellent news for the animals whose very lives depend on us!





Fabulous speakers rocked the house including our own President Dr. Marilyn Kroplick who called for advocates to unite in our efforts to protect animals during the opening plenary. Dr. Kroplick applied her knowledge of psychiatry to increase our effectiveness as activists and shared her strategies to help us end the dog meat trade in Asia. We hosted an activist support panel featuring our Animal Activist Mentor Line and invited other organizations to share their support services.





There was a notable interest in spirituality this year, with over one hundred activists attending a panel on Vegan Spirituality featuring Sustainable Activism Campaign Director Lisa Levinson and other spiritual movers and shakers. We hosted a meeting for spiritual and religious leaders at the conference to encourage their places of worship to widen their circle of compassion by practicing veganism.





Our Elephant and Cetacean Scientist and Campaign Director Dr. Toni Frohoff shared her campaign focus of freeing orcas and elephants from captivity and protecting them in the wild. She encouraged fellow activists to collaborate across species and campaigns to help these iconic animals.





Thanks so much to everyone who stopped by our exhibit booth! One of our conference highlights was to meet you in person. We hope to see you at the conference next year!



More:
Please share these actions with your friends and family.