I do not think that the Donald (Trump) felt comfortable at that NRA event he was at yesterday. It was awkward and all he (Donald trump) did was to go through his normal laundry list of what he would do to "make America great" again. He did mention his kids love for guns saying that they have a lot of them. We do know that the kids are Trophy Hunters. Regardless, I get that Donald Trump must throw bones to the conservative right wing but again, I thought he looked uncomfy while he rummaged through the paperwork he read off of during that speech at the NRA offices.
Regardless of my vibe on it, here is your weekly gun safety updates: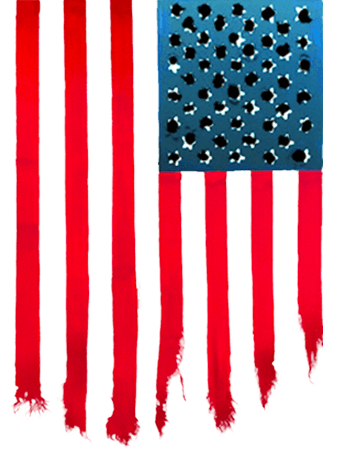 UNDER THE GUN examines the events and people who have kept the gun debate fierce and the progress slow, even as gun deaths and mass shootings continue to increase. Through the lens of families impacted by the mass shootings in Newtown, Aurora, Isla Vista and Tucson, as well as those who experience daily gun violence in Chicago, the documentary looks at why politicians are finding it difficult to act and what is being done at the state and local levels. The film is executive produced and narrated by Katie Couric and directed by Stephanie Soechtig.
I want to share something incredible with you: Last week, over 1,300 people marched across the Brooklyn Bridge and proved once again that the movement to end gun violence is a force to be reckoned with.
This march started as a protest against gun violence following the devastating shooting at Sandy Hook School. Three years later, our voices are being heard across the country.
Check out these incredible photos from the march, and if you were there, please take a moment to fill out a quick survey on how it went. Your input will help make the march even more powerful next year.
We were joined by Julianne Moore and Melissa Joan Hart, members of the Everytown Creative Council. We heard from Lucy McBath, who was just honored as VH1's Mother of the Year for her work in memory of her son, Jordan. We marched with parents, survivors, advocates and lawmakers, all expressing our vision: We CAN end gun violence.
I'm so proud of what we've accomplished so far, and I'm looking forward to continuing our work to end gun violence. That's why if you were there last weekend, we'd love your input about how we can make it even bigger and better next year.
Please take a moment to fill out this form and let us what you liked about the march -- and what we can do better next time.
Our mission is clear: keep our communities safe from the devastating consequences of gun violence.
We want to promote a culture of responsible gun ownership that also stops guns from falling in the wrong hands.
Founded in 2013, we started driving major change in Washington State. Just two years ago we passed our first ballot initiative requiring background checks on gun purchases online and at gun shows.
But we're not stopping there. This year, we're going back to the ballot to pass Initiative 1491 to keep guns away from people who pose a danger to themselves or others.
What is I-1491?
I-1491 is a Washington State ballot measure that would allow family members to ask a judge to prohibit someone from accessing guns if they pose a danger to themselves or others. Family members and law enforcement are often the ones who can see the warning signs of violence, and by allowing them to take action, we can prevent tragedies before they occur.
With your help, we'll be able to get this initiative on the ballot for 2016.
Why join our 2016 Alliance Action Network?
We know you're dedicated to making communities safer across the country.
But the gun lobby is going to try and stop us at every turn. That's why we're building a grassroots movement from the ground up to stand up to them.
What's our plan to make our communities safer?
In many ways, Washington State leads the nation in enacting laws that protect our communities from gun violence.
In addition to passing I-1491, we're pushing forward to:
• Keep children from accidentally hurting themselves or others with a gun
• Increase suicide prevention education
• Collaborate with experts and activists alike to find evidence-driven solutions
• Make sure gun laws already on the books -- including background checks -- are being effectively enforced.
Who are we up against?
We'll be blunt: the gun lobby wants us to fail. We're facing off against one of the most well-financed political groups ever. And we have no doubt they'll spend whatever it takes to protect their agenda and stop gun reform on the state level.
If we're going to pass I-1491 and continue the fight for national commonsense gun reform, we need to build a strong grassroots base that can stand up to the gun lobby and their deep pockets.
The signatures have been collected, counted, and it's all but official: California voters will get to vote this fall on the strongest gun safety proposal in a generation.(1)
And the NRA is freaking out.
When it was announced that organizers had far exceeded the 365,880 signatures necessary to put gun safety on the ballot, the NRA said, "We will do everything in our power to put an end to this."(2)
You know what that means: millions of dollars funneled from gun manufacturers for dishonest TV ads and scare tactics about widespread gun confiscation.
But the polls show that the public strongly supports common-sense gun regulations.(3) So as long as we have the resources to run a strong campaign, we can win.
Will you chip in to help stand up to the NRA and pass gun safety measures this November?
The power of the NRA is so overwhelming that even after mass shootings like San Bernardino and Newtown, nothing has been done on the national level.
That's why, instead of waiting for politicians in Sacramento or Washington, D.C. to take action, we're going straight to the voters.
The "Safety for All" gun safety ballot initiative will ban high-capacity military-style magazines, require background checks for ammunition, require reporting of lost or stolen guns, and ensure that people who possess guns illegally are caught.(4)
These are common-sense steps building on California's successful legacy of action on gun safety, which has reduced gun deaths by 56 percent.(5)
But California is the biggest state in the country, and if we win, it'll set a national precedent. That's why the NRA will fight us tooth and nail.
We don't have millions of dollars from the gun industry to back us up. There are no big corporate interests fighting for victims of gun violence. We have each other. That's why we all need to step up. Will you chip in today?
1. http://act.couragecampaign.org/go/3193?t=5&akid=2762.2119770.8D1vs9
2. http://act.couragecampaign.org/go/3108?t=7&akid=2762.2119770.8D1vs9
3. http://act.couragecampaign.org/go/3194?t=9&akid=2762.2119770.8D1vs9
4. http://act.couragecampaign.org/go/3195?t=11&akid=2762.2119770.8D1vs9
5. http://act.couragecampaign.org/go/2430?t=13&akid=2762.2119770.8D1vs9
Paid for by Courage Campaign Issues Committee, 7119 West Sunset Boulevard, No. 195 Los Angeles, California 90046.
A Message from Erica (Smegielski): When I woke up on December 14th, 2012, I had no idea that I would never see my mom again, never hear her laugh or spend another afternoon together planning my wedding. But my mom was the principal at Sandy Hook School. And on that day, a gunman walked into her school and killed her as she tried to protect the children in her care.
Today, the best way I can think to honor my mom is to do everything I can to make sure no other family has to go through what we did. That's why I'm doing everything I can to make sure Hillary is our next president -- I know she's the only candidate in this race who isn't afraid to stand up to the NRA and do what it takes to prevent gun violence.
Will you add your name to stand with Hillary and me to pledge to do everything we can to take on the NRA and enact sensible gun violence prevention?
Yesterday, Donald Trump spoke at the NRA's convention. Trump promises to mandate that every school in America allow guns in classrooms, and he thinks the best way to prevent school shootings is to arm our teachers.
My mom wasn't a soldier on the front lines of a war. She was an educator doing her best to help kids grow up happy, healthy, and safe.
Our laws failed my mom in Newtown -- they failed her kids, too. But I know Hillary won't fail us when it comes to making this country safer. I'm so proud to be on her team, and I'm glad you are, too. I know that together, we can win this election -- we have to. Families like mine are counting on you.
Will you add your name today to show Donald Trump and everyone at the NRA convention that we're not afraid of them, and we're going to fight as hard as it takes to win this election and take action to prevent gun violence?
Thank you for being part of this, and for helping to honor my mom's memory. It means more to me than you know.
Erica
As you read this, America's most powerful gun manufacturing executives and lobbyists are on their way to Louisville, Kentucky for the NRA's annual convention.
They're going to be handing the NRA some big checks this weekend. Those who give $100,000 or more will be awarded the so-called "Ring of Freedom" -- an award that comes complete with a golden jacket.
And they'll show up in force because they know something we know, too: The NRA has never been more vulnerable in an election. Guns are no longer the third rail of politics, and candidates up and down the ballot are running on who has the worst NRA grade.
Since the last NRA convention, we've put them on defense in states across the country. But to make this election a historic victory for gun safety, we need the resources to compete. That's why we want to hit our goal of receiving 100,000 donations since the NRA's last convention -- and we're so close.
Break the NRA's grip this election
Here's the thing, Don: The NRA's money, power, and influence is losing to the likes of you and me. For decades, the gun lobby went unchallenged because of their ability to buy politicians and intimidate lawmakers. Now, that's all starting to change.
We want to make this election the one where caving to the NRA becomes a political death sentence. We'll be keeping careful tabs on which candidates are truly committed to making our communities safer from gun violence -- and which candidates tout the NRA's extremist agenda instead. And we'll be making sure that candidates who adopt their dangerous positions pay dearly for it at the polls this November.
As the NRA's extremist leadership and the gun manufacturers who line their pockets convene this weekend, we want to send a resounding message that the American people are watching. Chip in $25 or more today to reach our goal of 100,000 donations since the NRA's last convention -- and show them that our movement is more powerful than their money.
Thank you for fighting with us...
The video that NRA board member Ted Nugent posted of Hillary Clinton getting SHOT by Bernie Sanders is insane. The GOP politicians who kowtow to the gun extremists Nugent speaks for need to be held accountable.
We need just 8,000 more signatures to hit 25,000! Will you add your name and help us get there?
Outspoken "gun rights" activist Ted Nugent, a BOARD MEMBER of the NRA, just posted a SHOCKING edited video on Facebook of Hillary Clinton getting shot, with the caption, "I got your guncontrol [sic] right here bitch!"
If this outrageously violent "spoof" video, in which Bernie Sanders draws a gun and shoots Hillary Clinton on a debate stage, is an attempt at humor, it's one of the sickest ones we've ever seen.
Further, the organization Nugent represents, the NRA, is the very same organization that Mitch McConnell essentially said has VETO POWER over any Supreme Court nominee under a Republican-controlled Senate!
This is a moment of truth.
Republicans, almost universally, have acted has handmaidens to the NRA and its extreme agenda for too long. It's time that they were forced to answer for it and finally disavow the violent extremism of "pro-gun" activists like Nugent.
Sign the petition to DEMAND that Republicans disavow Ted Nugent and the NRA>>
We're not going to post the video, because, frankly, it's just too violent and too ugly, and we're not looking to score points for shock value (like perhaps Nugent was when he posted it). While it is just a doctored depiction of actual violence, it is realistic enough to be profoundly disturbing.
We'll provide a link to Nugent's Facebook post at the bottom of this email, so you can decide for yourself if it's something you want to subject yourself to, but please take a moment to sign the petition no matter what.
In this era of out-of-control gun violence, hate-inspired violence, and a presumptive Republican presidential nominee, Donald Trump, who has tacitly endorsed violence at his campaign rallies, it's time for us all to speak out loudly, and in unison, and say ENOUGH!
Add your name now: Demand that Republicans disavow Ted Nugent and his organization, the NRA>>
Ted Nugent's Facebook post (be warned, the violence is graphic and disturbing): https://www.facebook.com/tednugent/posts/10153694390652297
Is gun violence a voting issue for you? The primaries are winding down and Election Day is just a few months away. So we thought it was a good time to check in to see what motivates you when you cast your ballot.
Gabby Giffords knows from her time as a candidate and as an elected official that people consider a multitude of issues when they go to the polls. And we're sure that you are no different.
But what we want to know specifically is when you are voting for president and Congress this November, how much do you consider the candidate's positions on gun violence prevention? Just click the option below that best reflects your feelings and that will record your submission.
However you answer this question, you can be sure that Gabby, Mark, Hayley Zachary, and the entire team at Americans for Responsible Solutions PAC are going to be doing everything we can this November to elect candidates who will put our interests ahead of the gun lobby's. And if we continue to stand together, that's just what we're going to accomplish.