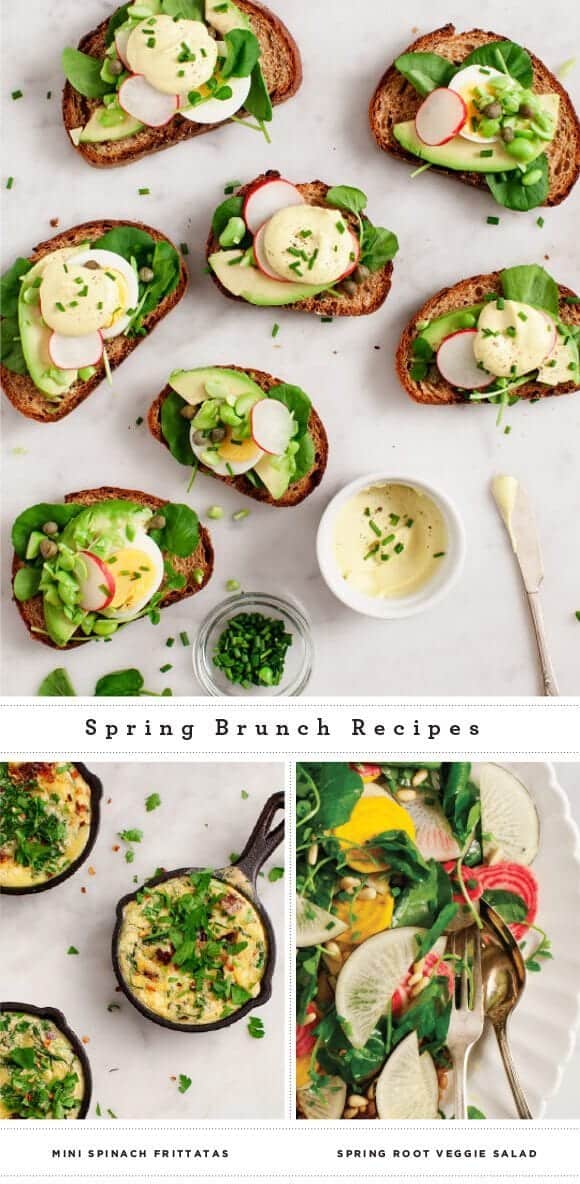 Happy spring! I don't know where you live, but it's been absolutely gorgeous around here lately so I'm going to brag about it a little bit. The sun is shining, colorful vegetables are showing up at the markets, and mint
(a.k.a the only thing my black thumb can "grow")
, is spreading like a weed in our yard.
I'm not sure what our Easter brunch plans are yet, but I'm already looking forward to the weekend. If you're starting to plan your holiday meal, here are a some of my favorite fresh & bright brunch recipe ideas to get you started!
Avocado Almondaise Tartines
Ingredients
crusty bread (toasted or grilled)

avocado slices

watercress leaves

chopped edamame

radishes slices

capers

chives

salt & pepper

sliced hard boiled eggs (optional)
Make the almondaise: In a high speed blender puree everything, except the olive oil. While your blender is running, drizzle in the olive oil. Blend until smooth, adding more almond milk or olive oil if necessary. Taste and adjust seasonings.

Assemble the tartines with your choice of toppings and top with a dollop of almondaise sauce.

To hard boil eggs: place eggs and water in a small pot. Bring the water to a boil, cover and turn the heat off. Let the eggs cook in the hot water for 14 minutes. Remove from the pan and place them in a bowl of ice water to cool. Chill in the fridge until you're ready to peel and eat. (They can be made a few days ahead of time).
Blanch almonds by dunking them in boiling water for 1 minute. Rinse under cold water then peel off the skins.
Mini Spinach & Sun Dried Tomato Frittatas
Serves:

about 6 mini frittatas (serves about 3)
drizzle of olive oil

¼ cup chopped scallions

1 small clove garlic

2 cups chopped spinach

6 large eggs

¼ cup almond milk

⅓ cup chopped sun dried tomatoes

¼ cup chopped herbs: (ie. basil, parsley, tarragon...)

pinch of red pepper flakes

salt and pepper
Preheat oven to 350°F. If you're using cast iron skillets, preheat those in the oven as well. (Otherwise grease little ramekins or 6 cups of a muffin tin and set aside).

Heat olive oil in a medium skillet over medium heat. Add scallions, garlic, spinach, and a pinch of salt and pepper. Cook until spinach is just wilted, set aside.

In a medium bowl, whisk the eggs and milk. Add the cooked spinach and sun dried tomatoes. Pour mixture into prepared skillets and bake for 10-12 minutes or until the eggs are just set. (Adjust baking time for a larger frittata).

Remove from the oven, sprinkle on fresh herbs and freshly cracked black pepper. Let cool slightly and serve.
This recipe can also be made in an 8 or 10 inch skillet. Add 2 (or more) additional eggs to fill a 12 inch skillet. Double recipe to fill 12 muffin cups.
2 small yellow beets

1 small chioggia beet

½ large black radish

handful of watercress (or arugula or other spring green)

½ cup cooked wheat berries

handful of chopped spinach

toasted pine nuts

crumbled ricotta salata
3 tablespoons olive oil (a good fruity one)

juice of 1 lemon

1 tablespoon white balsamic vinegar

1 clove of garlic, minced

1 teaspoon dijon mustard

handful of fresh herbs: oregano and chives

salt & pepper
(Do ahead): roast 1 of the yellow beets until fork tender. Let it cool, peel it, and thinly slice it. Chill until ready to use.

Whisk dressing ingredients together and set aside.

Use a mandoline (ideally), thinly slice the other (raw) yellow beet, the chioggia beet and the black radish.

Toss together the raw beets, watercress, some of the dressing, salt & pepper. Let that sit for 20 minutes or so, tossing occasionally, until the dressing reduces the bitterness in the radish. (taste)

Warm the wheatberries slightly and toss them with the spinach and some more of the dressing. Place the roasted beet, raw beets, radish and watercress on top along with some pine nuts and crumbly cheese. Taste and adjust seasonings, adding more dressing if you like.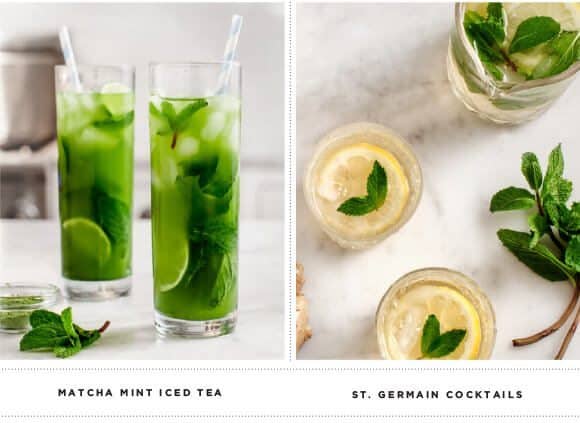 2 cups filtered water

2 teaspoons Aiya Cooking Grade Matcha

2 cups crushed ice

1 lime, sliced

handfuls of mint

optional: honey or cane sugar (or minty simple syrup, see notes)
Using a cocktail shaker (or a large jar with a non-leaky lid) shake together the water and matcha until there are no lumps.

Add the ice, a squeeze of lime, handfuls of mint and shake it some more. (Add sweetener if you like).

Pour into glasses with extra lime slices and mint.
Minty Simple Syrup: Heat 1 part white sugar and 1 part water in a small saucepan, stirring until the sugar is dissolved. Turn off the heat and drop in handfuls of mint and let it steep until it cools to room temp. Strain out the mint and chill until ready to use.
Ginger Kombucha Cocktails
crushed ice

vodka

ginger kombucha (any brand)

mint

lemon
Fill a small glass with crushed ice. Pour in 1 part vodka and 1 part kombucha (or whatever ratio you like).

Add a few sprigs of mint and a lemon slice.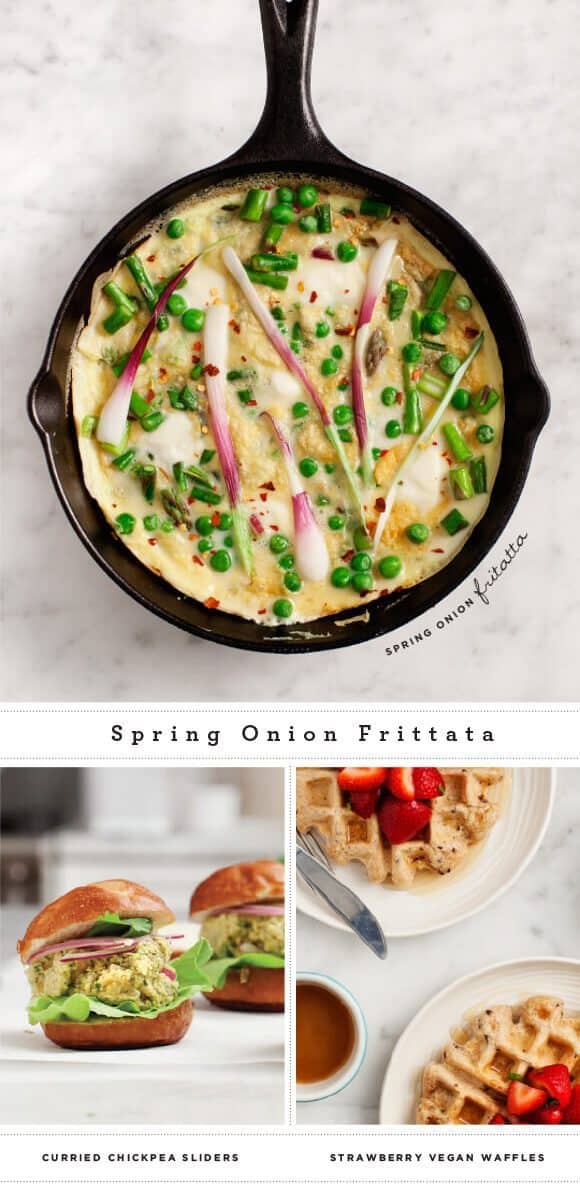 Spring Onion Fritatta
Serves:

serves 2-3 as a main course, 4 as a side
5 eggs

⅓ cup water or milk

1 large clove garlic, minced

olive oil, for the pan

3-4 thin spring onions, chopped small, plus slice a few into thin vertical strips

½ cup chopped asparagus tips

½ cup peas

¼ cup fresh mozzarella pieces*

¼ cup crumbled feta*

¼ cup chopped tarragon

salt & pepper

a few pinches of red pepper flakes
Preheat your oven to 425 degrees F.

In a medium (8-inch) skillet, lightly sauté the chopped onions & asparagus pieces in a bit of olive oil, salt & pepper. Remove from the pan after just a few minutes.

Blend eggs, water, salt and pepper in a blender until combined and lightly foamy.

Wipe out the skillet you used previously and coat it with a bit of olive oil. Pour in the eggs and add half of the veggies. Put the skillet in the oven, and bake for 15 minutes. Then (carefully, without moving the skillet around too much), add the rest of the veggies and the cheeses. Continue to bake for another 15 minutes or until the fritatta is puffed up and the eggs are set.

Top with chopped tarragon, a grind of pepper and a few red pepper flakes. Let cool before slicing.
*If you're non-dairy, skip the cheese.

As always - sub in whatever veggies you like.
Curried Chickpea Salad Sliders
Recipe type:

appetizer or snack
1 ½ cups cooked chickpeas, drained and rinsed

1 small avocado

1 tablespoon tahini

¼ teaspoon minced garlic

¼ cup diced red onion (*see note)

½ cup chopped cilantro leaves and finely chopped stems

¼ cup hemp seeds or chopped walnuts

½ teaspoon muchi or madras curry powder, more to taste

Juice of 1 small lemon

Sea salt and freshly ground black pepper

about 8 mini slider buns

any fixings you like: onion, lettuce, tomato, herbs, etc
In a medium bowl, combine the chickpeas, avocado, tahini, garlic, curry powder, lemon, and generous pinches of salt and pepper. Mash with a potato masher or a large fork until all ingredients are cohesive. Stir in the onion, cilantro, and hemp seeds (or walnuts).

Season to taste. Chill until ready to use.

Assemble sandwiches whatever fixings you like.
*If you're sensitive to raw onion, rinse it (and dry it) to remove some of the bitterness.

This recipe is vegan, the pretzel buns I used are not. To make these gluten free, scoop the salad into lettuce cups.

The chickpea salad will keep in the fridge for about a day. If you want to store it longer, I'd suggest keeping the avocado out and mashing it in at the last minute.
Cacao Nib & Strawberry Vegan Waffles
1.5 cups almond milk, at room temp

1.5 tablespoons apple cider vinegar

¼ cup melted coconut oil

2 tablespoons maple syrup

½ teaspoon vanilla

2 cups loose-packed spelt flour (or white/wheat mix)

2.5 teaspoons baking powder

2 tablespoons ground flax meal

½ teaspoon cinnamon

teeny pinch of sea salt

¼ cup cacao nibs (optional)
strawberries

sliced mint (optional)

more maple syrup
Preheat your waffle iron.

In a medium bowl, mix together the almond milk, apple cider vinegar, coconut oil, maple syrup and vanilla.

In a large bowl, mix together the flour, baking powder, flax meal, cinnamon, salt and cacao nibs.

Pour the wet mixture into the dry and mix until just combined.

Scoop batter into your waffle maker and cook for the length of time required by your waffle maker (mine takes 3-4 minutes).

Serve with strawberries and maple syrup. These are best hot.

Let extra waffles cool, then store them in the freezer and pop them into the toaster to reheat.
Vegan Chocolate Crème Eggs



1 lb. vegan dark chocolate




2 cups Caramel Filling




2 cups Crème Filling





Add 70 percent of the dark chocolate to a microwave-safe bowl. Microwave at 1 minute intervals until the chocolate has completely melted and is warm (about 118ºF). Mix in the remaining chocolate and stir until melted.





Pour the chocolate into one half of an egg-shaped candy mold until three-quarters full. Attach the other half of the mold and use binder clips to keep in place. Rotate a few times until the entire egg shape is covered with chocolate.





Place in the refrigerator for 1 to 2 minutes or until the chocolate begins to set, then rotate the mold again.





Place back in the refrigerator until the chocolate has fully set, about 10 minutes. (The chocolate should naturally shrink and pull away from the mold. If stuck, place the mold back in the refrigerator for a few minutes.)





Fill one pastry bag with the Caramel Filling and another pastry bag with the Crème Filling.
LOVE & LEMONS APRON GIVEAWAY!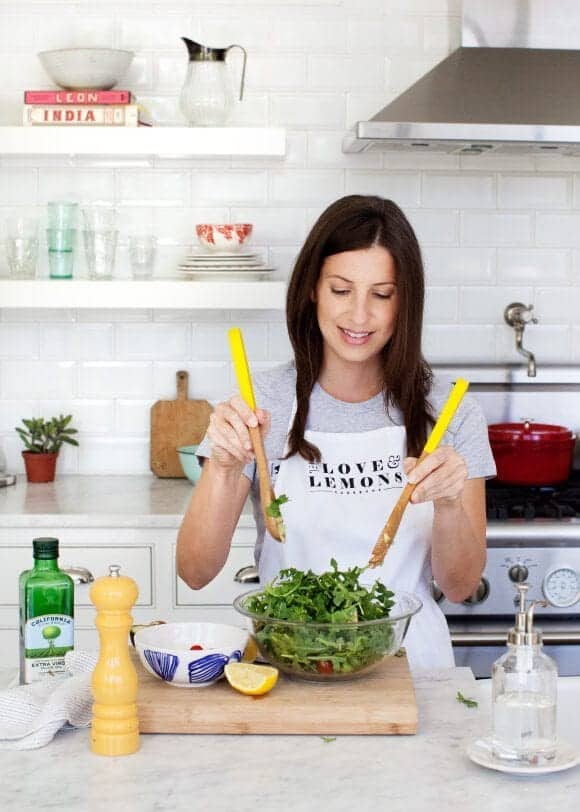 Aaaaand the gifts continue! T-minus 6 days until the book is out and today we're giving away aprons! 12 lucky readers will win a Love & Lemons apron – pre-order your copy of the book now and fill out THIS FORM to enter! This is our last pre-order gift, so be sure to get your copy and enter before

April 1st!

If you've already pre-ordered, feel free to enter the giveaway, just be sure to fill out the form.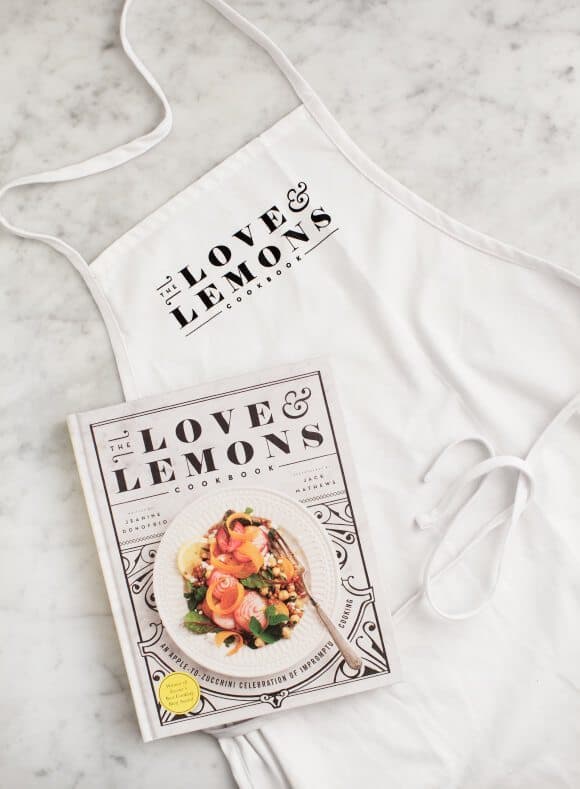 Fill out THIS FORM before April 1st to enter the giveaway!
Official Rules: 12 winners will be chosen at random. No purchase necessary, open to U.S. and Canadian residents (excluding Quebec), 1 entry per household.